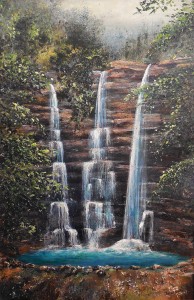 2015-09-21 Twin Falls
There are several places called "Twin Falls" around the Buffalo Nat. River area.  On this one, they might ought to consider a recount.  Twin falls is easy to get to by foot, less than a block off the road.  Only problem is, you need the right kind of car at the right time of year to get down the road!
This 24×36 Framed Original Acrylic painting on board is available at the Nelms Gallery in Jasper. A limited number of matted prints are available with or without frames.