TUESDAY JULY 3rd

We Left the house for our great voyage at 2:00, and ate dinner at Cheddars in Ft. smith. Cheddars has to be the best all around chain restaurant on the planet; EVERYTHING I have ever ate there, has been excellent.
Crossing Oklahoma, with 107 degree daytime temps seemed to justify a campground with plug ins, so we stopped at Foss state park in western Oklahoma. Turns out, the breeze was so strong that after the sun went down, temps probably would have been bearable for sleeping anyway. Nice facilities with big lake. Campsites a little tight for my liking, but all campground campsites are. The attraction here is the lake, so most campers are actually boaters with a trailer to sleep in. 4th of July weekend and the place was just nearly full.. (3 spots left out of several hundred)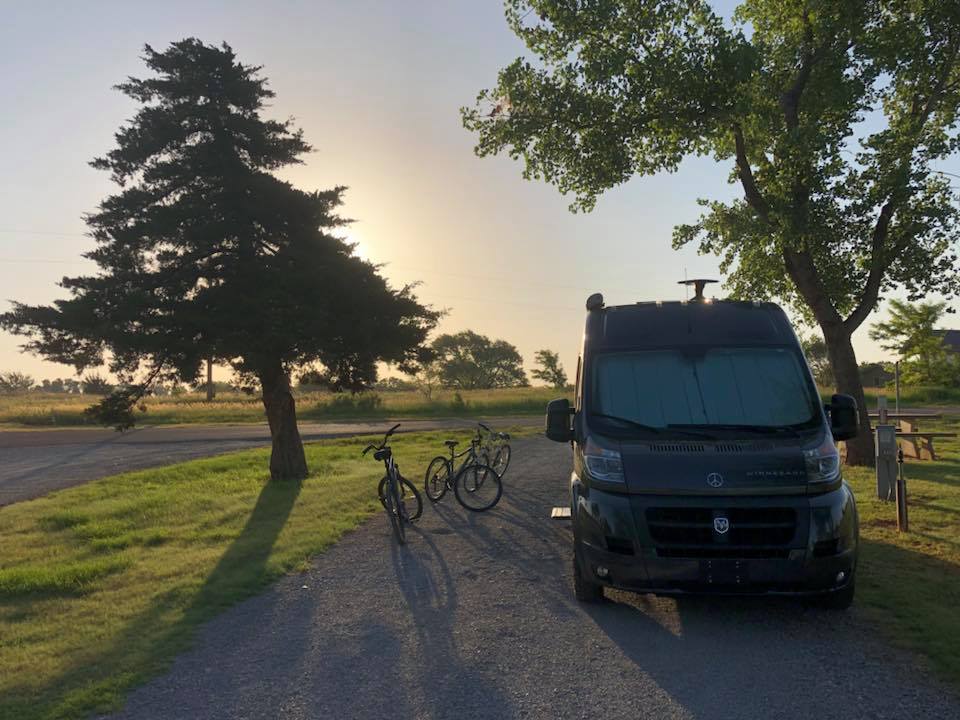 WEDNESDAY JULY 4th
When we woke up, we had a quick breakfast in the van and rode the bikes down to the lake and Aly swam.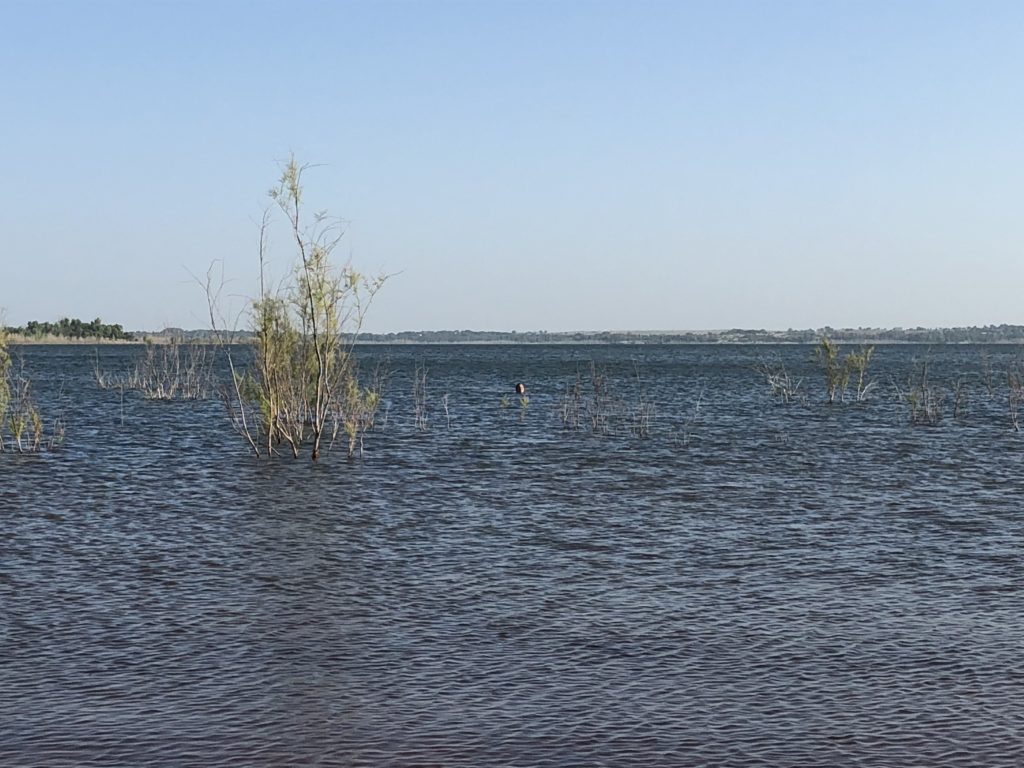 We drove through Oklahoma and Texas to Albuquerque New Mexico and checked out old town as the stores were closing. Kind of touristy but cool old buildings in a square set in the middle of a sprawling town.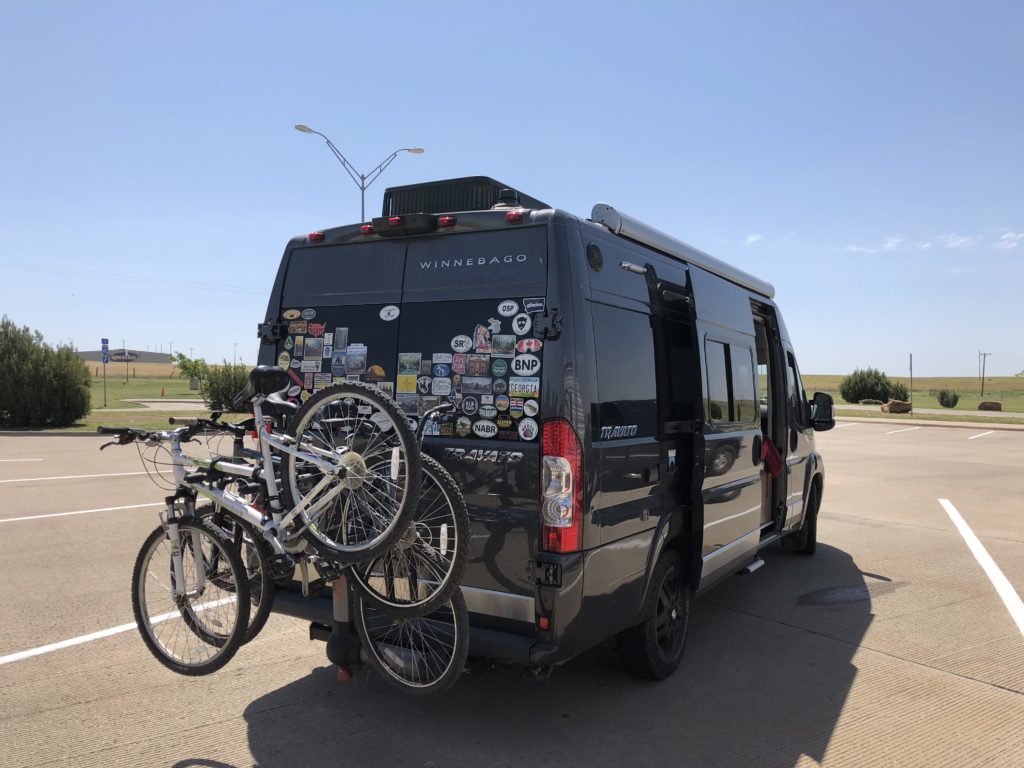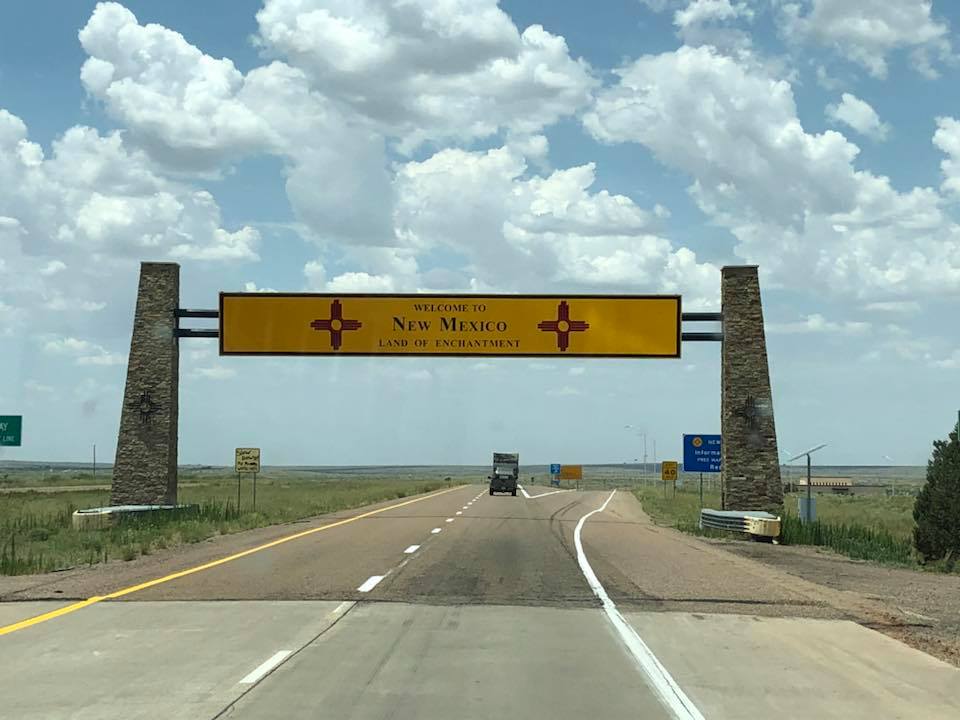 Ate Mexican at the church street cafe, and then drove up and down the "musical highway" a couple times trying to get our tires to sing a tune on the etched pavement. We went to a fireworks display in downtown Albuquerque. Am I just getting older, or are people just getting weirder and ruder?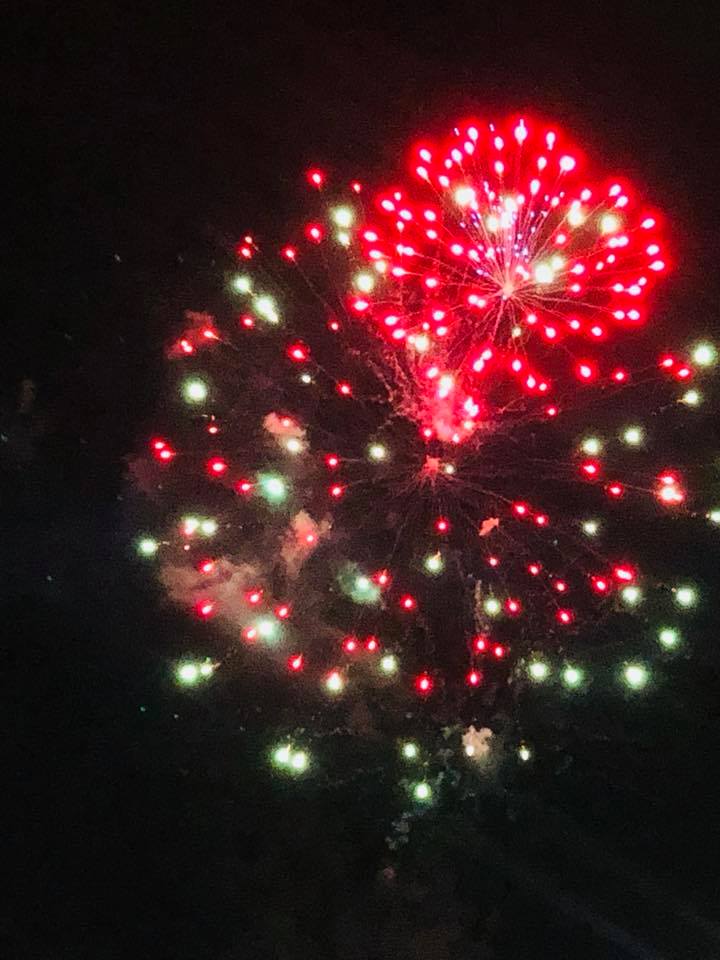 Without a genny in the van, the temps were still pretty warm and we have no air conditioning without outside power, so we stayed at a KOA where we could plug in. RV Campsites were something like $45.00 so close to the city, but it was late and we were tired. We self assigned ourselves a spot, only to find it was more like a parking lot than a "campsite". I went back to the office and found on a map, one last "tent spot" that was available for $20.00. I went and checked it out, and found that it was its own little courtyard, nearly completely fenced in by 8′ privacy fence. Had a picnic table and a power post, and was close to the bathrooms and pool. There are benefits to having such a small little camper. Better spot, more room, more privacy, less money. 🙂 .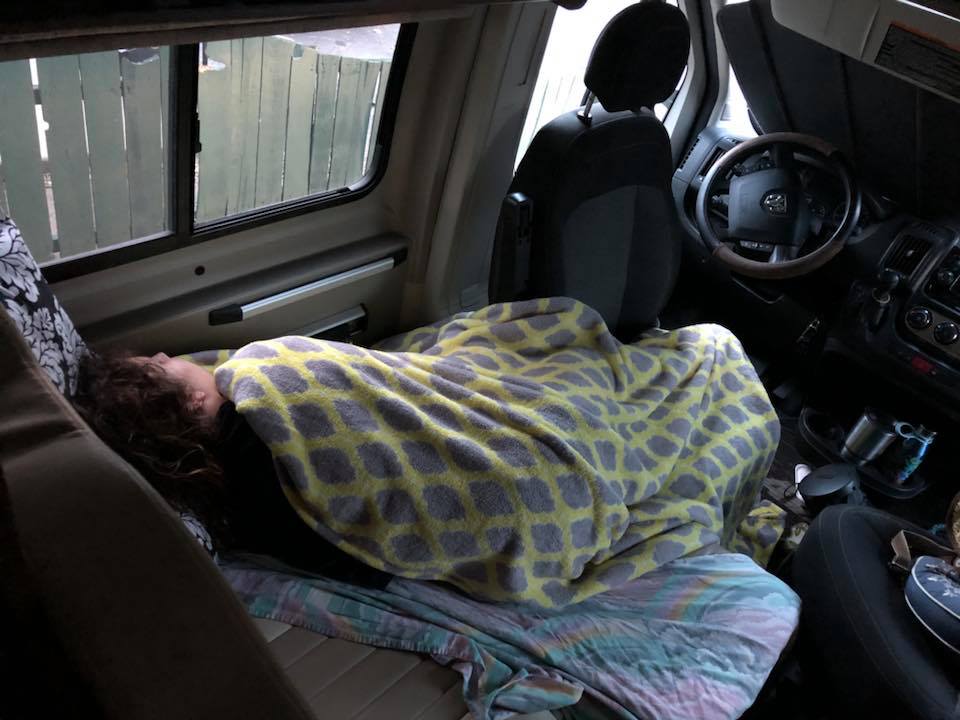 THURSDAY JULY 5th, 2018
Having a little glitch with the LP gas, so I had to heat water for coffee in the microwave (first world problems). Got up early, and am sitting out at the picnic table. I Called three different "highly rated" mobile RV tecs this morning, and left messages to see if someone could come check out the gas issue.. Not one called me back. (ever..)
Went North out of Albuquerque to check out Kasha-Katuwe Tent Rocks National Monument and Hike the Slot Rocks Trail. This would be our first hike of many, and it was Definitely worth the few hours to hike 4 miles and see some cool hoodoos!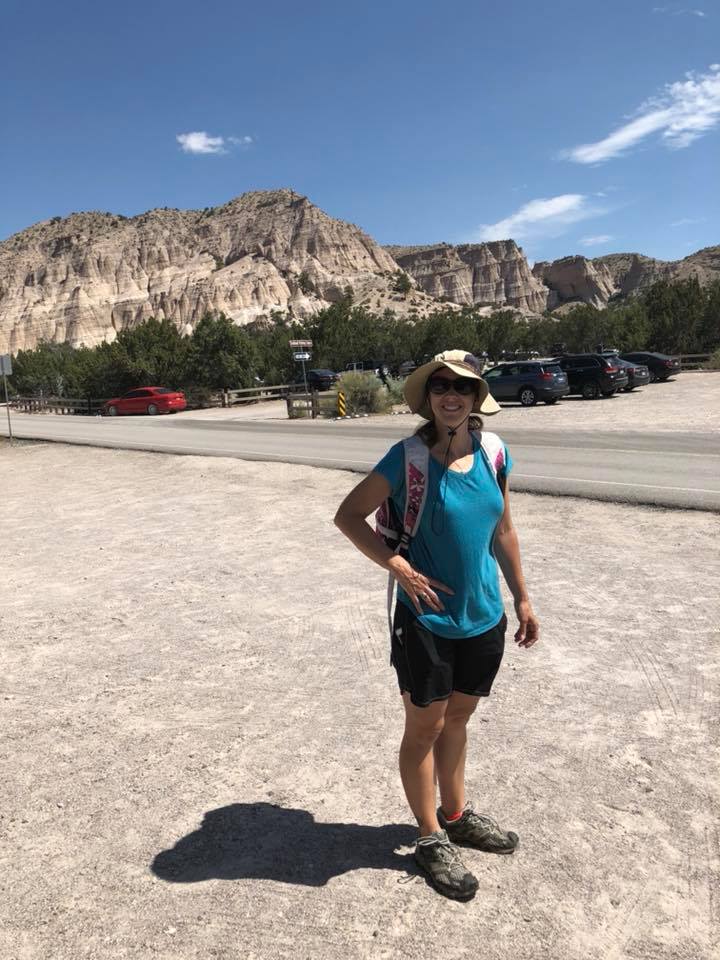 Up until that point (and even driving into the park), the scenery had not been much to get excited about, but it became apparent rather quickly that we were heading into a special place…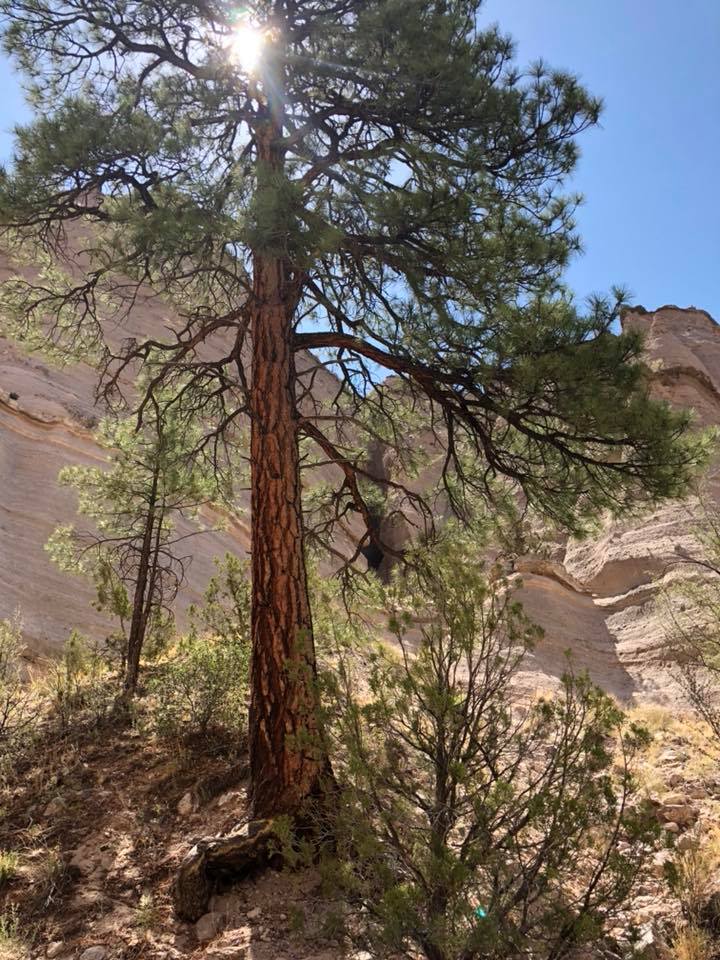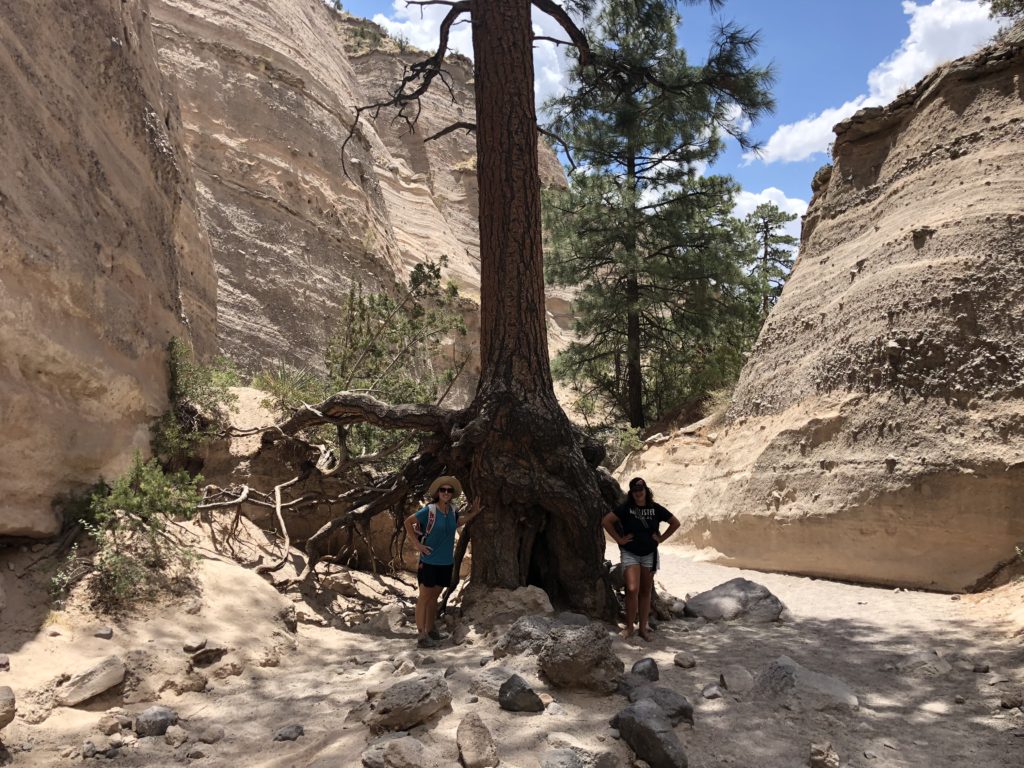 The trail quickly turned into a sort of "slot canyon", and the shade was welcome relief from the blaring sun..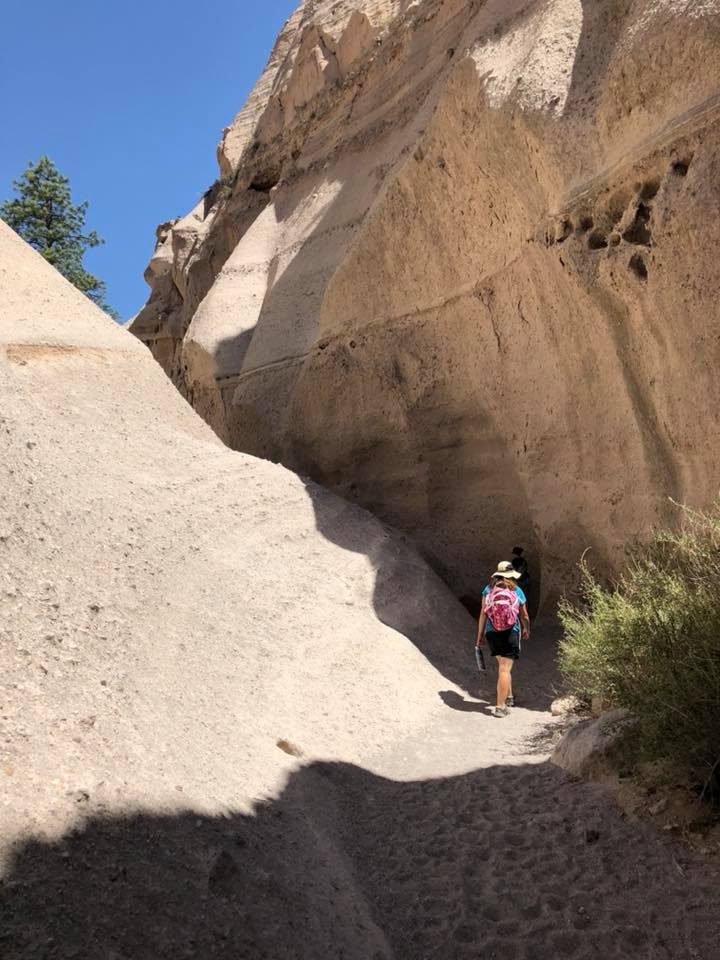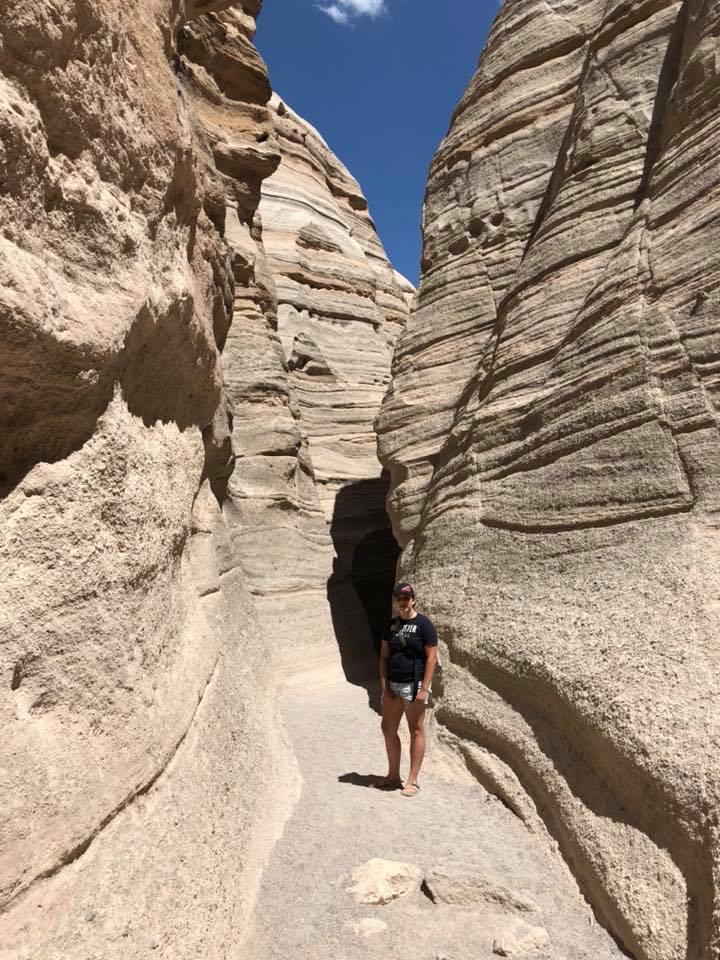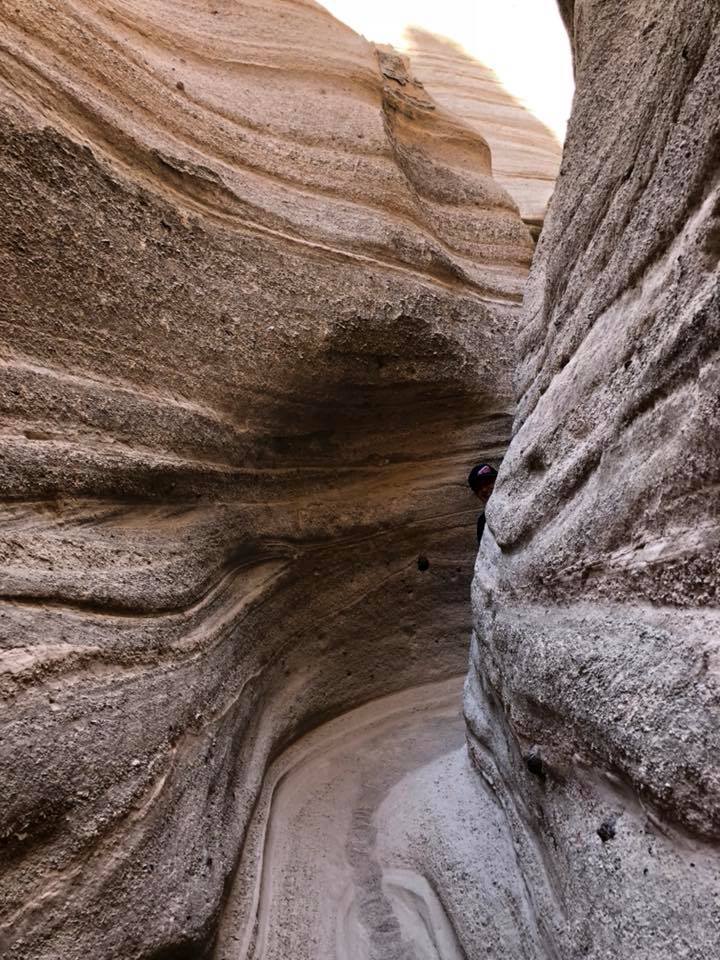 After the slot canyon, the trail opened up and we starting seeing our first HooDoos..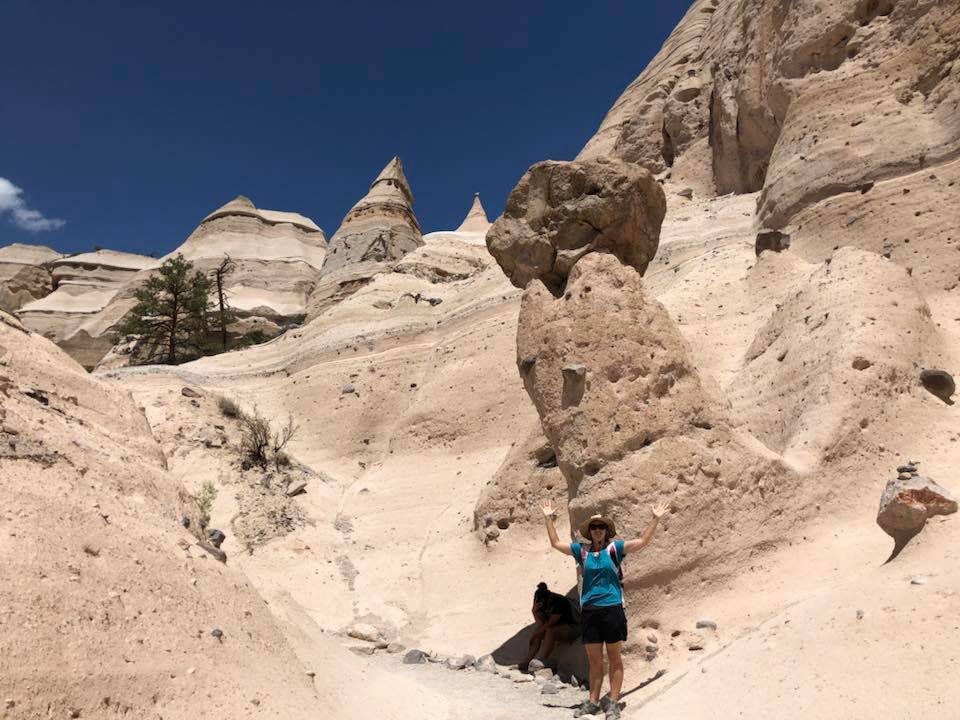 And then more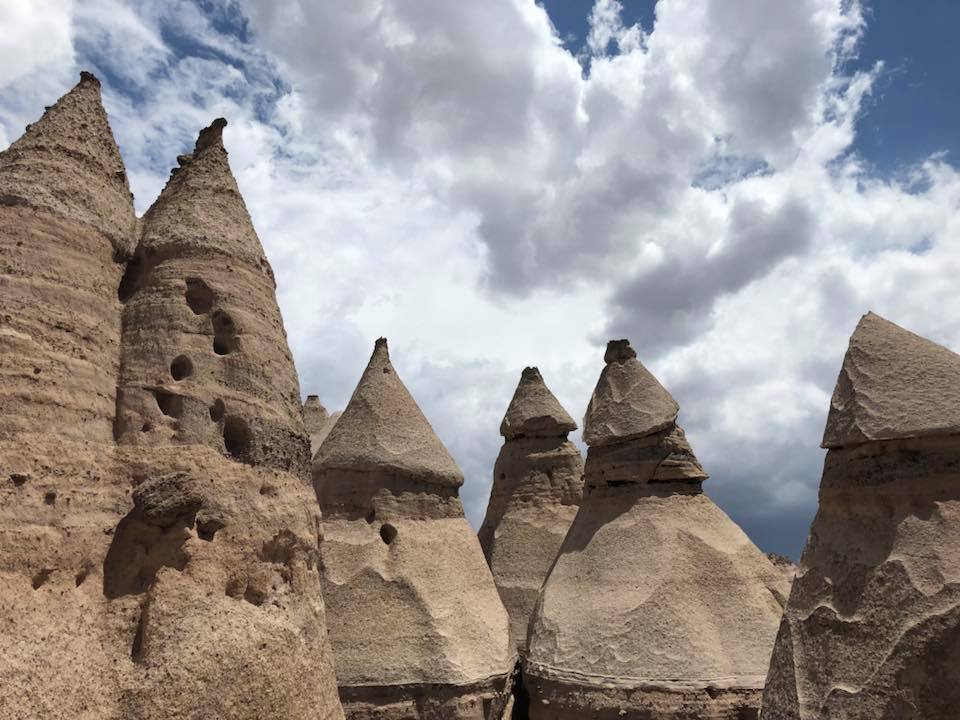 ..and more as we worked our way up the mountain towards the top.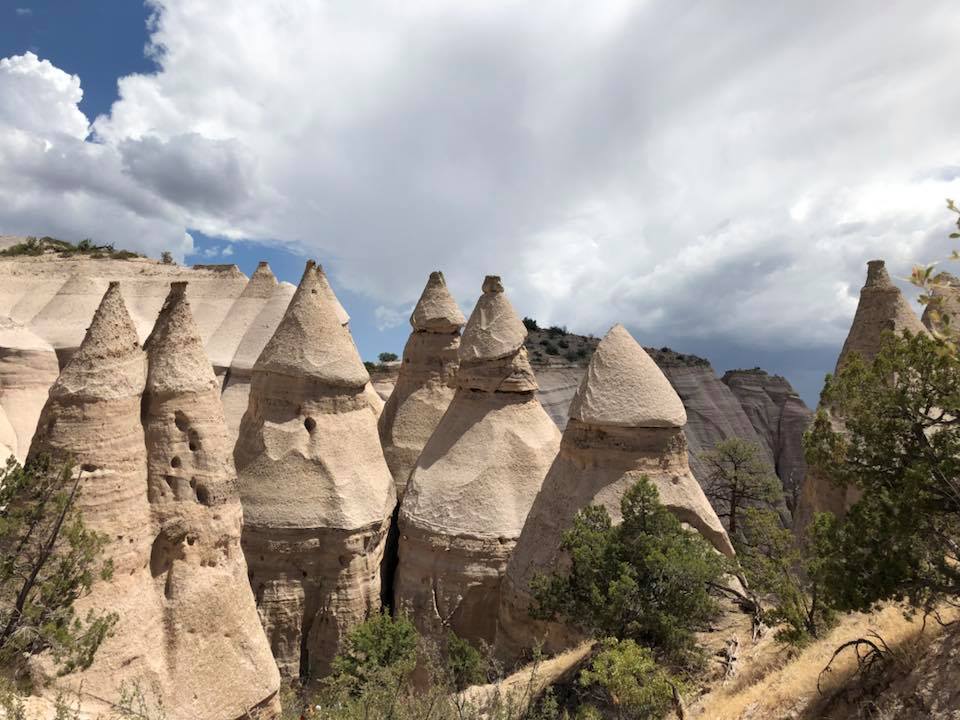 Where you can look back down on them.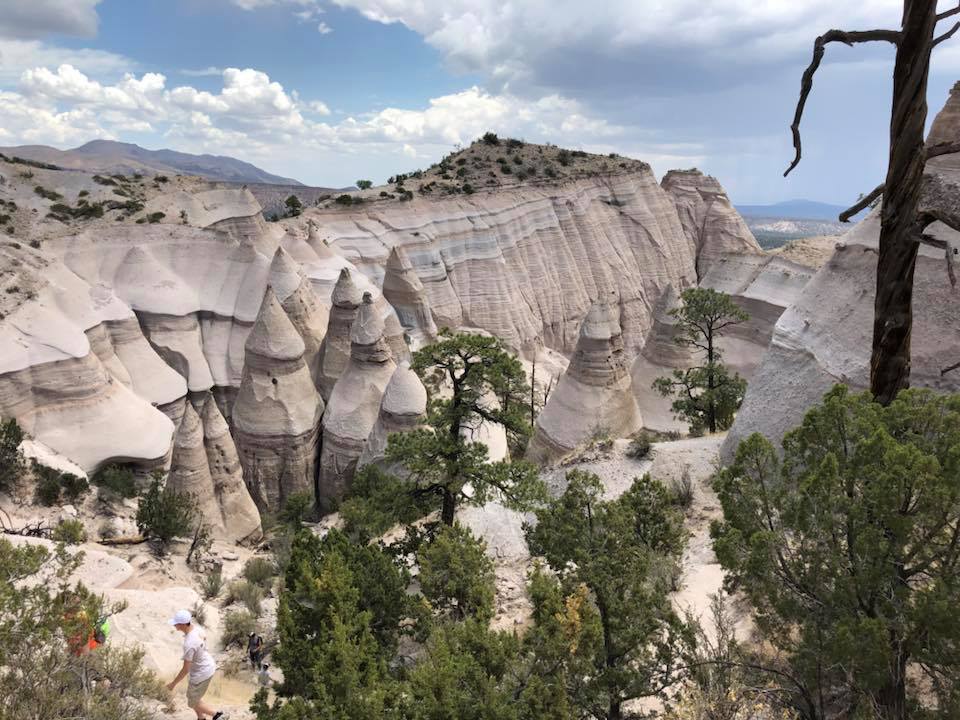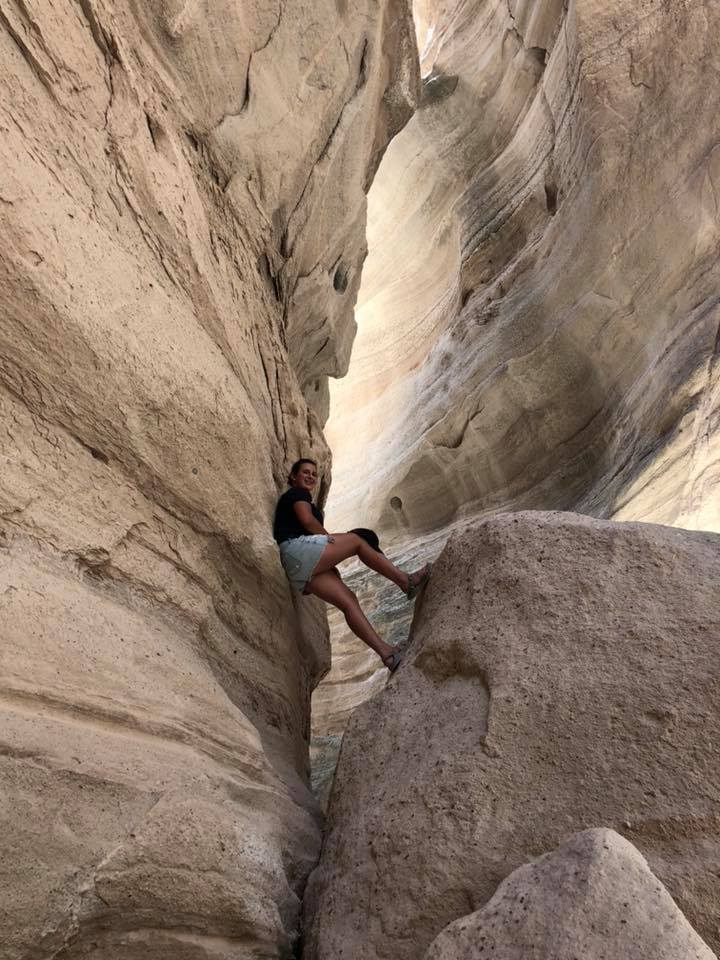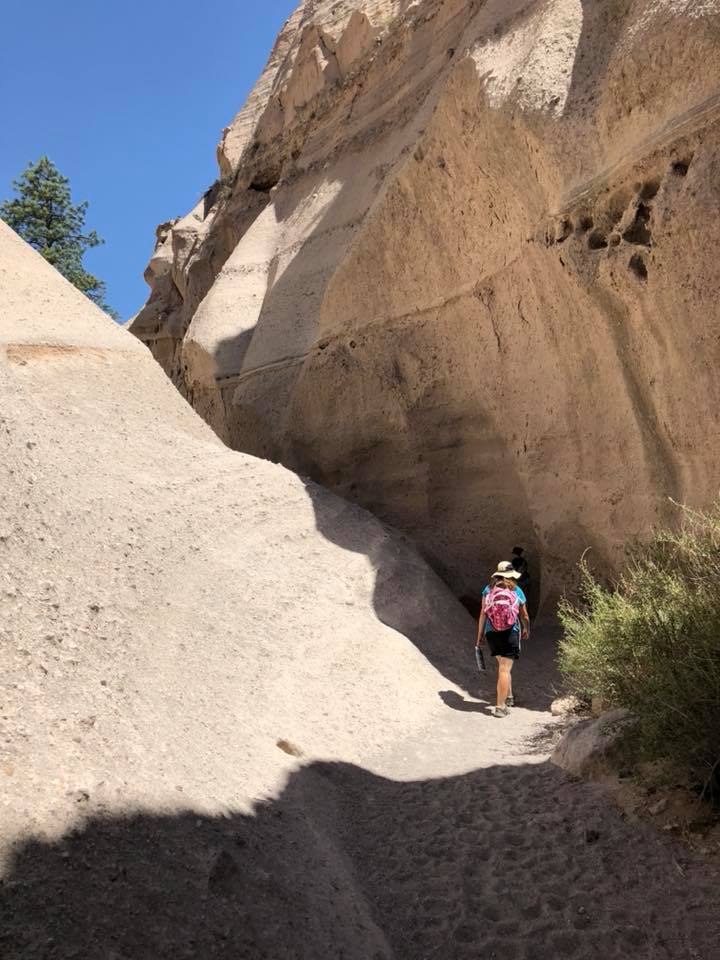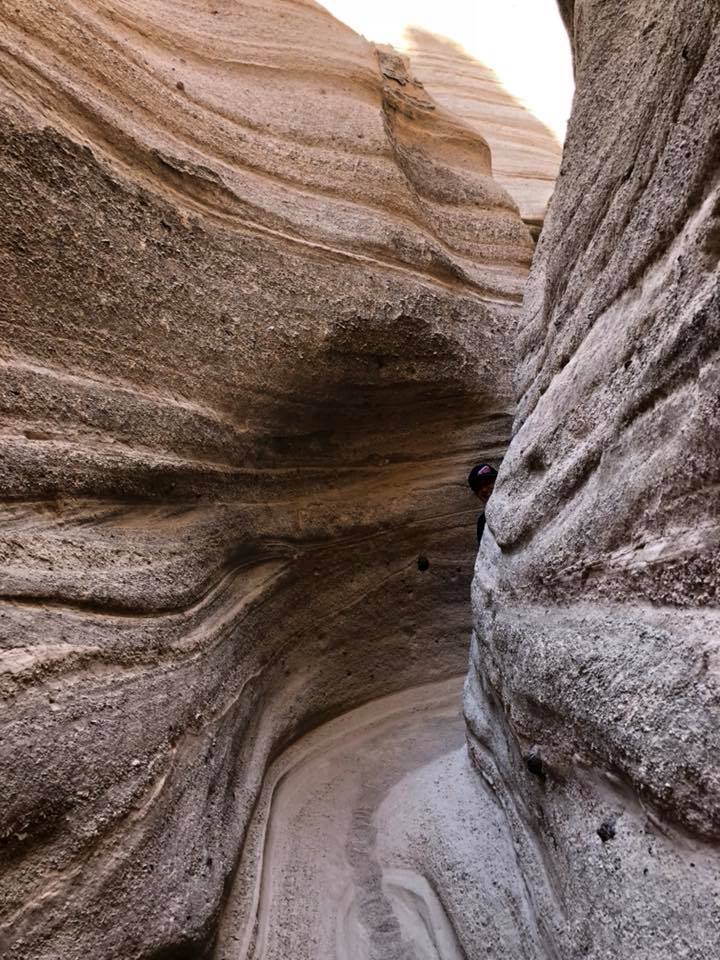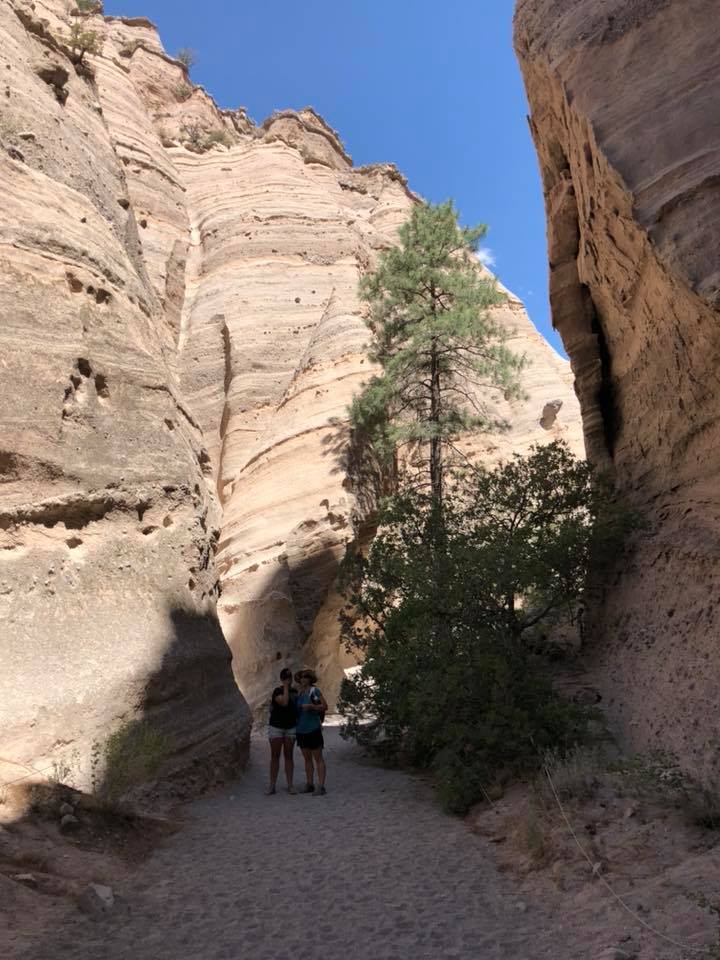 But sooner or later, you need to get back out in the sun to get back to the car…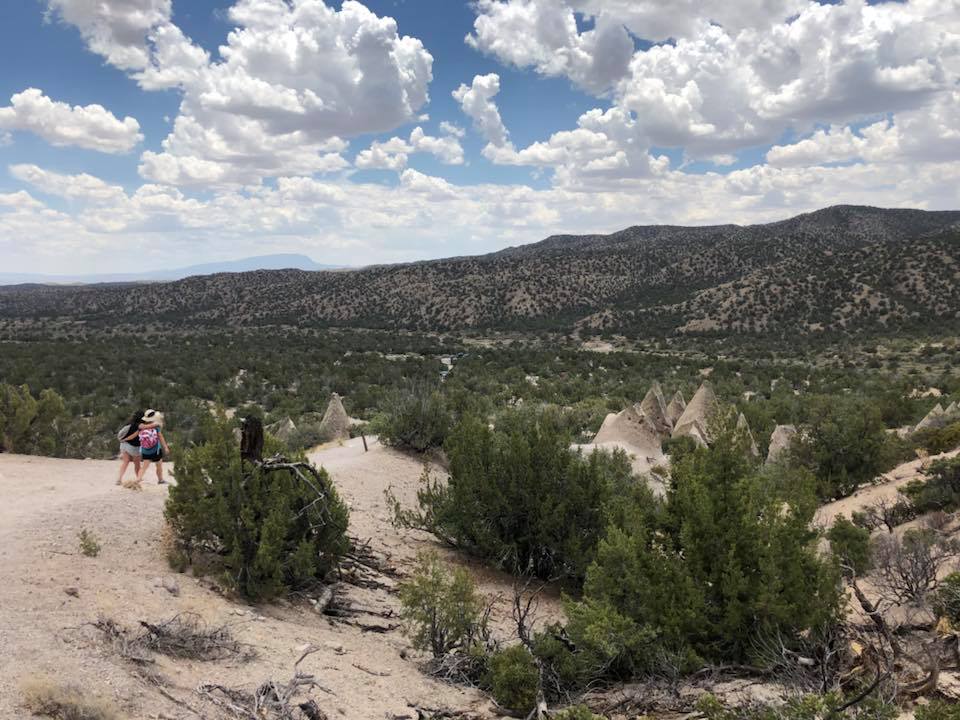 ..and we got back just in time for it to cloud up.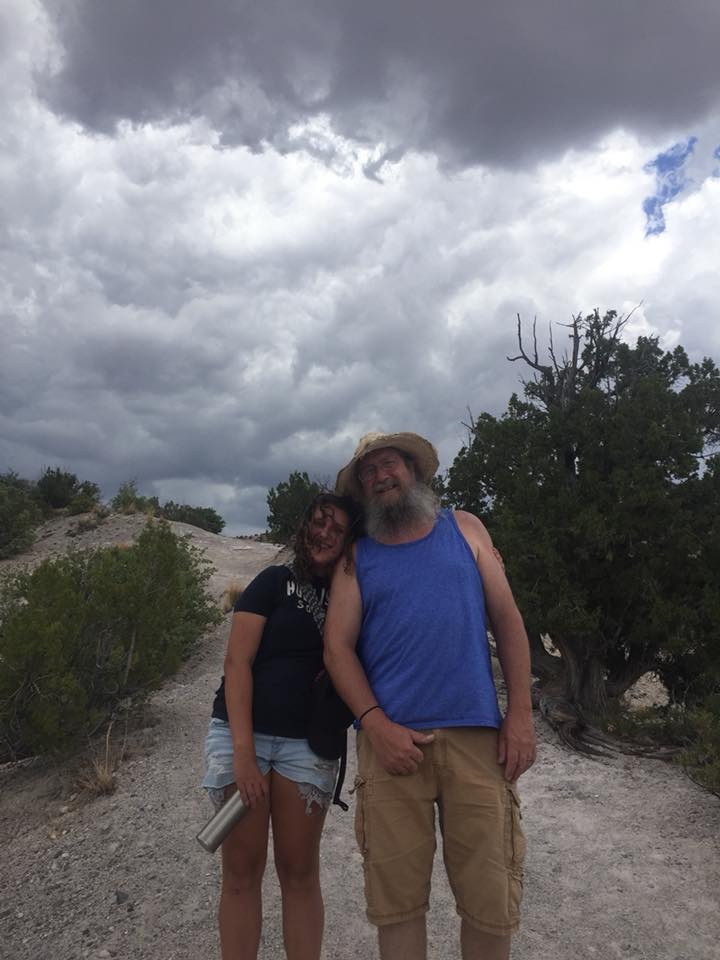 Aly picked up another Junior Rangers patch, and me a sticker for Tony. 🙂 We decided to skip Lake Abiquiu and make a Beeline for The North Rim. We are supposed to be there tomorrow by 5:00 to reserve our mules for a Saturday Ride down into the grand Canyon..
Back on 40 going west again to Gallup we ate at Jerrys Cafe. Excellent mexican food, and fried chicken, and everything else from the looks of it. Place is packed with local native americans, vendors roam the tables selling their jewelry.. Don't miss this funky little place.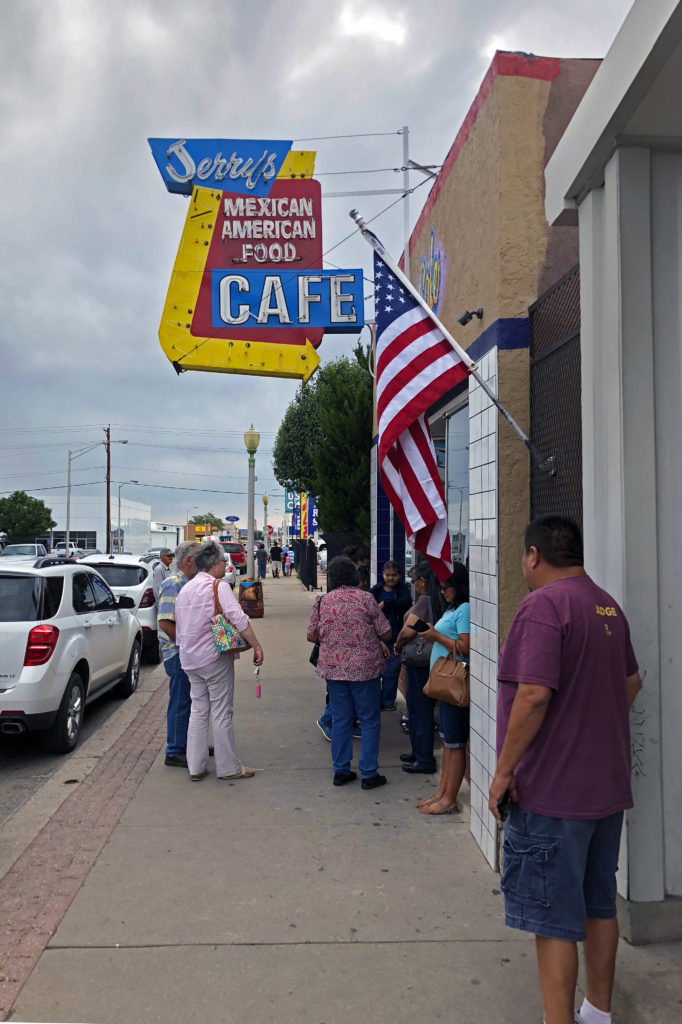 Jennifer drove the long and boring ride from there to Page, AZ.
Such Vast country (Navajo Nation Indian Reservation), but looks nearly worthless as very little water, and gravel in place of soil.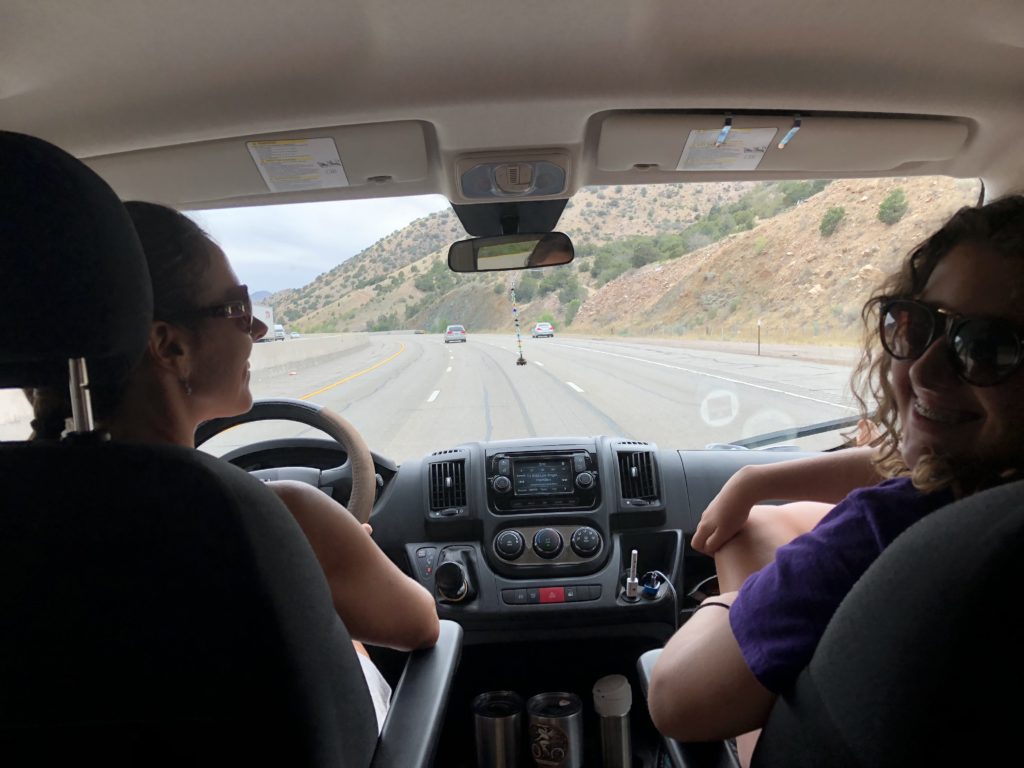 We Arrived late and tried to go to a free beach side campground on Lake Powell, but the sand started getting soft (and our van weighs about 5 tons), and it was too dark to see where we were going, so we opted to go to Wahweap campground in Glen Canyon Recreation Area. Close to midnight and it was still over 90 degrees, so we wanted power anyway. There were a couple vacant spots so we snagged one with full hook ups. Ended up costing $52.00 ! in the morning when I went to pay. I'm fairly certain that is the most I've ever paid for a campground in MY LIFE. yuck. Not only that, it turns out, we were in someone else's spot (who never showed), so they collected twice, and by all rights we probably shouldn't have paid at all..
It was the perfect example of poor planning (arriving late and tired during a holiday), and having to deal with a grumpy park attendant in the morning.