On the 8th of July we headed out for our "Epic" Trip to the parks in the West. We had originally intended to hit the National Parks in California, but after some research, reading about year ahead reservations, full campgrounds, lotteries to hike trails, extreme heat, and ridiculously priced campgrounds (combined with the fact that I recently "removed" our generator with a solid rock on a rough road, which would mean no air conditioning in the back of the van without plugging in or running the now non-existent generator), the shine wore off, and we decided instead to head to Canada.
We packed up Friday, and headed off early Saturday Morning just past Kansas City, where we spent a few hours visiting with Family, and then Jennifer whipped up a dinner of fresh Tomatoes, squash, potatoes and Corn on the Cob from "Uncle Kenneths" huge garden. An earlier stop at Oceola Cheese added a little dairy. We plugged into his house and "camped" in his driveway that night, serenaded by the constant stream of long freight trains about 1/8 mile away in his backyard. Kansas was hot, and the mosquitos were on the hunt (screened doors and windows really came in handy).
In the morning we said our goodbyes and headed west, driving all day through the green Kansas fields of corn and soybeans. On the way, we contacted a Travato friend, Shirley Price, on FB who offered her driveway for surfing in Colorado, but we wanted to get to the Rocky Mountain National Park. Shirley put us in touch with another B Van owner closer to the Park, who also freely offered up her driveway, but also gave us some recommendations (even calling for availability) on campgrounds. Appreciating the hospitality, but wanting to get into "camping mode", we ended up steering towards Hermits Park Campground near Estes Park.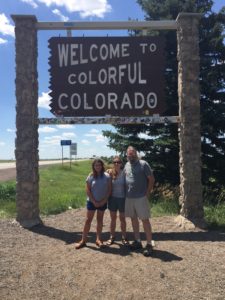 Stopping at a gas station outside Boulder, we saw our first Travato "in the wild", and had a chance meet up with Gail Blummel, yet another Travato owner from the facebook group. She had just flew back from Alaska and had spent all day driving, and was looking for a place to spend the night herself, so she followed us up to Hermits Park. Hermits Park is a great campground, with spacious level sites (no amenities except pit toilets) and beautiful views. We parked in adjoining sites and made burgers on the campfire.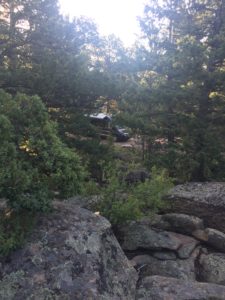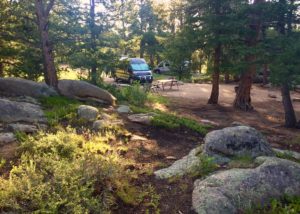 In the morning Gail and Jennifer hiked to the top of a peak overlooking Estes Park while Aly and I hung out in the camper (I was a bit under the weather).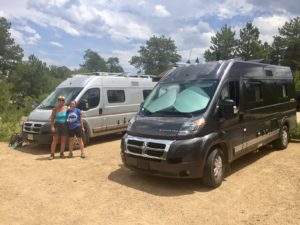 When they returned, we headed up into Rocky Mountain National Park (Gail was working on a much more relaxed time frame, and wanted to do some more hiking). We drove through RMNP and did a short hike up at the peaks of the mountains.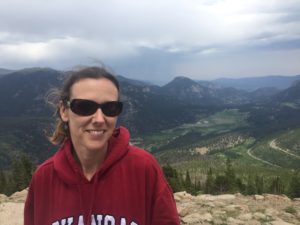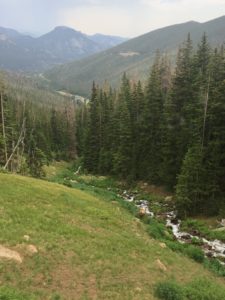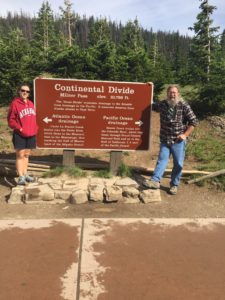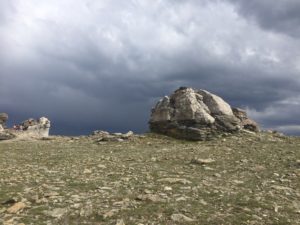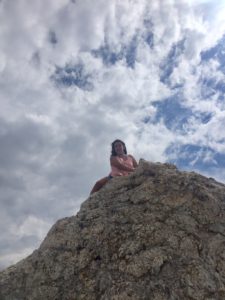 On the way out of Rocky Mountain National Park we saw our first Moose, ate at a Cowboy Diner, and found a campground Lakeside on Grand Lake. The Sun was setting and there was a beautiful double rainbow.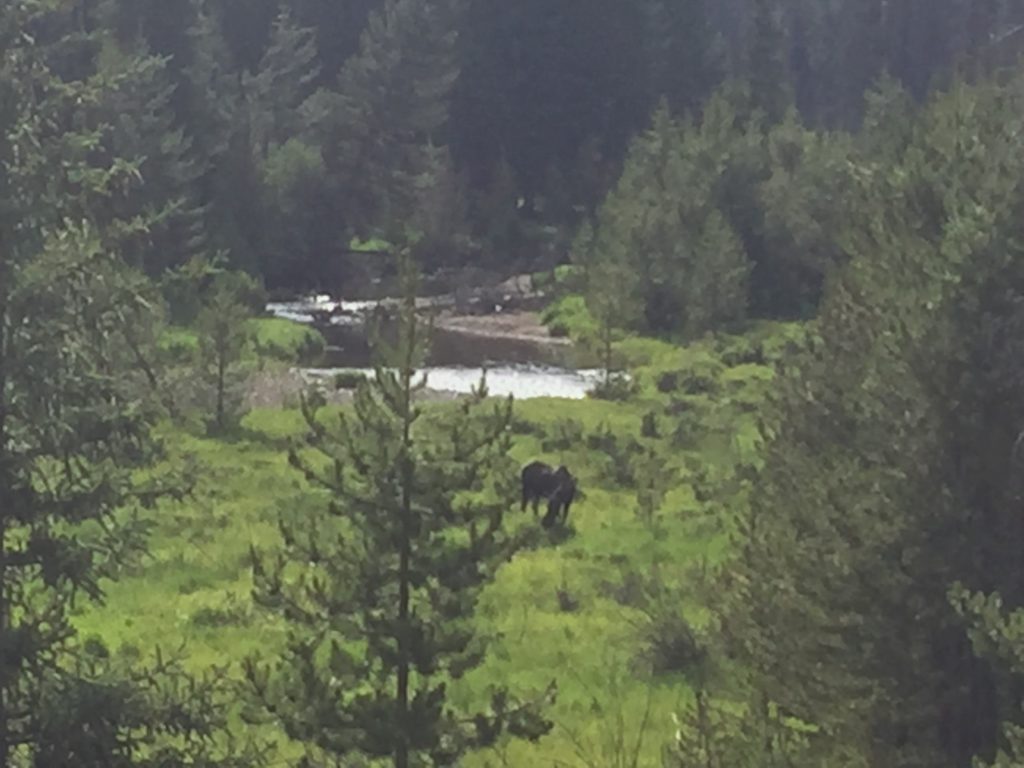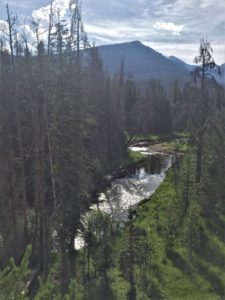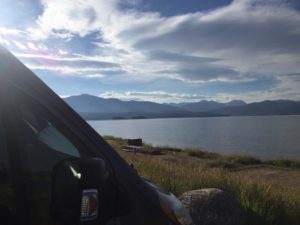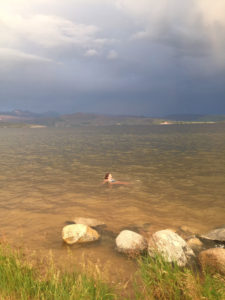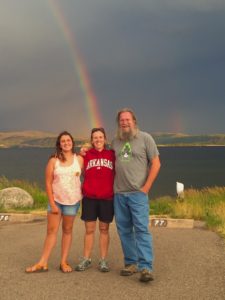 One of these RV's, is not like the others…
One of these RV's, just isn't the same…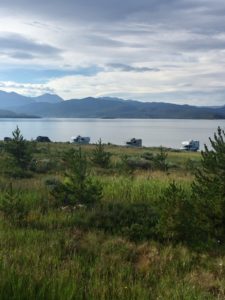 Do you see Ole Abe resting in the Mountains?