I had a chance to meet up with Don (my employer) last week and finally announced my plans to retire. He took it well, and though I still plan to work for a year or more, it feels official now! I will be setting up a meeting with my possible replacement to meet the boss…
We left the house around noon after Jennifer got back from her dentist appointment.

Skipped through Oklahoma and Texas as fast as possible.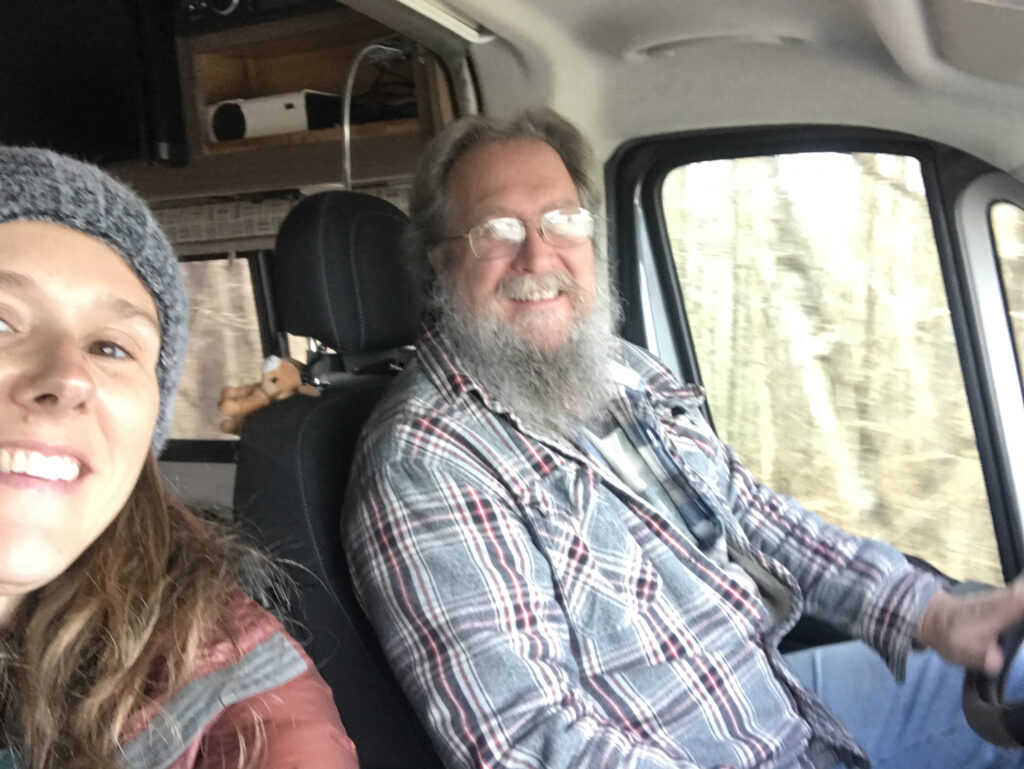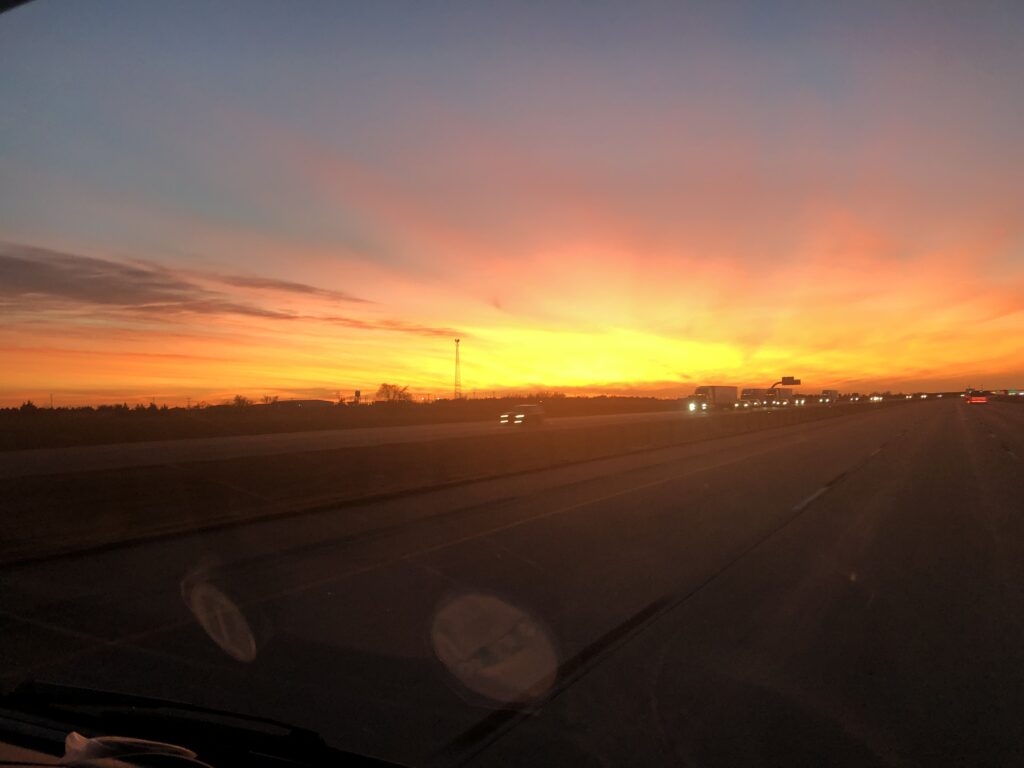 Drove all the way through the day before we started thinking about how the temperatures were just dropping further and further below freezing (and going to get much worse through the night). I hadn't winterized the water system in the van and we started imagining freezing pipes and busted pumps. I had not winterized because in Arkansas we had only a couple nights below freezing, and it warms above freezing daily. As we left Arkansas the temperatures just kept dropping through the day and were expected to be in the 12 degree area by morning. We stopped in a Walmart Parking lot, got some antifreeze, and I proceeded to drain the water. The sun was dropping down and the temperatures were as well. There are three low point valves under the van and I drained them all – went back to close the valves so I could pump the lines full of antifreeze and the valves had already froze up.
FRIDAY January 7th
We were trying to get as far into warmer temps as necessary, and Tucumcari seemed to have the best forecast, so we overnighted there at a Flying J and had Dennys for Breakfast in the morning. We continued westward and stopped in Gallup NM for lunch at Jerrys (NOT a disappointment). Then we drove over to Church Rock and climbed the rocky wash and some weird rounded rock hillsides to see the "Church" formation high upon a mountain.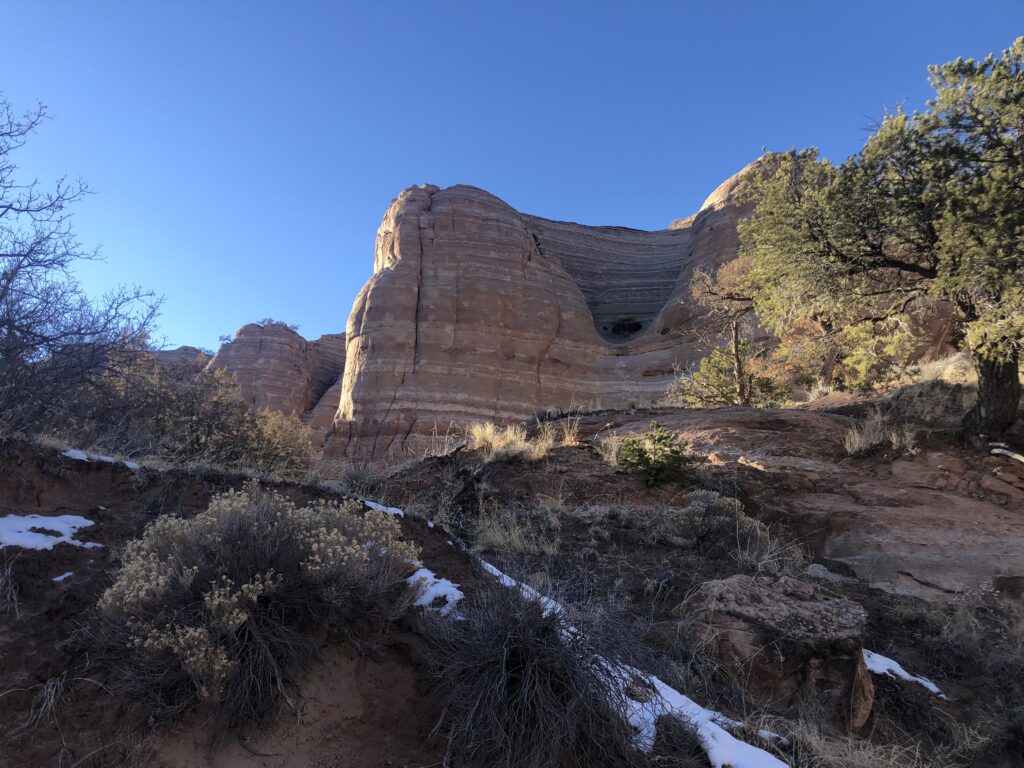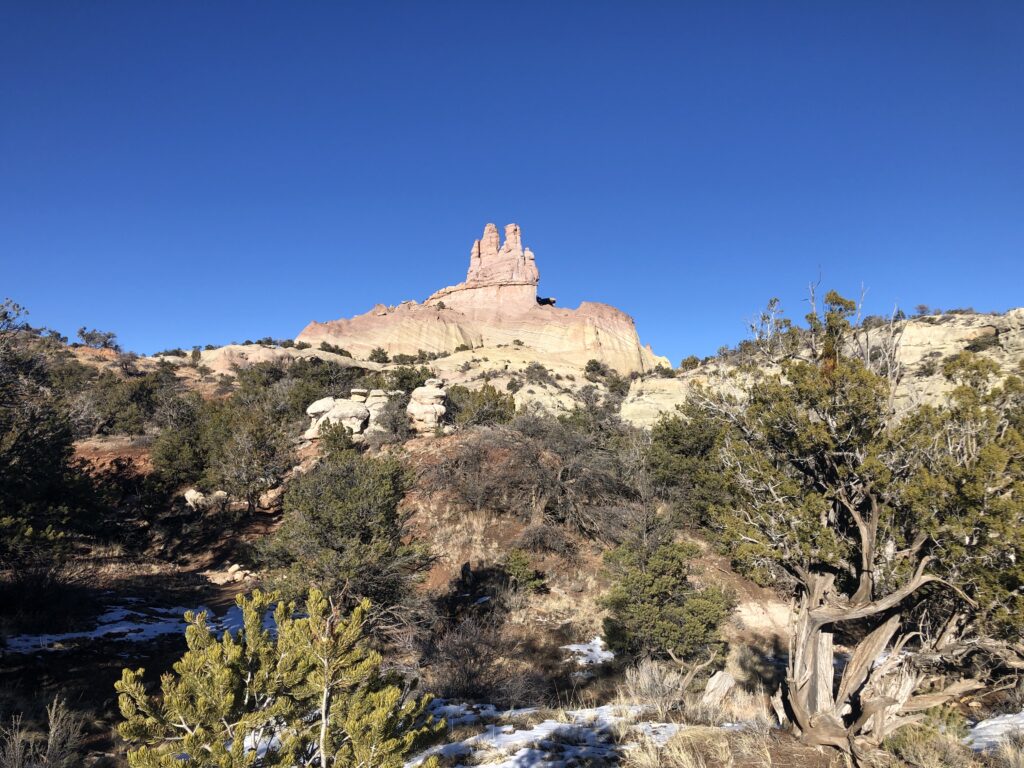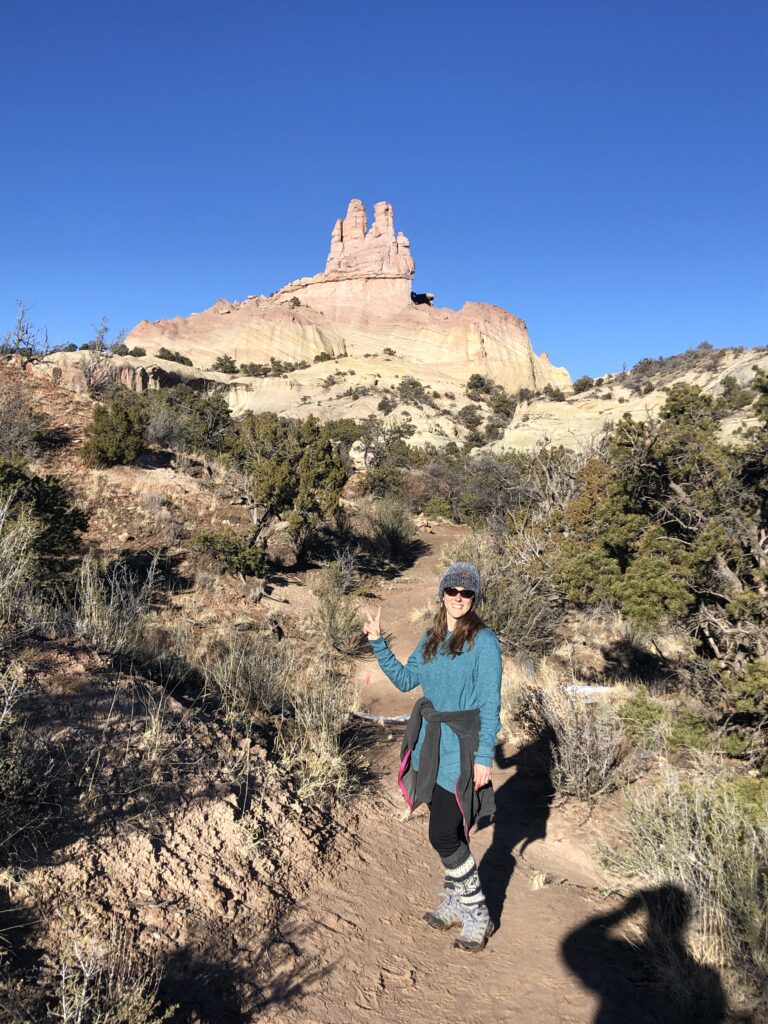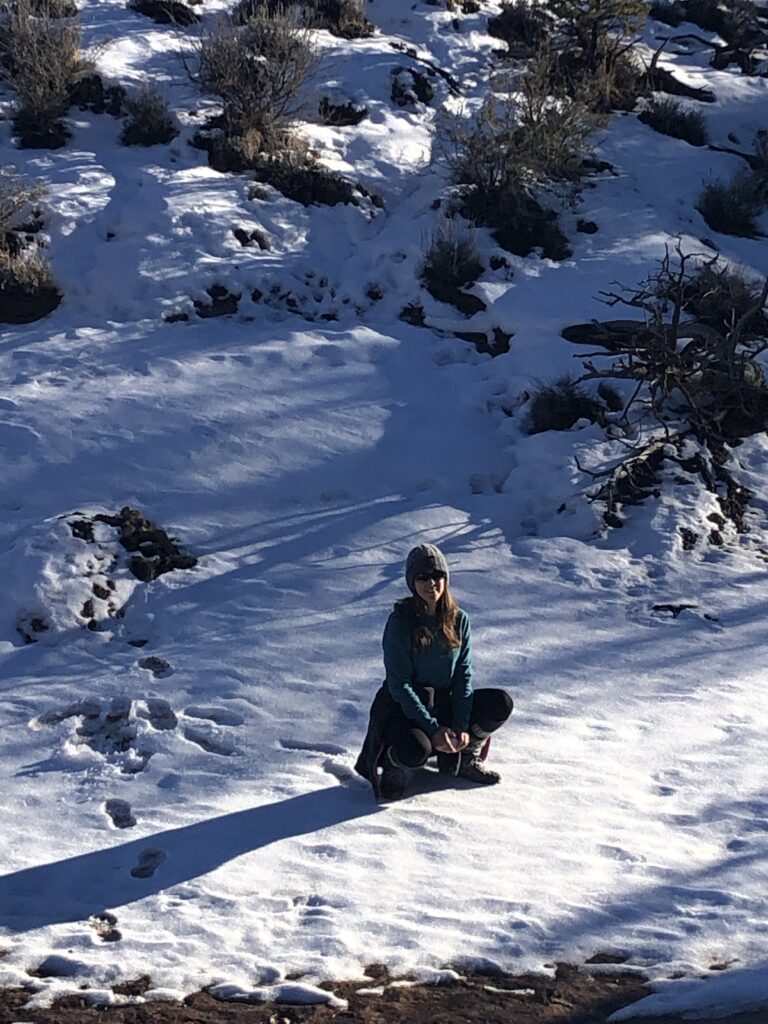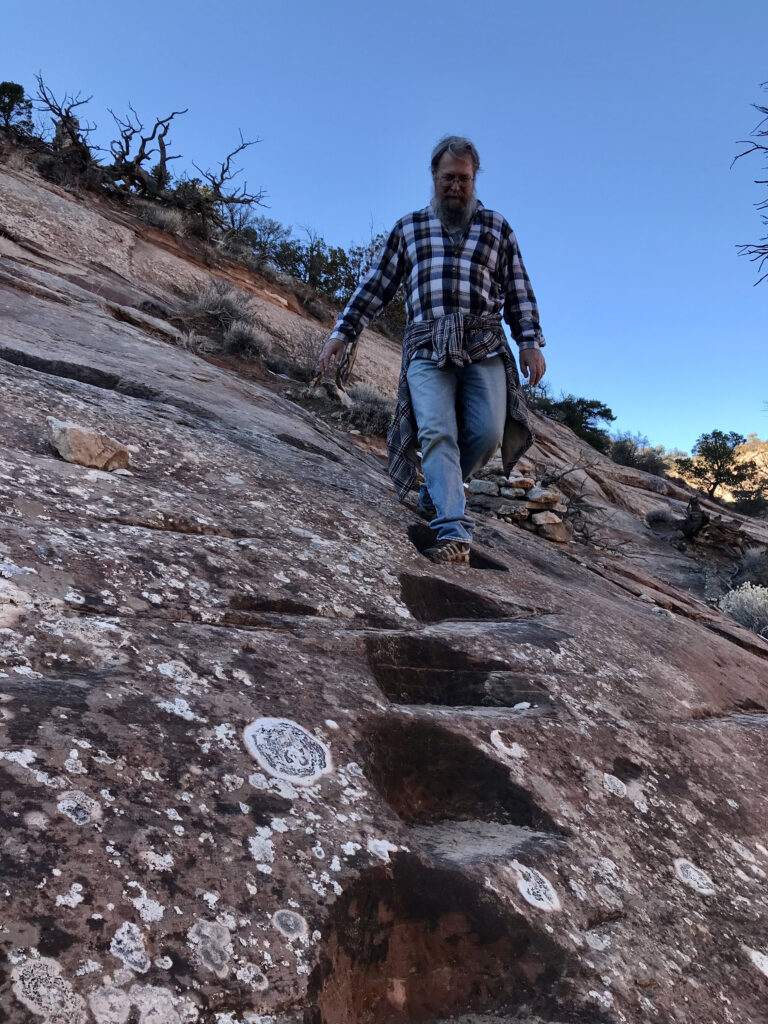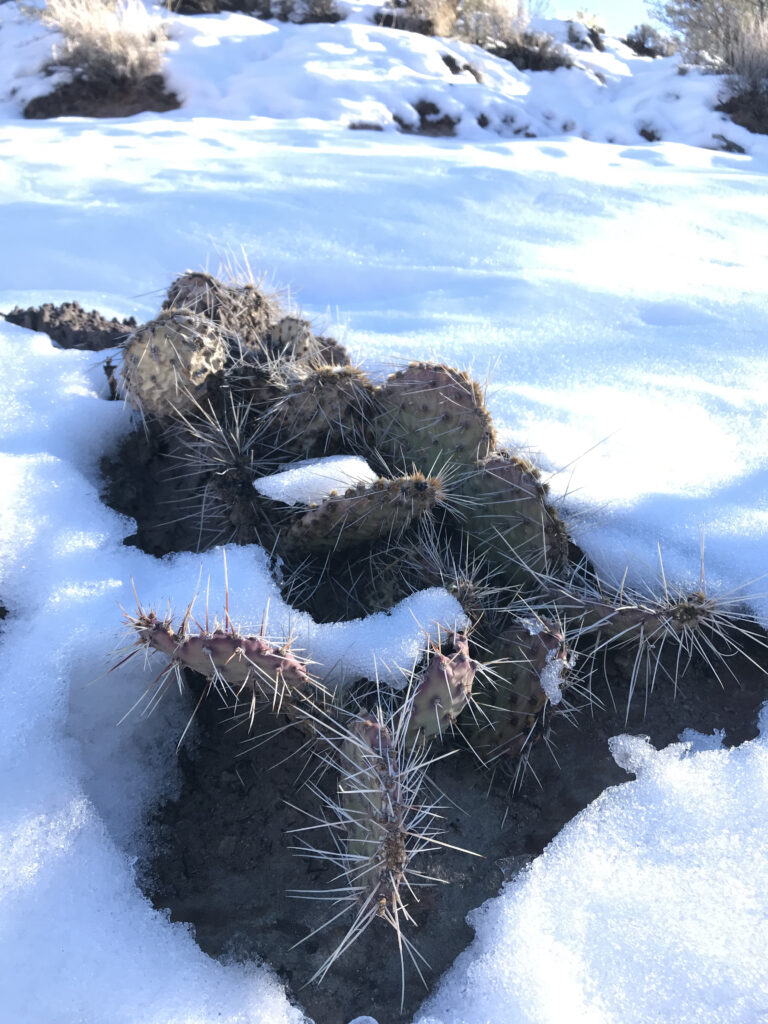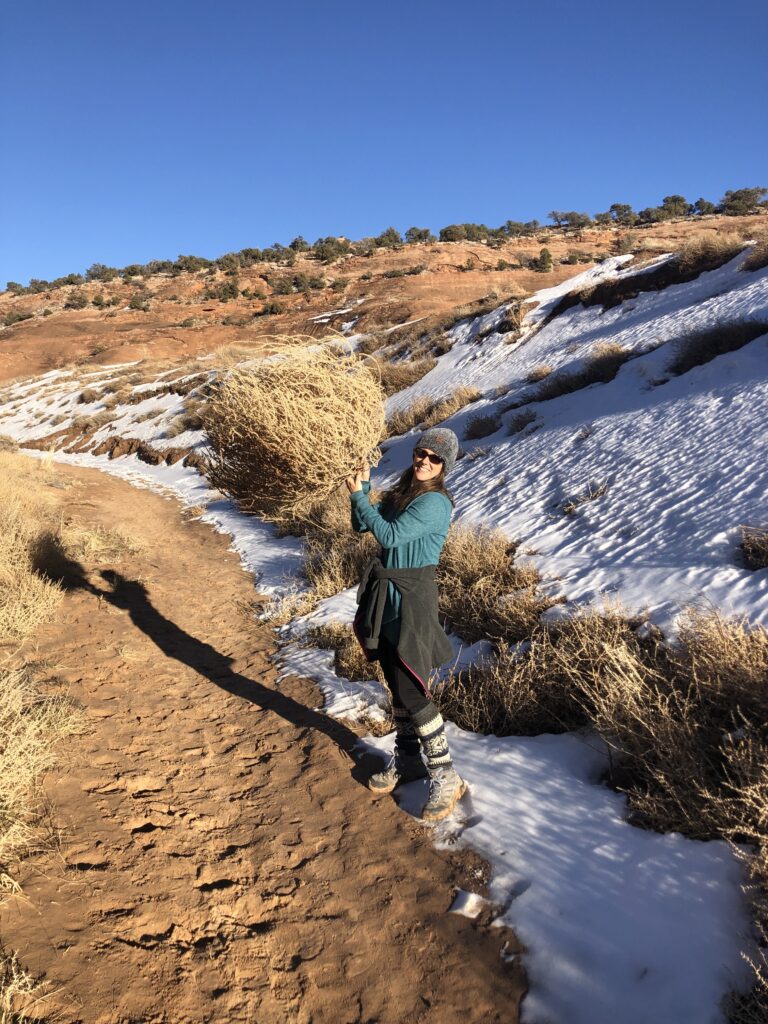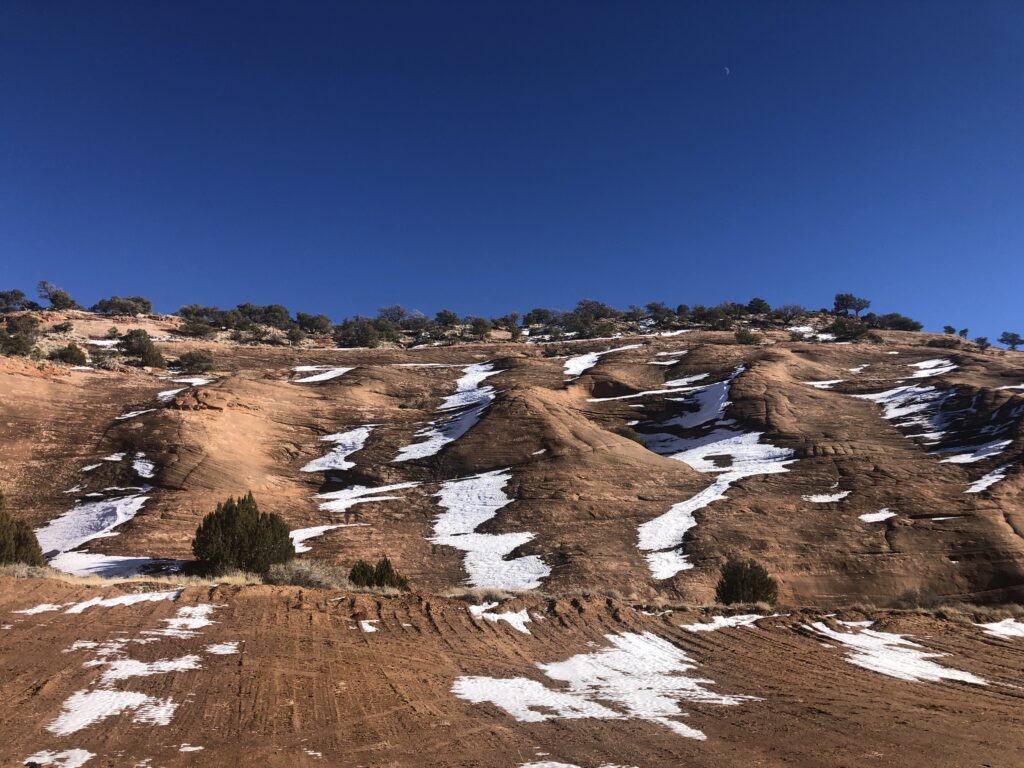 We attempted to fill the water tank since everything had melted and realized there was at least one broken valve and fitting under the van – made a 4:45 run to ACE hardware to acquire some rubber tubing and hose clamps to plug the broken drain. Fixed the leak in the ACE parking lot but the pump is still acting weird – constantly running (haven't figured that out yet). Went through Winslow Arizona, and of course we had to go stand on the corner and take a selfie like every other tourist. We went through some kind of Time warp in Winslow and the clocks all went haywire – in the van, and on our phones. Google maps took us round in circles trying to get out of town, and when we finally got out of the town limits, I realized we needed to fill up with gas, so we turned around and went right back into the time warp – clocks went haywire along with google maps and AGAIN we drove around circles for awhile.. Very strange, gave us a good laugh.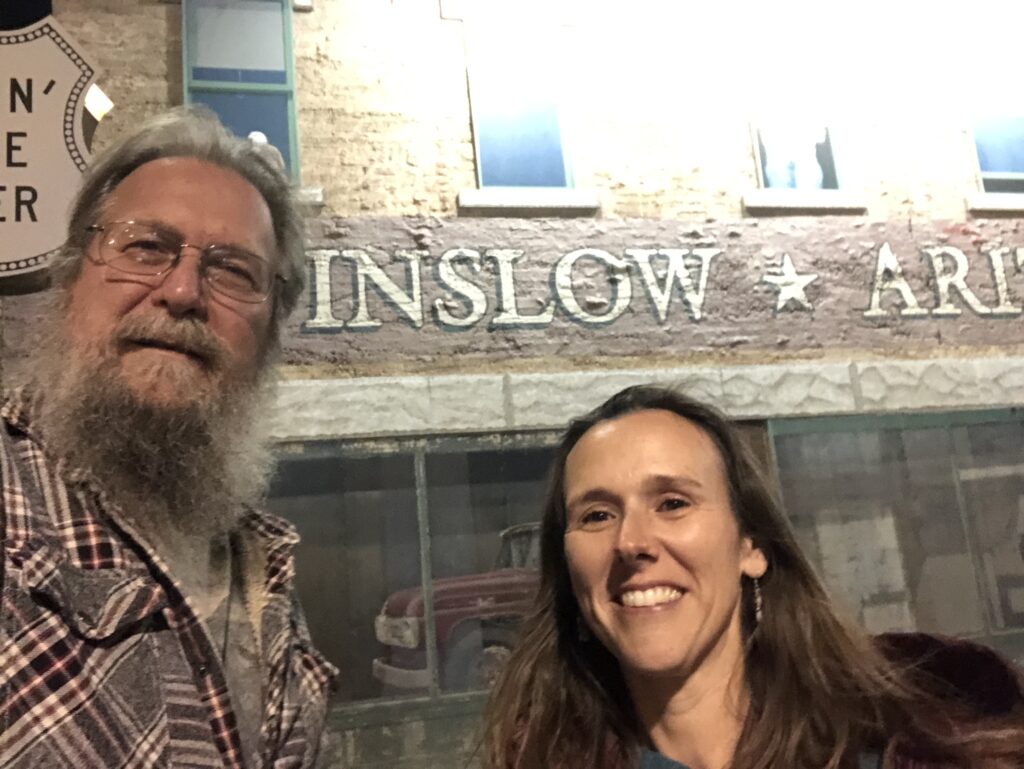 Got off the expressway and went South on 87 out into the Tonto National Forest late at night and found Jacks Canyon Campground (rock climbing camp) at the end of a couple miles of potholed soft dirt road.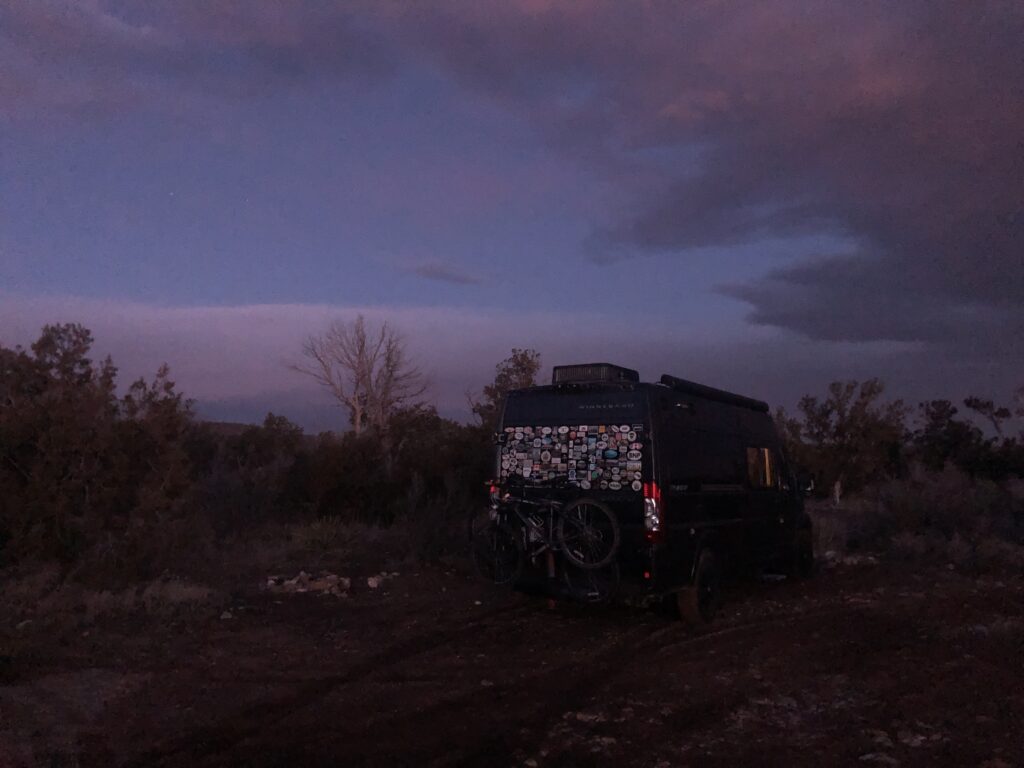 SATURDAY January 8th
Got up in the morning to a great sunrise and a nearly empty campground. Made some breakfast and went for a walk around Jacks Canyon – it was Windy, but a nice place to camp for free. There was a trail to the bottom, but we knew we were entering into prettier country, so we carried on.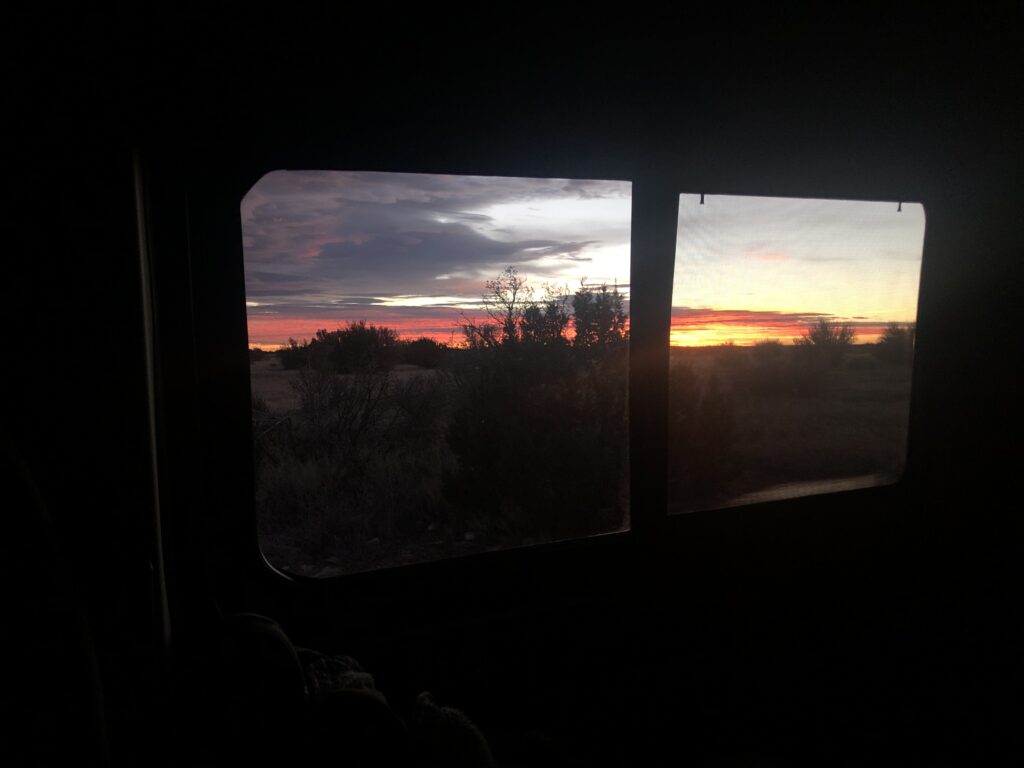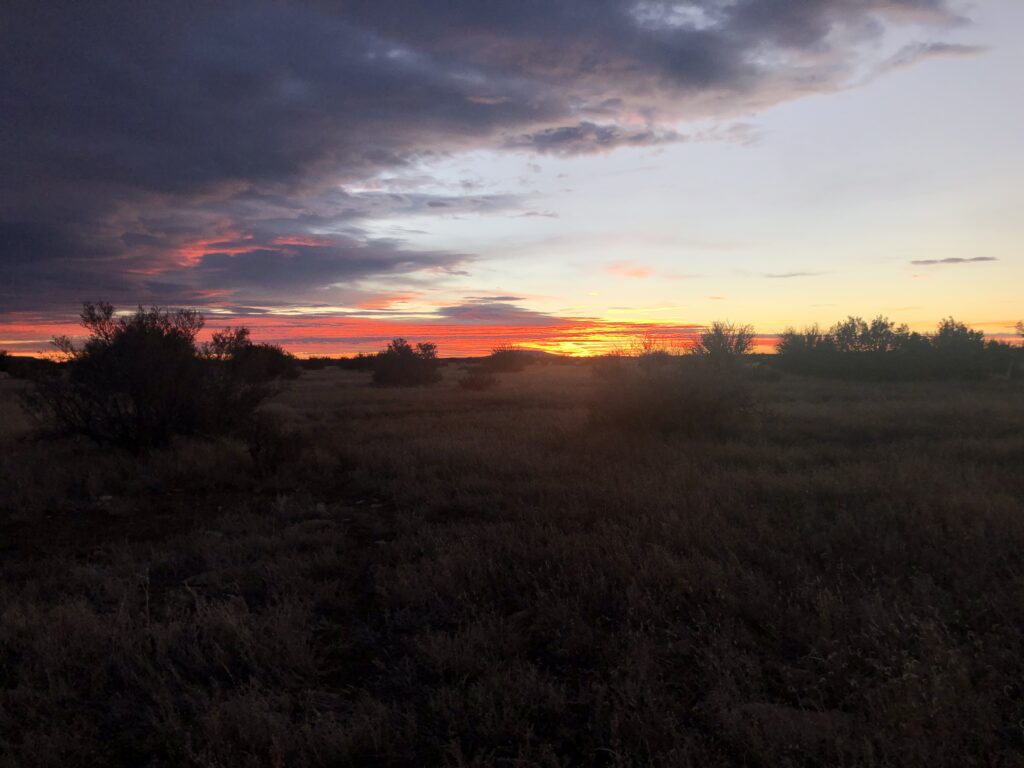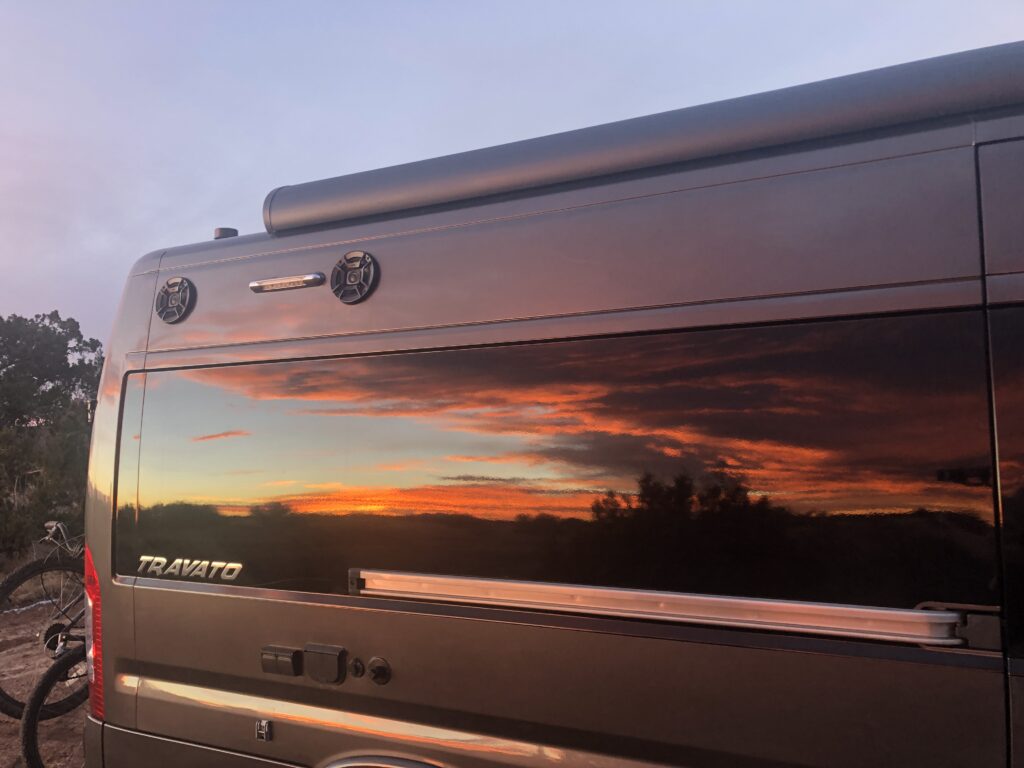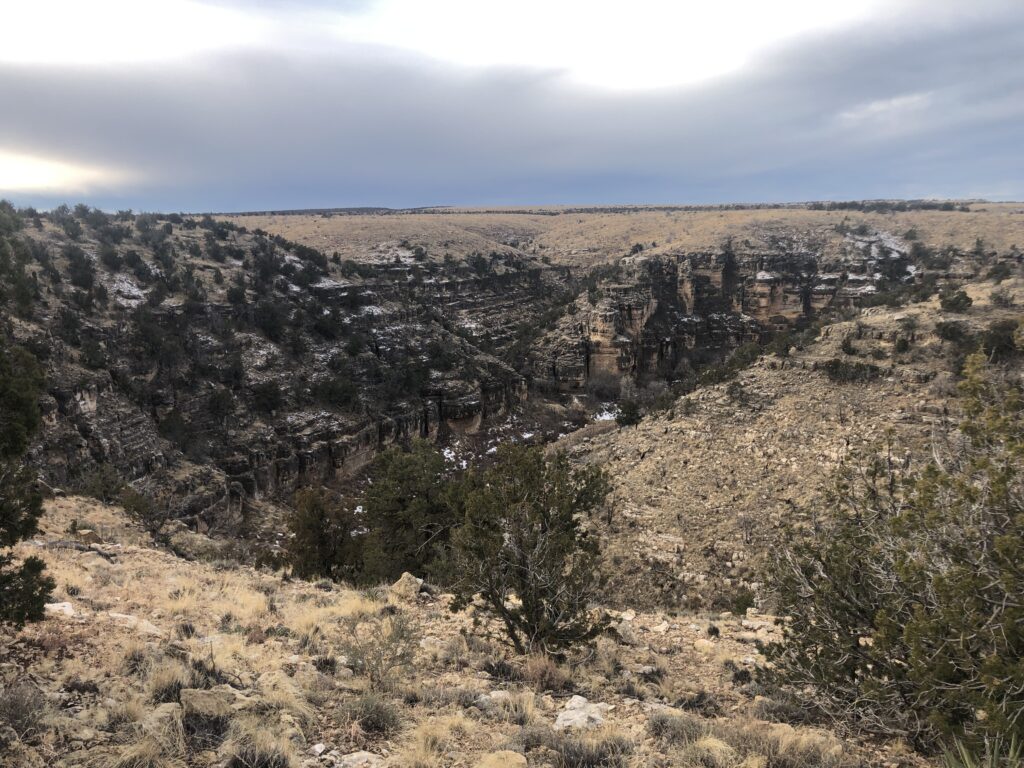 We continued down 87 which actually went UP and over the mountains, one sign said 7500 ft. – the terrain changed from scrubby desert to a pine forest with frozen ponds and snow. The roads were clear but there was 6 to 8" in the woods and it was beautiful.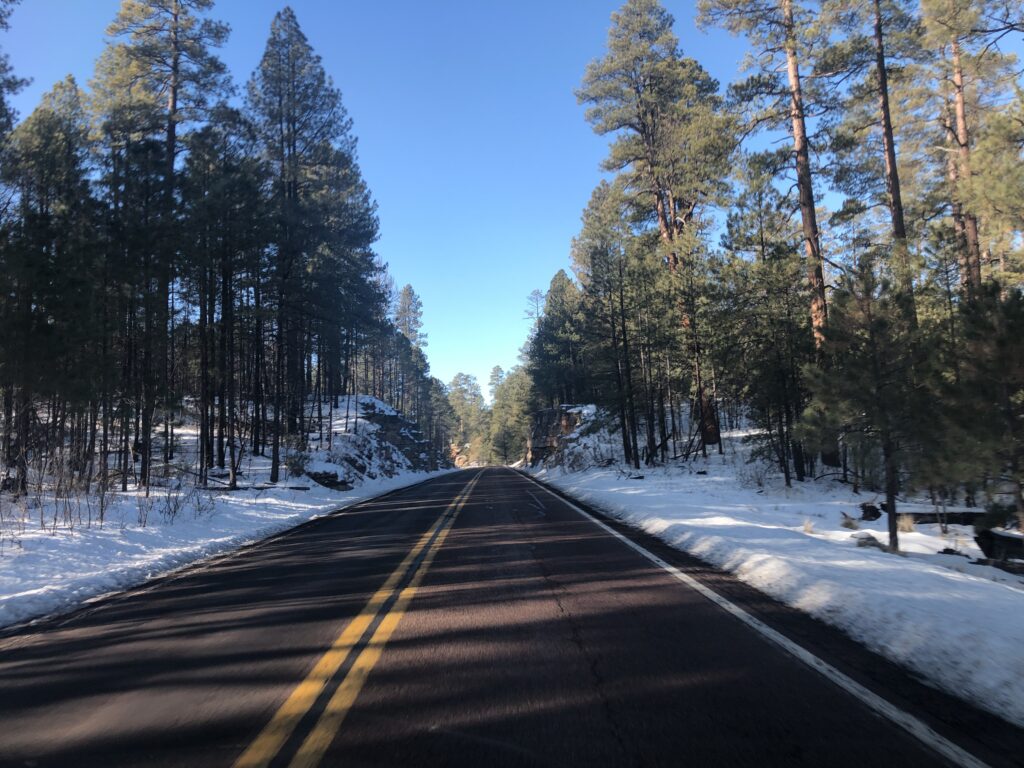 Went through the little towns of Pine and Strawberry and stopped at the Strawberry Pie Bar for some fried pies.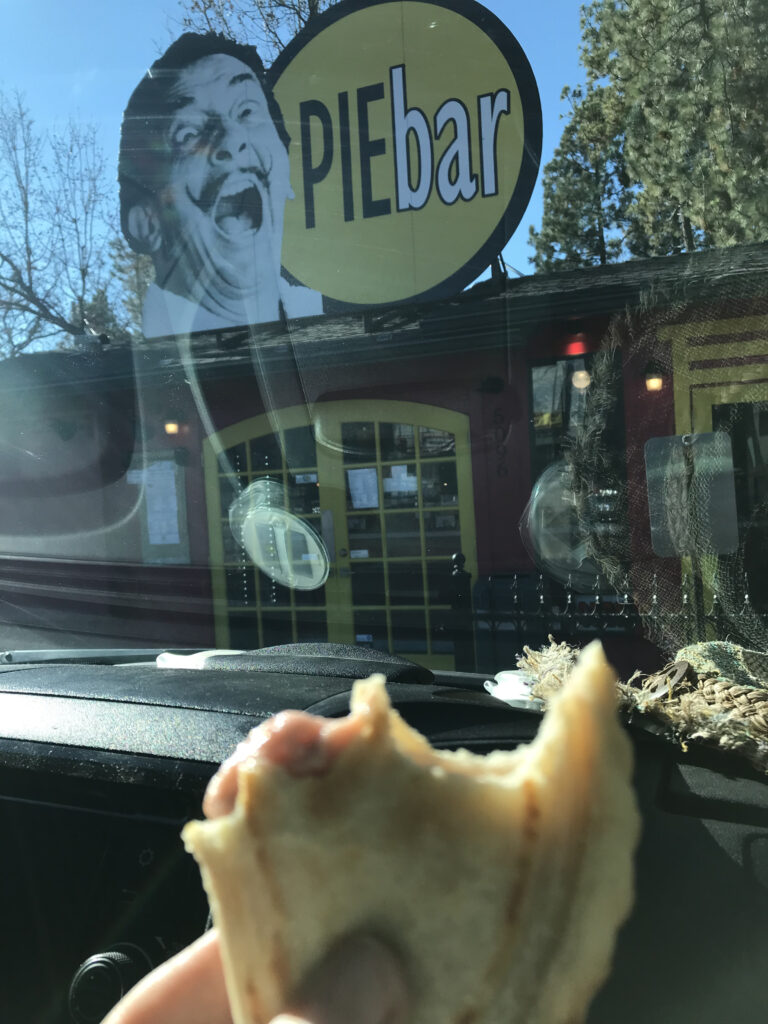 Went and hiked around the Tonto Natural Bridge; BEAUTIFUL hike, we covered every trail they have, scrambling over slippery rocks and boulders down in the creek I can feel old age creeping up on me, and I am just as not as limber and graceful as I once was (not that I ever WAS really overly limber or graceful). Anyway, the Natural Bridge was a great stop and I highly recommend it.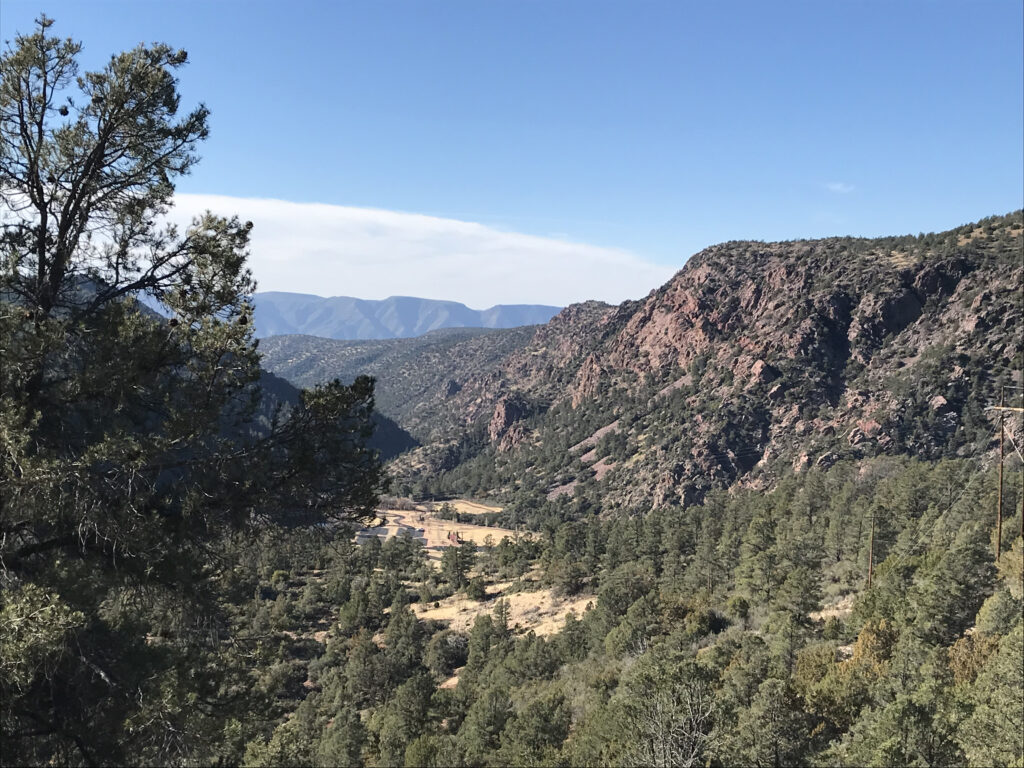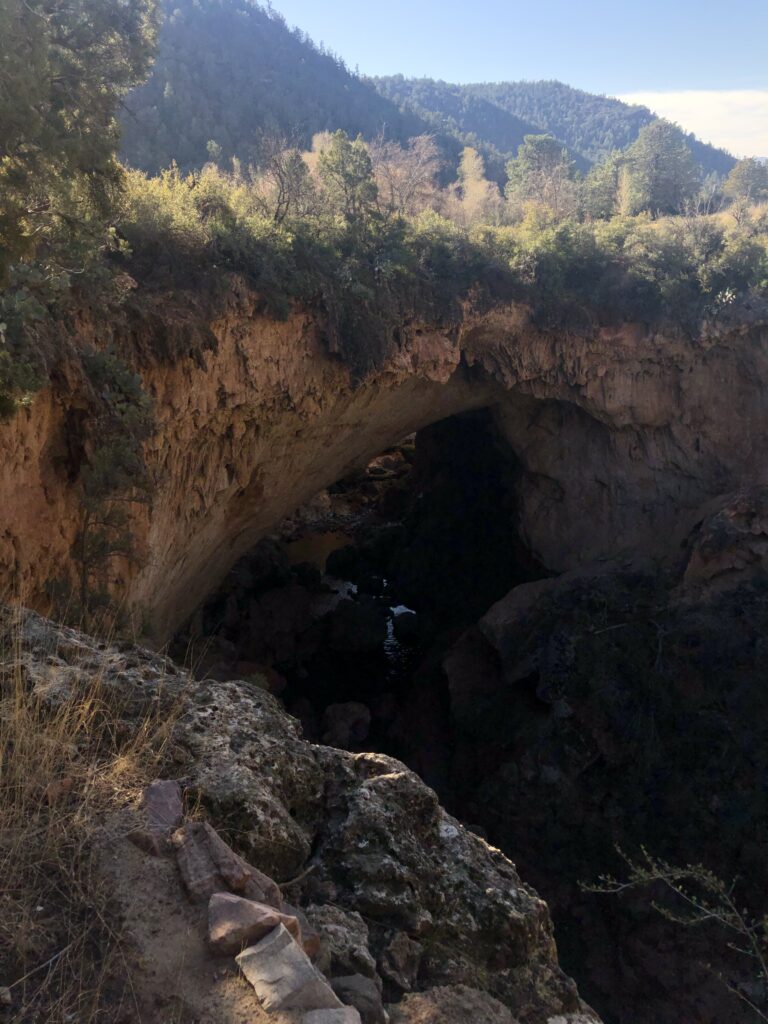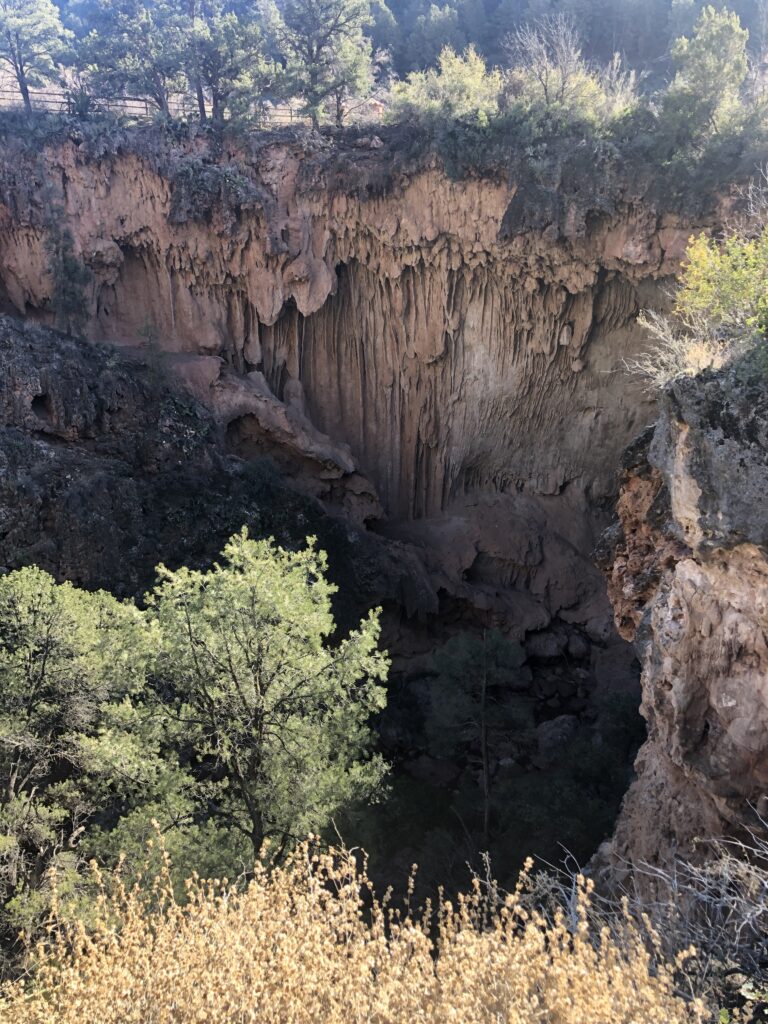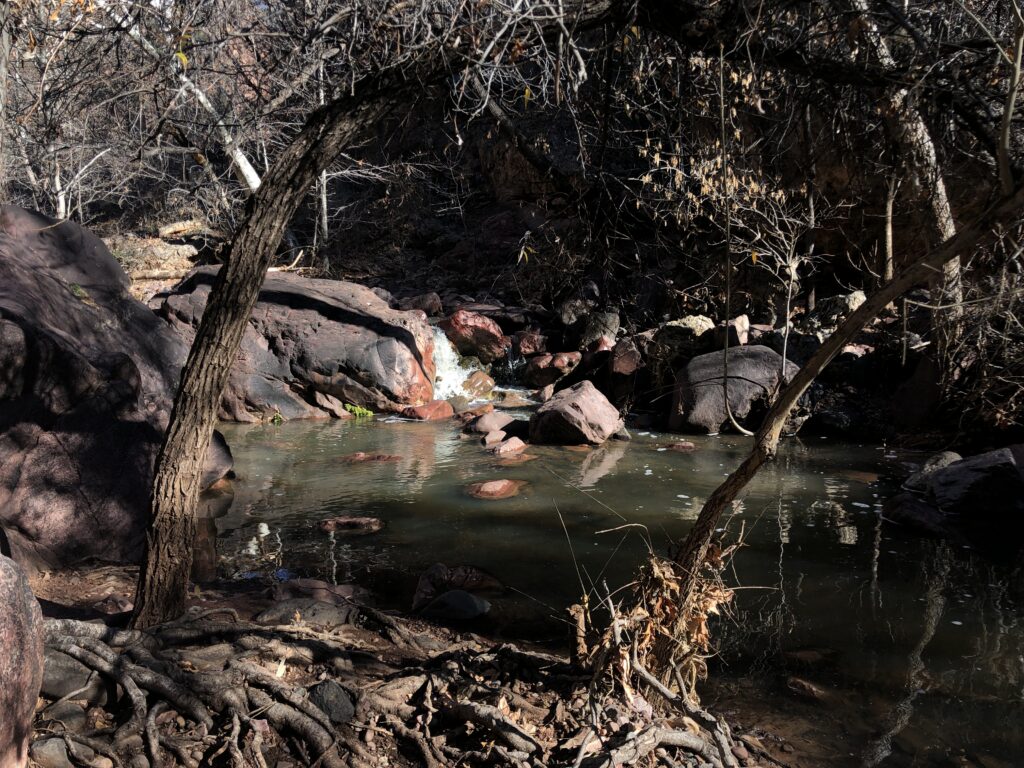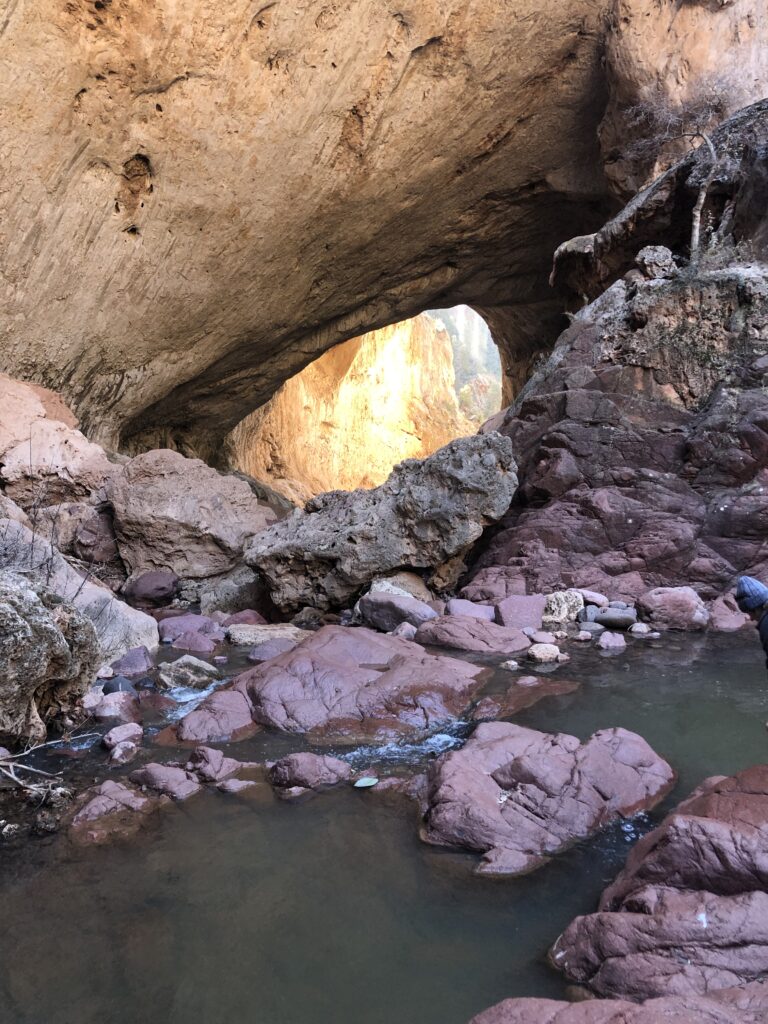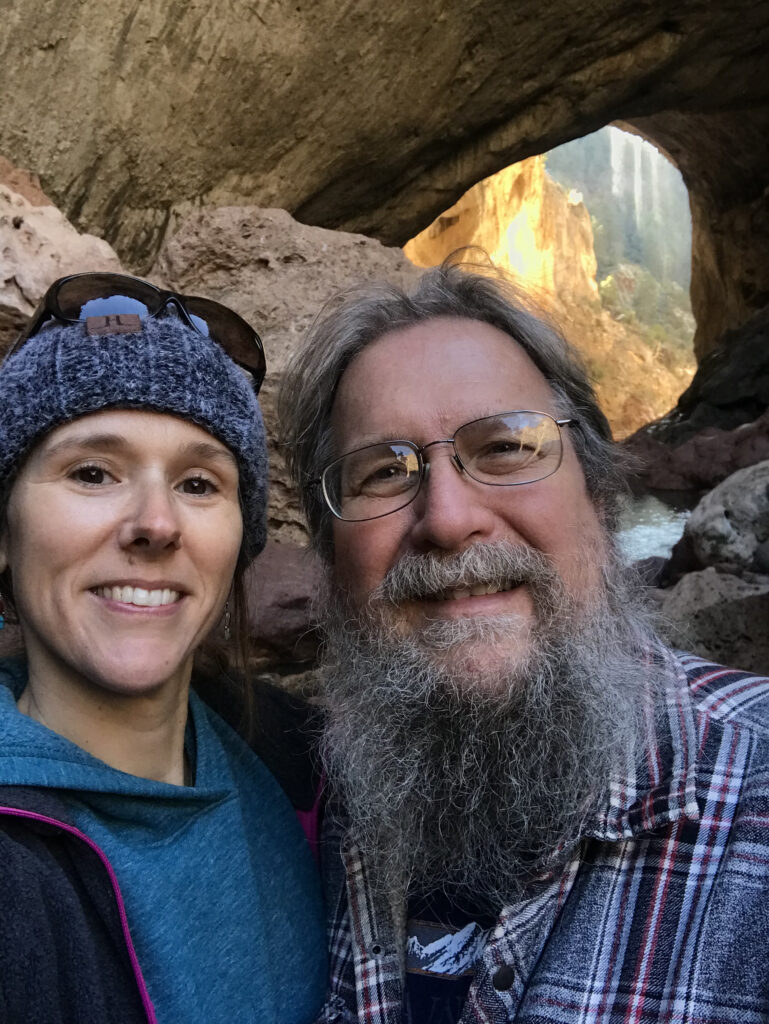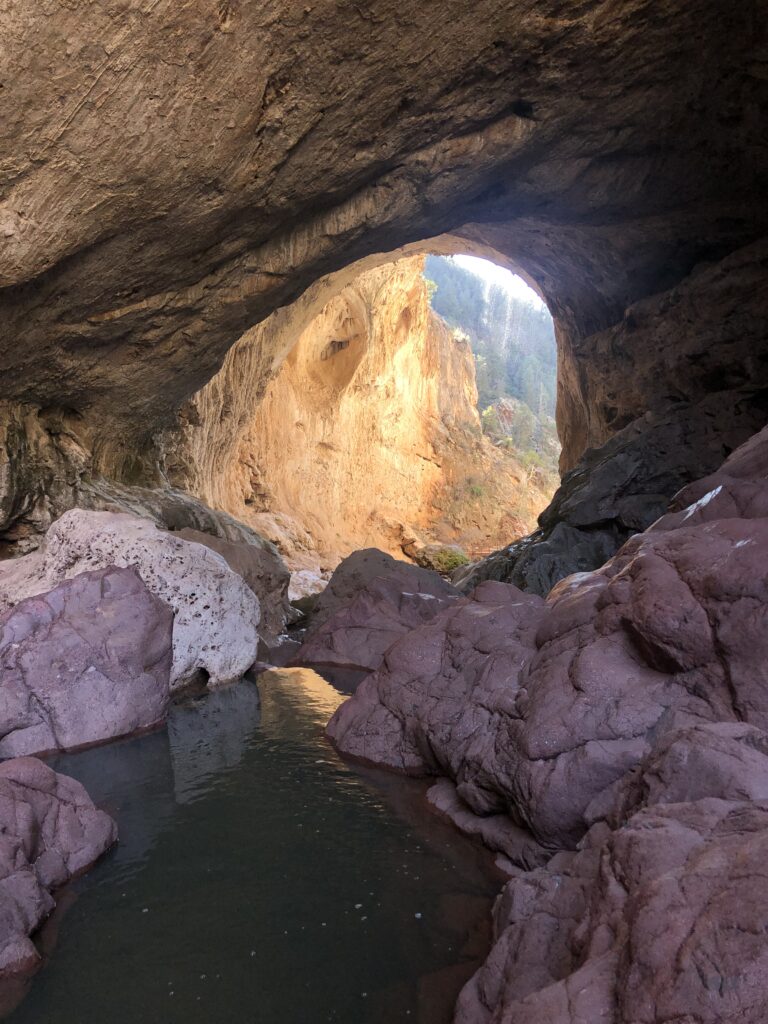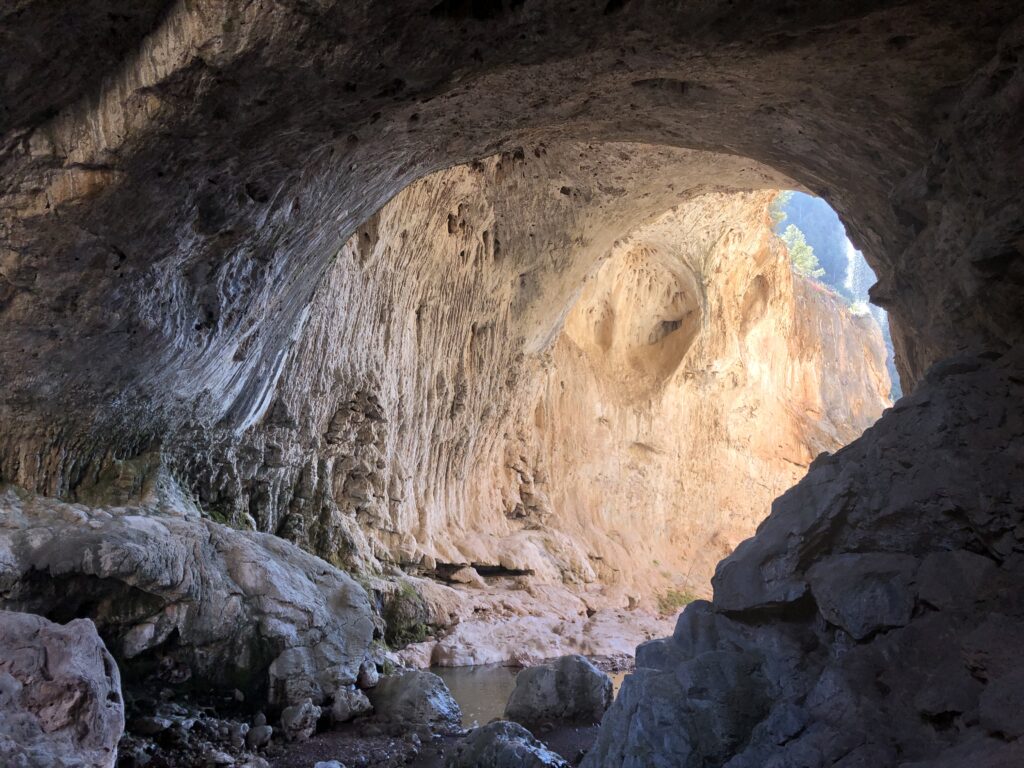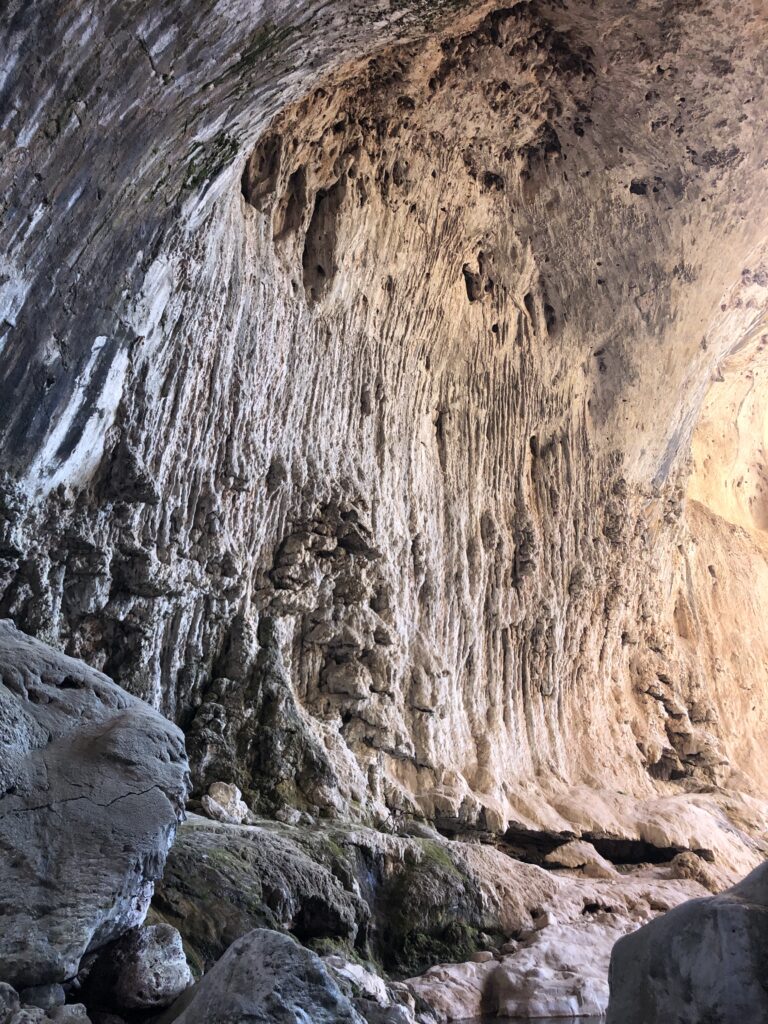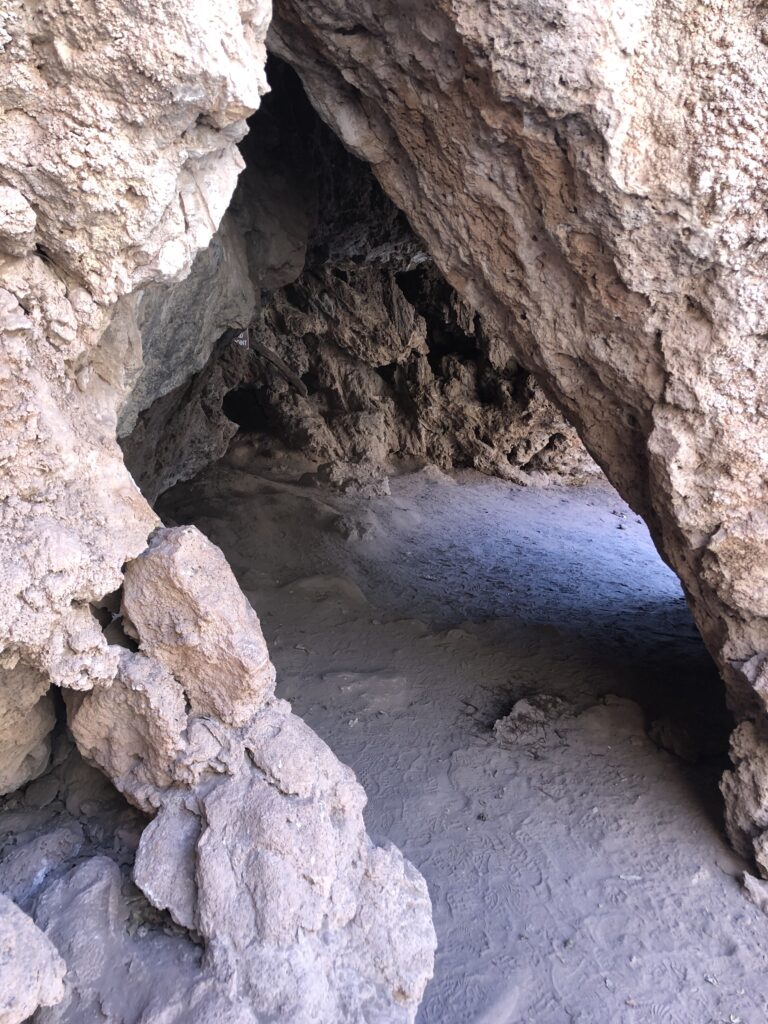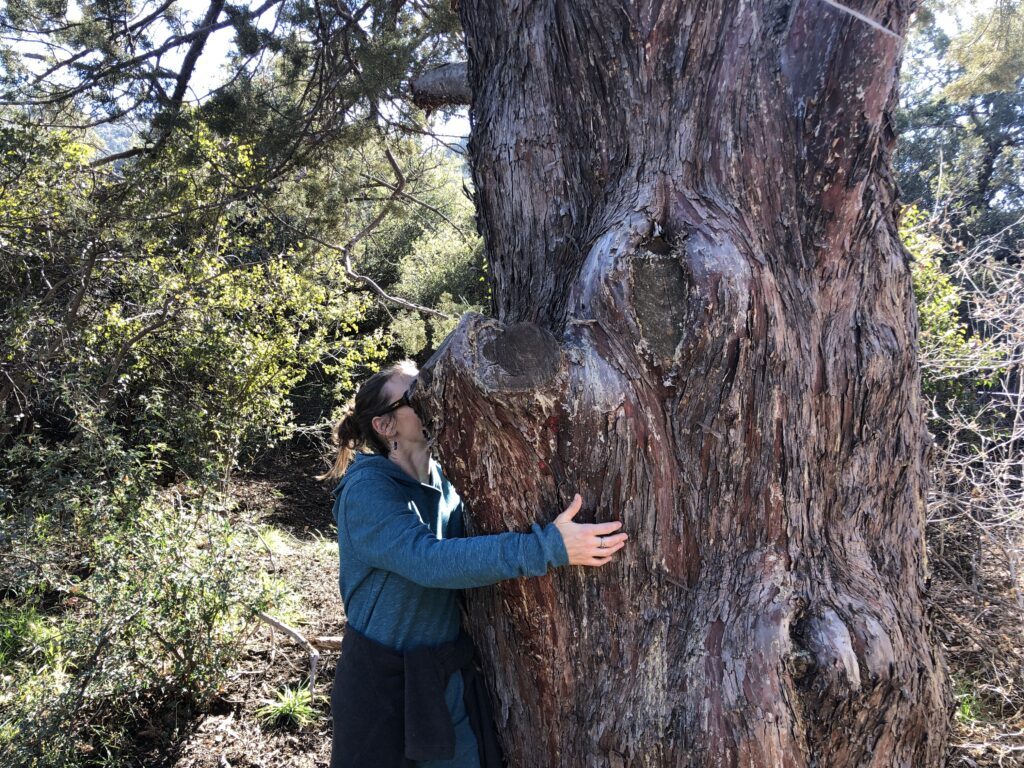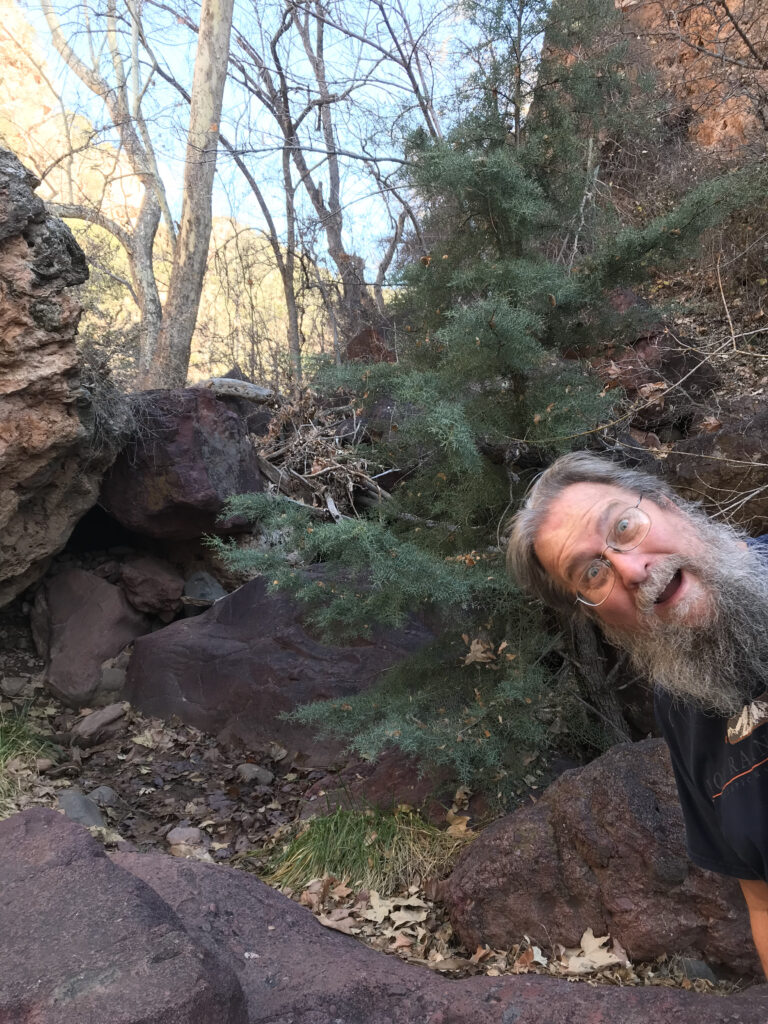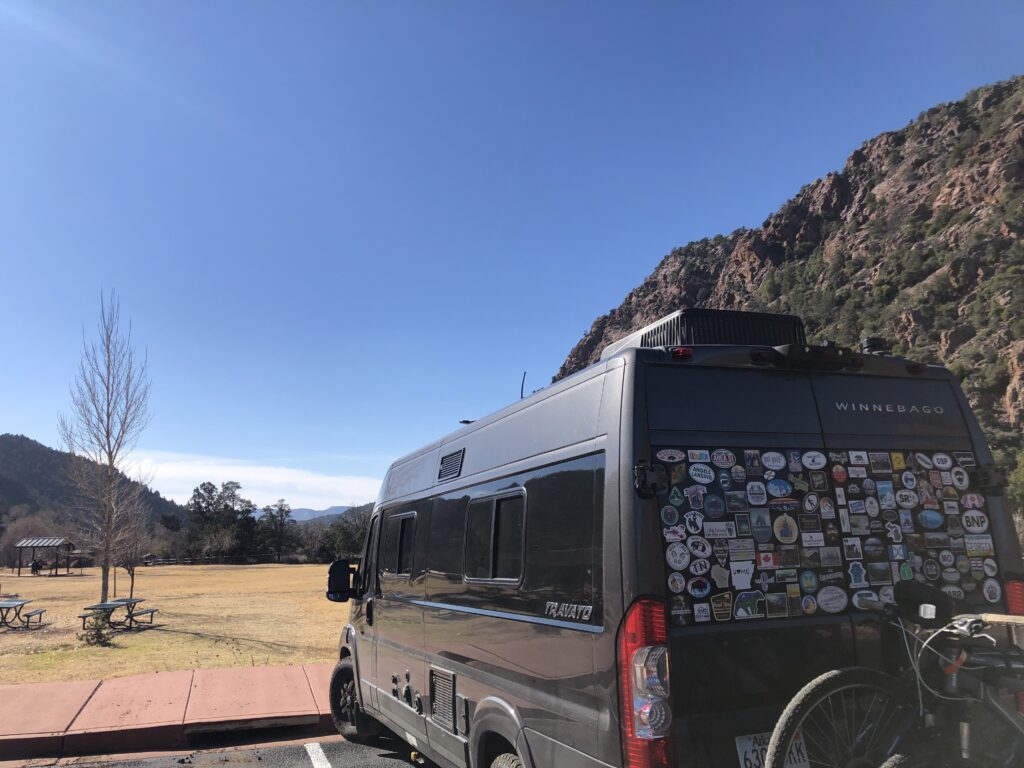 Going further South and coming down out of the mountains we got stuck in a traffic delay while they cleared some accident from the road before we got to Phoenix, but as usual, Jennifer and I chatted away, and 45 minutes seemed like no time at all. Got to Dads in the late afternoon and sat around, visited, and made a great steak dinner.

In the morning we took off on a walk to find a couple of estate sales we had seen signs for the day before, but after walking a mile or two realized we could walk a long time trying to follow questionably placed estate sale signs. We retreated to the house, got the Travato, and made the rounds seeing a couple of them and purchasing only a piece of stained glass.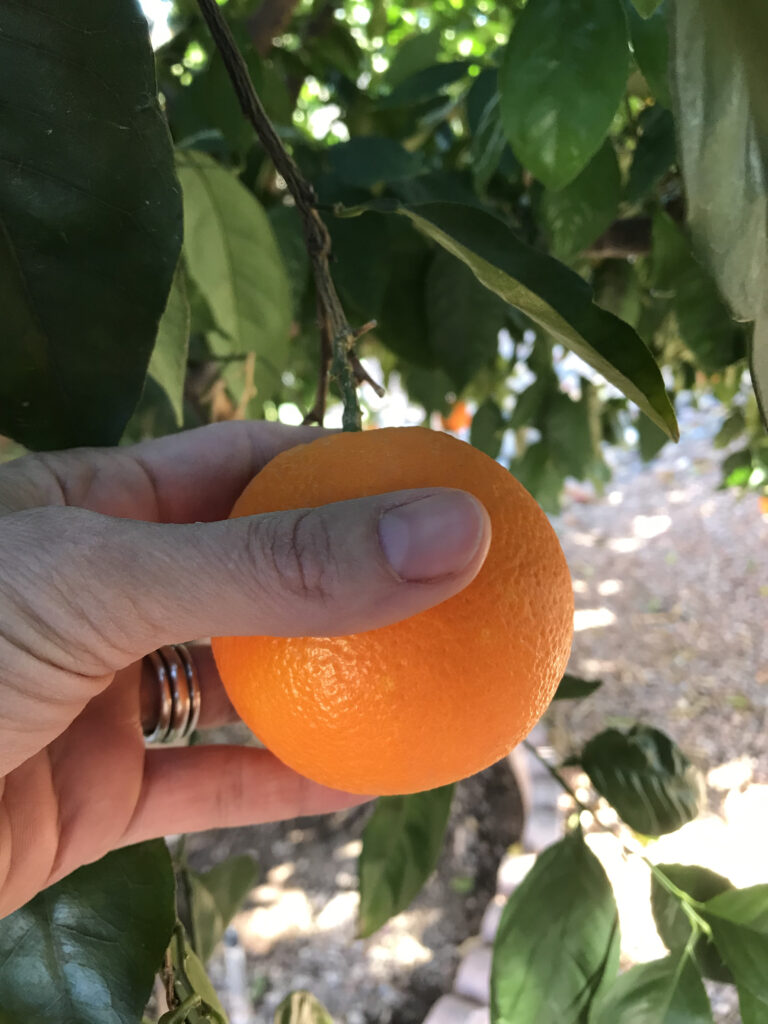 SUNDAY JANUARY 9th
Dad had some business to take care of so we rode with him to the "rec center"; big recreation centers built for the folks in the 55+ Dell Webb community he lives in. Golf, Swimming pools, a pool hall with a dozen tables, shuffleboard, massages, cafes, a bowling alley, theater, a sewing studio, miniature train shop, Lapidary, jewelry making, and pottery studios, etc – tons of stuff to keep people occupied. Then we went to Chase Bank and met and talked with James, the investment guy. We were hoping to get the fridge part so I could fix the propane on the fridge, but it is Back-ordered, so we carried on without it.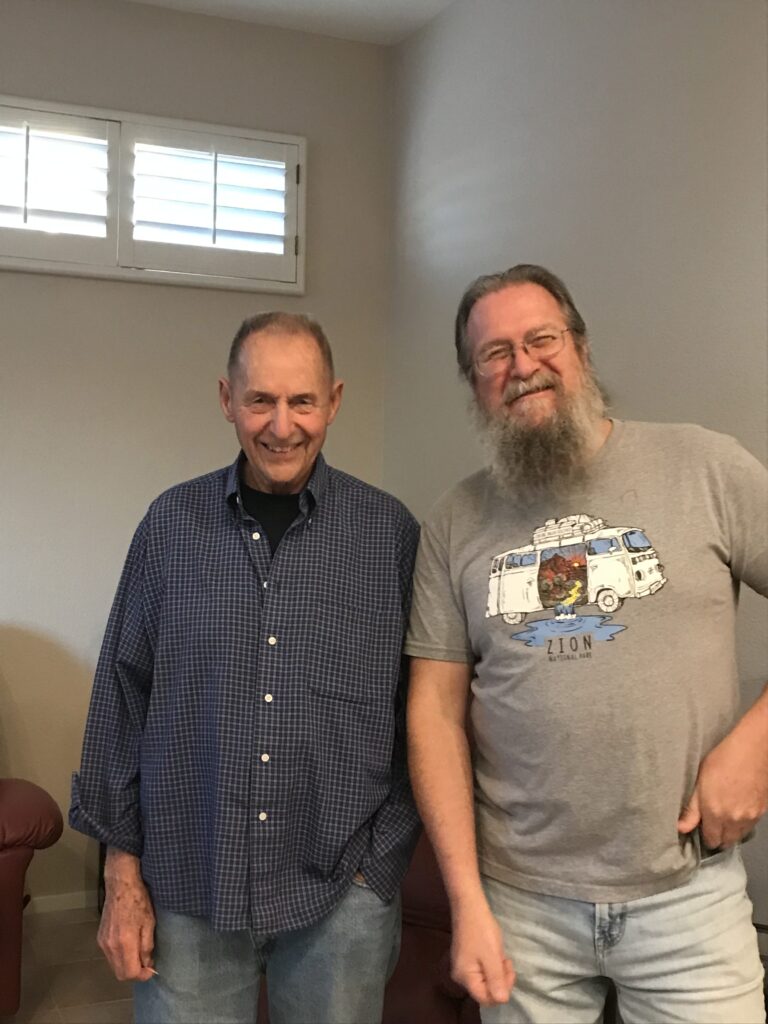 MONDAY JANUARY 10th
It was a couple of hours drive to Quartzsite and we stopped and dumped the tanks before pulling in. The place they picked for the meetup was only a couple miles out of town, but it was basically one big flat empty gravel lot (not actually a lot, but a desert with car tracks and no brush FEELS like a parking lot).
We were greeted by several people already there before we even had a chance to find a parking spot, and camp chairs commenced in being set up, and tales told by some old and new friends. We found Trish (she and Steve were the friends we most looked forward to seeing) and a little later pulled over by her rig and parked close by. Trish "made" a bagged salad, and Jennifer "made" a bagged rice dish, and we had "dinner" together. Drank a few beers and sat around the group camp fire chatting for a while before snuggling up in our warm little bed chambers.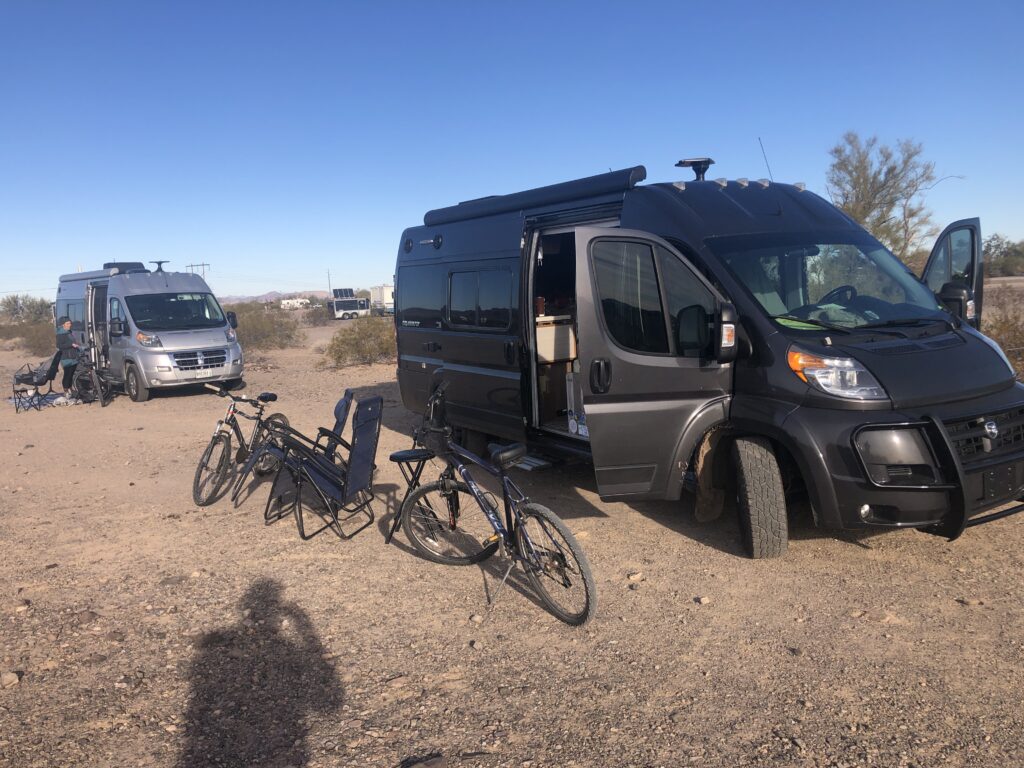 TUESDAY January 11th
We had planned to leave this morning, as we really just wanted to stop by and say Hi and see what Quartzsite was about. Though it was a fine group of Travato owners and we made a couple of new friends, hanging around the "lot" all day didn't sound like much fun. The night before we decided we would take Trish and a go to trail called Palm Canyon that an Full time van life English lady at the fire had recommended. First we stopped at the "Gem and Mineral Show tents, and quickly scanned through some of the 100's of flea market tents. These people come out here and set up and spend all Winter out here in the desert. It would be a fun place to return to and spend just a couple days roaming the flea market tents.
There is also a "rubber tramp rendezvous" and a huge RV and RV accessory show – things that are happening in a week or two. We grabbed some not so great "fair food" and Drove south 15 or 20 miles through some more relatively boring desert country, and then turned off 5 or 7 miles down a dirt road towards a jagged mountain range. There were beautiful semi private campsites all up and down the road in, and before even getting to the trail, we all decided it would be fun to move our rigs out there for the night (though we would have to return to camp to get our bikes and possibly Trishs new man friend Bill, who didn't come on the hike). We hiked up into the Valley and had a great chat and were awes by the steep rocky granite slopes, the palm trees growing in small ravines with barely a hint of soil, and the vastness of the surrounding desert. Humbling. On the way back down Jennifer spotted a wild Ram feeding on the ridges above us just a couple hundred feet away, and we stopped and watched and tand talked to him for awhile. Good stuff.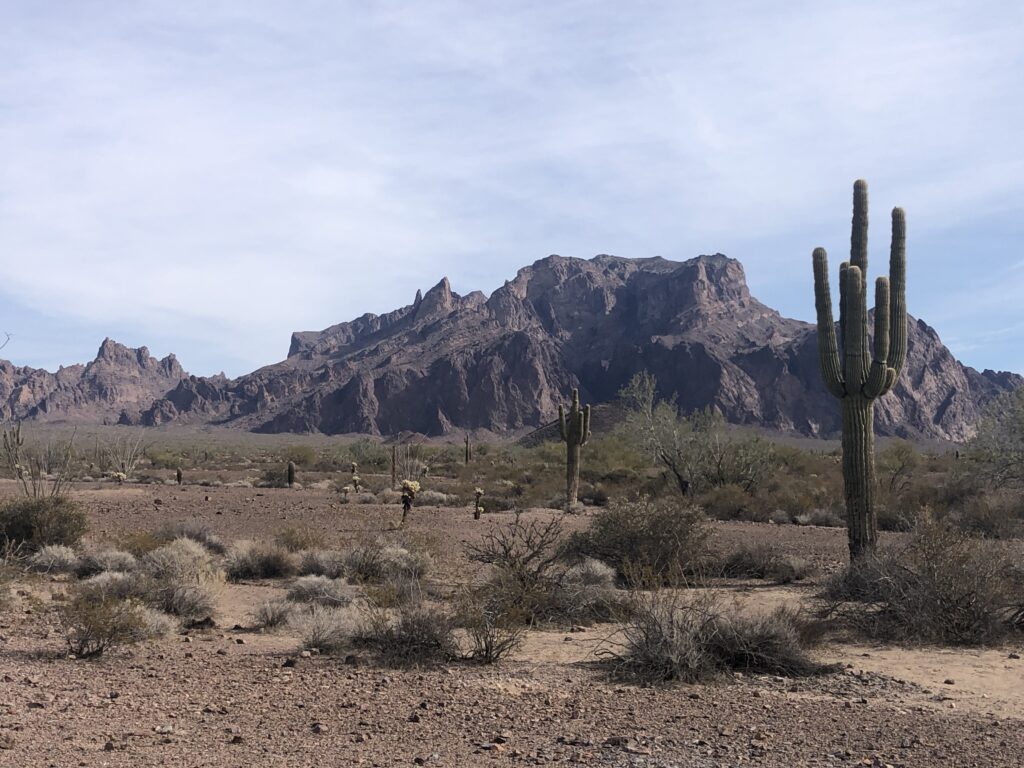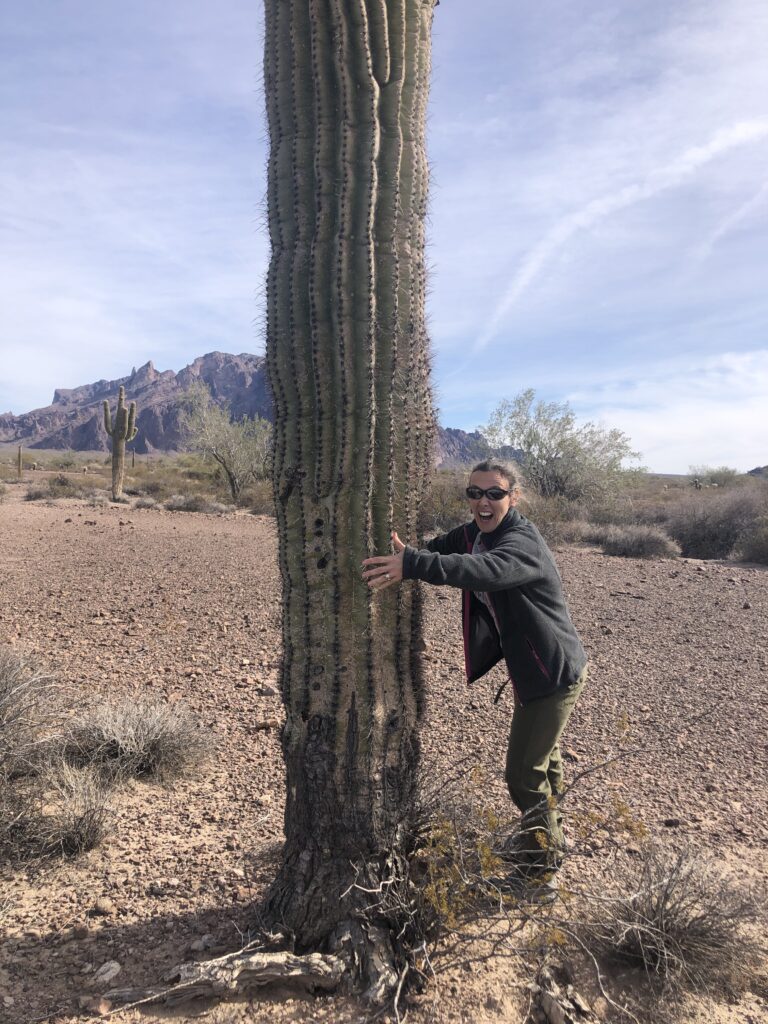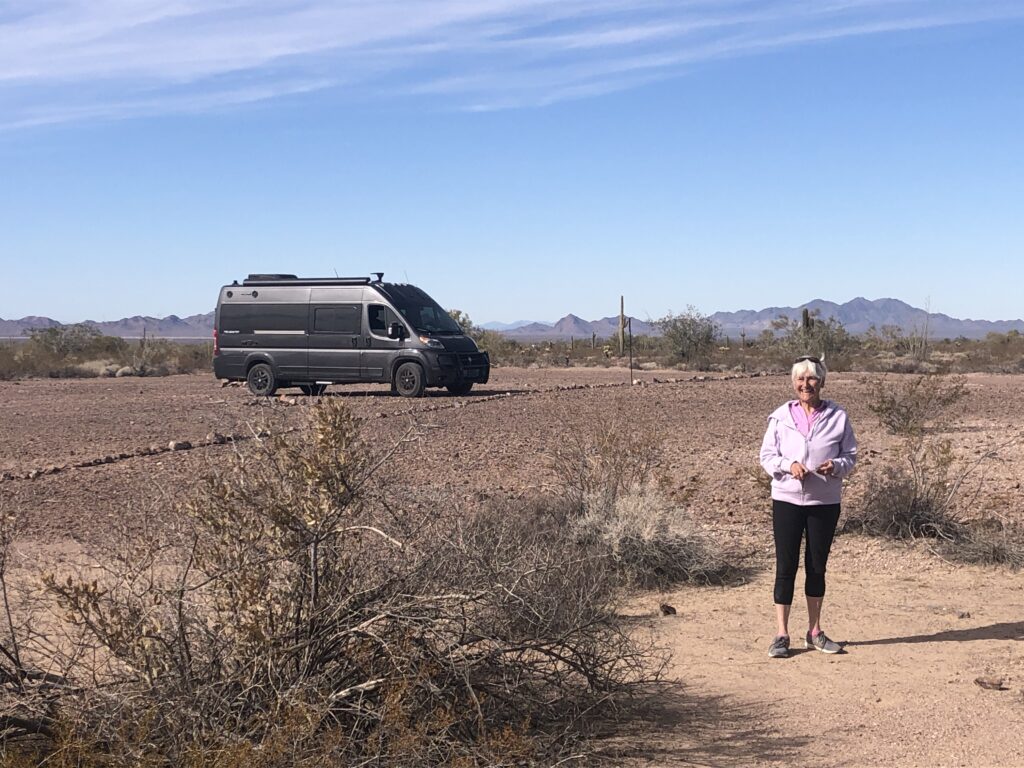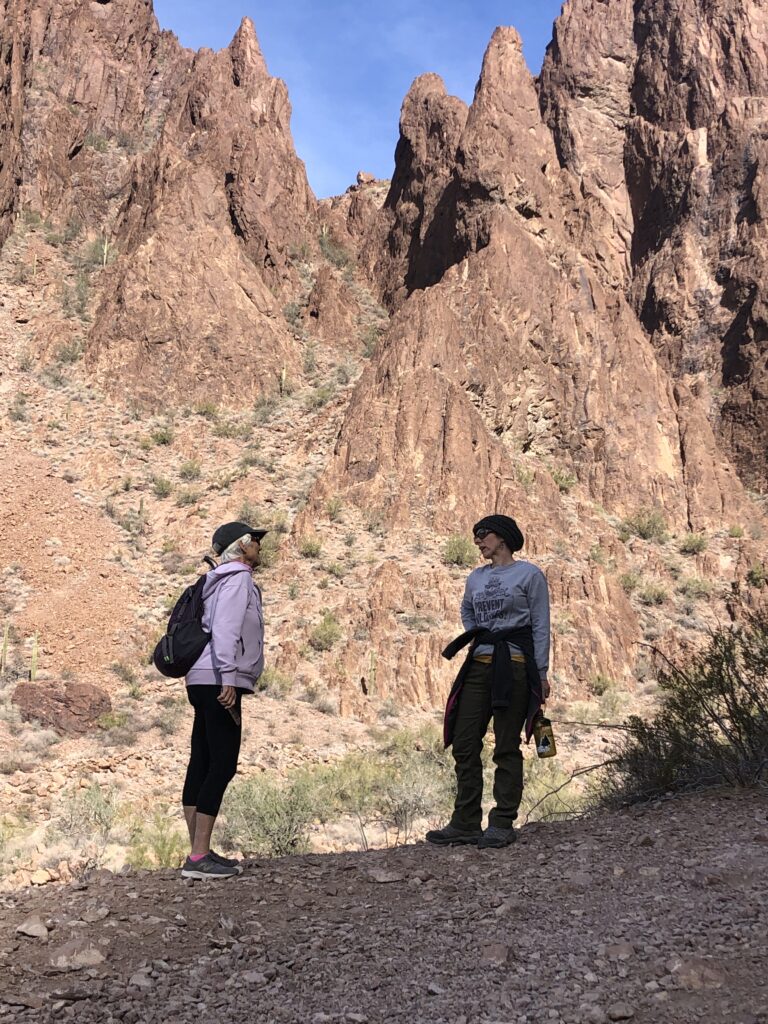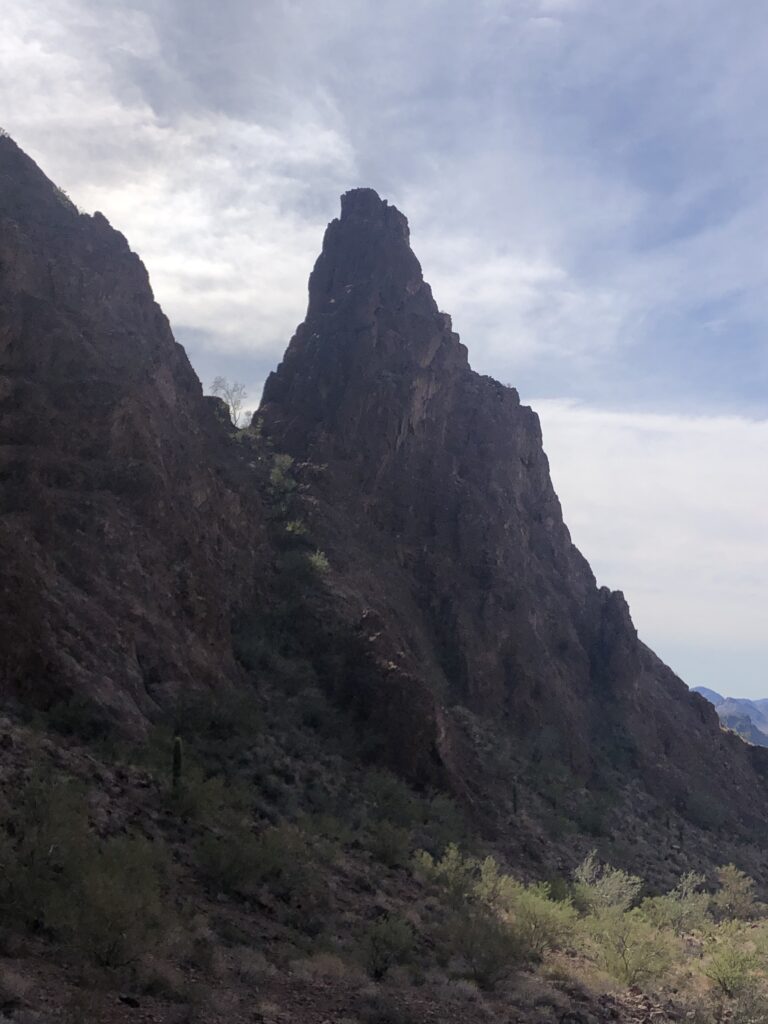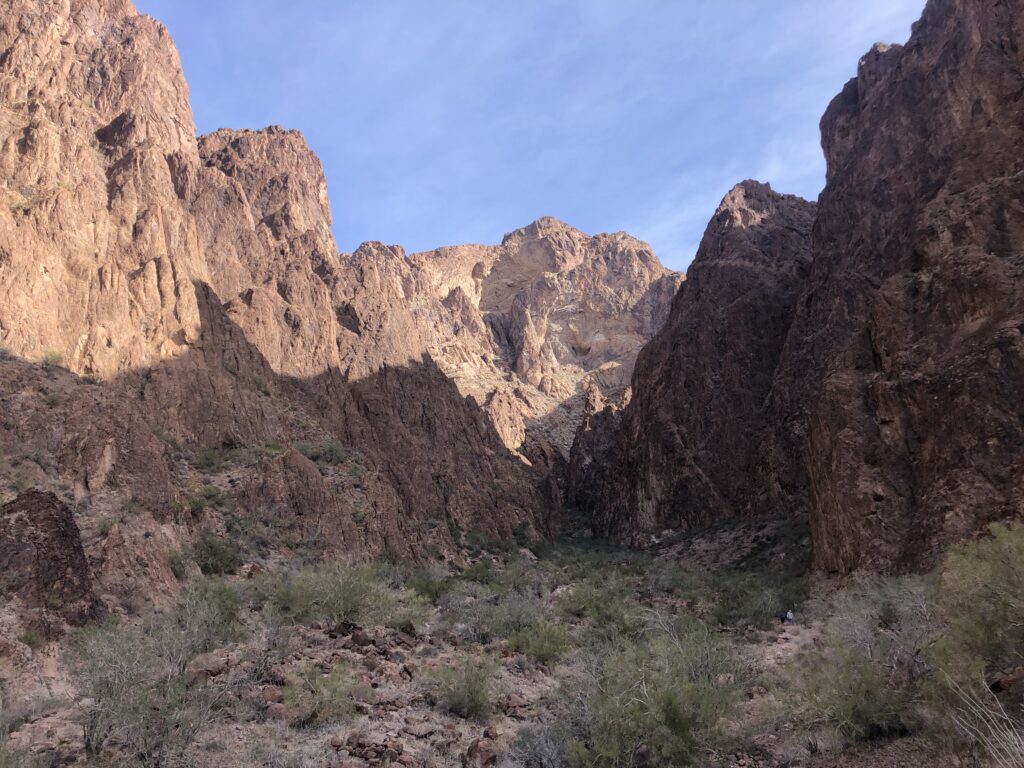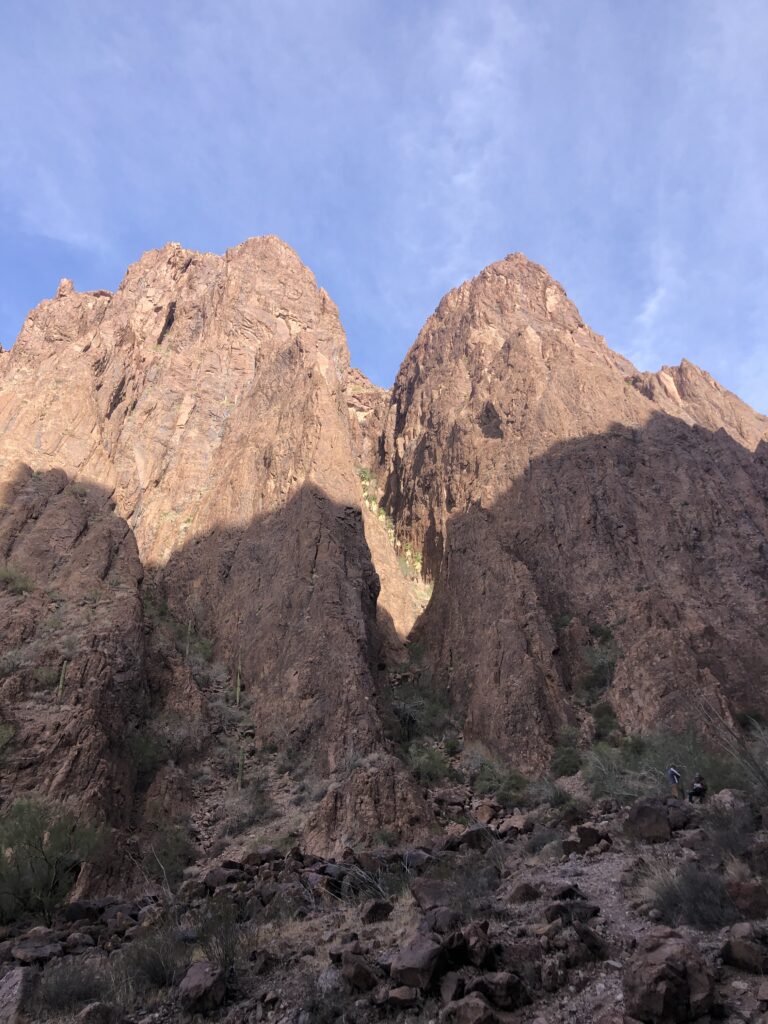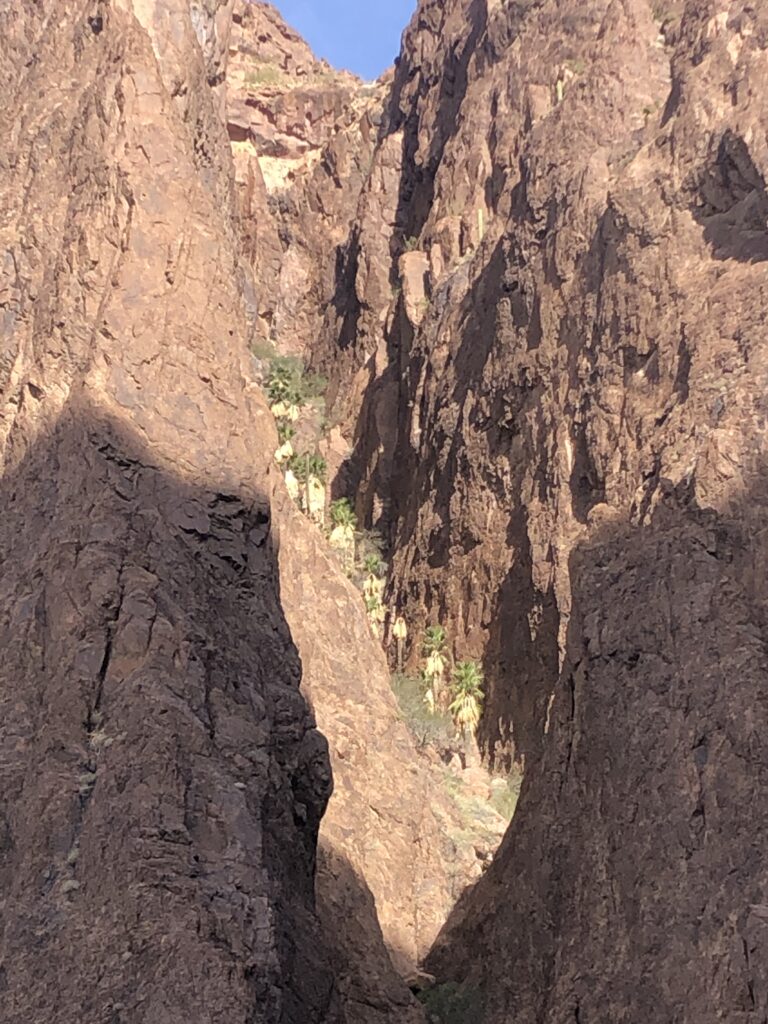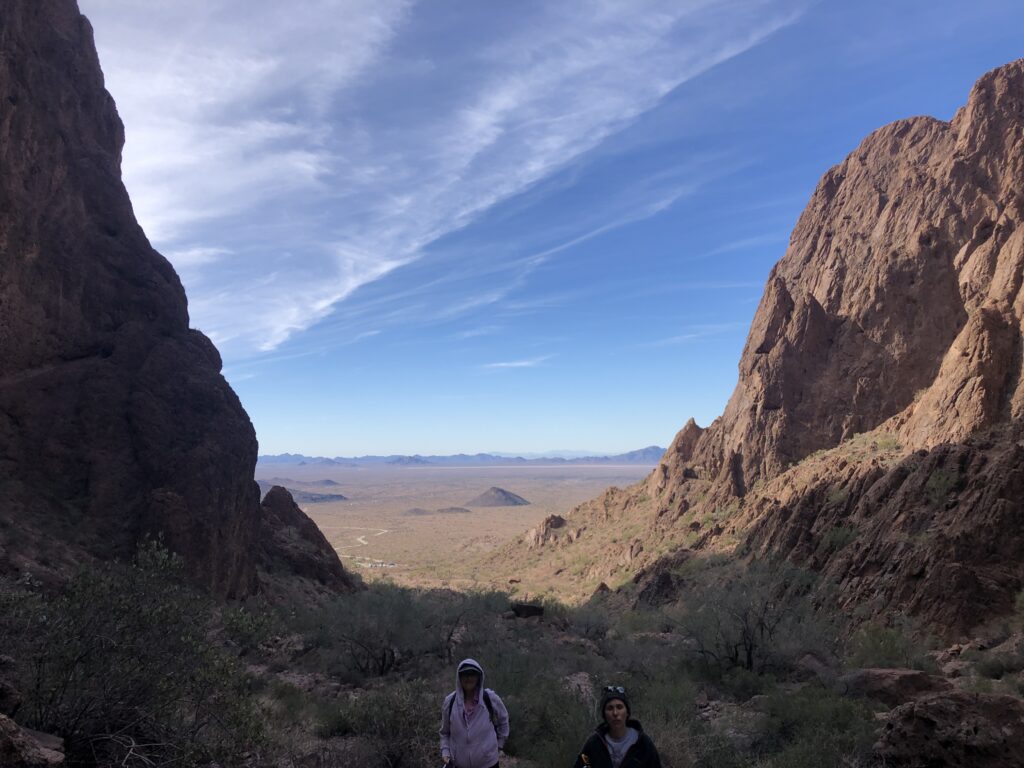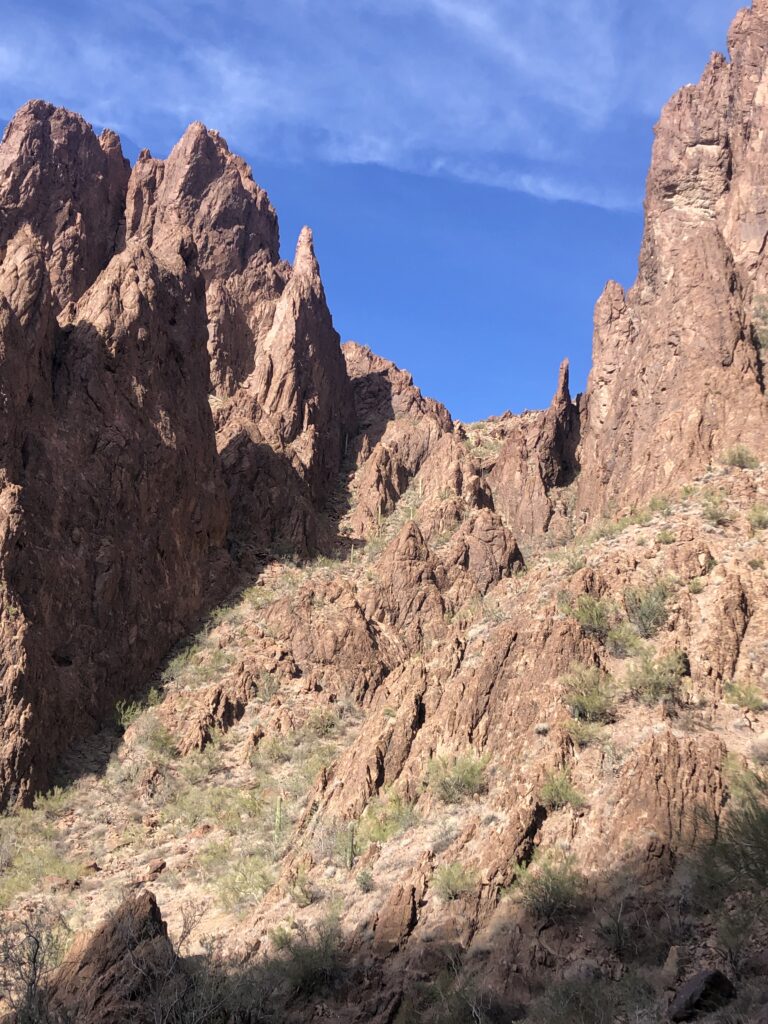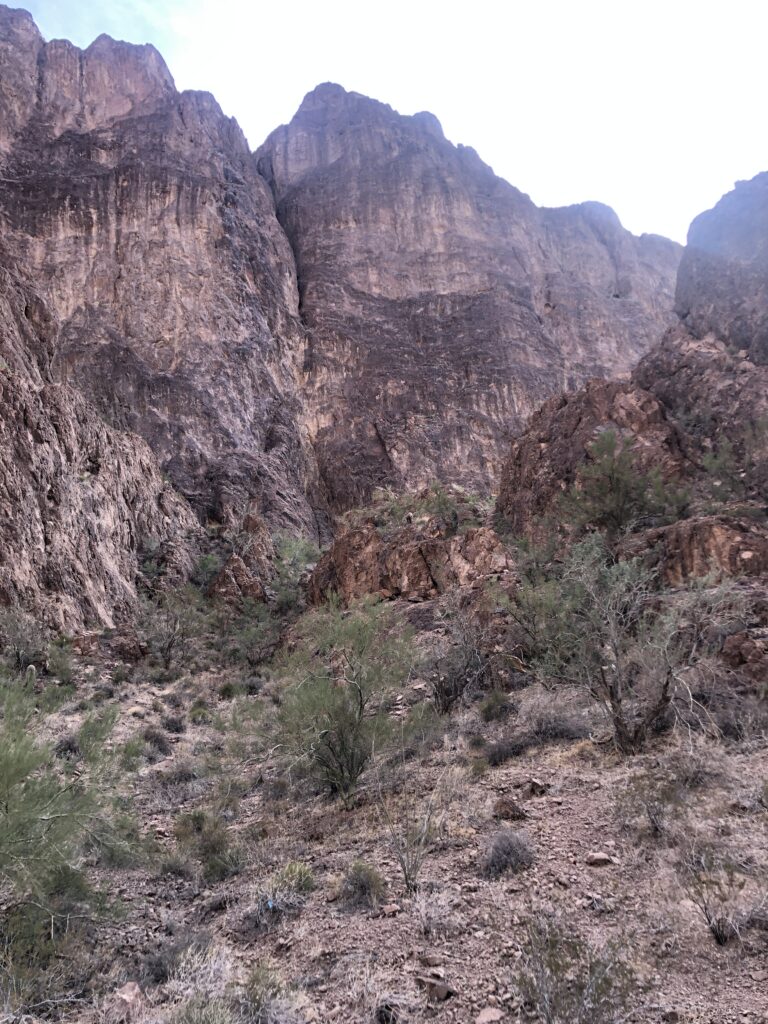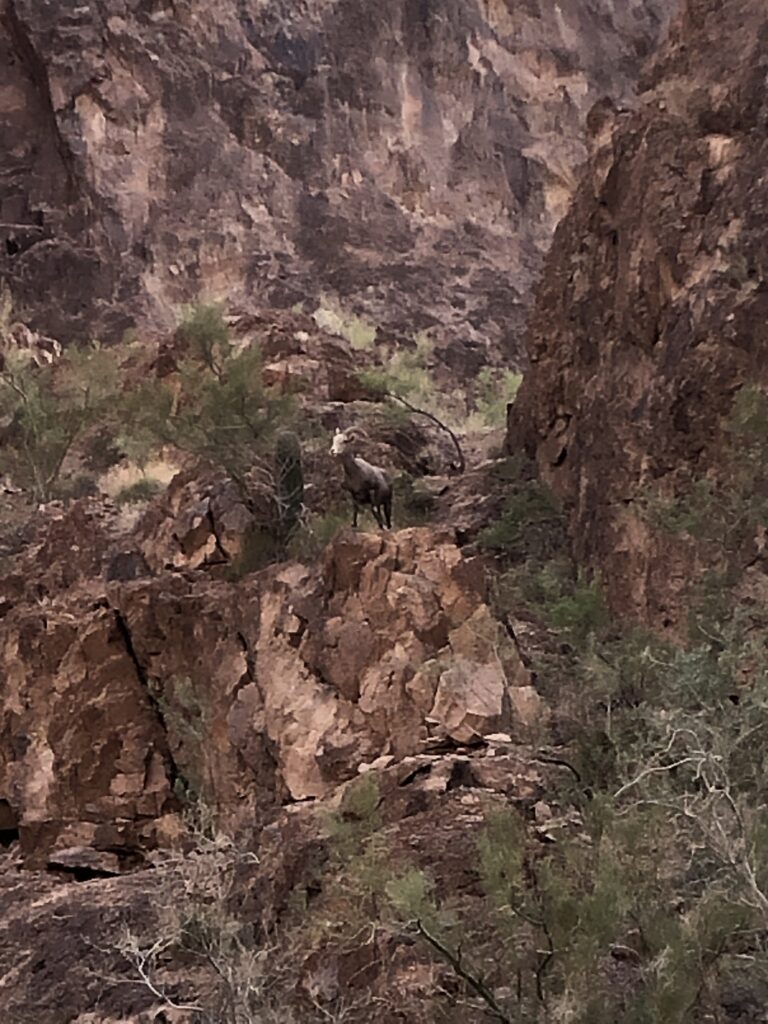 We later decided it didn't make sense to pick up camp and go BACK to the boondocking spot, because Jennifer and I would just have to turn around in the morning and back track AGAIN through Quartzsite for a fourth and FIFTH time, to carry on our way to Joshua Tree National Park. As we always do, we fantasized about how if we had no time constraints we could spend another day or two at the flea market, the other events, hike some more, overnight at the more private location and even paint a picture. We spent one more night hanging out at the campfire chatting.
We have fallen in love with our style of "glamping" we have done over the last 5 or 6 years. We usually make tracks out of Arkansas and get as far as we can the first night, often just pulling into a cracker barrell, rest stop, or some other easy place to park and sleep for free. There is no need for scenic surroundings or campground facilities if you are going to pull in when it's dark, pull the shades and go to sleep – and then – in the morning, just get dressed, jump in the drivers seat and go. The next day is often a lot of driving too as we usually start with a partial day, but we may get the chance for a hike or to stop at an attraction. N.W. Arkansas is beautiful, and almost perfectly centrally located for a home base to tour the lower 48 from, but the surrounding states of Texas, Oklahoma, Kansas, Southern Illinois, East Tennessee, South Arkansas, Mississippi, and Northern Louisiana all offer very little to see, so it's usually a good days drive for us to get somewhere interesting. We start looking for scenic places to camp and overnight; free if possible, but I'm perfectly happy to pay a reasonable fee for the right location. We hardly ever go to commercial "RV Parks" or campgrounds such as KOA, as they are basically big parking lots with nothing to look at, and no trails to enjoy. We often joke that luxury RV "Resorts" would be our LAST resort. In 6 years we've stopped at a handful of privately run campgrounds in a pinch to take advantage of a swimming pool, a prime location, or showers and laundry, but almost always a state park can be found nearby that has the same amenities PLUS walking trails, a little more privacy and charge much less. National Parks are great too, and put you right in the middle of some of our countries most Beautiful sites, but they are often booked up and have recently gone to a "reservation" system of which we really dislike. The need is there for some of the busiest parks, but it is way overused in my opinion; I suppose part of the reason they do it is to keep the nomad, vagabond, "fly by the seat of your pants", van-life sort of people like me, out. But on the bright side, National Parks are almost always surrounded by National Forests, which also contain beautiful campgrounds and dispersed camping which are usually less crowded, and less costly. They also have less amenities, but with our van, amenities are not required. Anyway before we leave on a trip, I usually map out a selection of things we'd like to see in the area with google maps. I actually have a "master map" with THOUSANDS of destinations pinned on it, and seem to add more every trip we take. We cram a LOT in each trip, often driving a little in the morning, catching more than one cool destination in a day, and driving a couple more hours in the evening. We seldom stay at a campsite more than a day, and it is special when we sleep in the same place two nights in a row. This makes for astonishing Photo albums and facebook posts, but after a few years, we are tiring of having to miss so many destinations we find out about along the way. There are so many places I would like to sit and paint, but we never have the time. So many trails Jennifer would like to hike, that we have to skip over. She says her goal is to hike EVERY trail in every National Park in the country lol. That is rather lofty, but I would be happy to do a painting in each park if we could find the time. Since she is twenty years younger than I, I suppose she has twenty more years to get it done.

Arkansas was having a 10" snowfall which Jennifer was very excited to s