We left out Tuesday Night and slept in the Cracker Barrell parking lot in Conway. We had breakfast there in the morning (and it wasn't very good).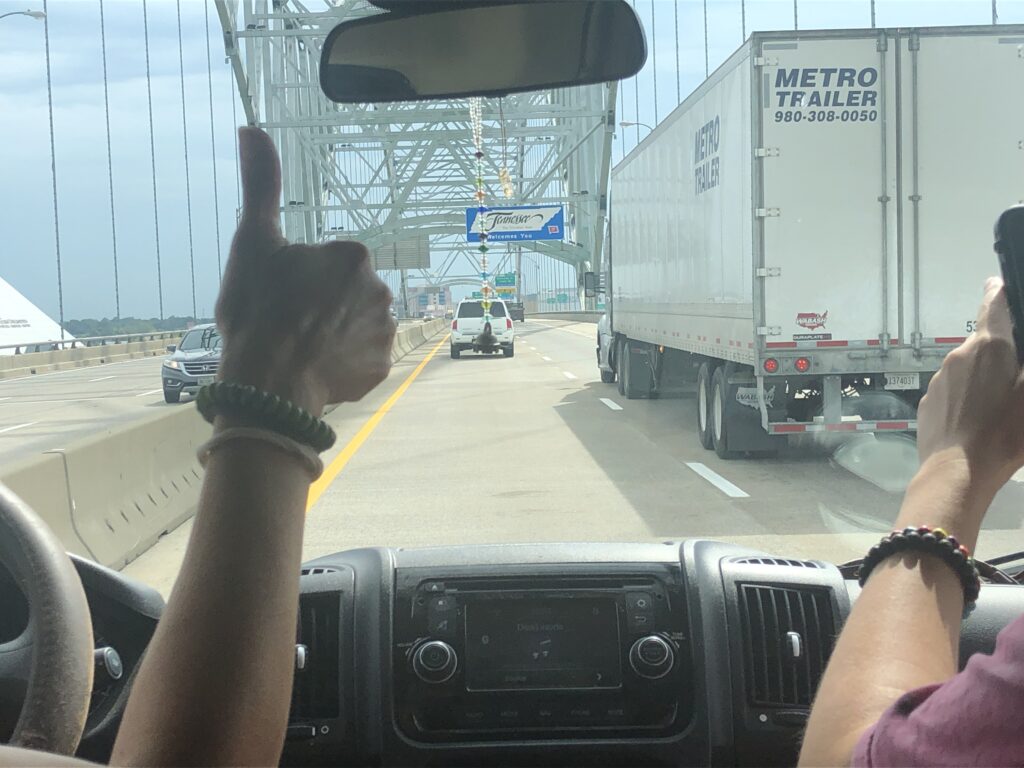 We crossed the Mississippi into Tennessee, and were in Nashville about 1:30.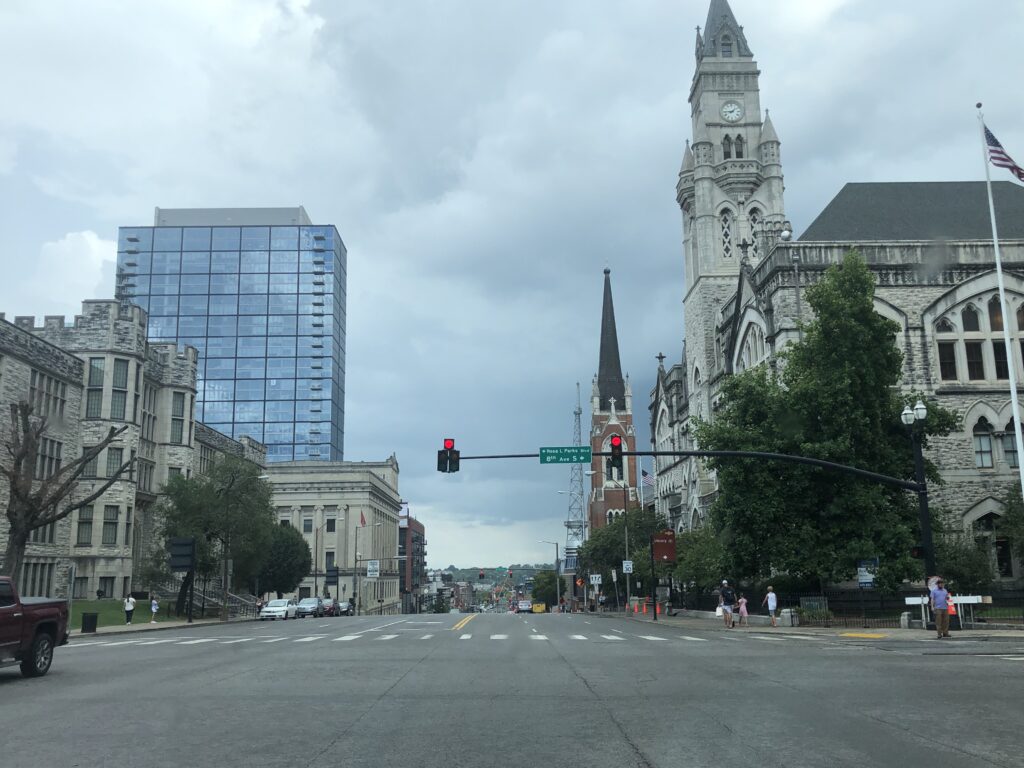 The girls wanted to go to Miranda Lamberts Casa Rosa restaurant, and so we did. We (they) did a little shopping downtown but it was raining on and off (and of course we wanted to make tracks towards our destination), so we didn't stay long.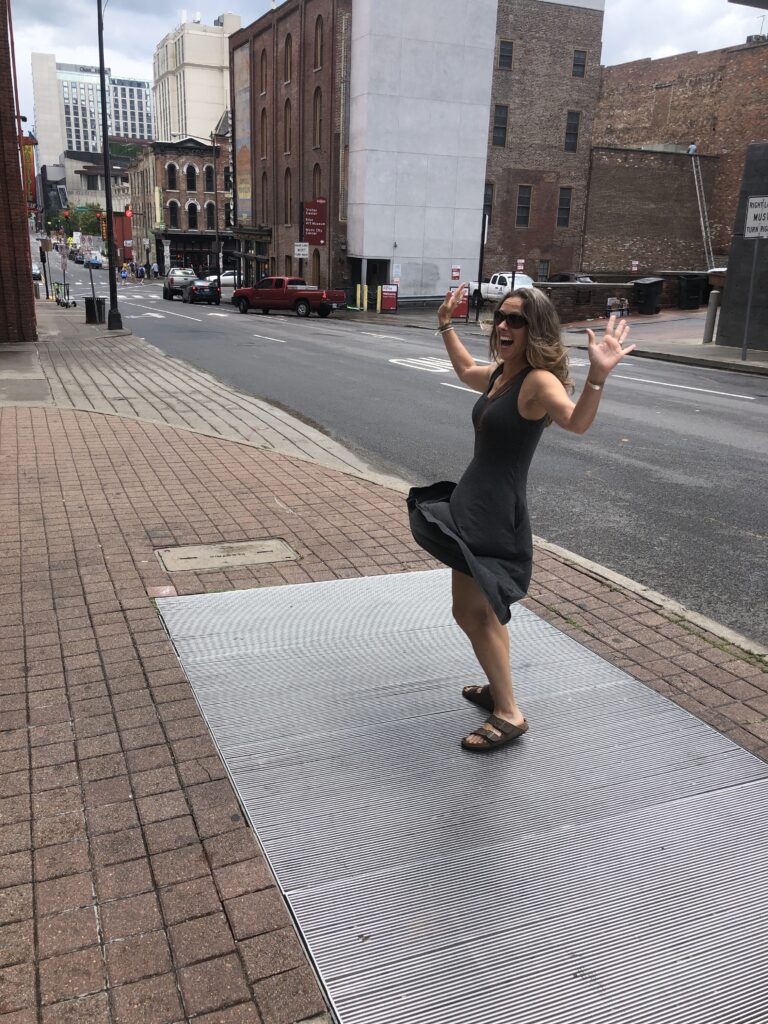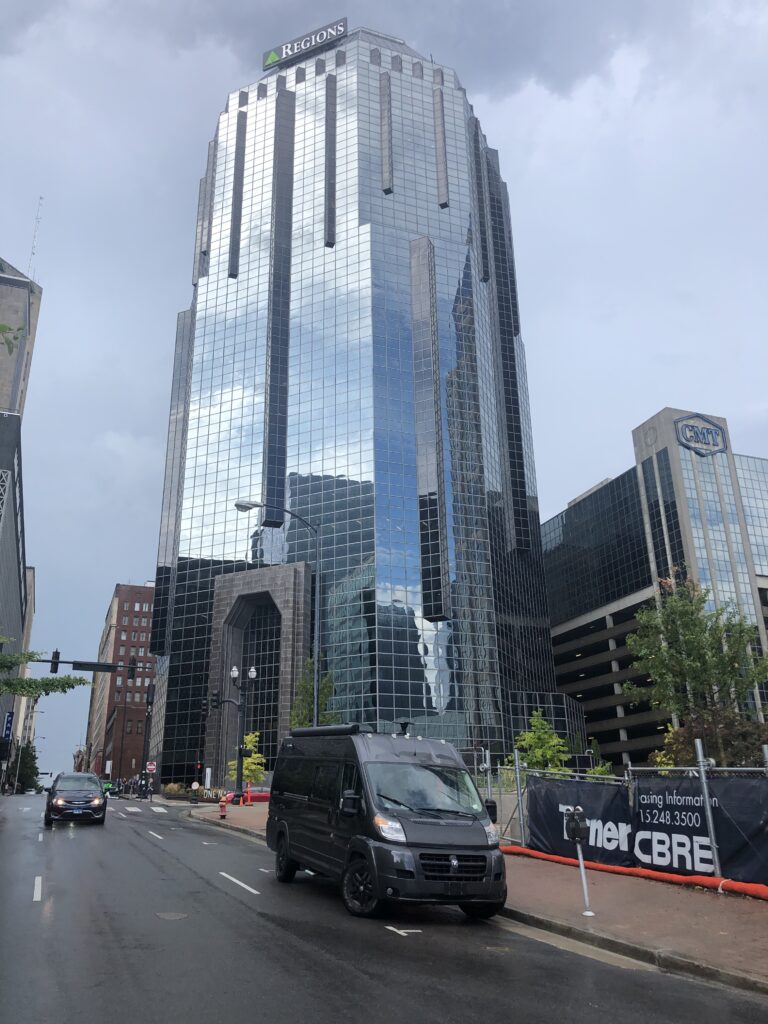 It did look like it would be a fun city to hang in for a night or two with some other adults though; lots of crowded bars and live music. The Coronavirus is still running rampant so too many people in too confined a space right now just don't seem right.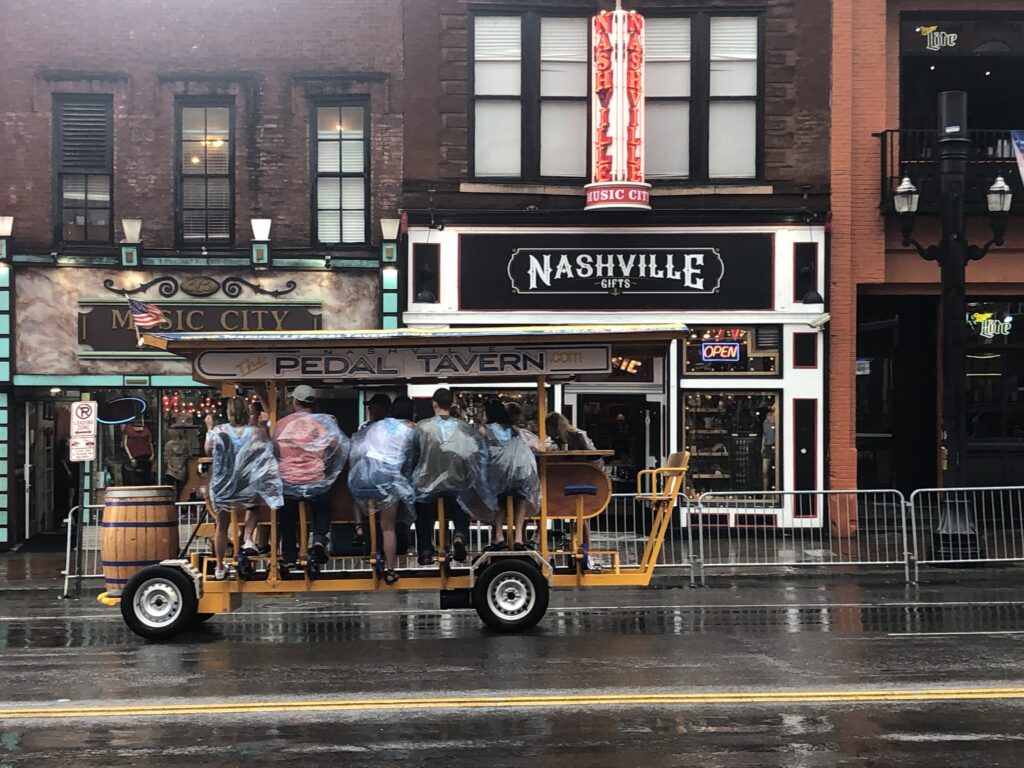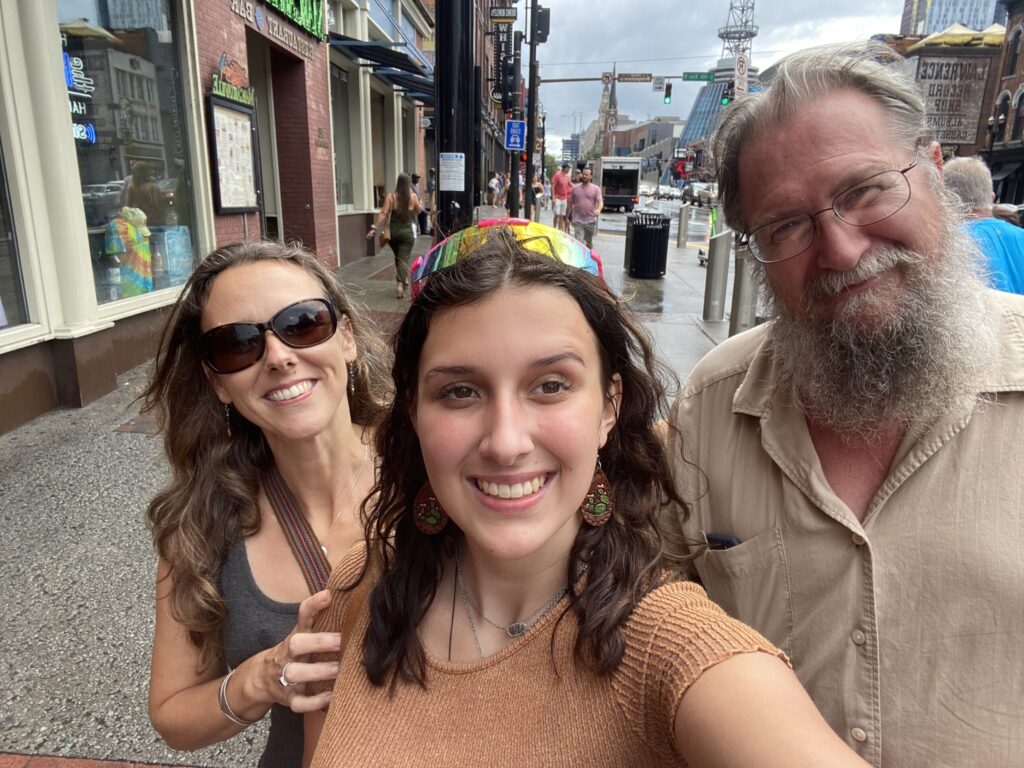 Wednesday night I believe we stayed at a roadside park. When just parking to sleep for an overnight, it just doesn't make sense for us to go to the trouble of finding a campground, and driving to it, and paying for it, when we are only going to get up in the morning and drive off.
Thursday 8/19
We stopped at the Natural Bridge in Virginia to break up the travel day, and it was quite a treat. A huge natural arch-like rock bridge spanning across two high points. There is an existing highway over the top of the bridge though you would never know it from below (only when you are completely silent can you hear the distant hum of vehicles driving over it). It is a very scenic spot with plenty of viewing angles and room to set up an easel and paint from. This would be an excellent place to paint; shaded. There are other trails and attractions nearby.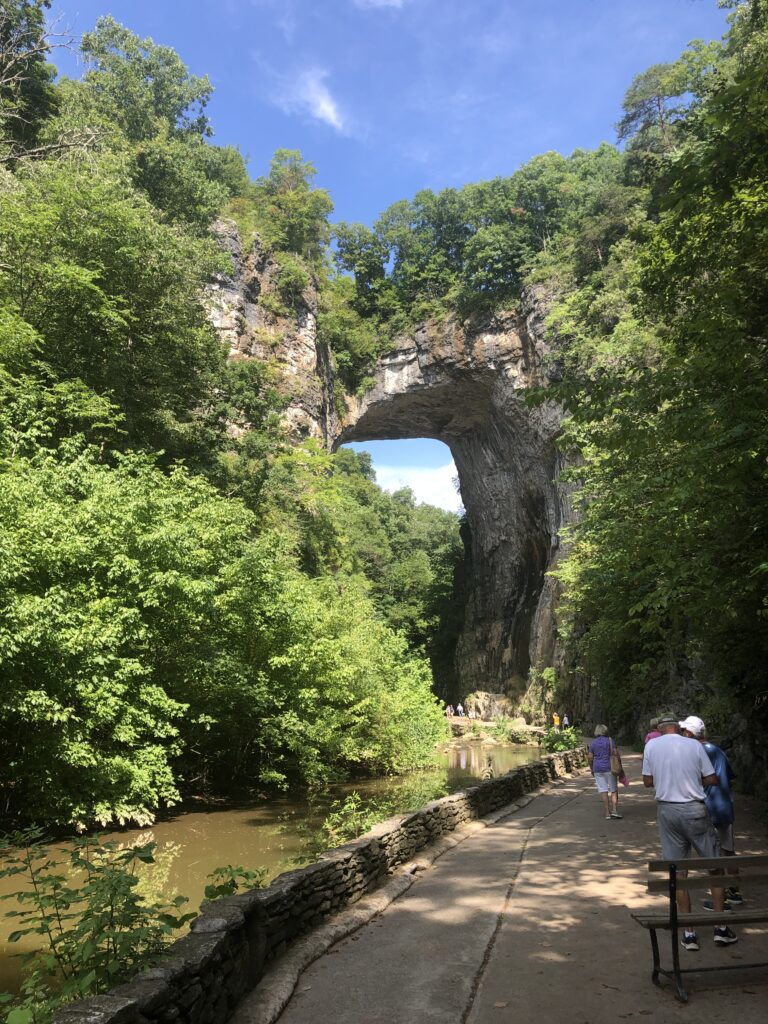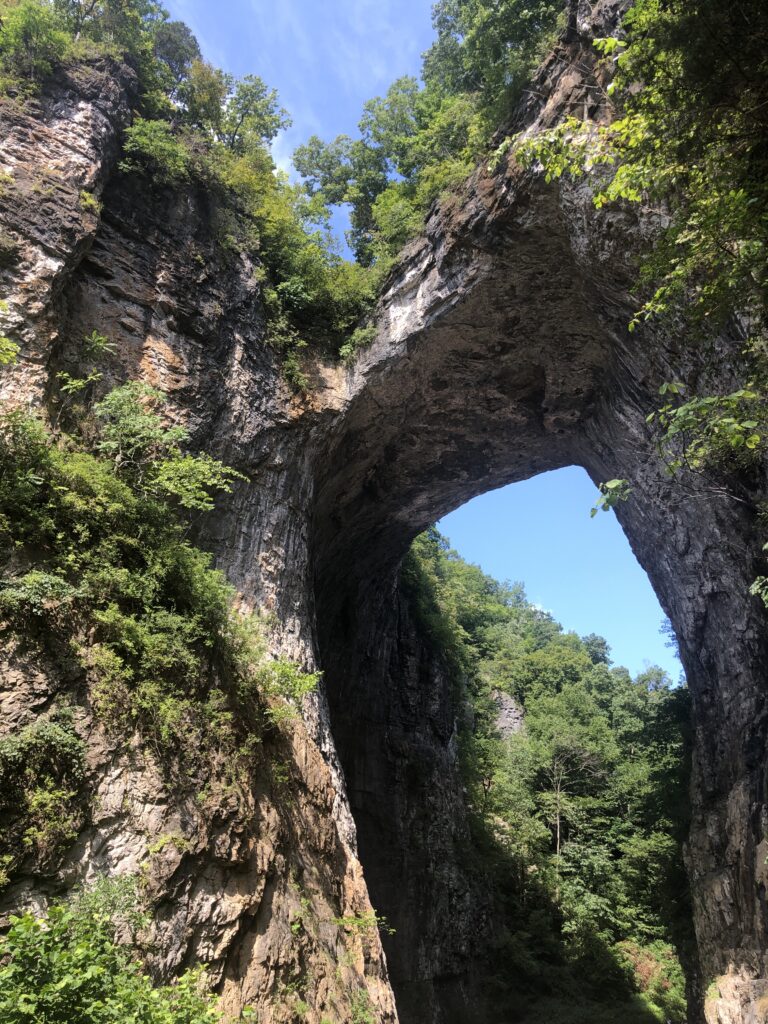 We crossed the line into West Virginia about 3:00,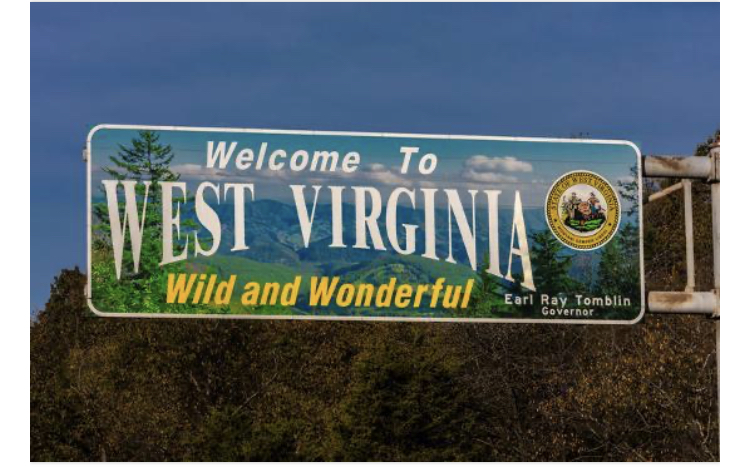 then Pennsylvania about 3:30. By 5:00 we were at Hershey.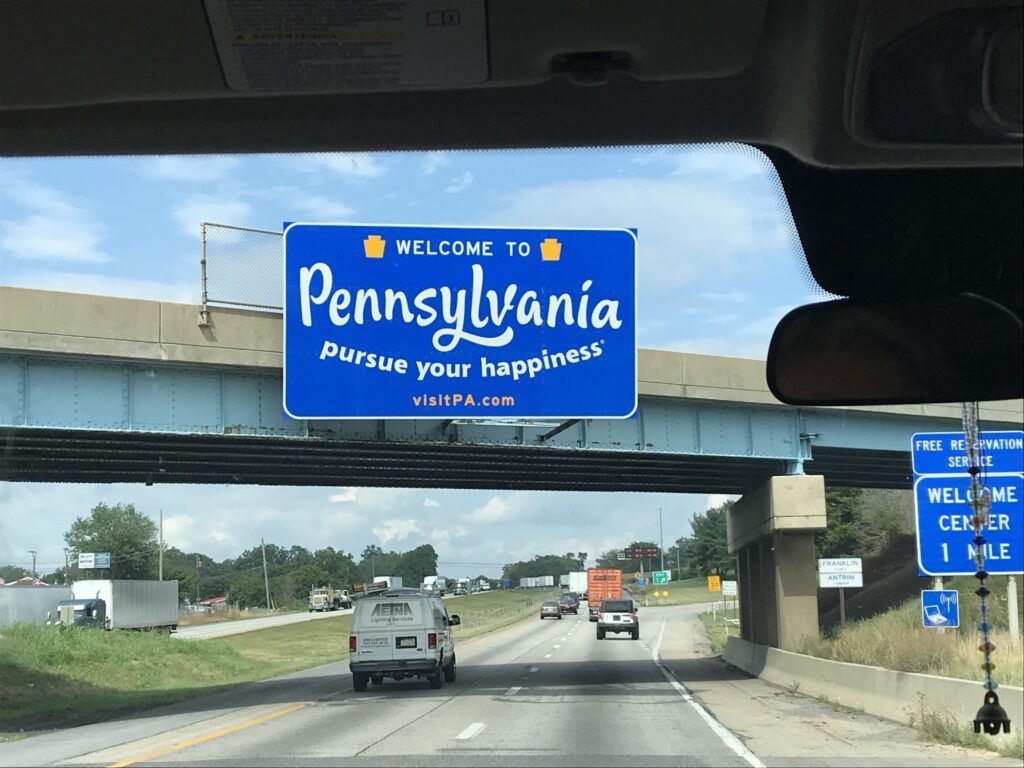 Hershey of course is where the Hershey Chocolate Company resides, and they have developed a whole theme park, museum, and huge store around the theme of their chocolate. It's free to get into, and the "factory tour" was interesting (though NOT actually a tour of any REAL factory.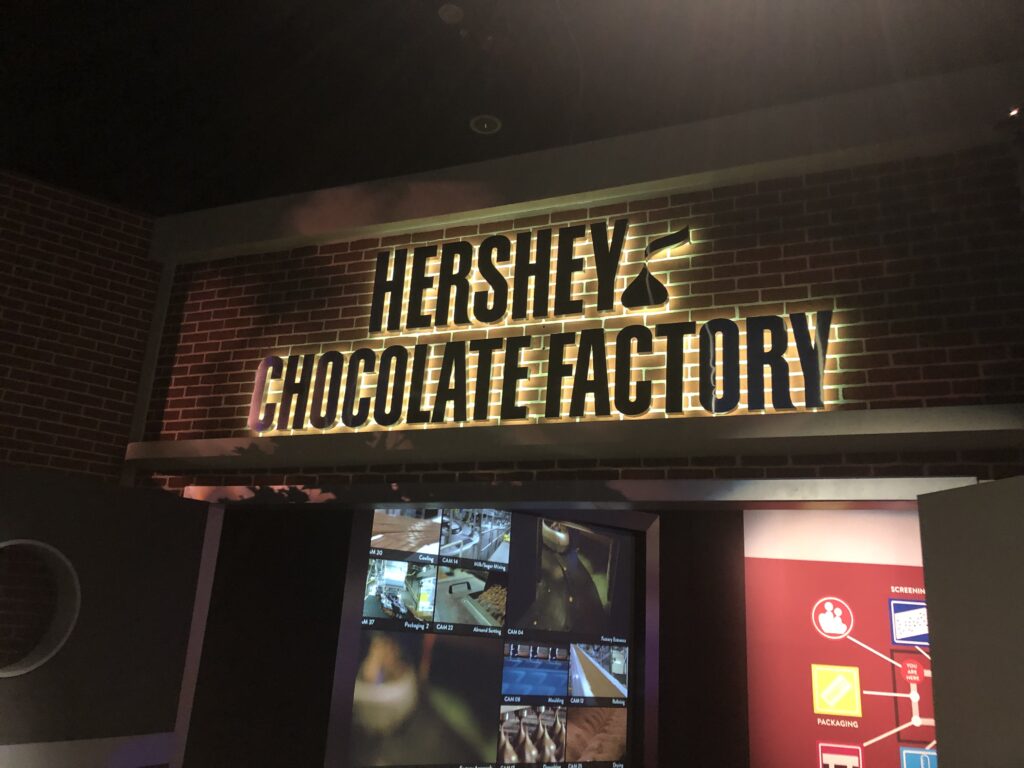 We slept at a roadside Cracker Barrel I believe.
Friday 8/20
We continued on through Massachusetts, New Hampshire, and finally, into Maine.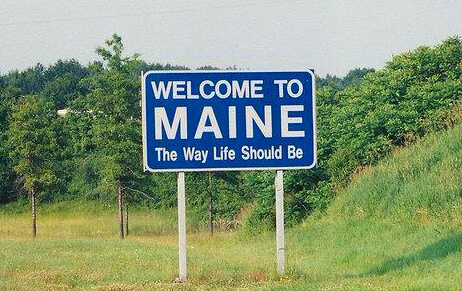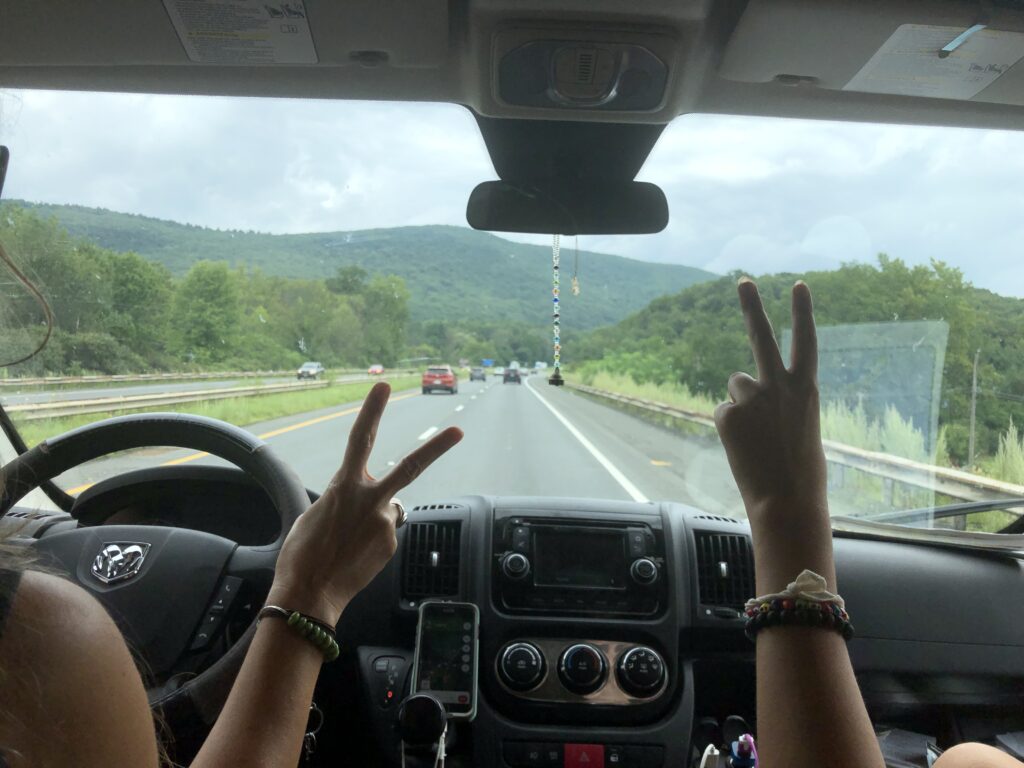 I was ready to get to the meet-up, but the girls really wanted to stop at LL Bean, so, …we stopped at LL Bean in Freeport. Actually, it was a very nice complex, and the whole town has been built up around it as a tourist complex, with over a hundred shops, outlet stores, eating and drinking establishments, food trucks, etc. It's another place I wouldn't mind exploring a little further with more time. It too might be a worthwhile spot to paint someday. While the Girls shopped, I found a Ben and Jerrys, and sampled some Cherry Garcia (which I've actually "sampled" many times before).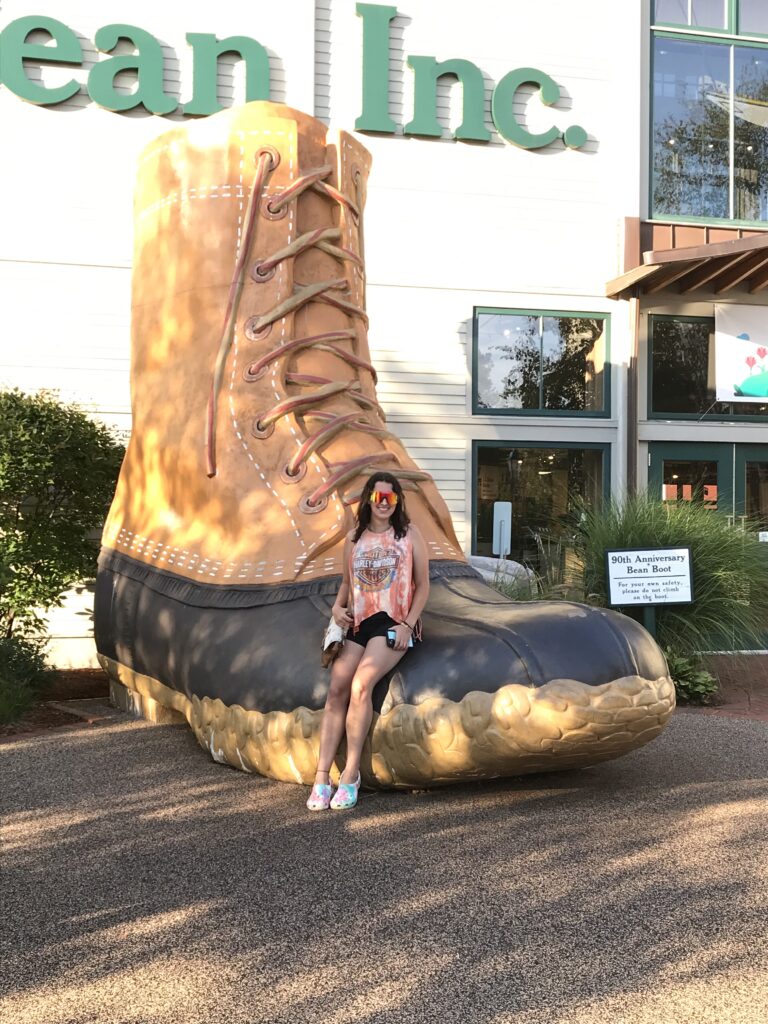 We finally made it to the Travato meet-up site at Patricia Barnes home in Central Maine. She has a cool little custom home and studio she has added little custom touches to, and improved upon over the years on top of a mountain, surrounded by blueberry fields. It has a spectacular view, large decks, a hot tub, and the walls and windows are covered with her beautiful stained glass work and the work of many other artists including paintings by her mother. It is a most charming and relaxing place to visit and Trish is the same. We met Trish through the Travato Facebook group, but instantly seemed to have a personal connection with her. It is funny how sometimes so much of one's personality can come through even in short little posts or comments on a social networking group. Trish is warm and sincere – she has an Artists' heart. She has experienced a lot of Trauma and tough times in her life, but she always seems to have a warm and welcoming smile.
We didn't show up until after 9:00, and I had already had a drink or two in the van expecting a party when we arrived, but only a half dozen people were still awake, and those that were, were tiring and on a downward slide towards beddy-bye time. We hung out and chatted a bit, and then retired to our home on wheels.
Saturday 8/21/21
When we got up in the morning, we discovered a group already forming for a little hike. We joined in with Russ and Kathy, Trish, and another couple I had met only through Social Media; Noel and Chris.
It was a nice short hike up and around a big hill with a beautiful view of some large "ponds" below. What they call Ponds in Maine, are Lakes in most places. I have yet to hear a good explanation of the difference. Technically, I read a pond is shallow enough that sunlight can hit the bottom, but some of these "Ponds" looked awful deep to me… anyway, I digress.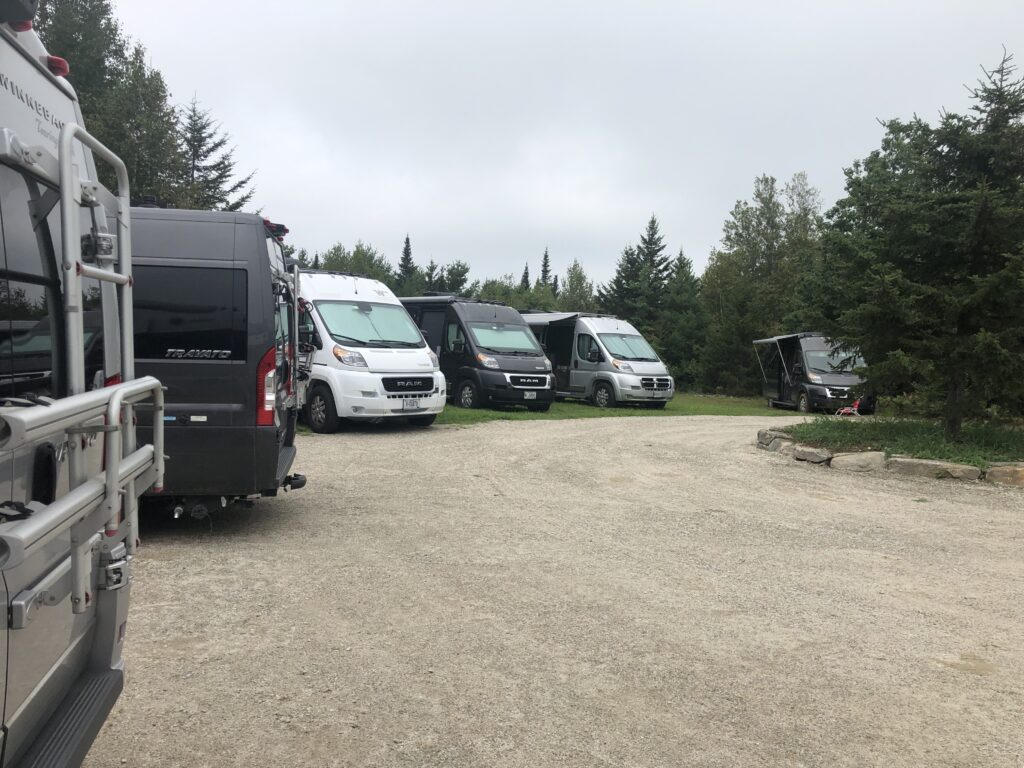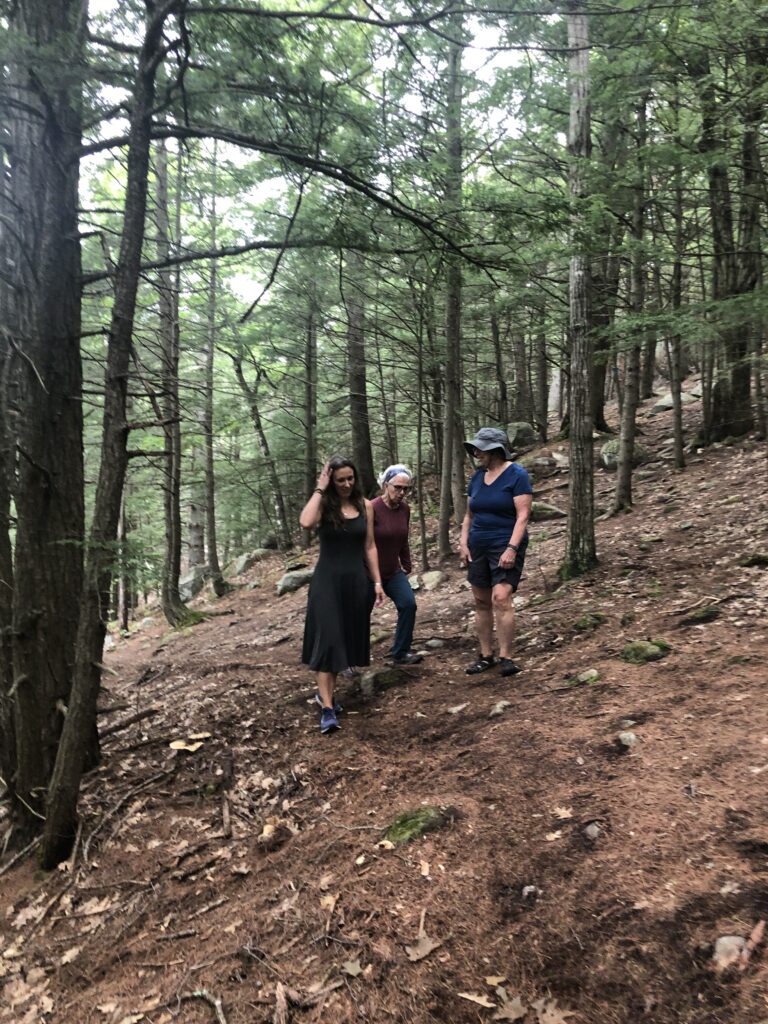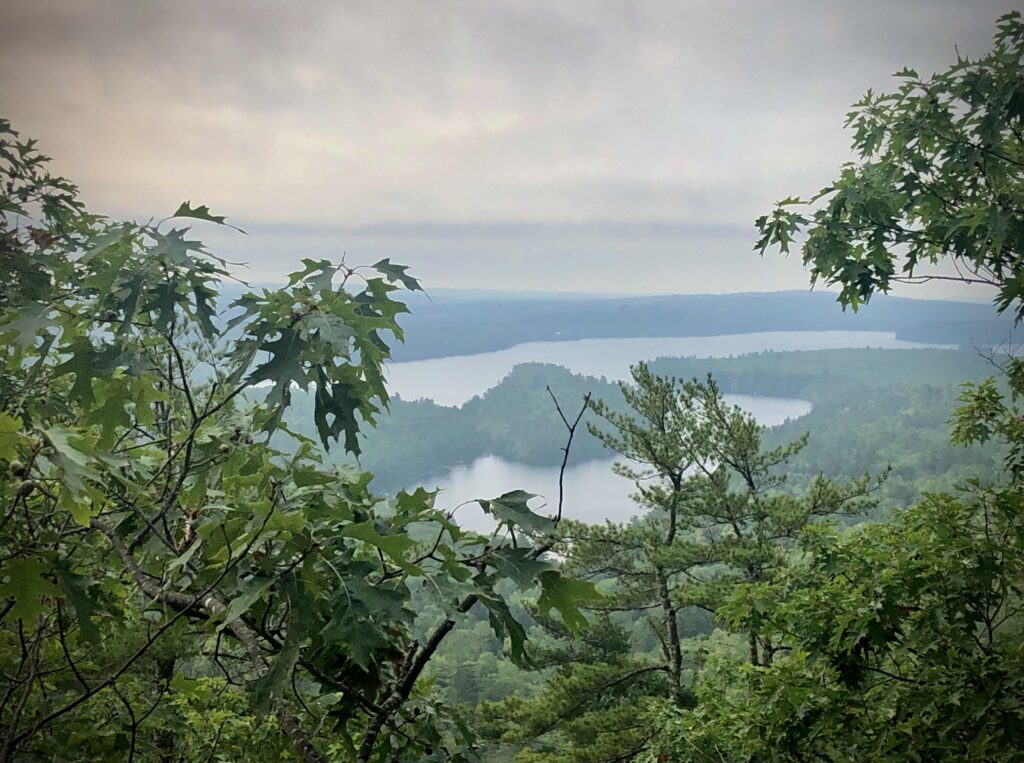 After our hike, we got back to the Meet-up which was in full stride and we blended right into "meet-up mode". An informal Travato meet-up often consists of people eating and drinking in one central location, maybe playing cards, or sharing some information on a laptop or tablet, while simultaneously other small groups break off doing chores or chit-chatting around different vans sharing modifications they have made, asking questions about their newest dilemma, showing off their decorating, or newest RV accessory. There are often some repairs or maintenance going on somewhere (I changed my headlight bulb while were here), and Scott G (a Travato tec maven) was here doing all sorts of mods on different vans, including changing out batteries. Inside the house, Jennifer was taking charge in her charming sort of way, as half a dozen women were gathered around the large wooden kitchen table rolling out pie crusts for the pies that were being made with local blueberries.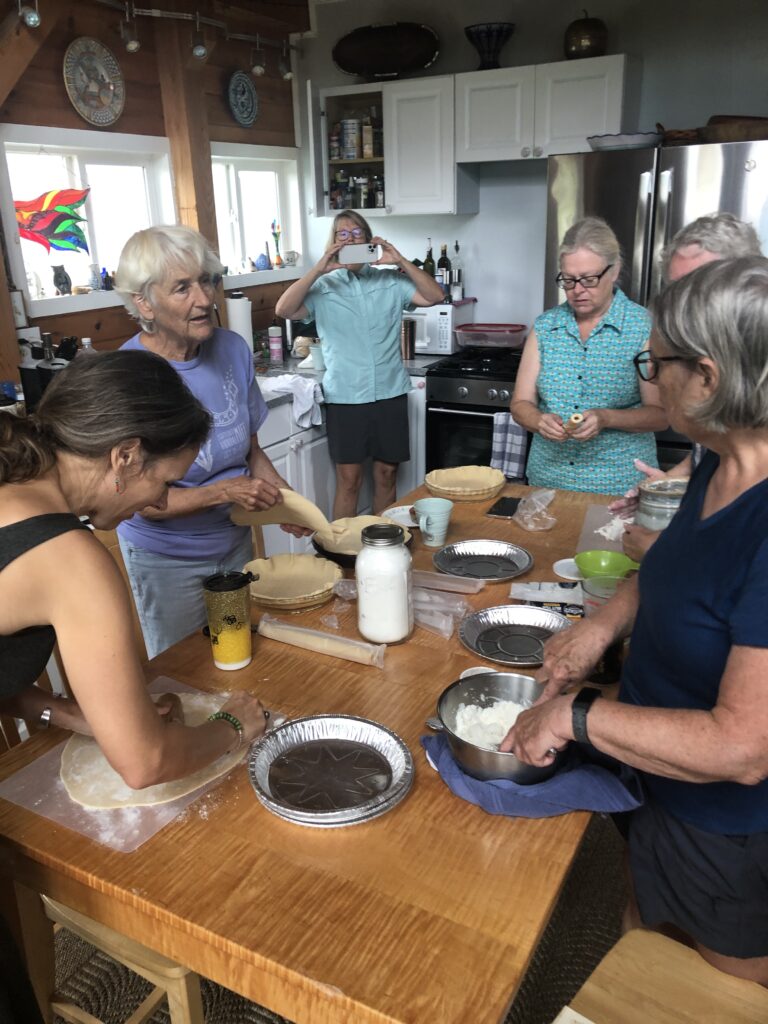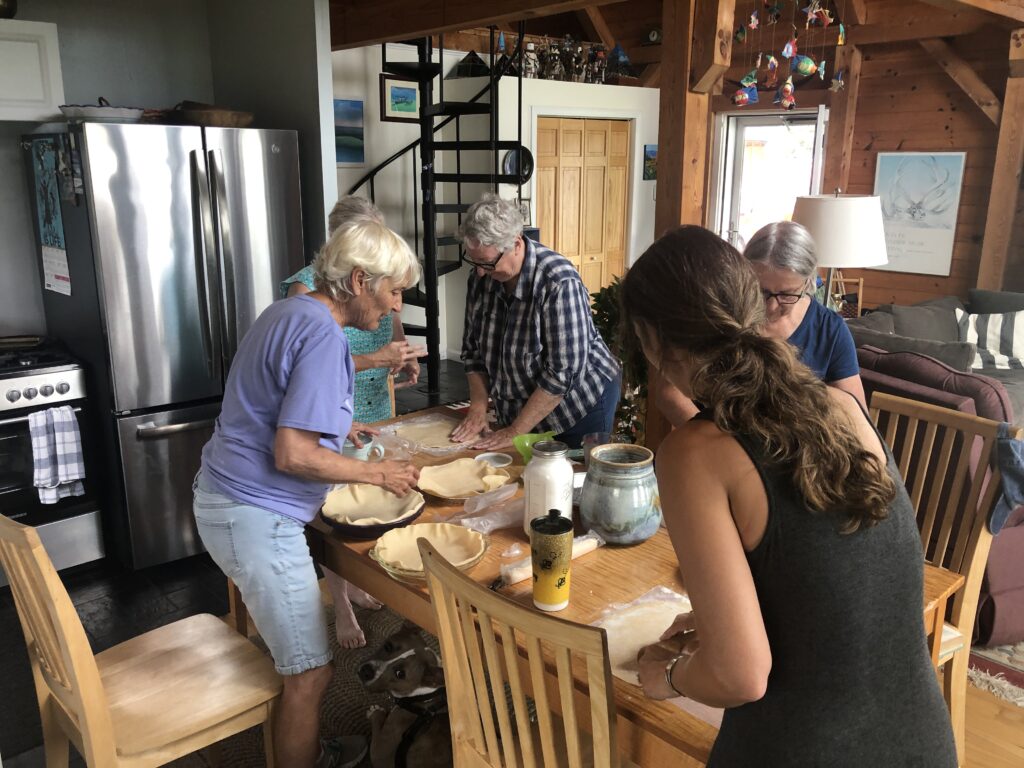 Later in the day, the Lobsters arrived, and we all set up our portable tables and camp chairs and chowed down in Trish's large 3 car garage on Fresh steamed Lobster, Corn on the Cob, and some of the dozen or so side salads that showed up. Yummo.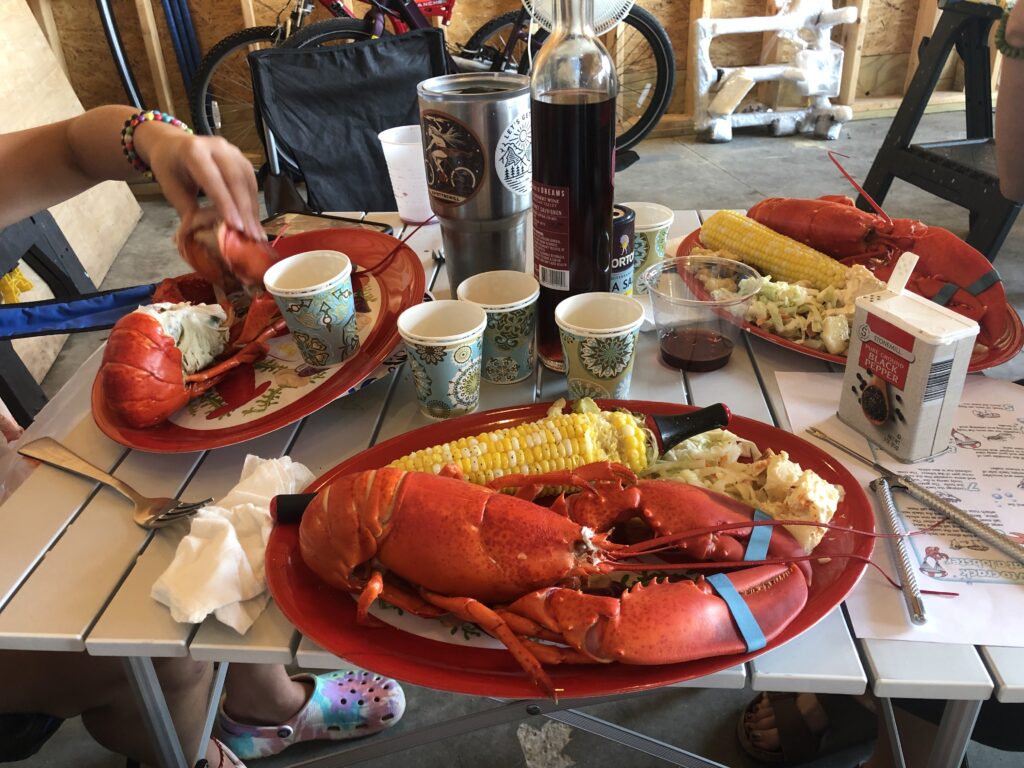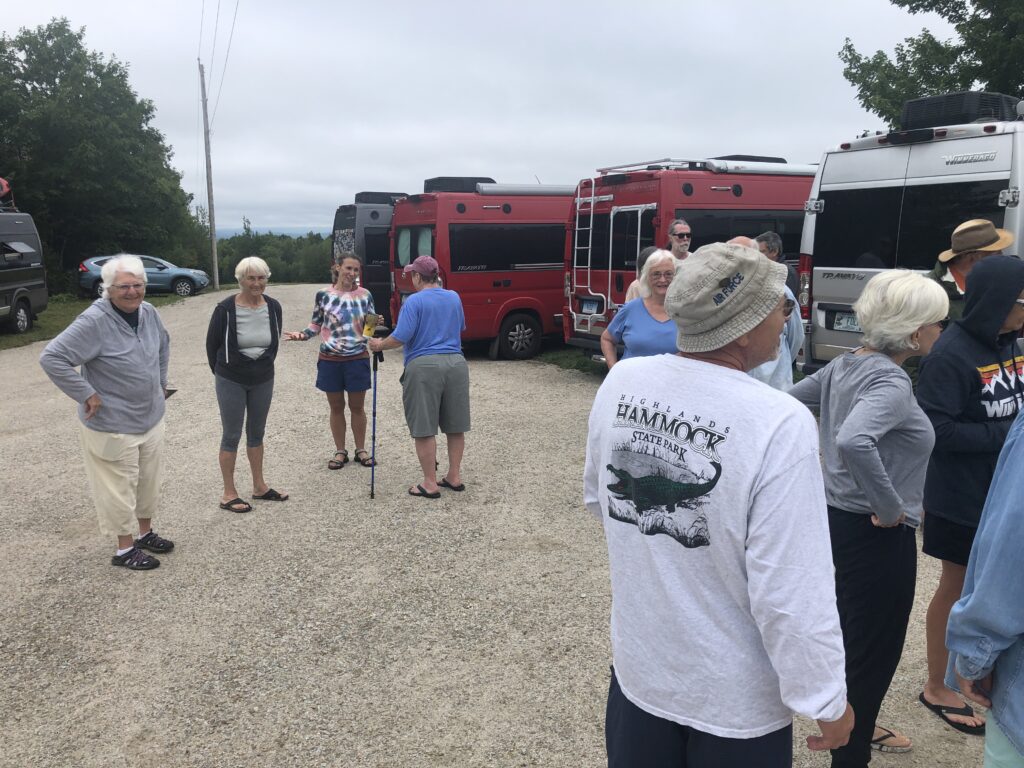 Russ (the Head of the Class B and small RV division at Winnebago) was there and he stood up and expressed appreciation and doled out some prizes and little tokens from Winnebago. We have grown to count Russ and his darling wife Cathy, very good friends of ours.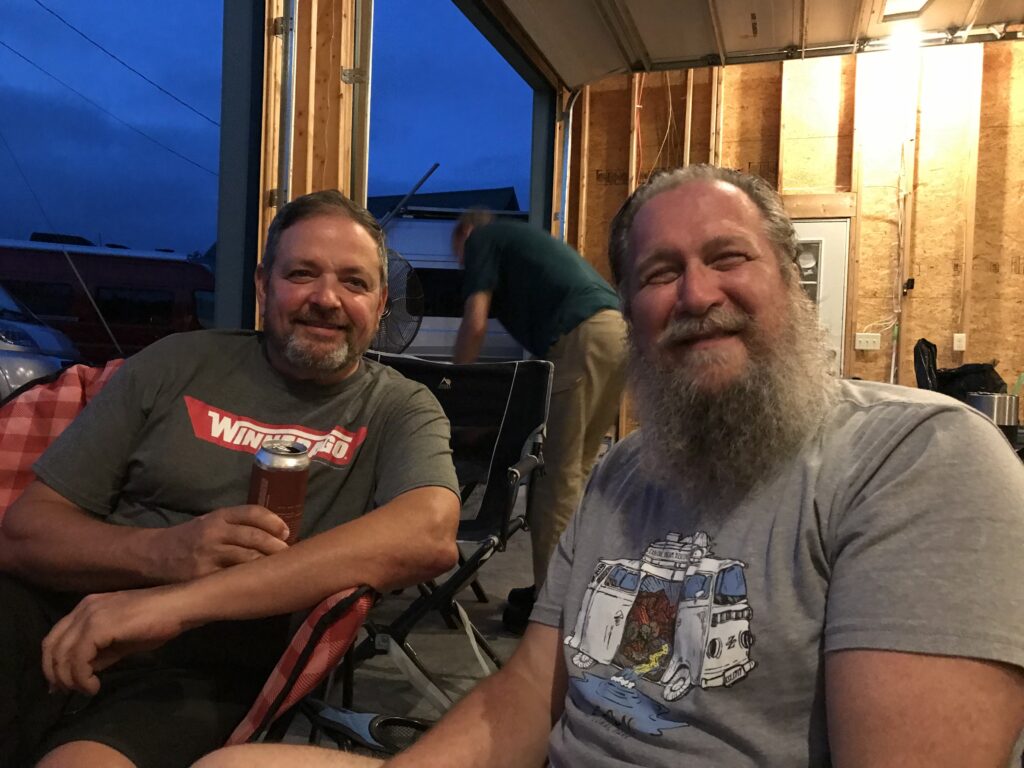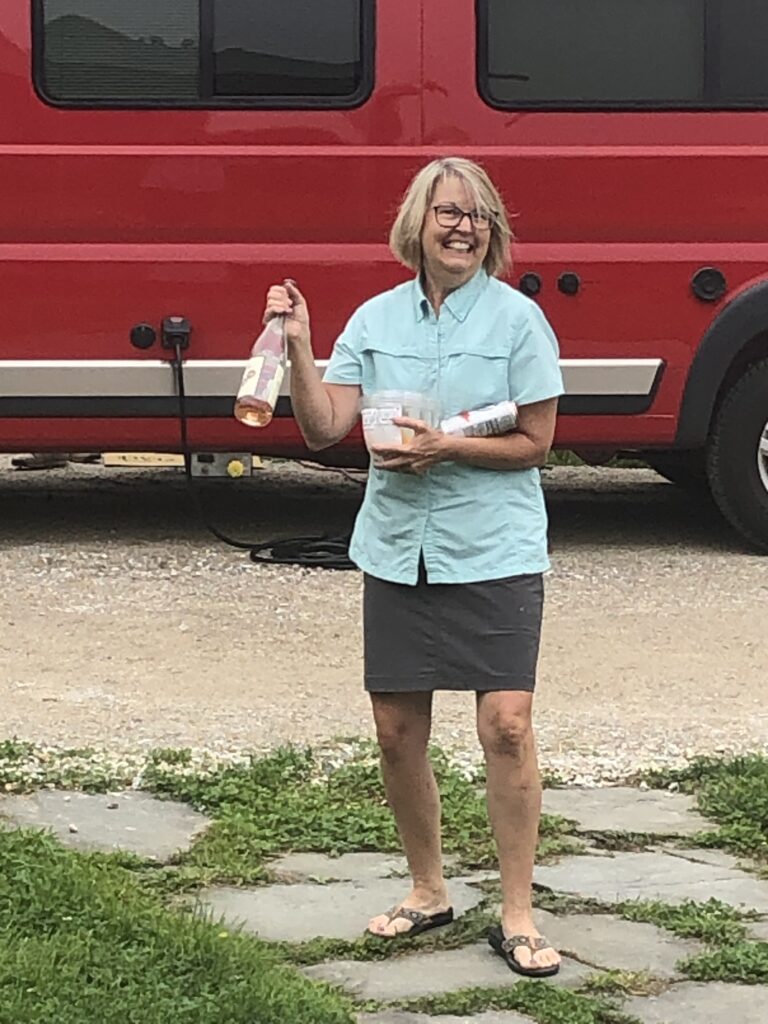 Five Crowns came out, and tournaments were held. Drinks were drunk, desserts were eaten. Music was made, and Laughing, conversing, and poetry commenced.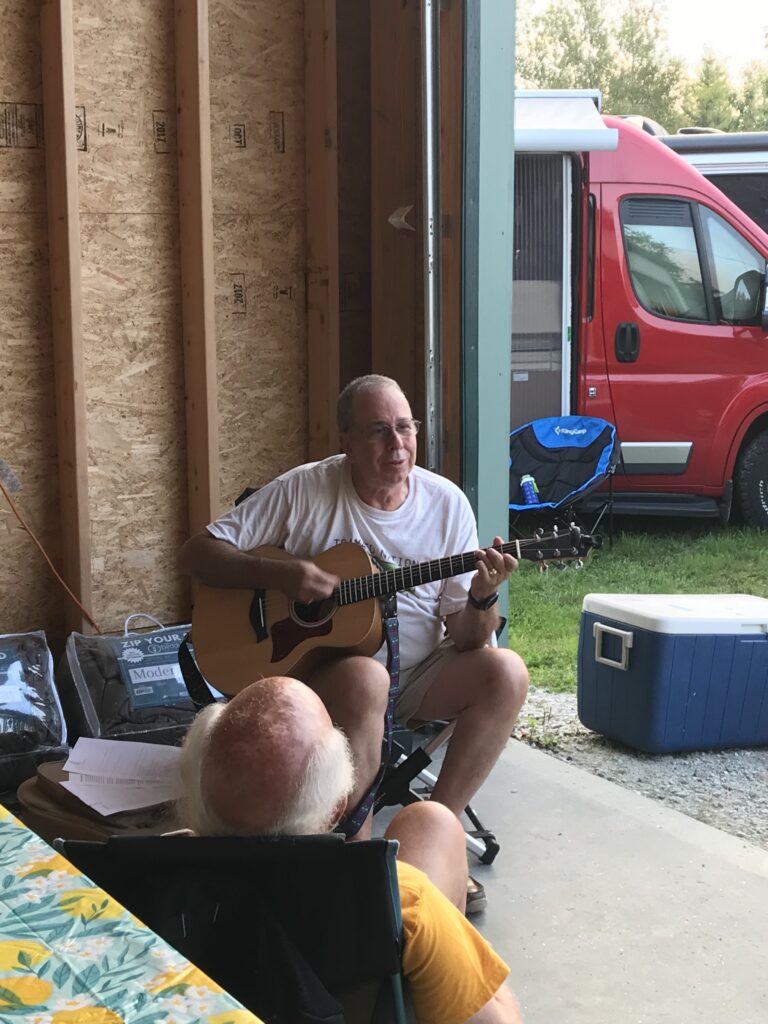 We found two different people that were willing to help tutor Aly with her Algebra (Scott, the tec, and Ed, half of another couple we have made friends of through the group).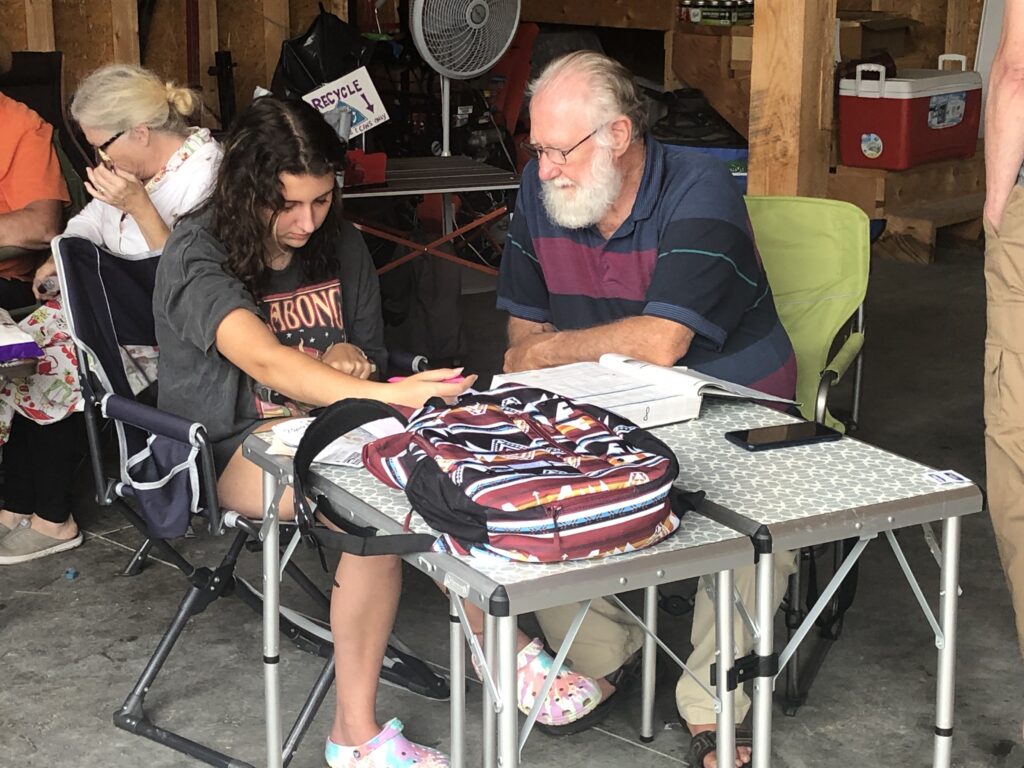 Sunday 8/22
Sunday was a day of clean up and goodbyes. Trish and crew made chowder from all the leftover Lobster for lunch. Hurricane Ida was coming, and several were worried that their travel plans would take them right into her. As people drove off one van at a time, we made our plan to go North to avoid the Rain. Sunday afternoon we headed up to Moosehead Lake and stayed at the Lily Bay State Campground. Sunday night (day 6) was our first night of paid camping, but even at that, I think it was $20.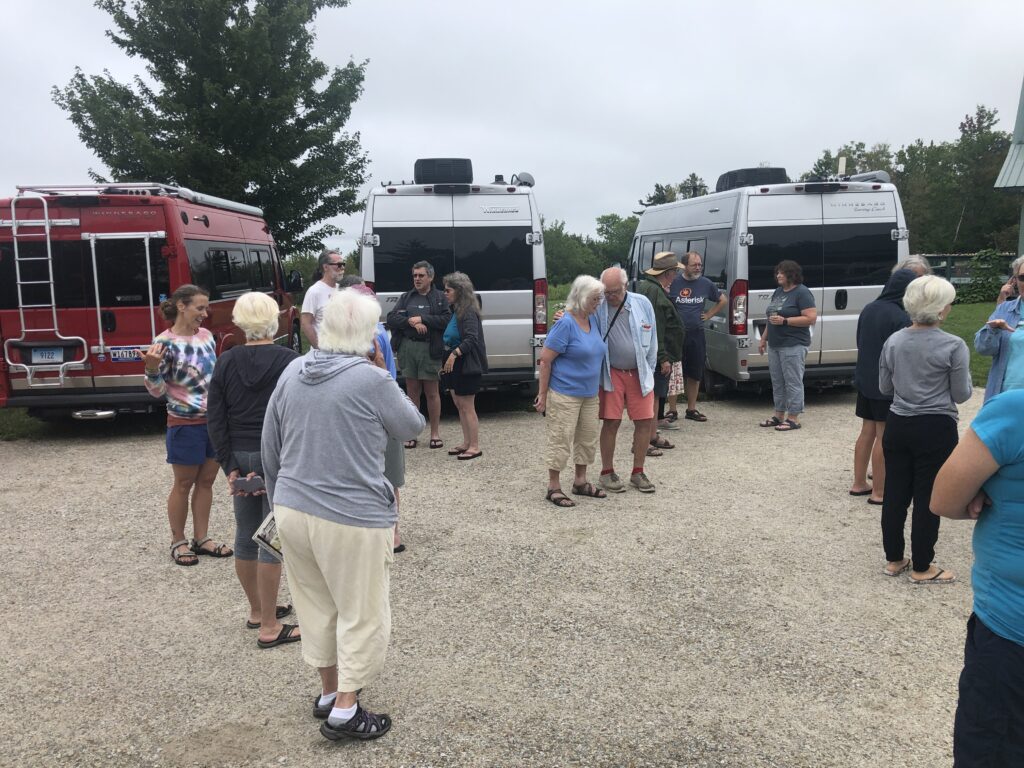 Monday, August 23rd
I drank some coffee yesterday when we left so I didn't sleep well, and woke up about 5:30. Made coffee and walked around the campground, and now I am sitting at the dock of the bay. It is beautiful and peaceful.
Later we hiked a couple of miles to the other campground, Aly took a swim at the beach, we dumped the tanks, took showers, and headed back out.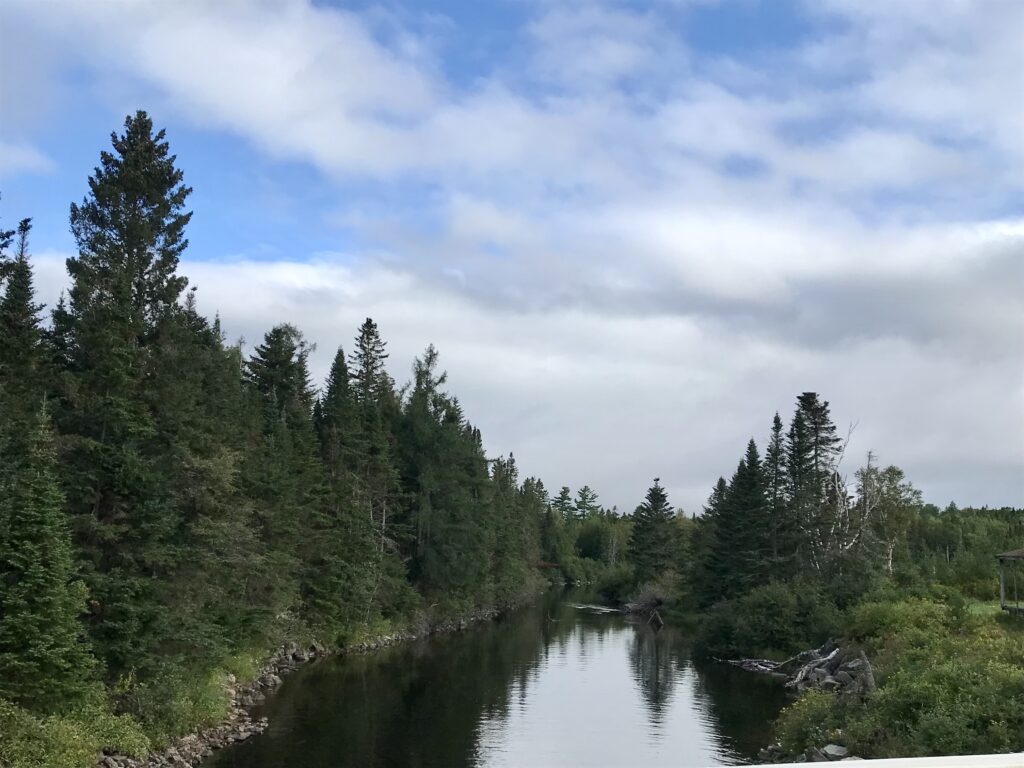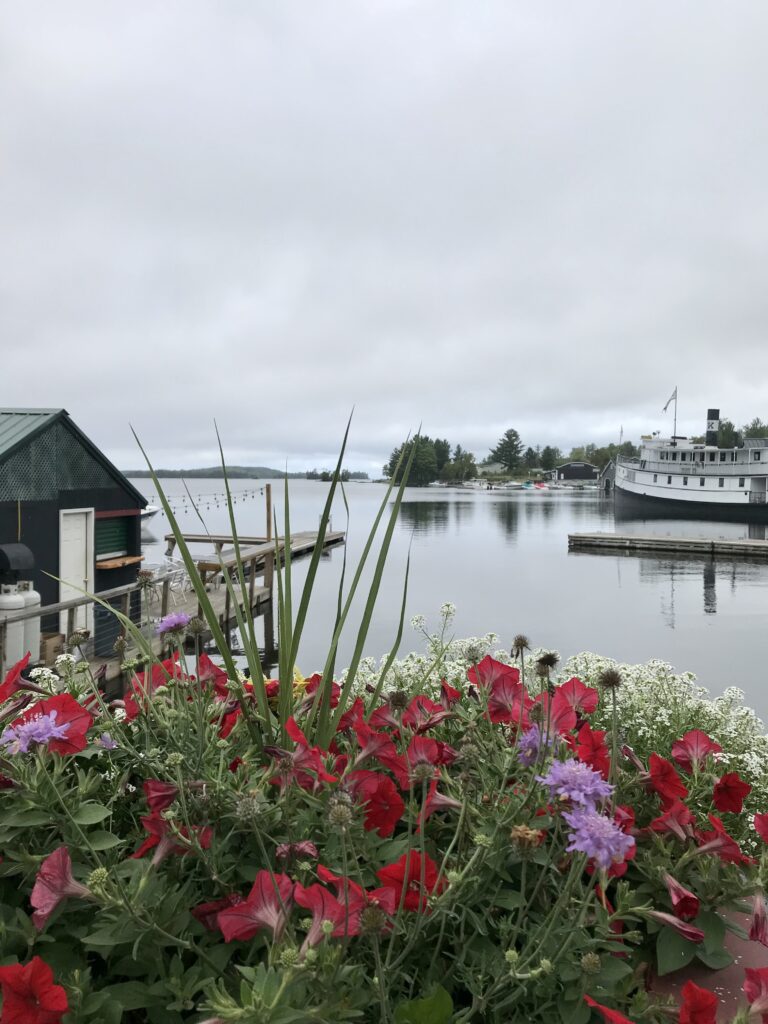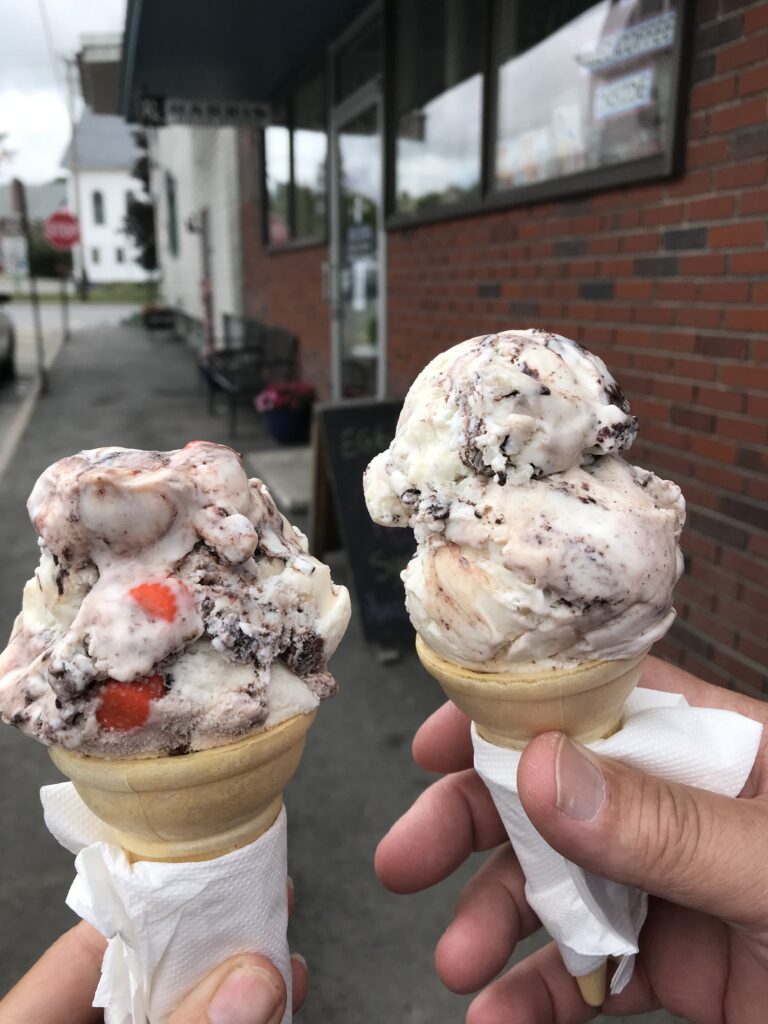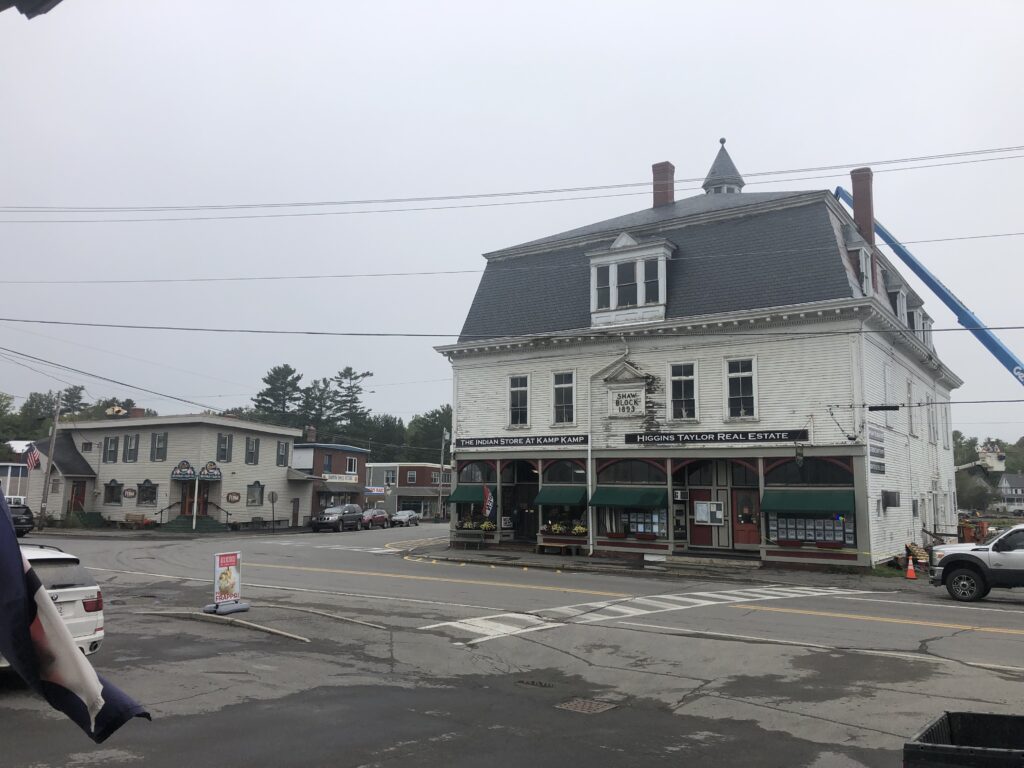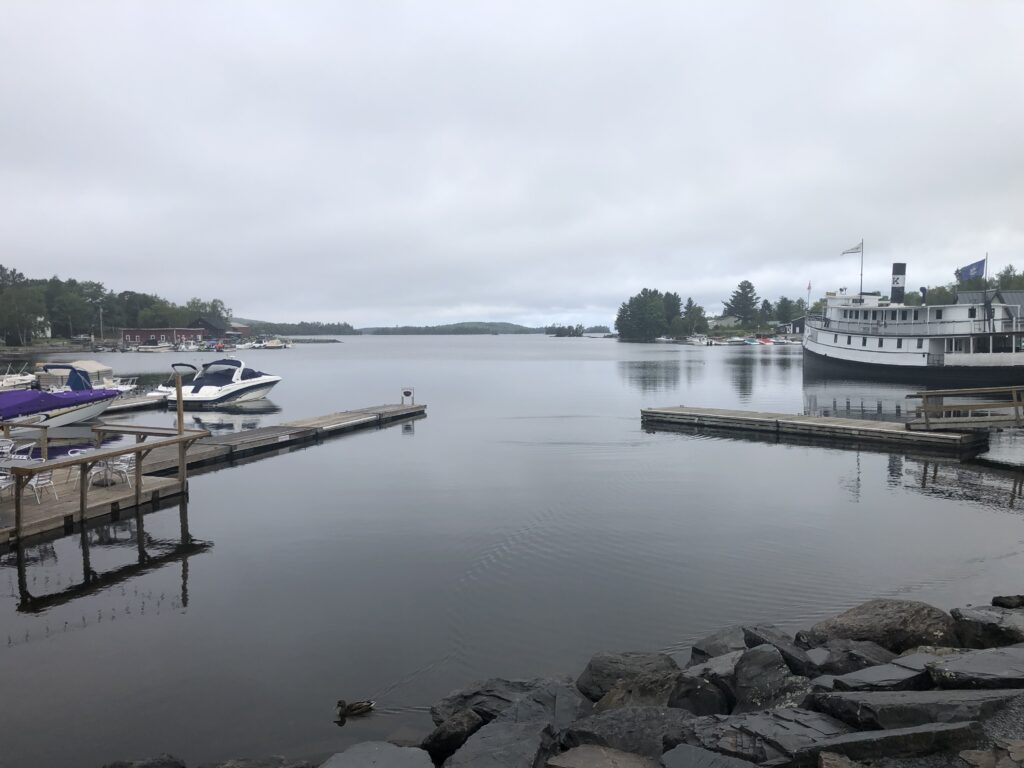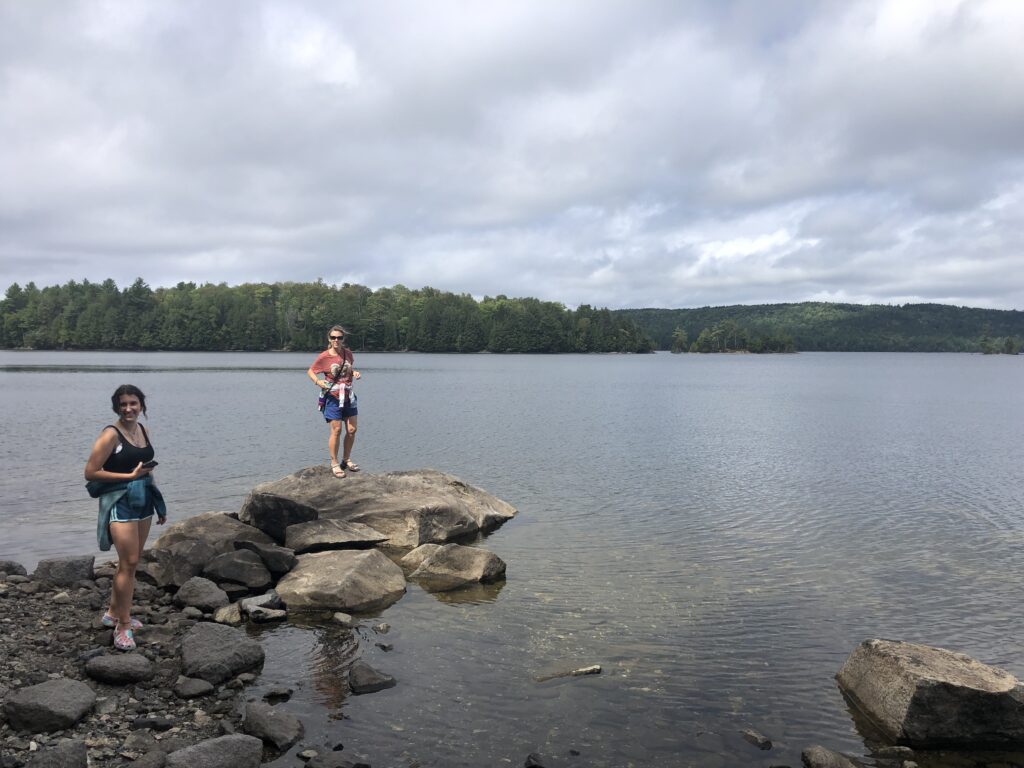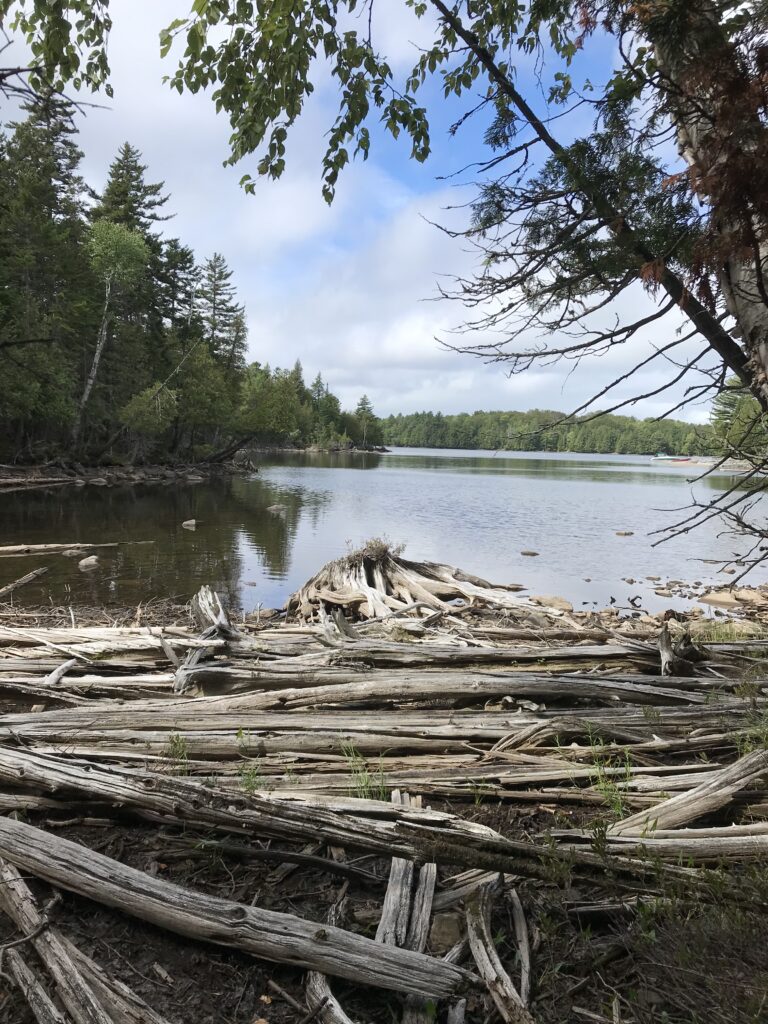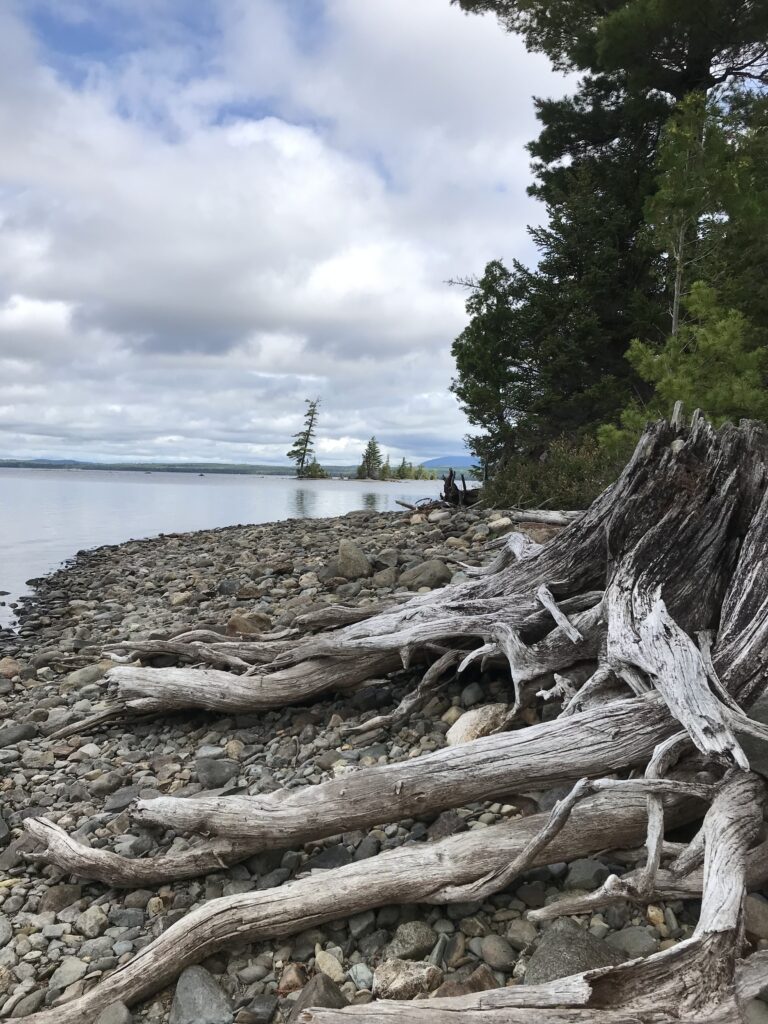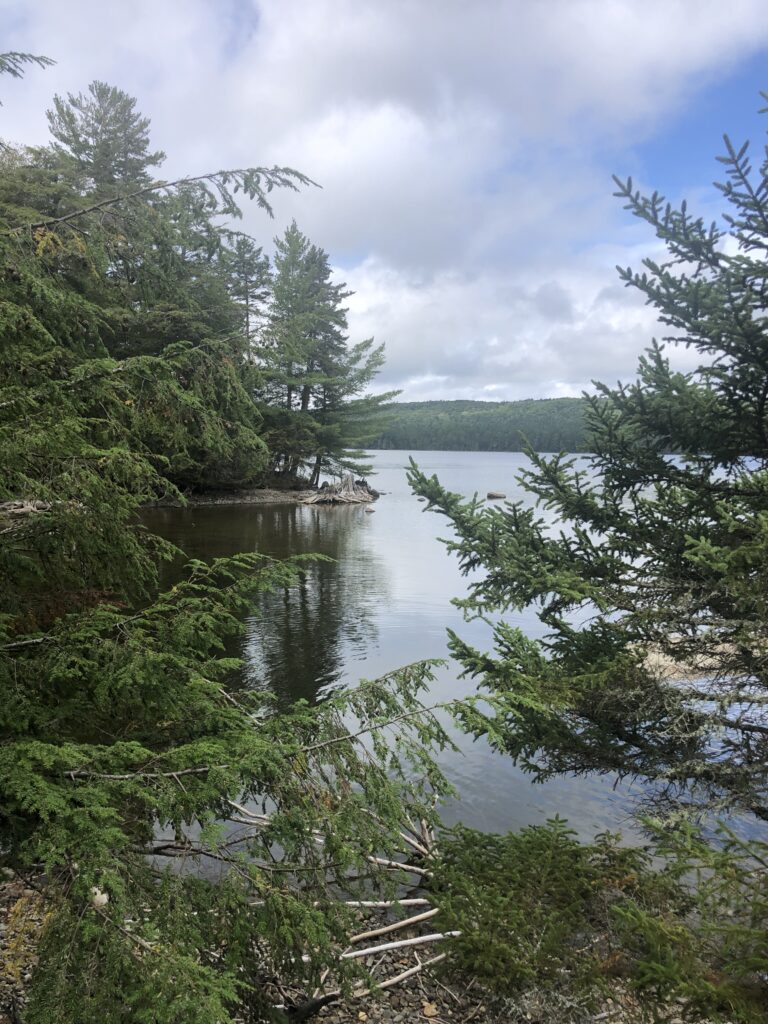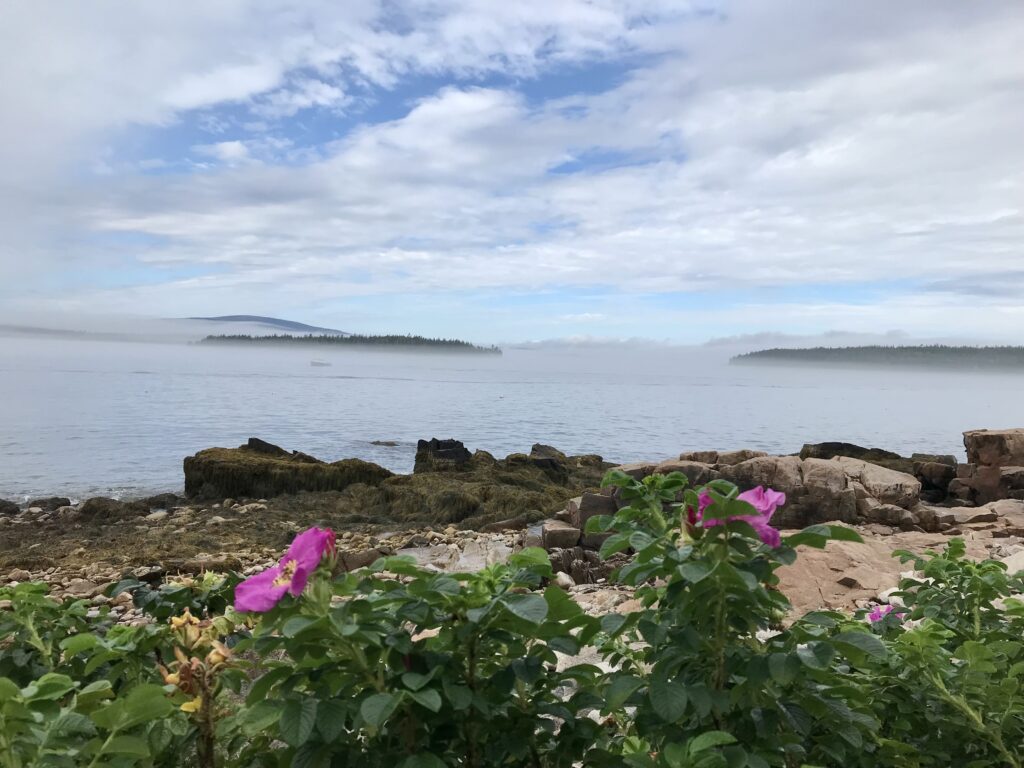 Drove across Maine to Bangor where we ate dinner at high tide restaurant which was fair but expensive.
On to Acadia where we camped at Schoodic campground (36.00 and no showers ?) and hiked to Schoodic point and the Anvil in the morning. The woods there were very reminiscent of the rainforest in Washington, and the Woods in Maine, in general, are very much like upper Michigan.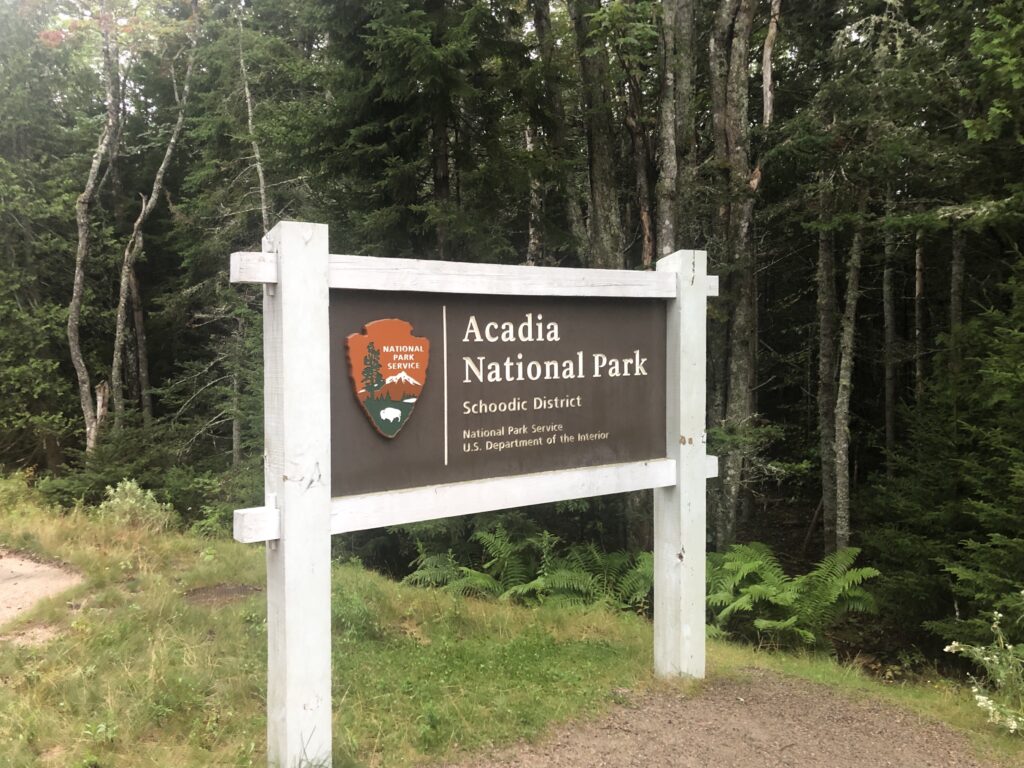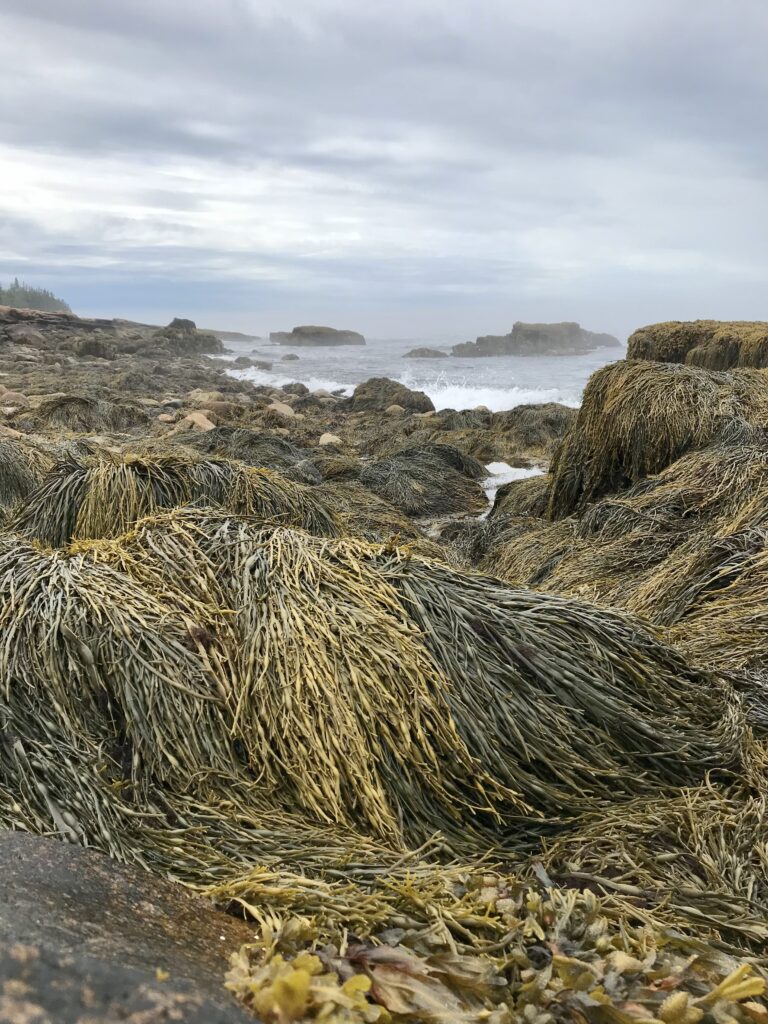 It's noonish now and we are driving over to the Island and Bar Harbor to have lunch.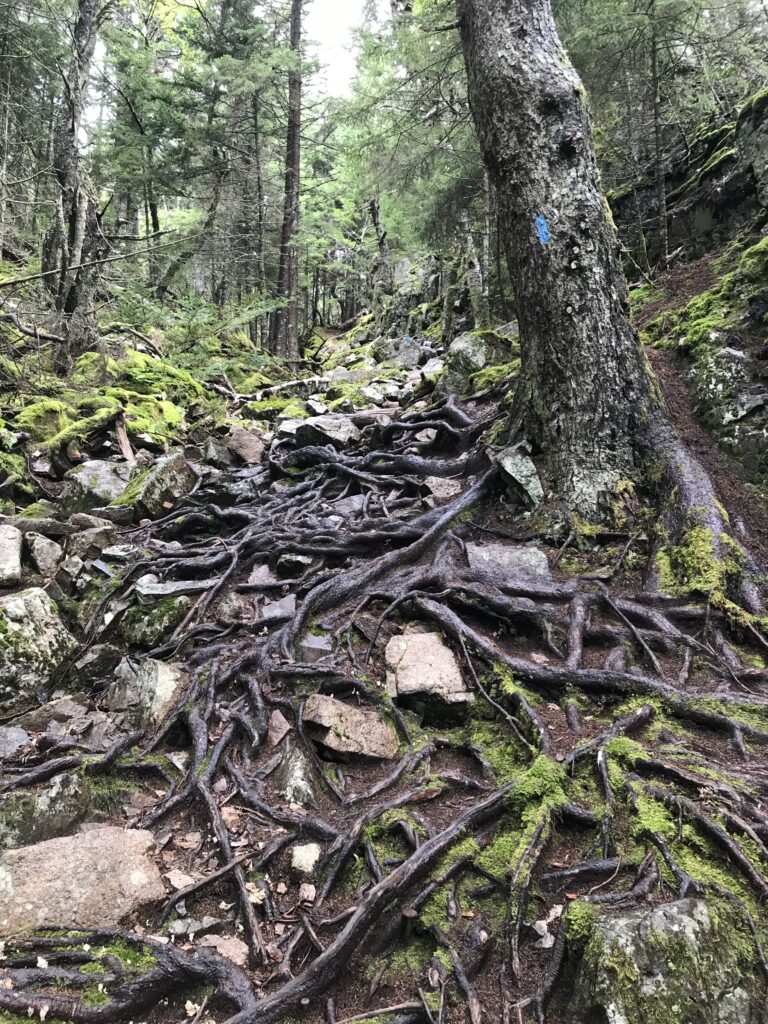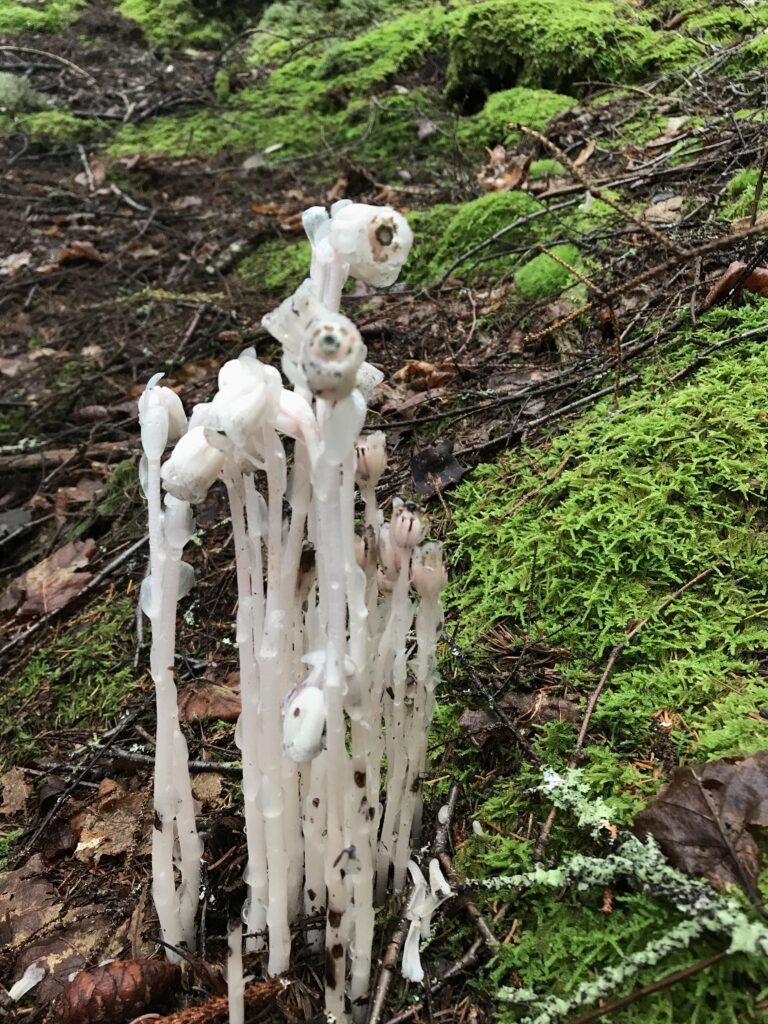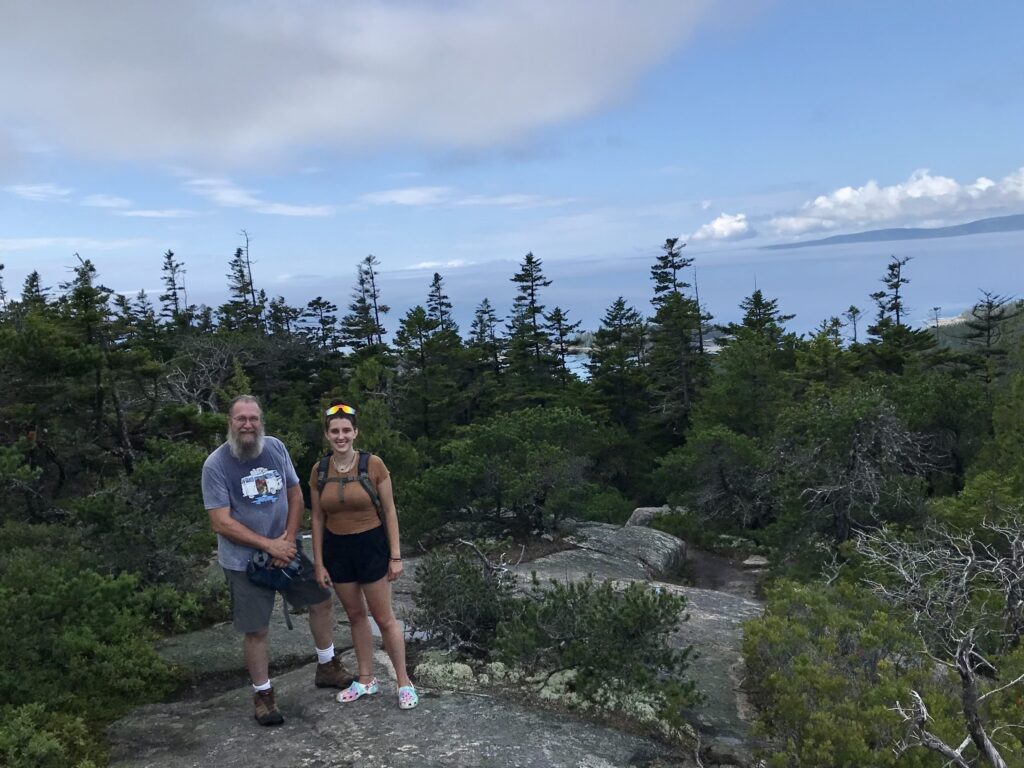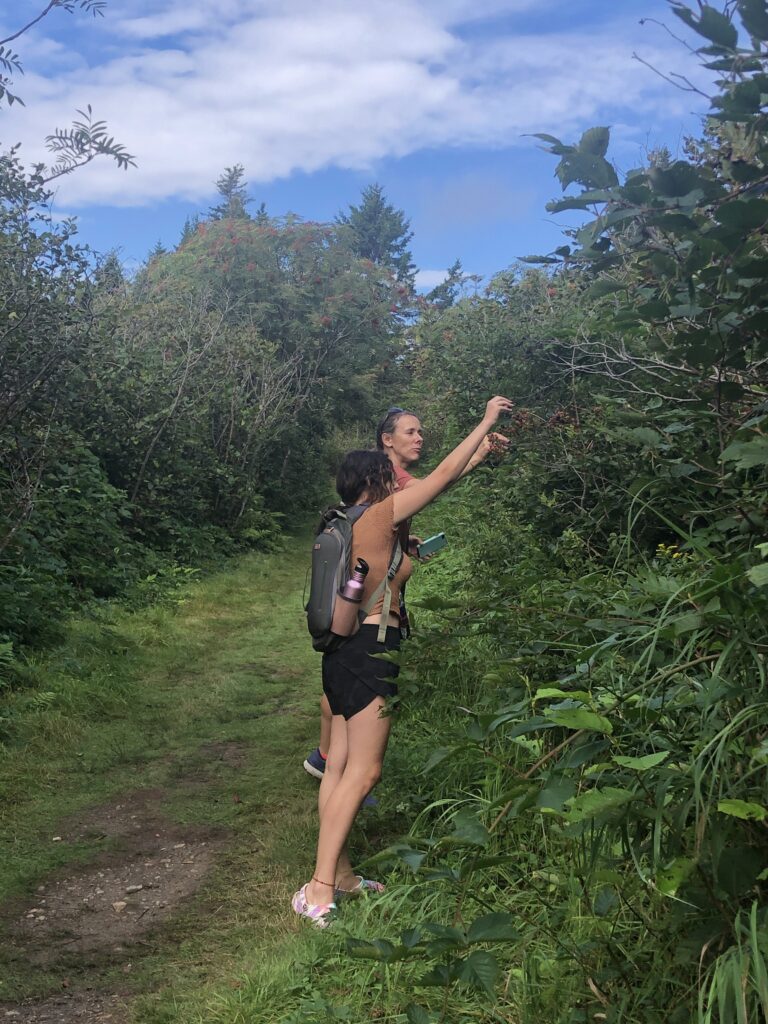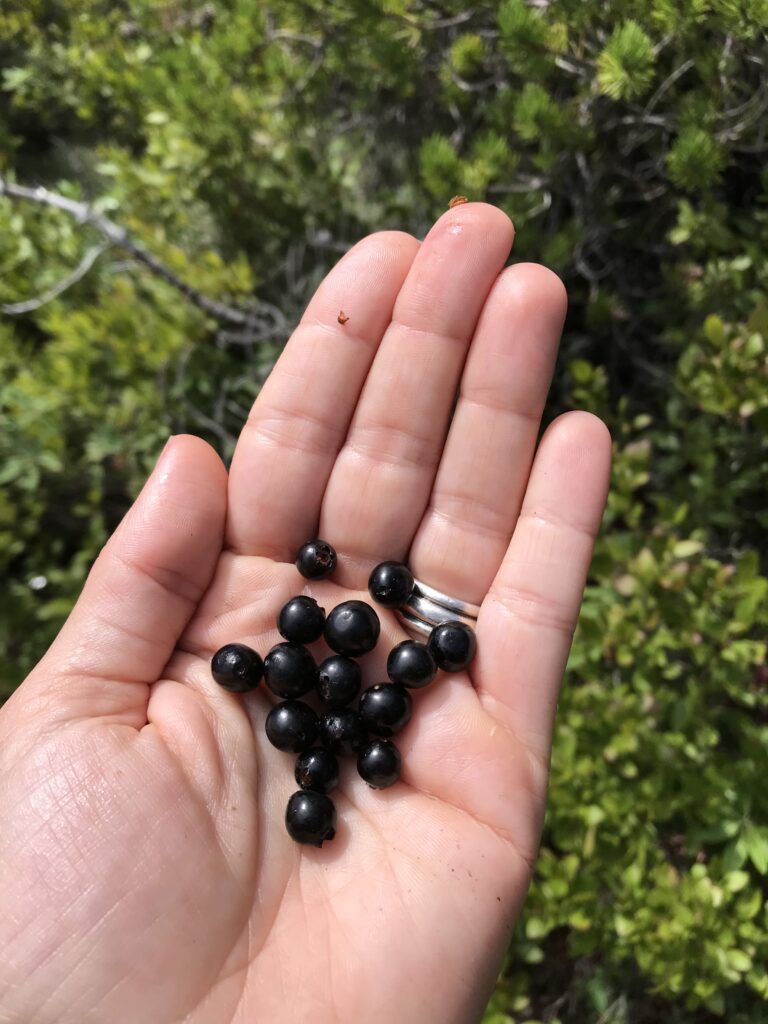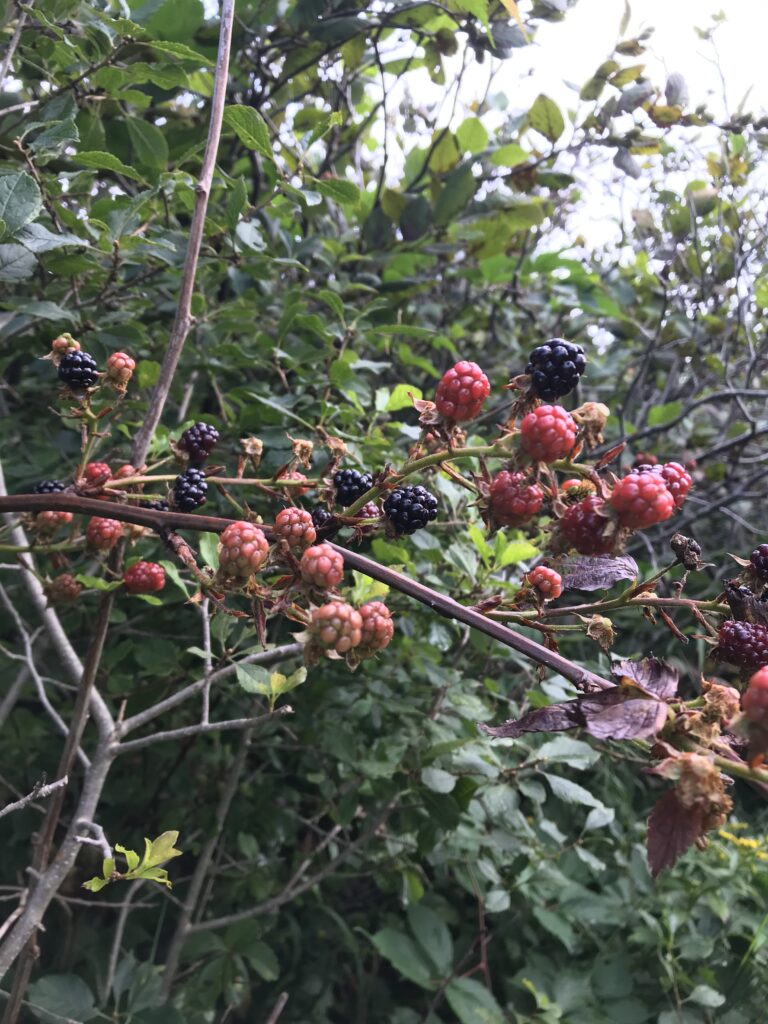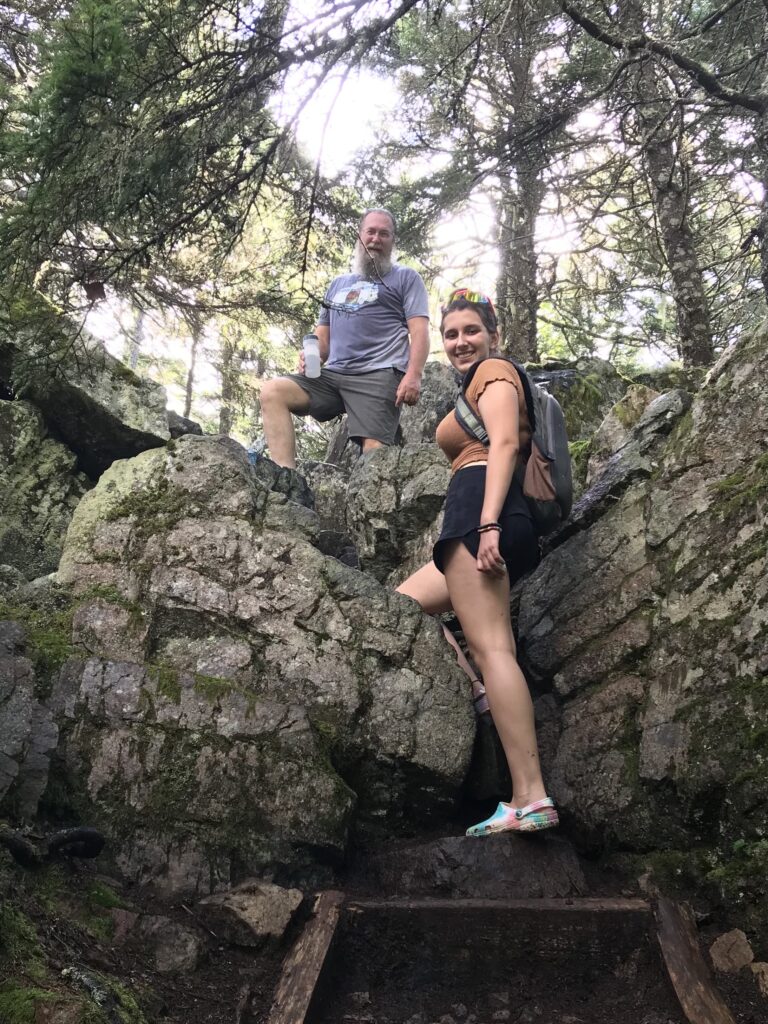 Had a great lunch and then walked around town shopping and picking up a few trinkets. Met up with Sue Ann Jaffarian and gave her a ride back to her van) she was staying at the same campground we were headed to. We got a great site right near the pool with the ocean and the mountains in the background. Tomorrow we should be able to wake up to the sunrise.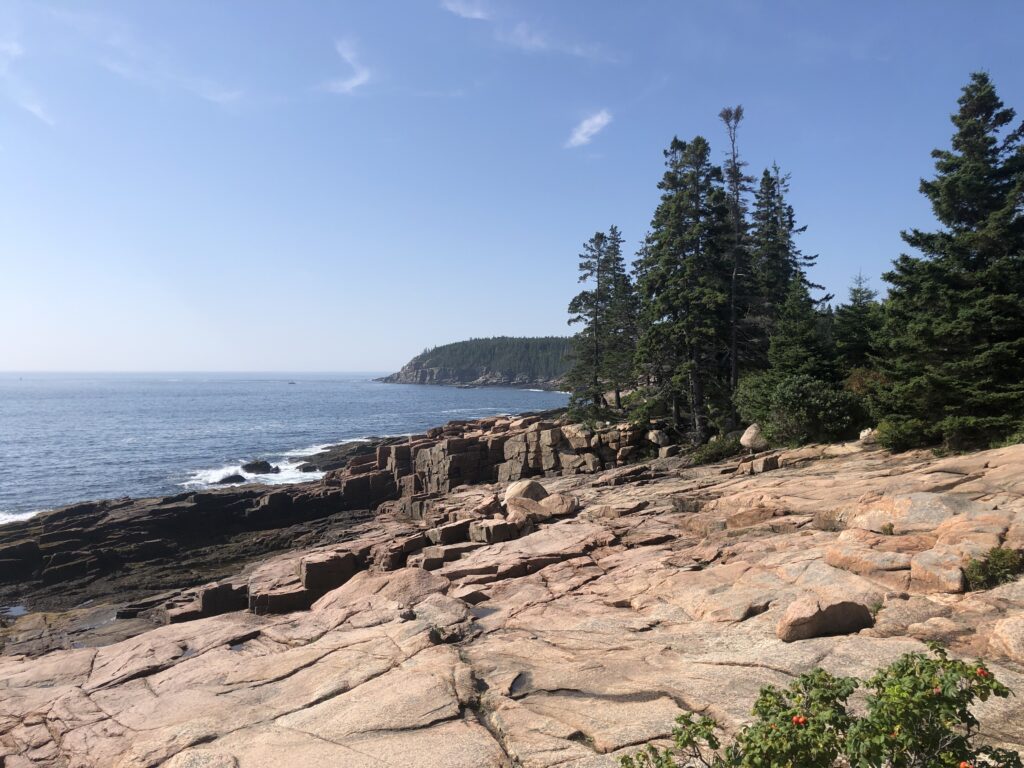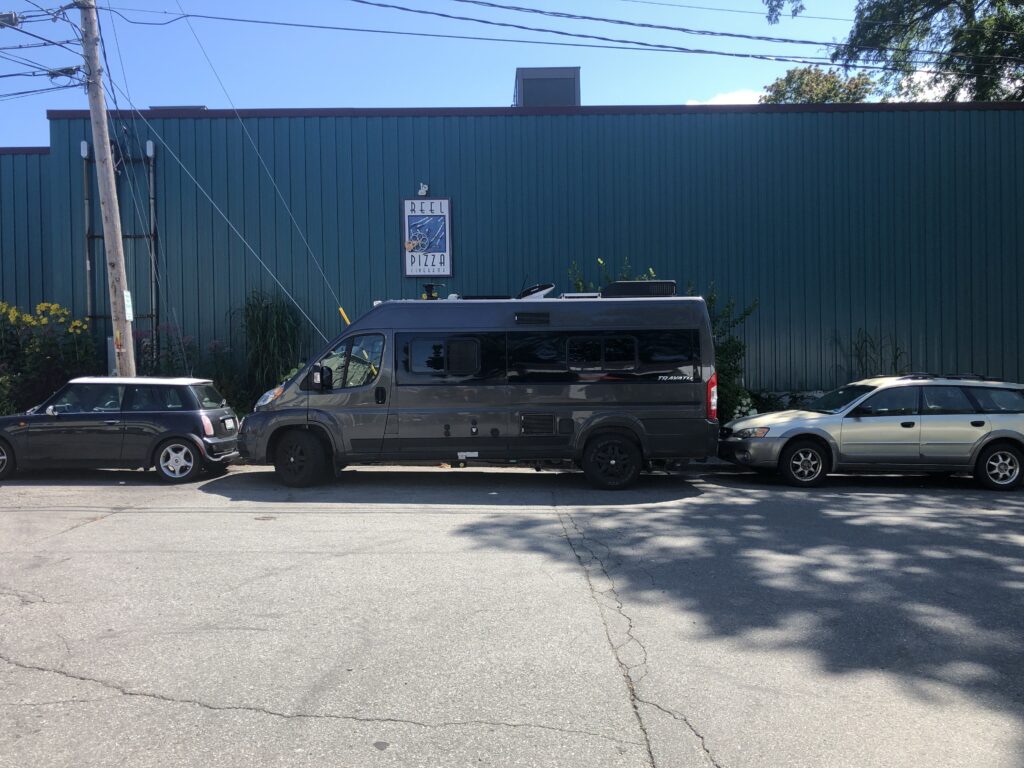 Tuesday 8/24
Excellent sunrise! Then off to the trails, we drove up on Cadillac mountain and had lunch. Aly and I drove back down and Jennifer decided to hike.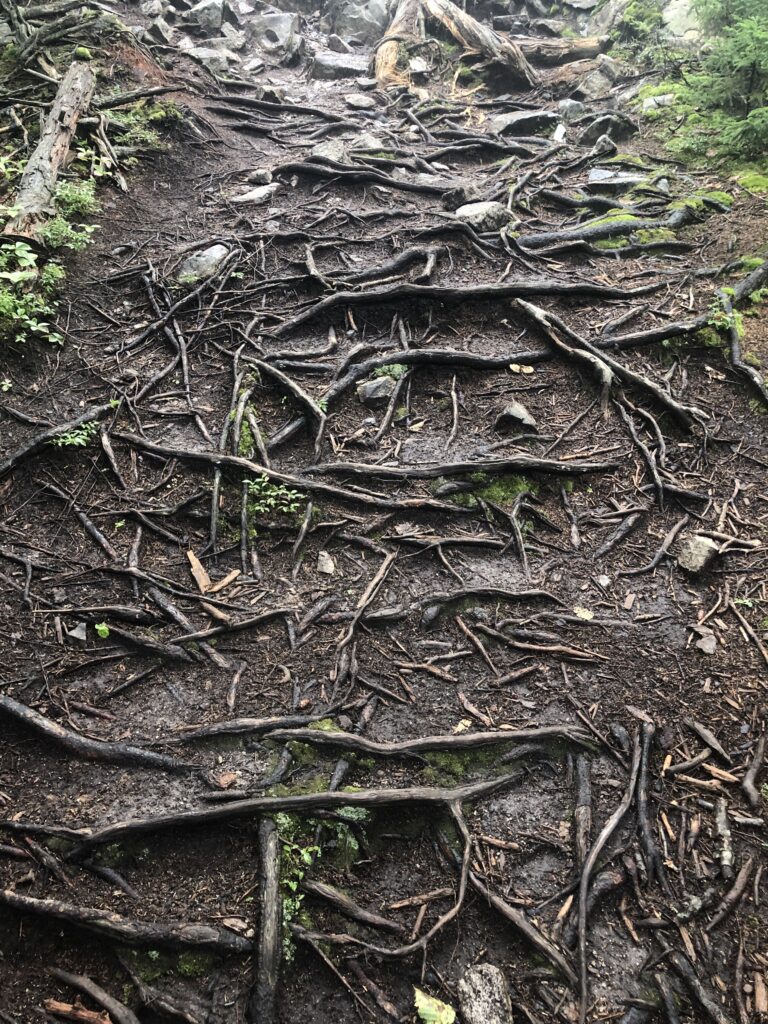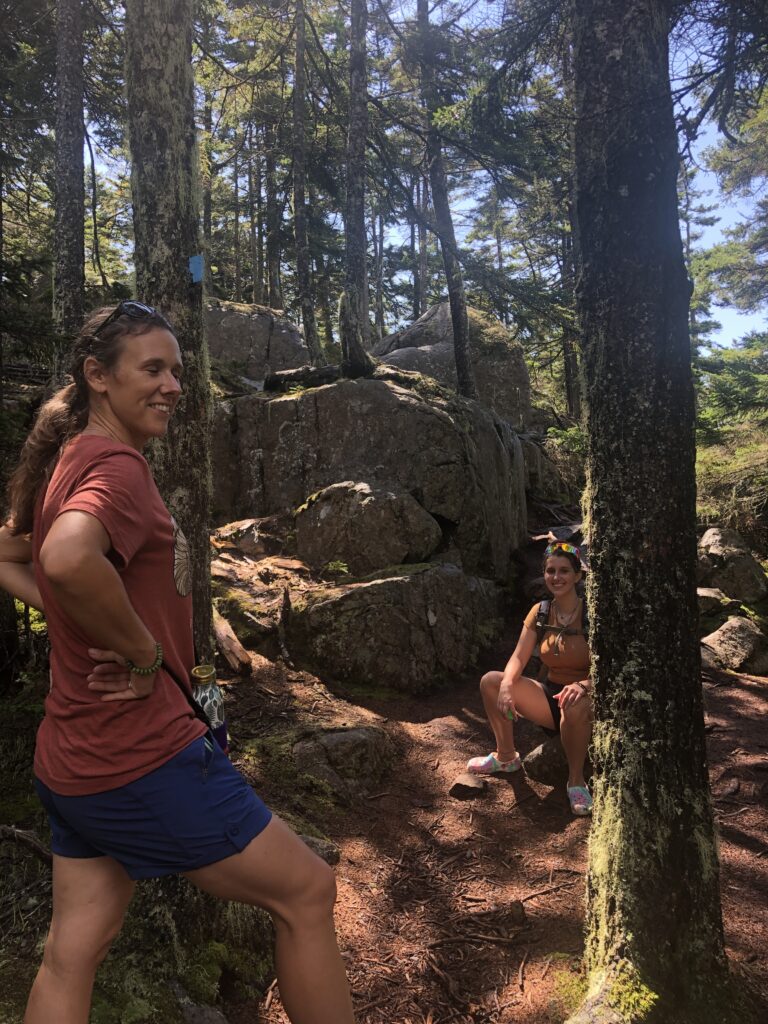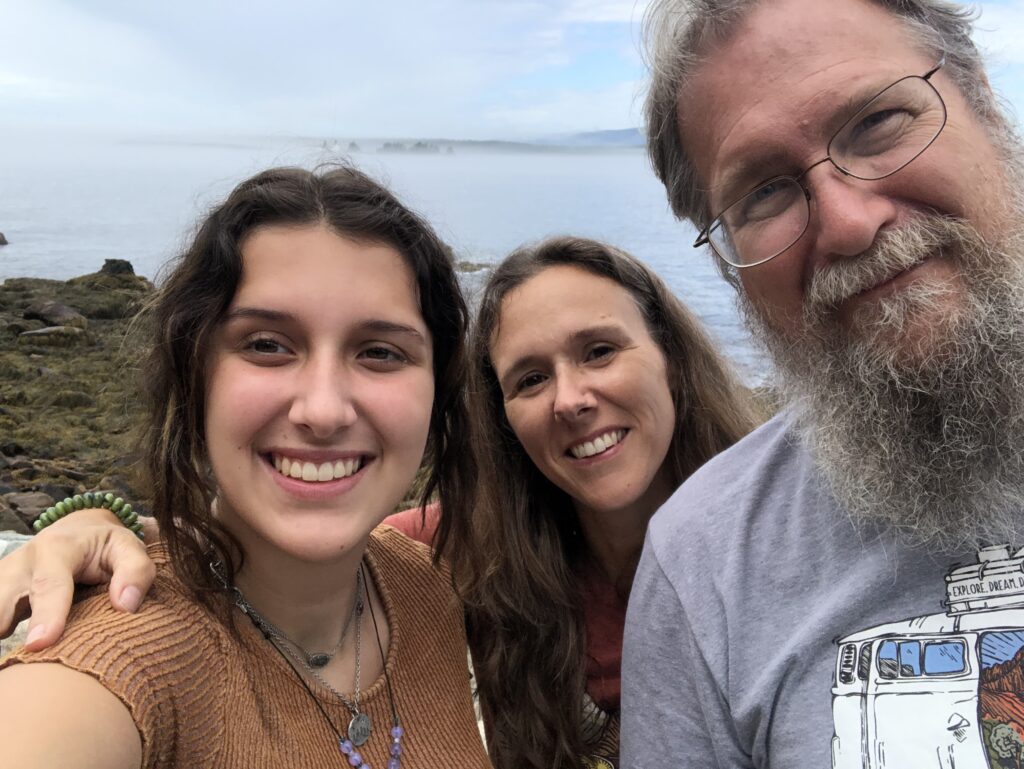 Back at Bar Harbor Campground we went for a swim in the pool, took showers, and then walked over to MAINLY MEAT BBQ (which was recommended by another Travato owner), and it was GREAT! Bar Harbor is an Independent Private campground – campground types we don't usually stay at, but since all the campgrounds in Acadia were "full", and this one came with high recommendations and was right outside Bar Harbor, we thought we would try it. Is was $35.00 a night (the same as the national Parks) but had a pool, laundromat, Good showers, An ocean view, and a pool, did I mention the pool? It was hot and muggy, and the cold pool water was welcomed.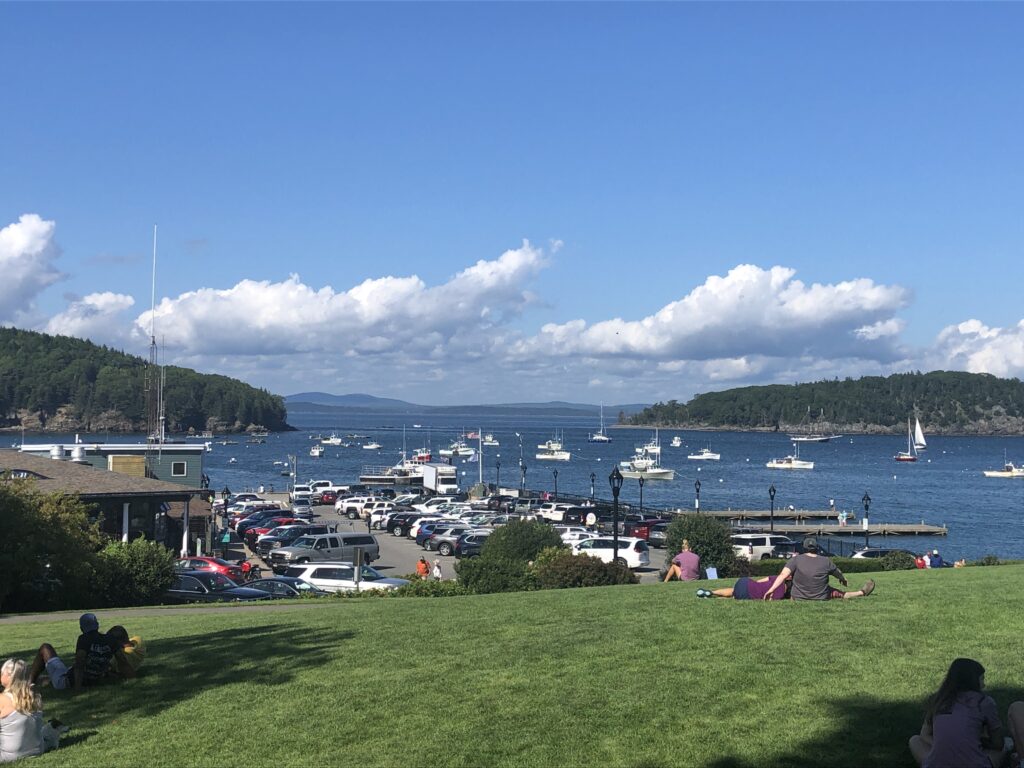 Awesome Sunset! Another night with the back doors open and nice cool sea breezes. This could be our life!
(Oh, wait. It kinda already IS) 🙂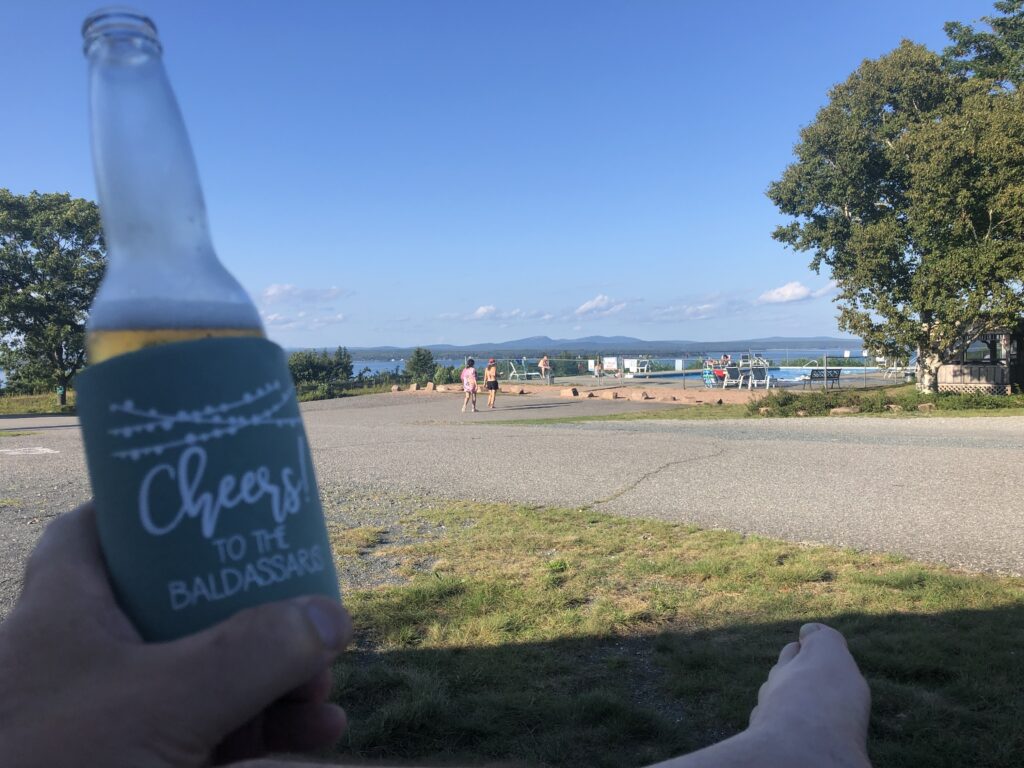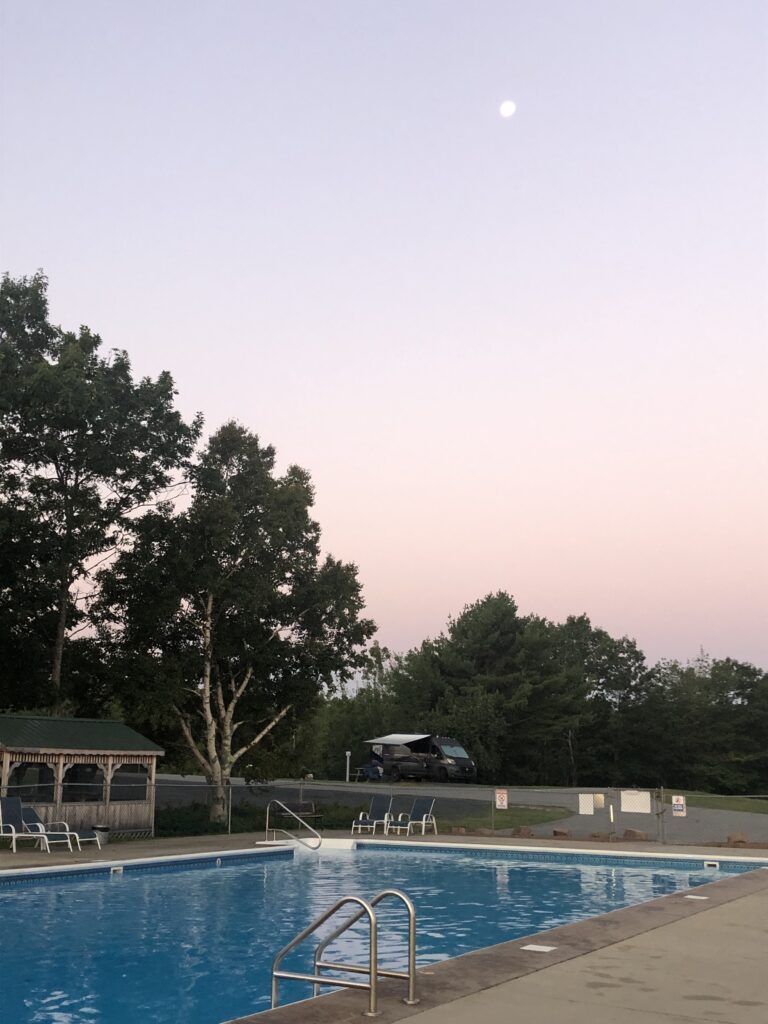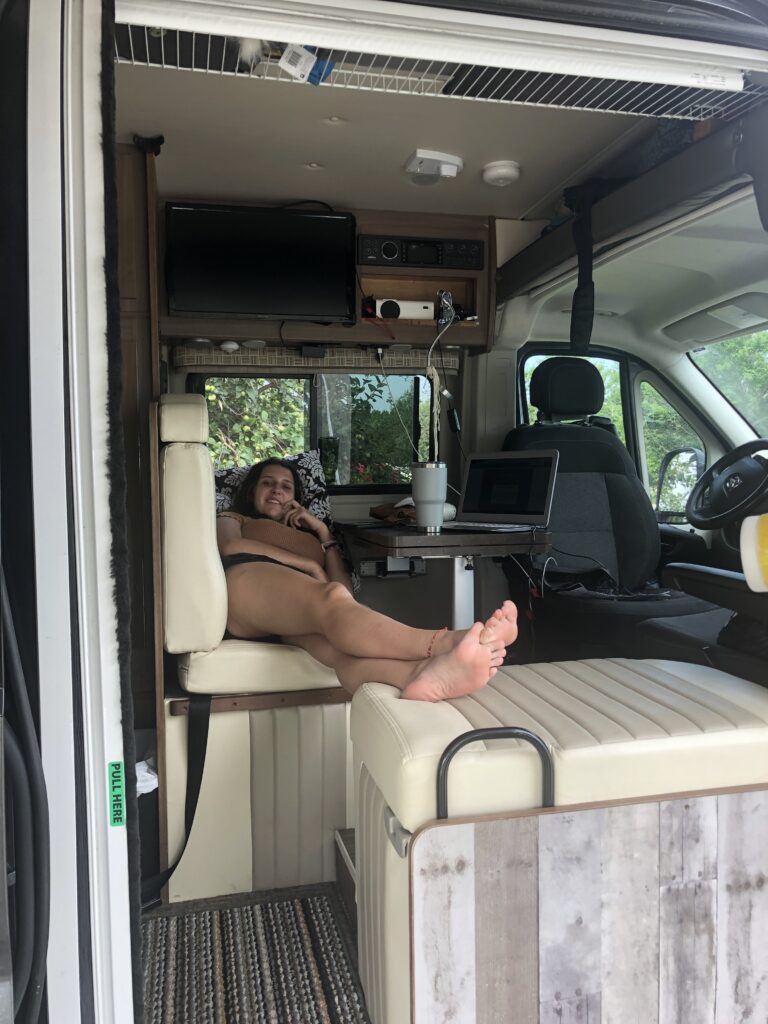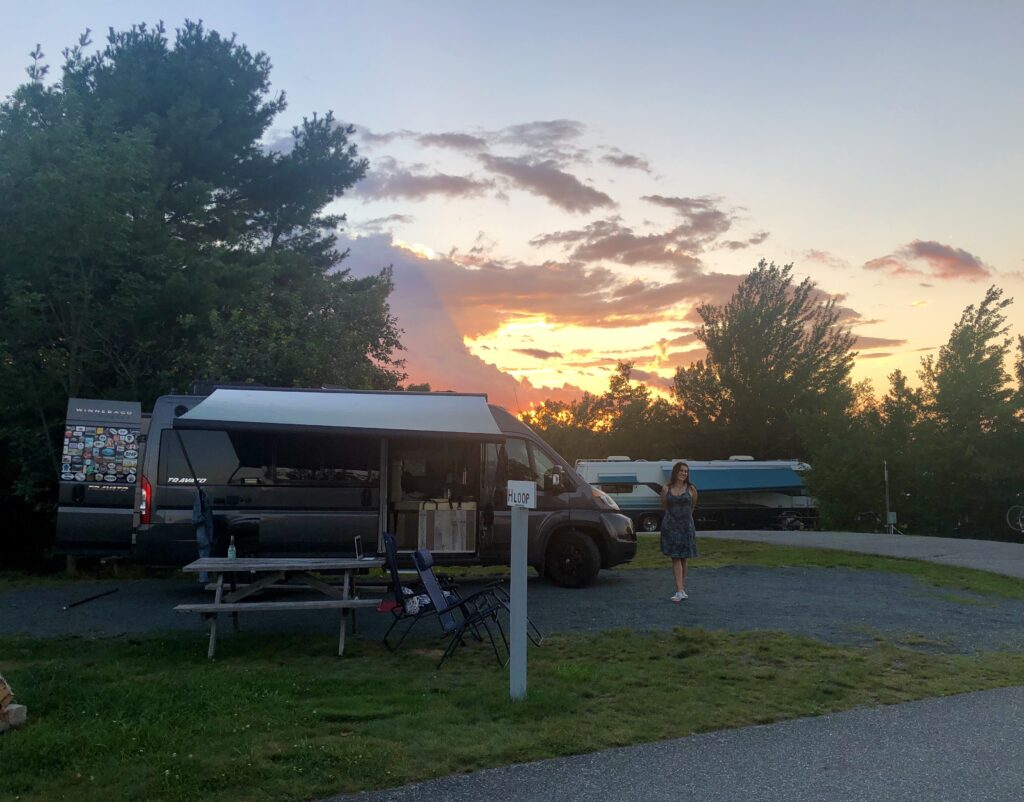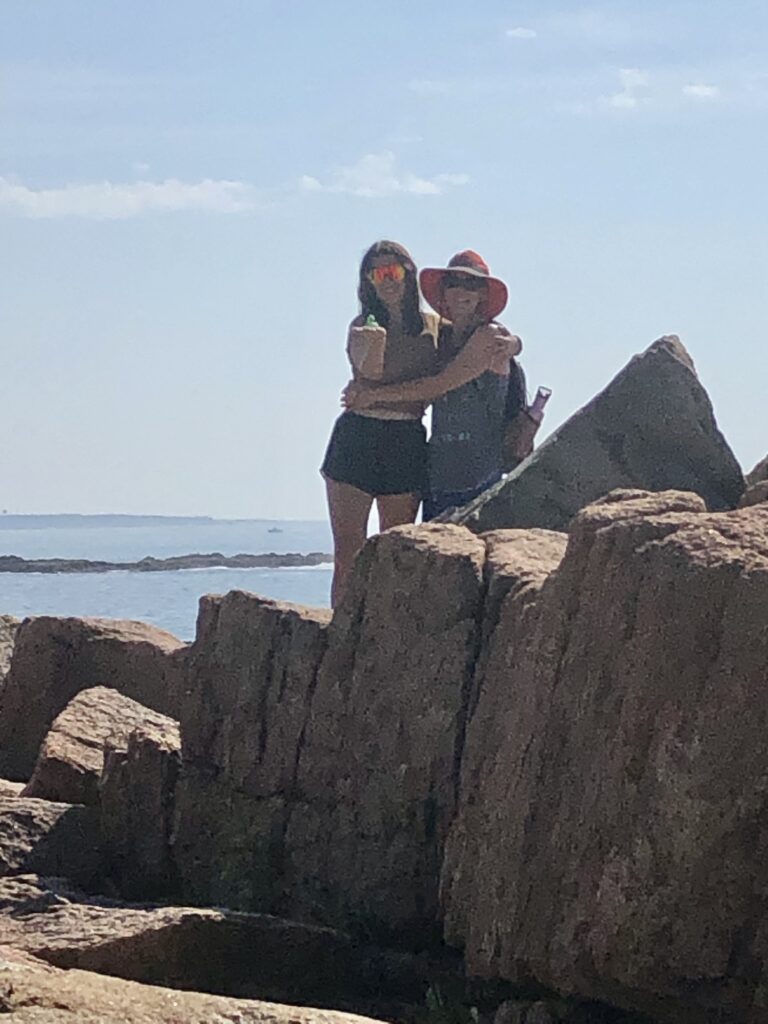 Wednesday, August 25th
Another beautiful Sunrise over the Ocean. I was up early again, and Jennifer came out to watch with me.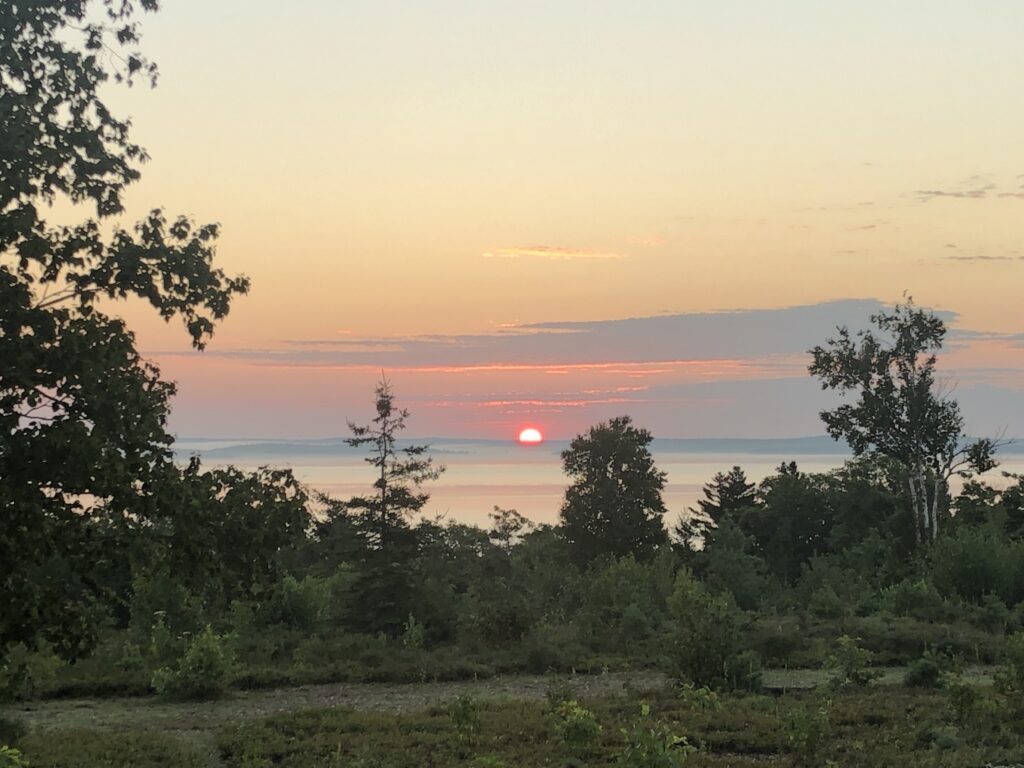 We drove around the Acadia loop and found a parking spot near the beach and the Beehive trail. Got some nice pictures of the rocky shoreline.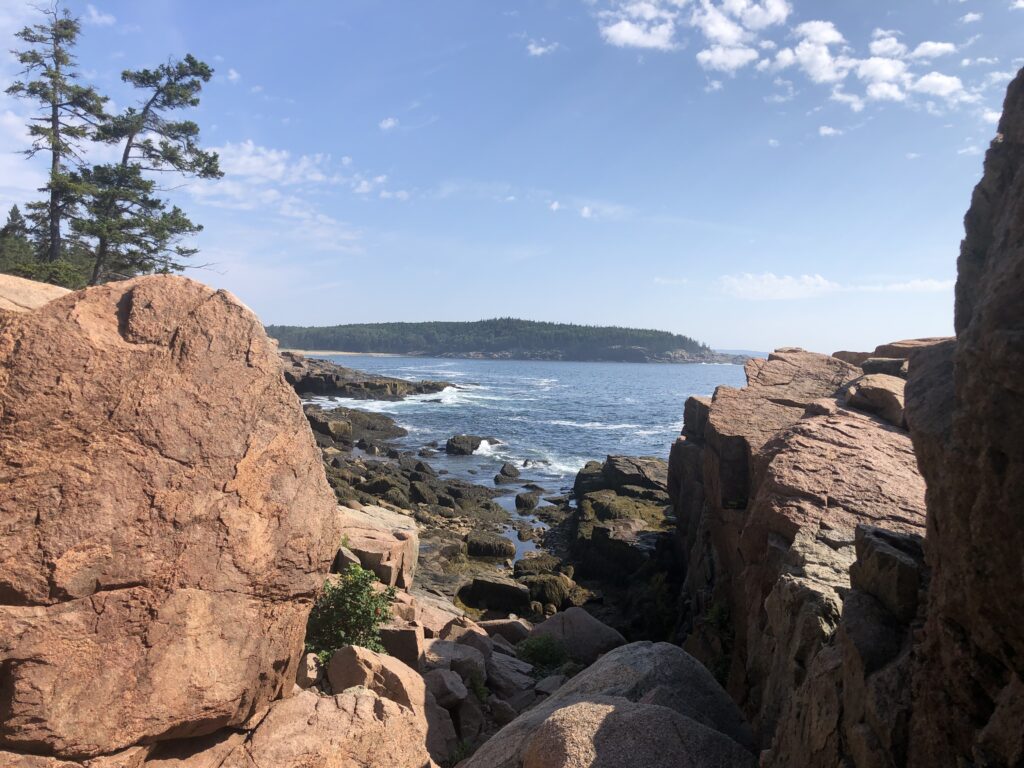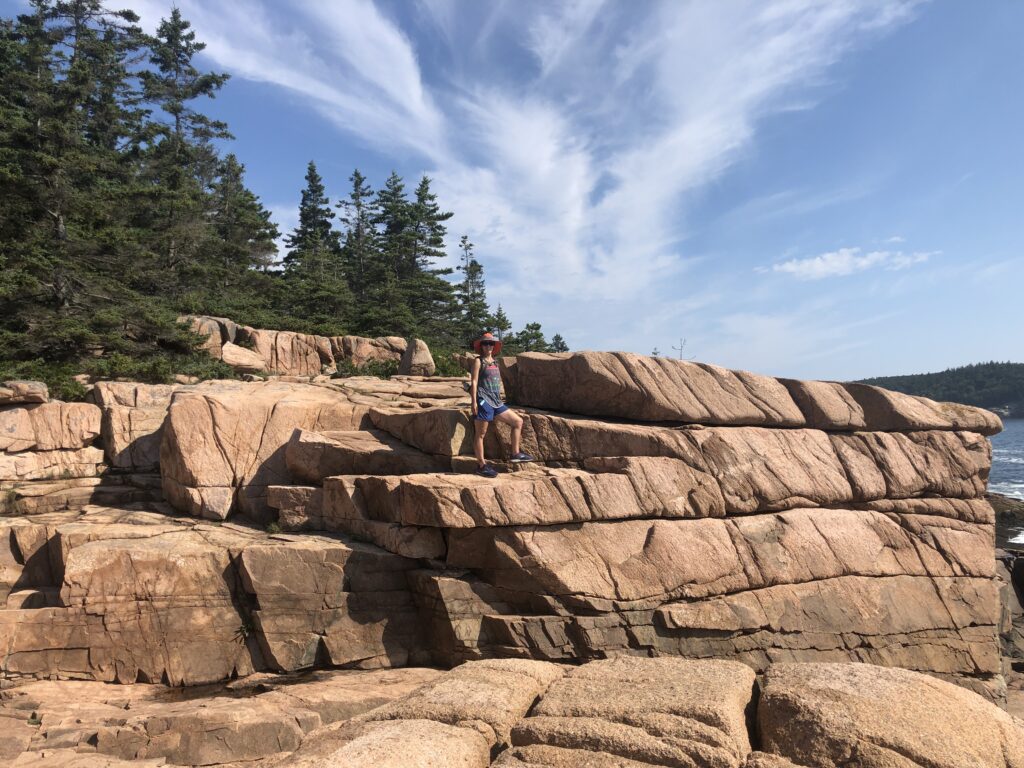 Then we took off on the Beehive trail which is in places more of a rock climb than a hike. Steel railings, handhelds, and ladders made of pipe that you hold on to to get up the side of the rocks elevated 1,000 feet over the side of a cliff…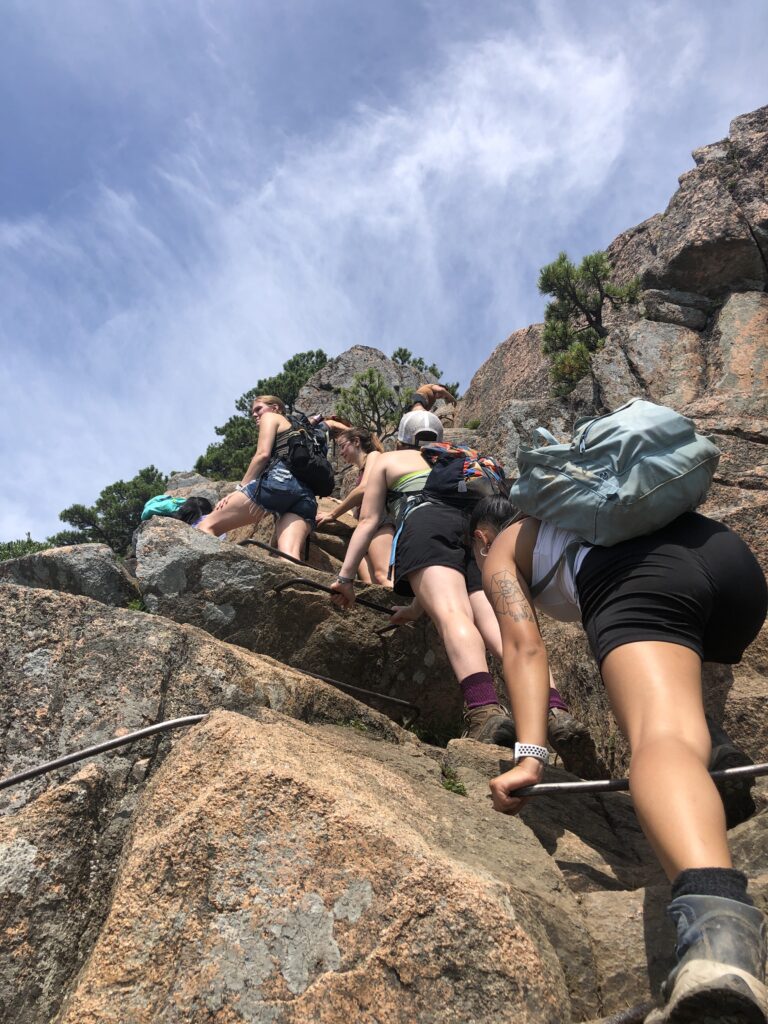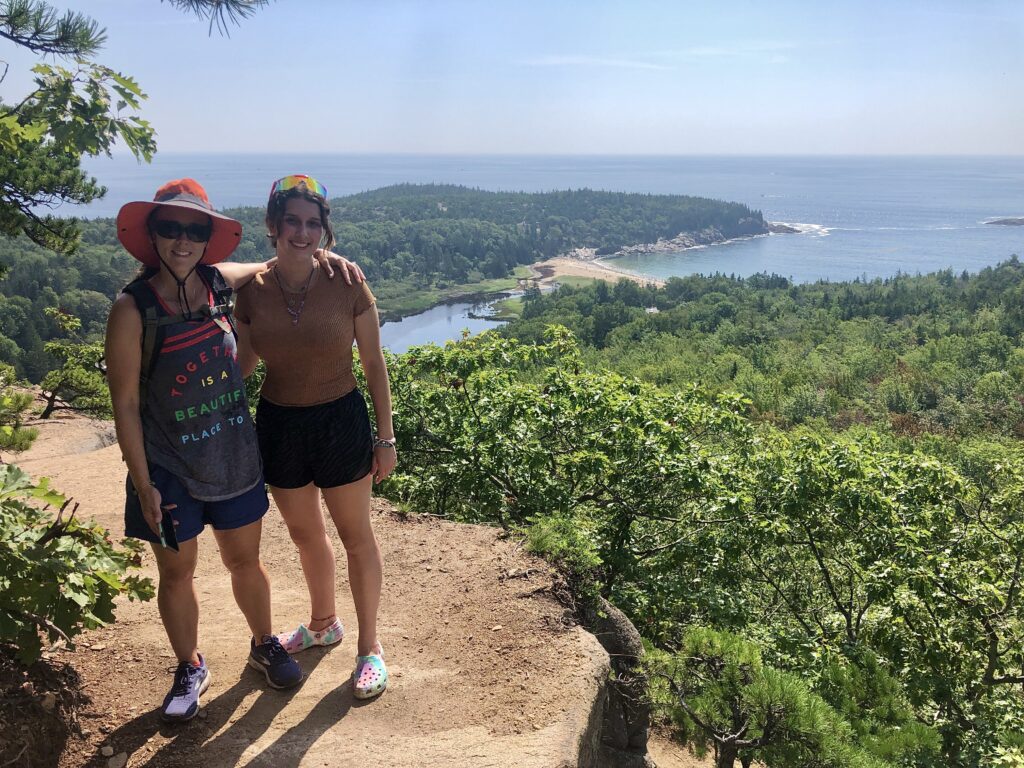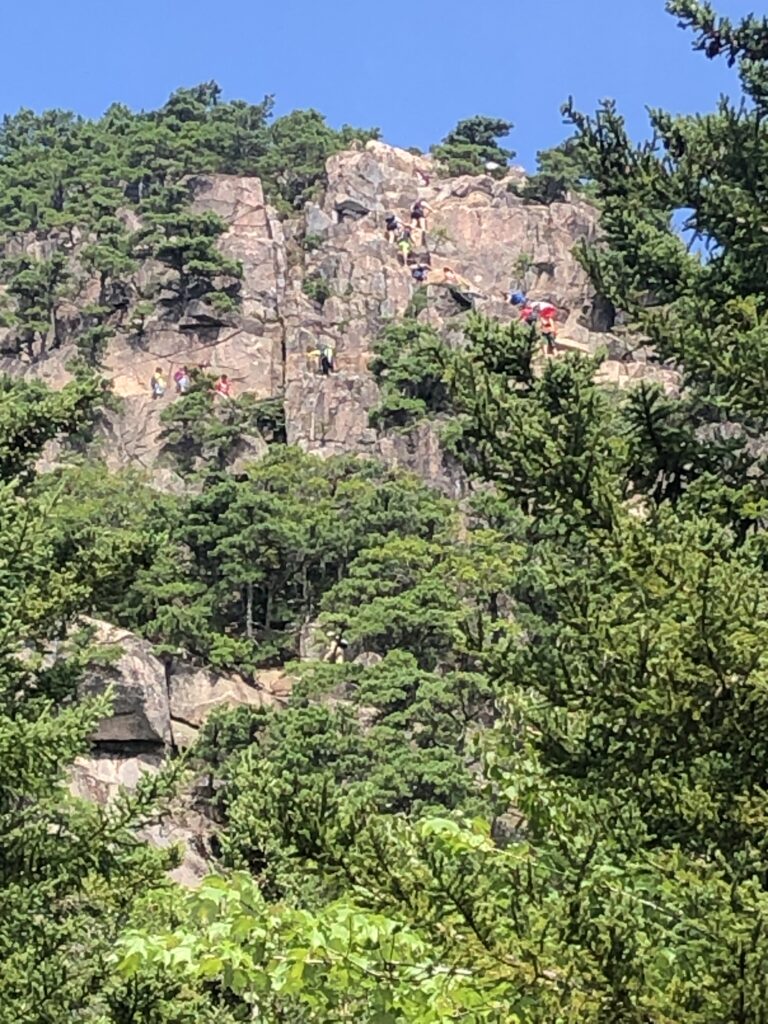 Thursday 8/26
Time to go south, and start our trek back home. The first interesting (and unplanned) stop which was Fort Knox. We saw it as we were passing by and did a U-turn to go back to it. The fort is huge and the history is fascinating. It took thousands upon thousands of man-hours to build, but then was never used to defend the bay it sits in.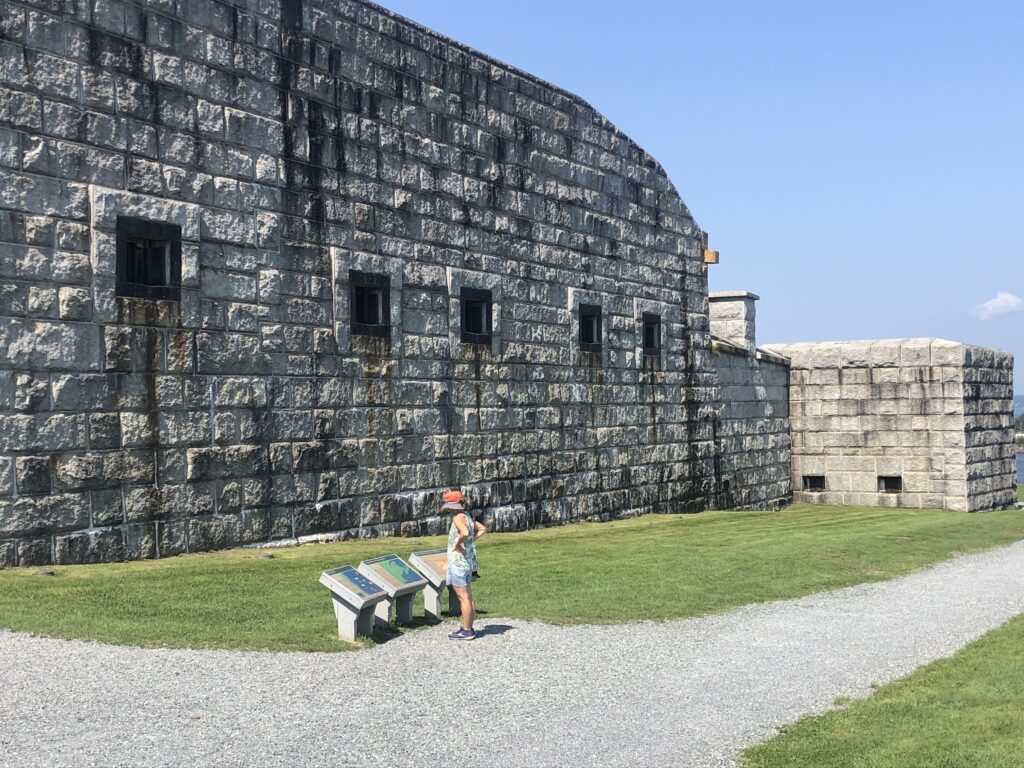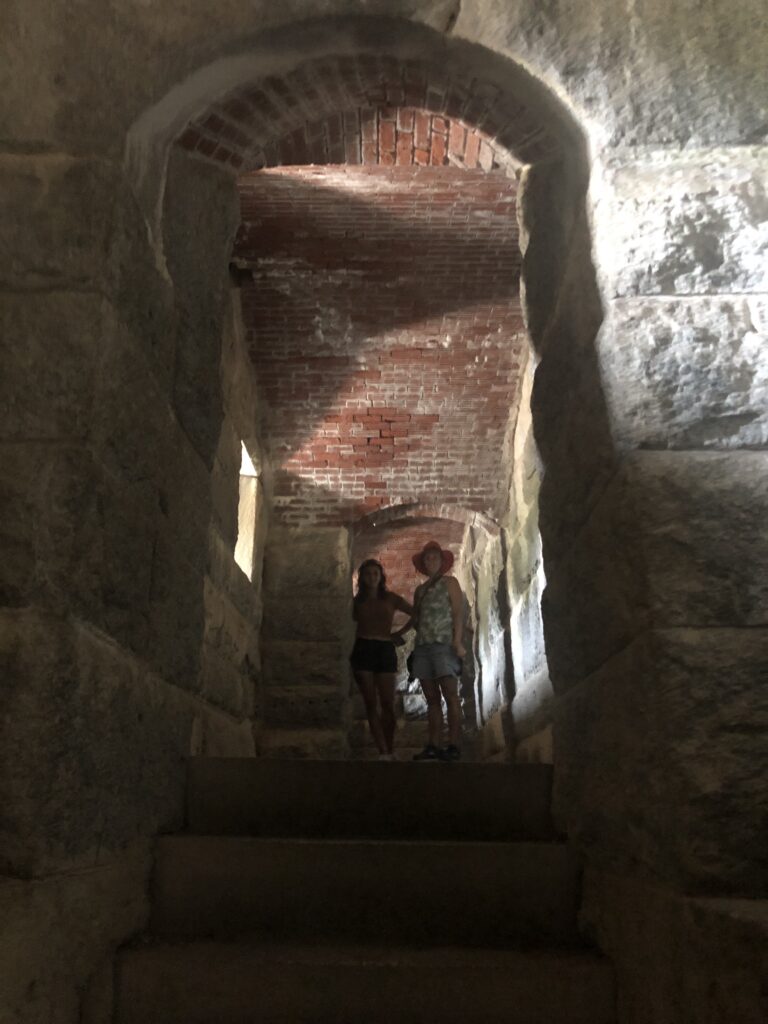 Further down the road we stopped at Camden, had a snack at a bakery, and went it in Stonewall kitchen country store, which was on Jennifers bucket list. I wasn't particularly impressed. Next was Rockland, the home of the Farnsworth Art Museum that houses Works from all of the Wyeths. We arrived late, and they close early so I had less than a half hour to run through the place, but it was free, and definitely worth the price!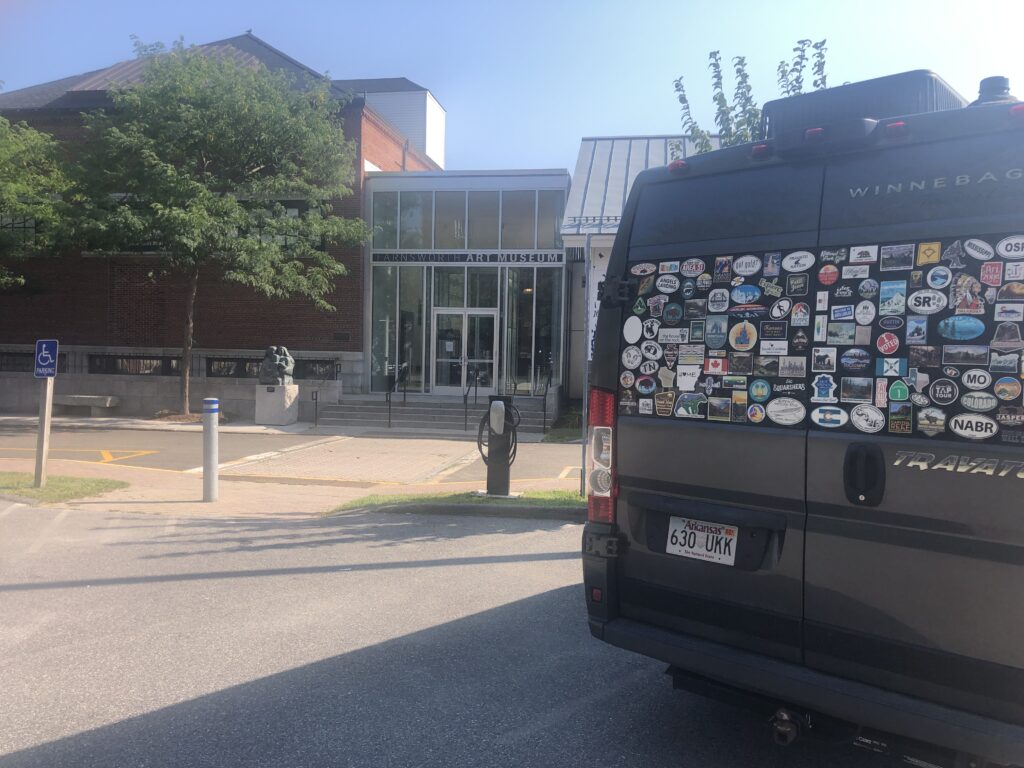 We continued South to Wiscasset which is home to Reds Eats; a famous food truck that makes great fresh Lobster rolls heaping high. They are also known for hour-plus-long waits in line, but when we went there were only a few people in front of us. A local we talked to while eating there said they only stopped because of after driving by for 30 years, they had NEVER seen the line that short! We are blessed in many ways. The town of Wiscasset was also having their monthly seasonal Art Walk so we strolled around town and walked off a little lobster.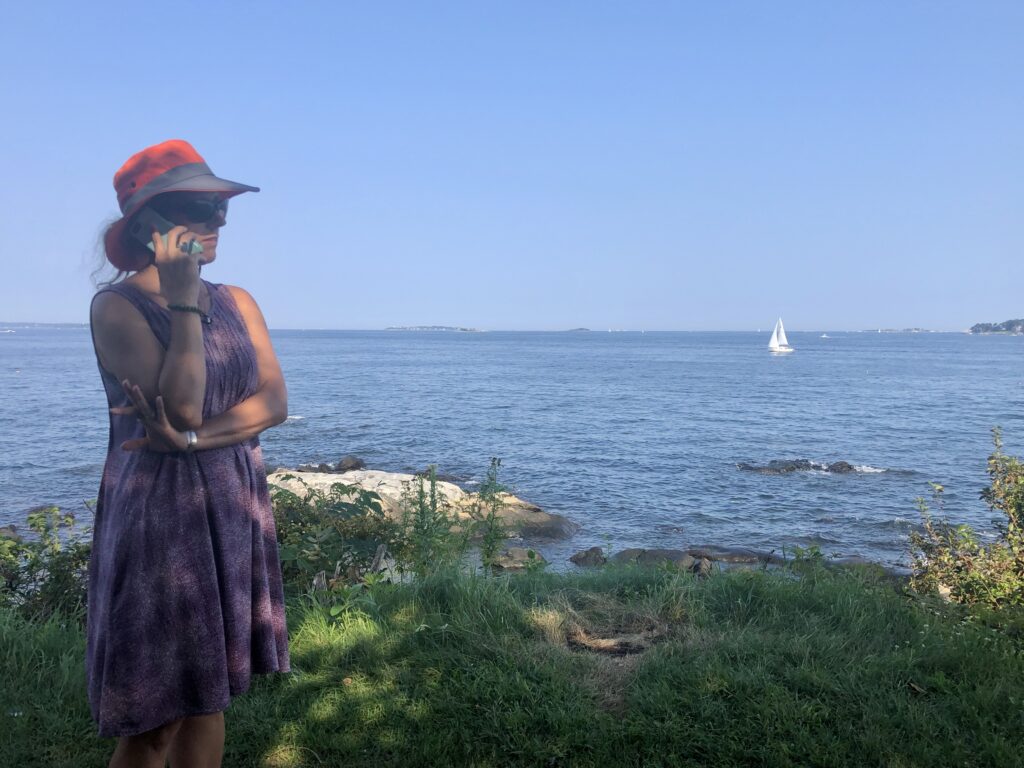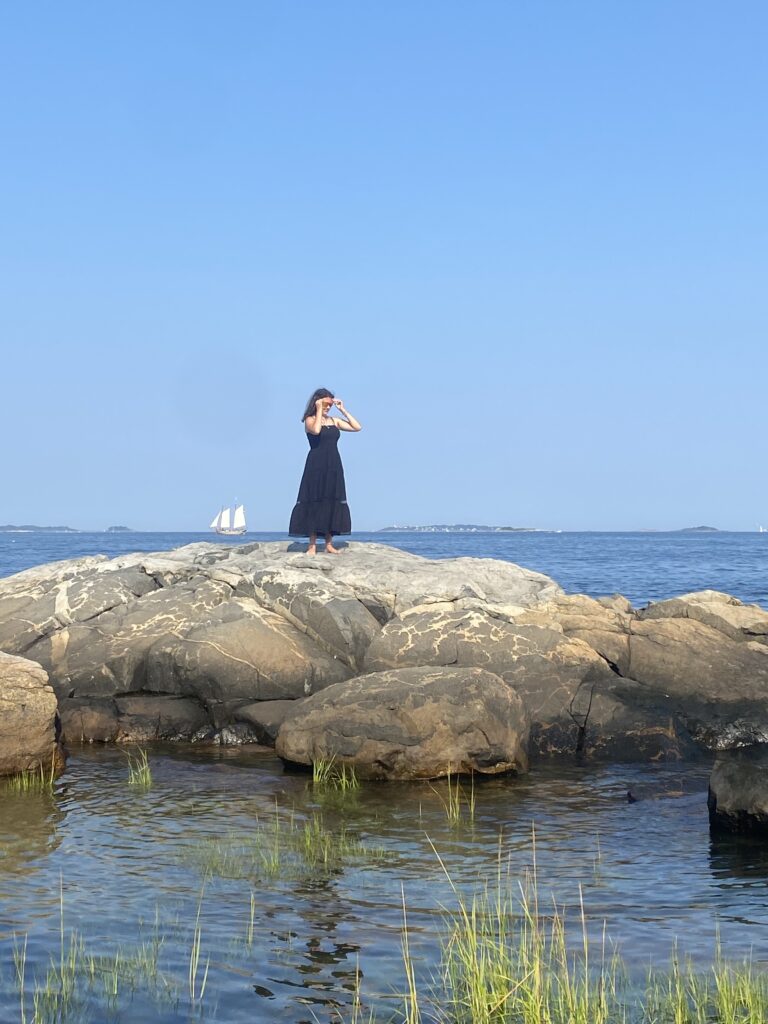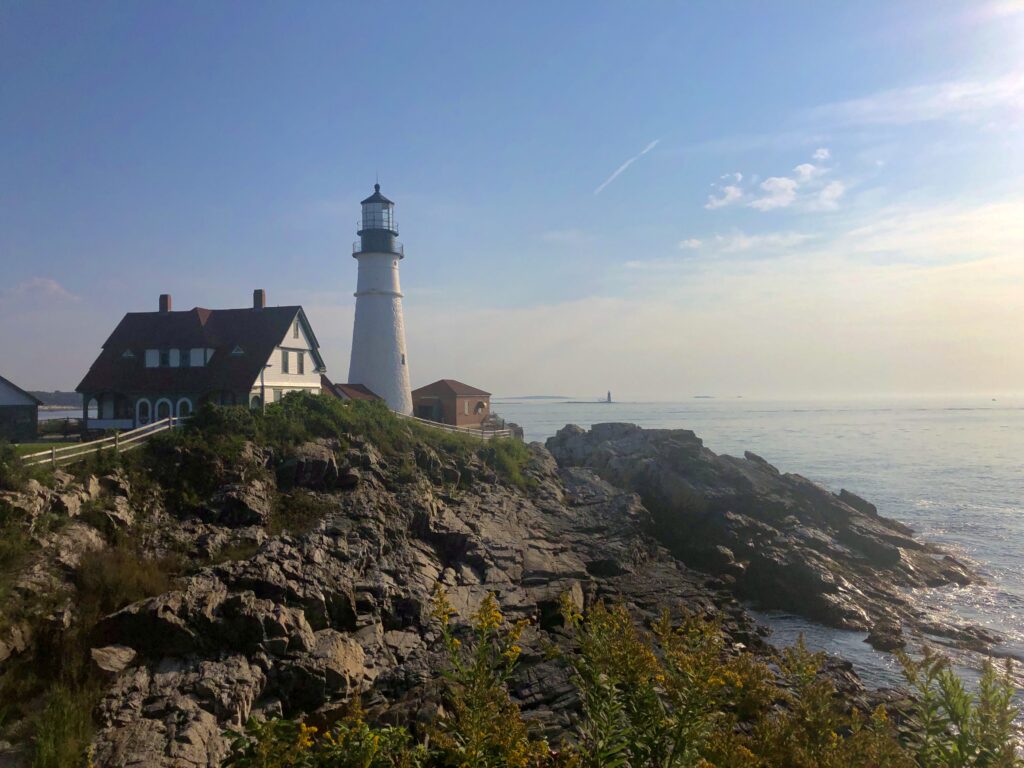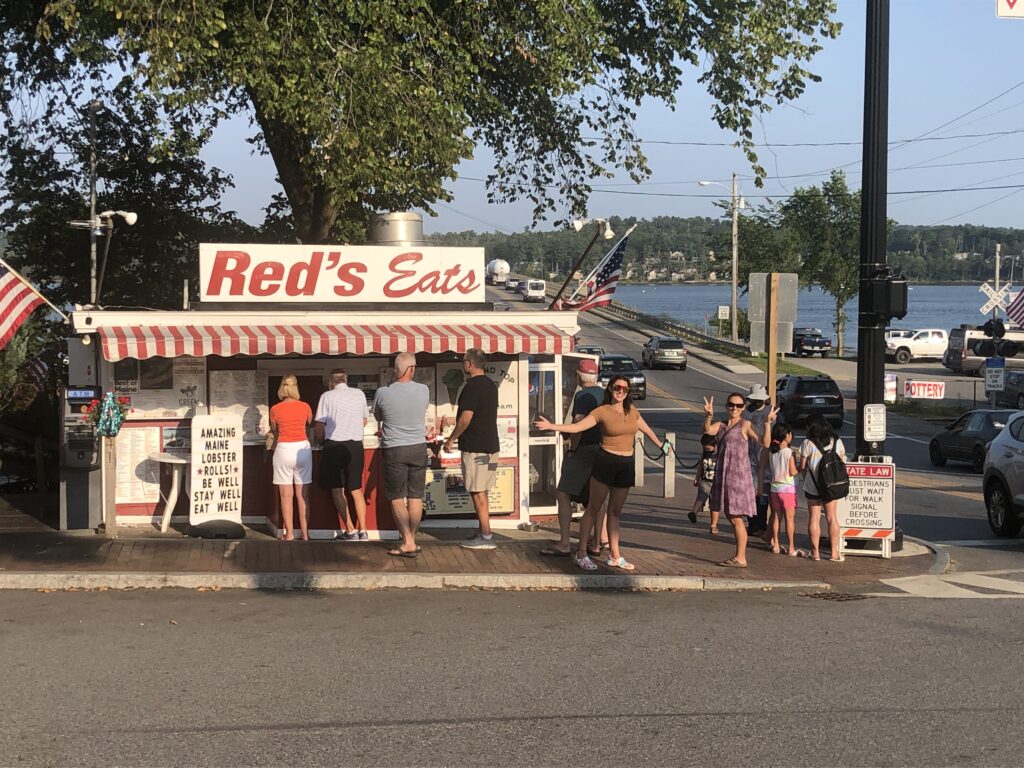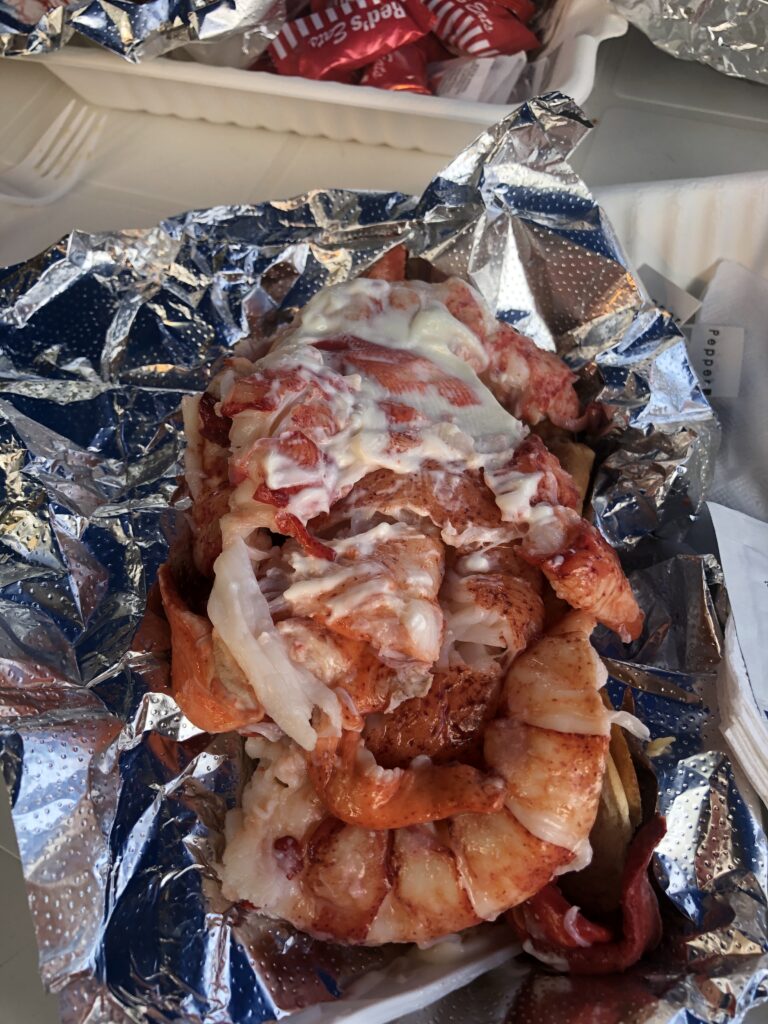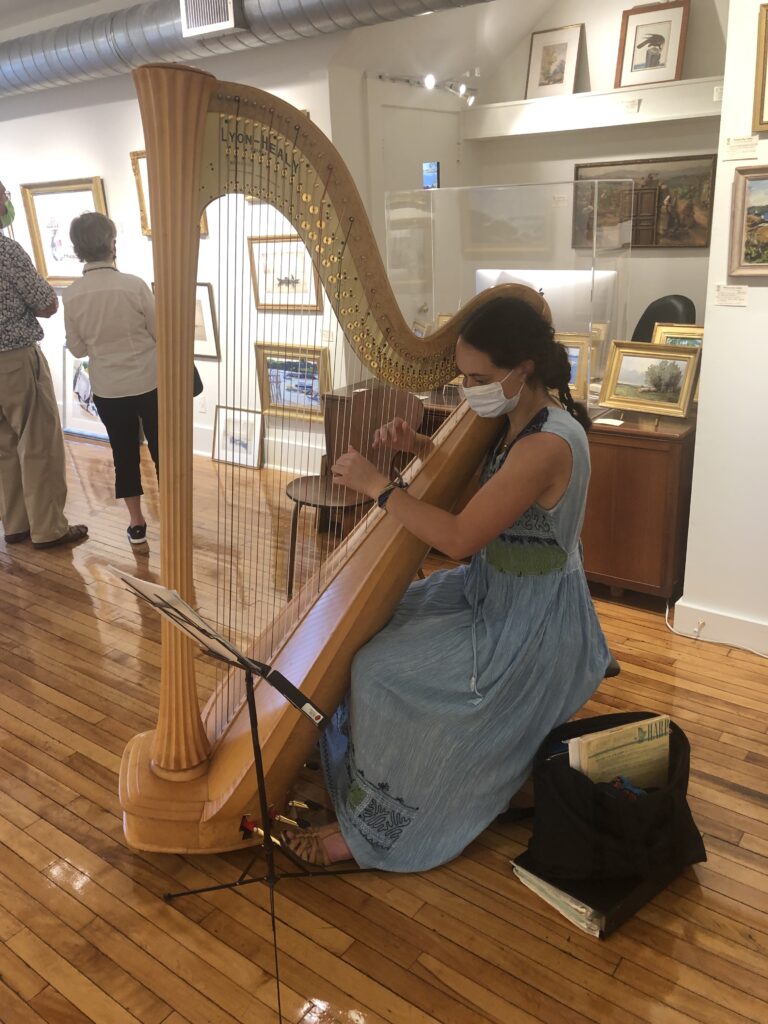 Continuing South it seemed there were plenty of other picturesque little harbor towns that would be worthy of further exploration. In Portland, we went behind the Southern Maine Community College in search of a lighthouse we had heard of. The view behind the college was a fantastic sunset on the bay, so we just figured we'd hang around till sunrise – that was just as good! It was a hot and muggy night, but we didn't want to run the generator to run the air conditioning, so sleeping wasn't super comfortable, even with our little fans. I was up late laying on a picnic bench and strolling around the Marina, Jennifer was OK in the stuffy van, reading her book on the bed in back.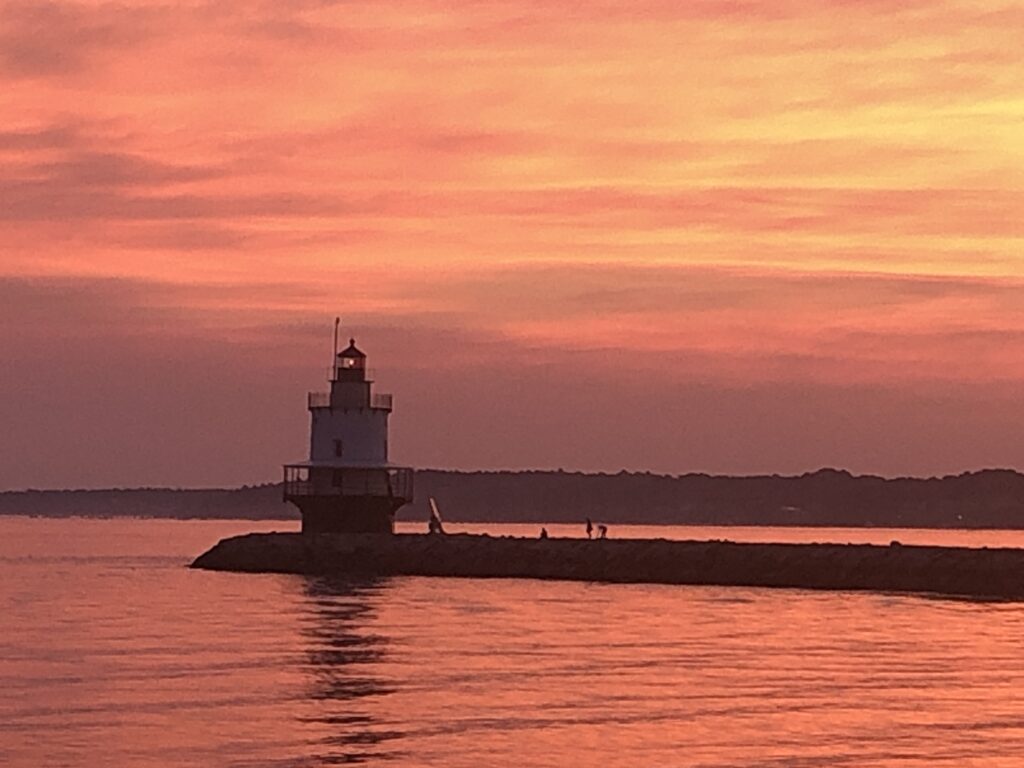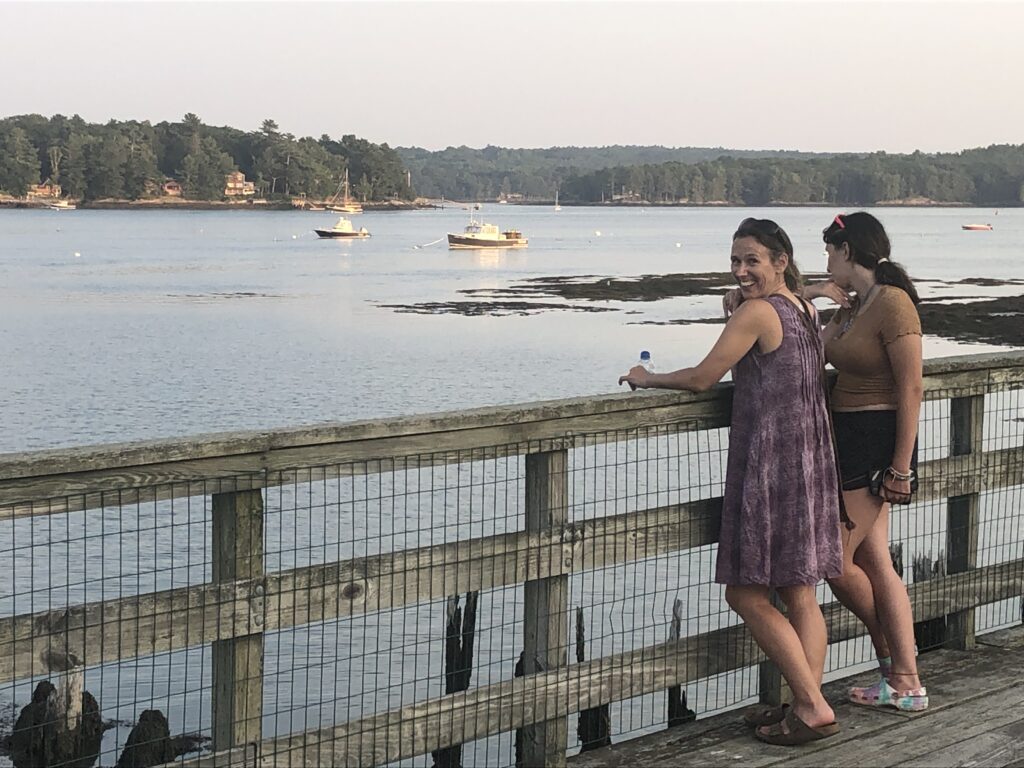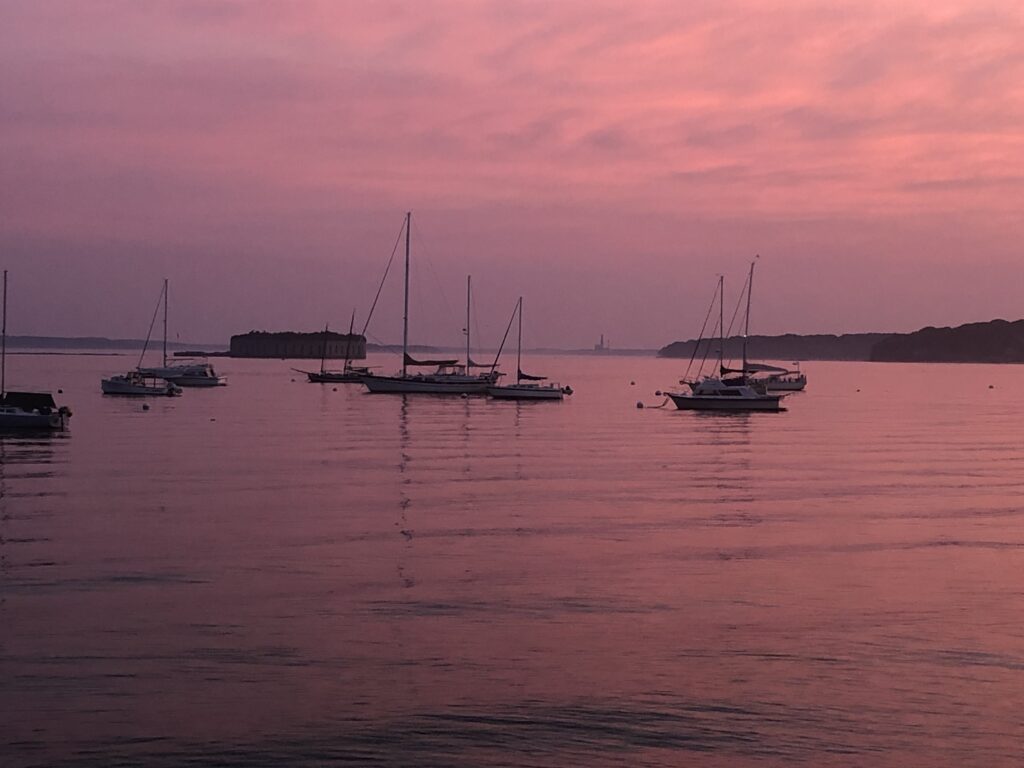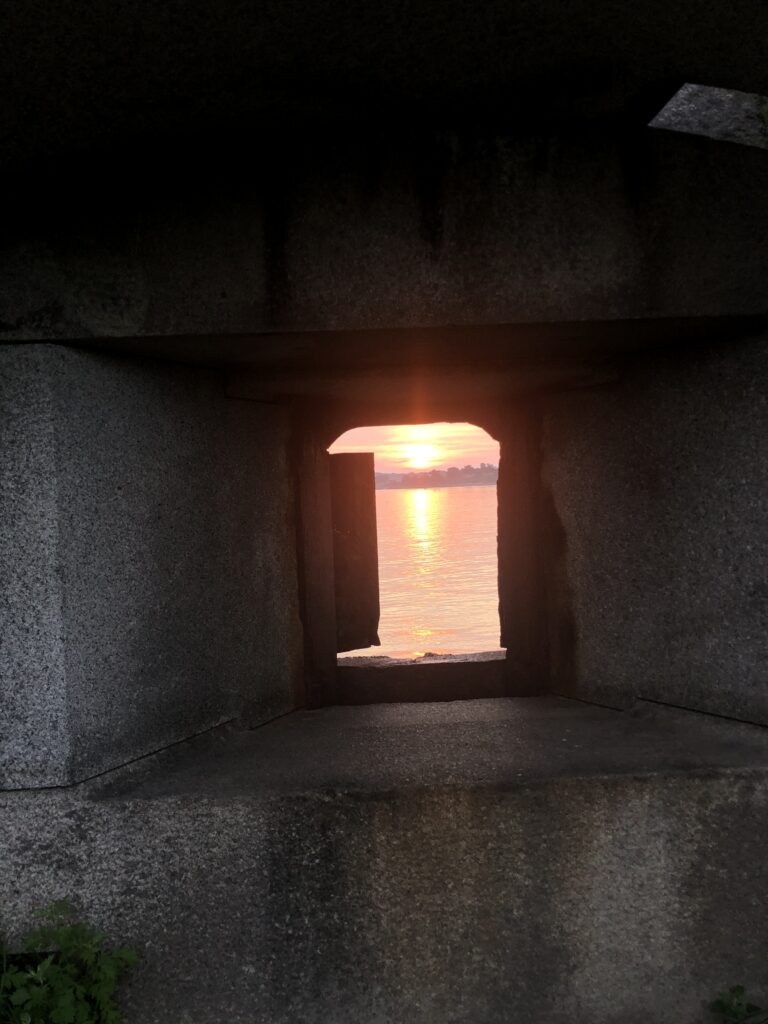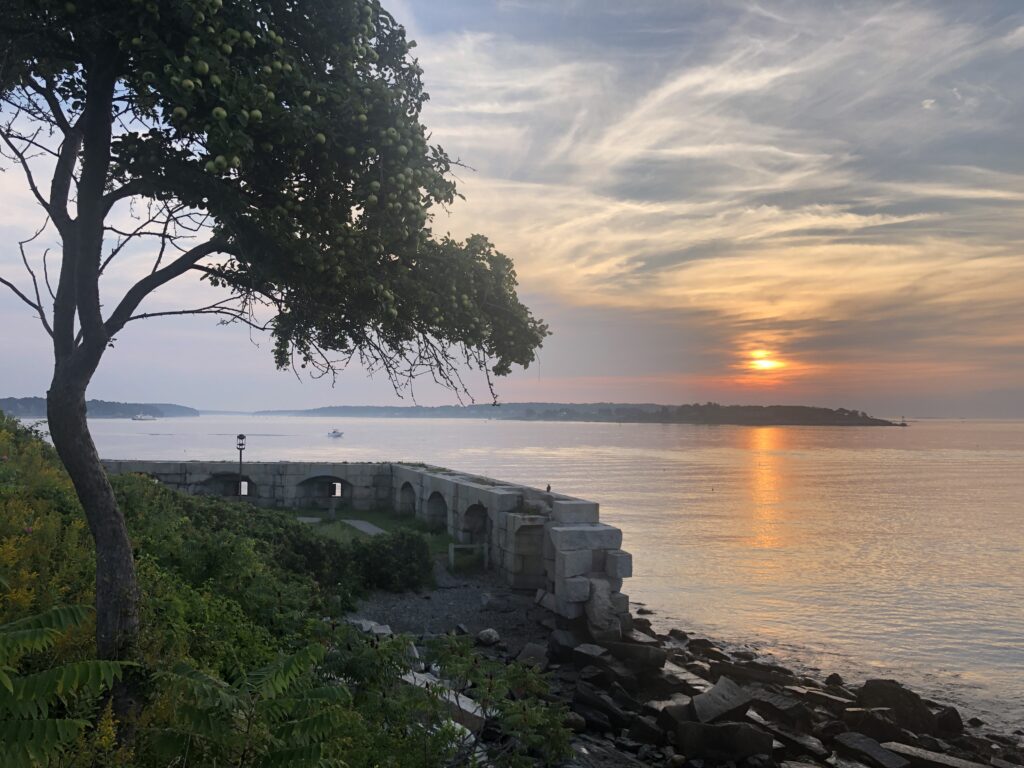 Friday 8/27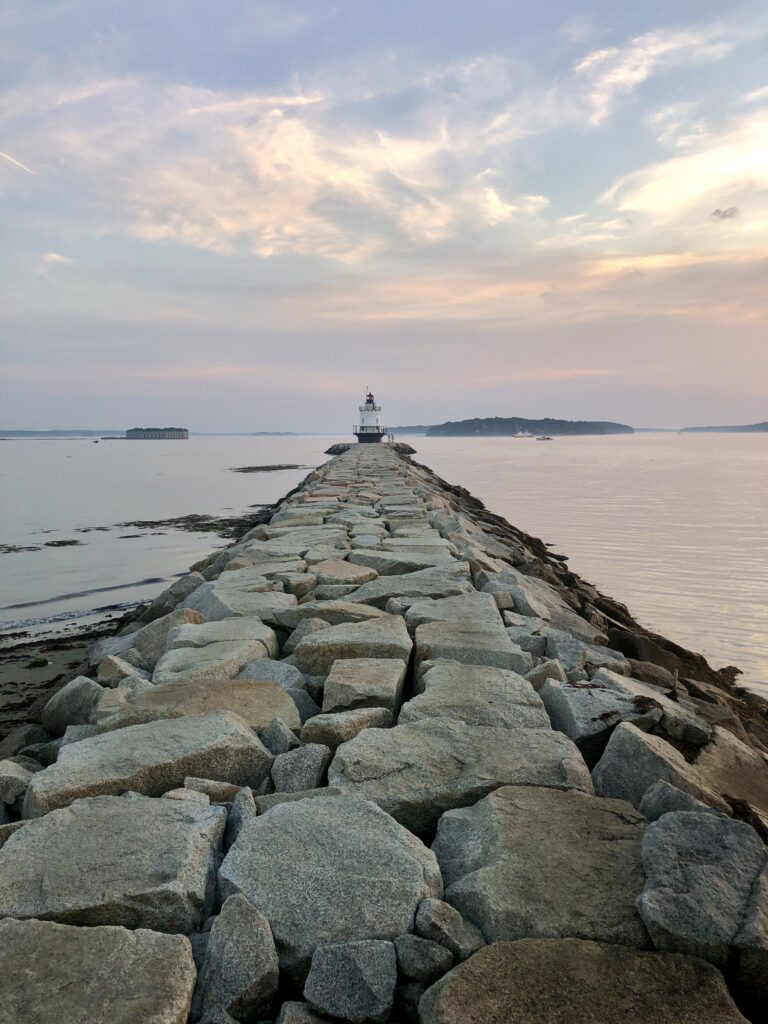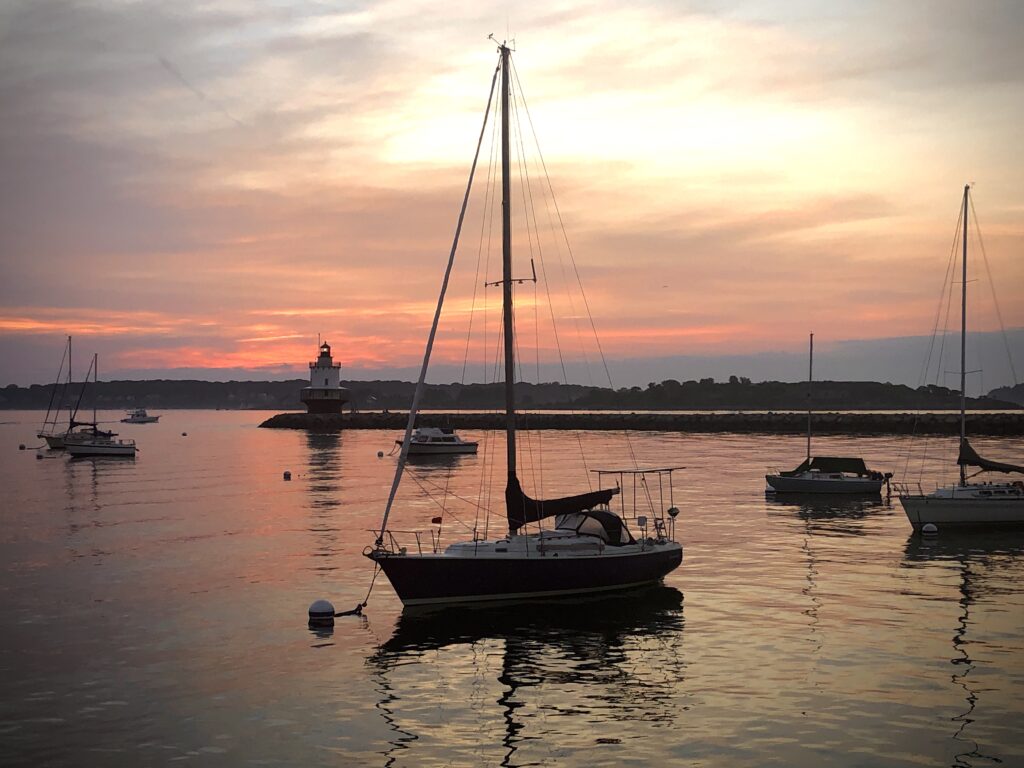 In the morning we roamed around some more and discovered the ruins of an old fort. Further south down the coast we went to Fort Williams Park to view and photograph yet another lighthouse. Another lighthouse at Cape Elizabeth was on private property so we couldn't get very close.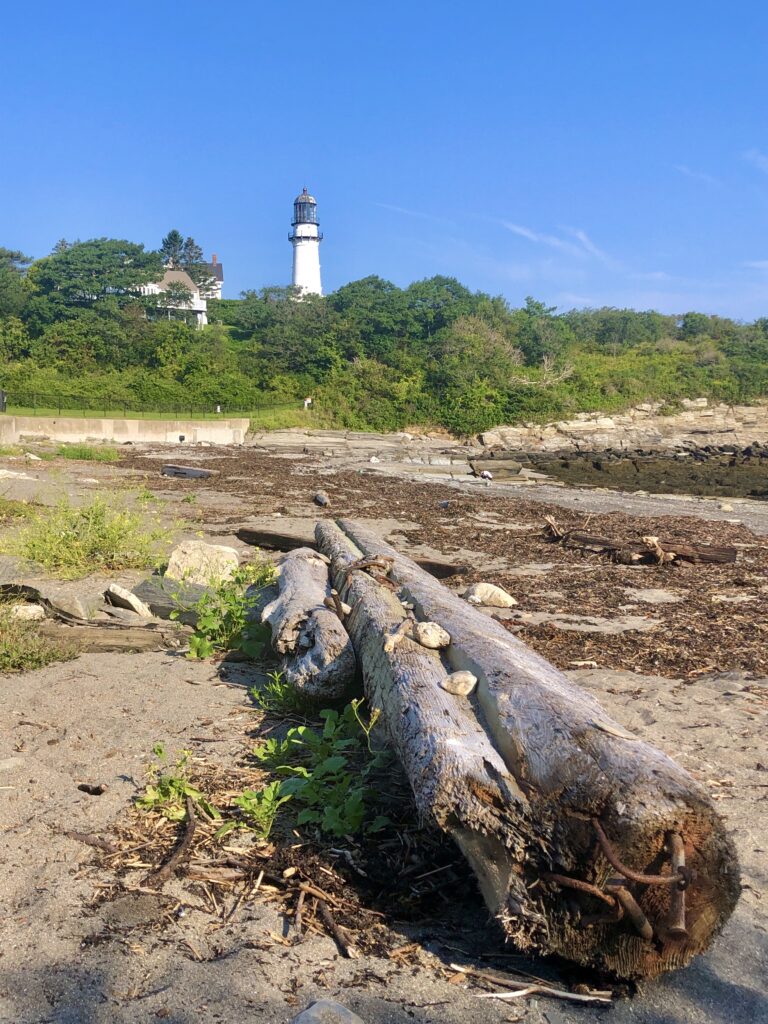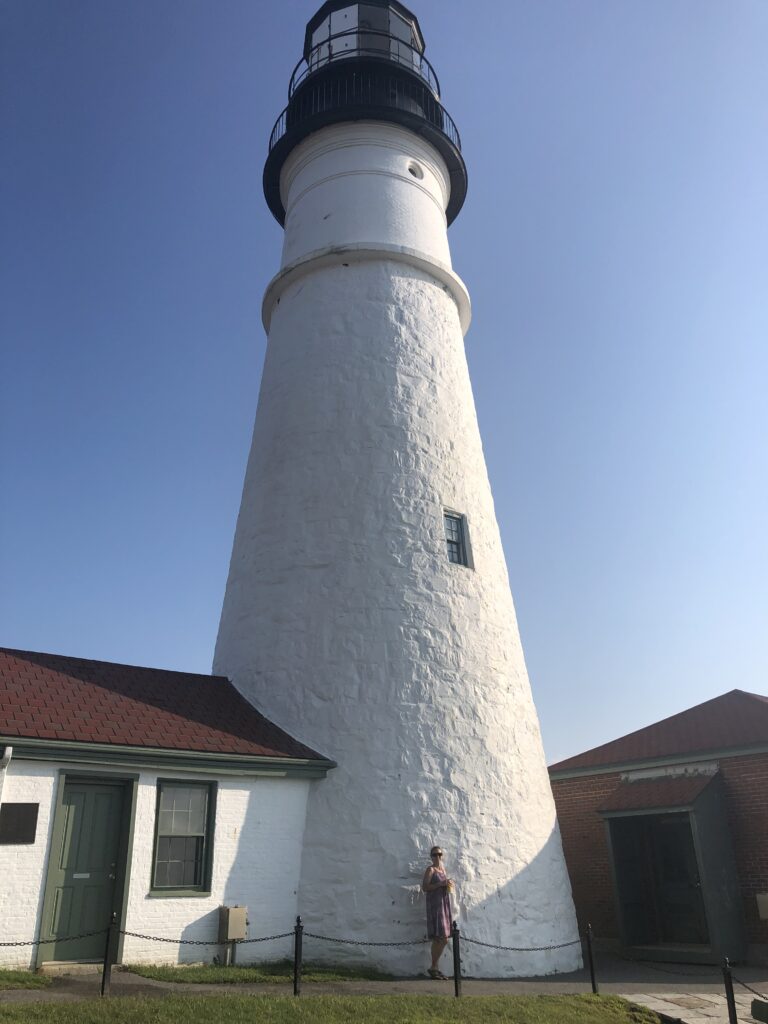 In Scarborough, we stopped at a Candy Store to see the world's only life-size Chocolate Moose.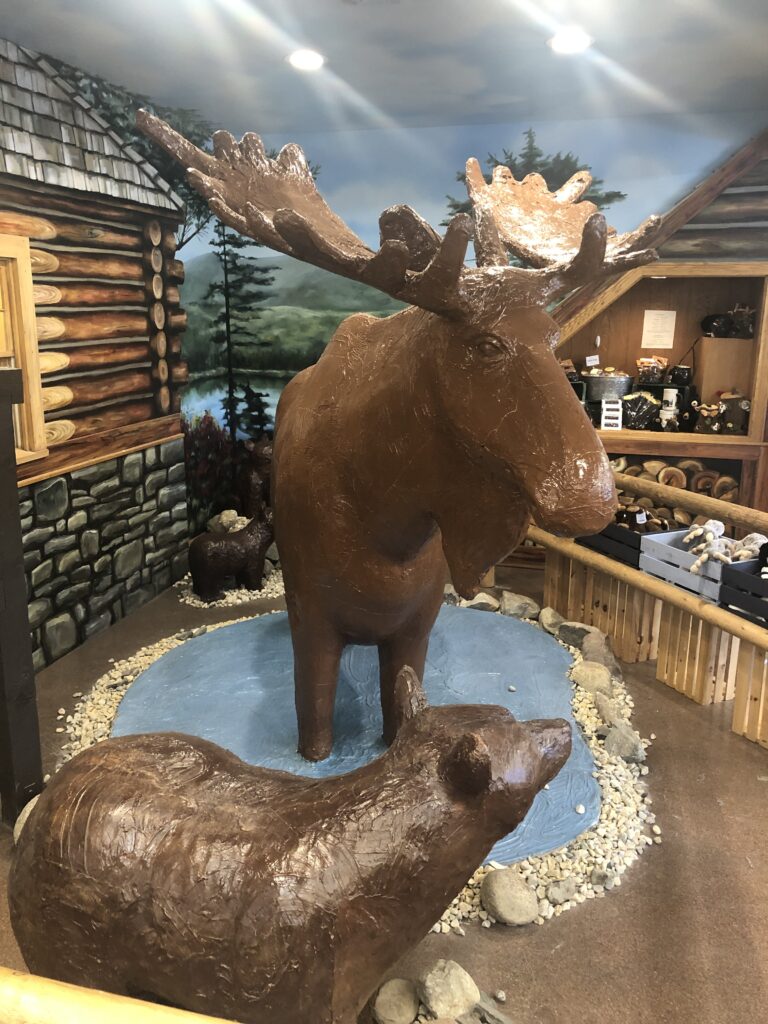 We also stopped at Ogunquit because someone had told Jennifer it was a "quaint little seaside fishing village"… I think a better description would be "an overcrowded seaside tourist disaster" lol. Anyway, we went down to the beach (which was ALSO very crowded), Parking lots were charging THIRTY FIVE dollars just to park for a couple hours so one didn't have to walk a mile and a half to the beach. As luck would have it, we found a parking spot in the public lot right NEXT to the beach and wheeled in the big Travato that JUST fits in a normal parking spot. Had a quick swim and showered off the sticky saltwater.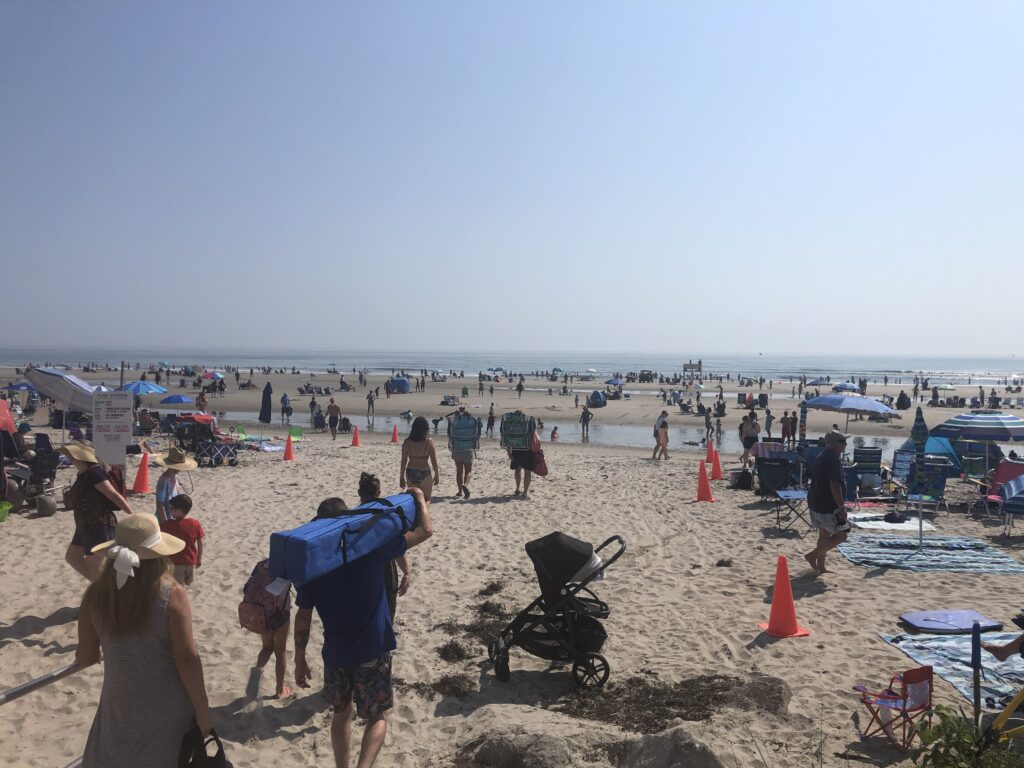 Next was York to view the Nubble lighthouse. I painted this lighthouse from a picture in a magazine as one of my first couple paintings. I was hoping to paint in Plein Air 30 years later, but the timing didn't work out. I did get a bunch of pictures, so I need to revisit it with a paintbrush.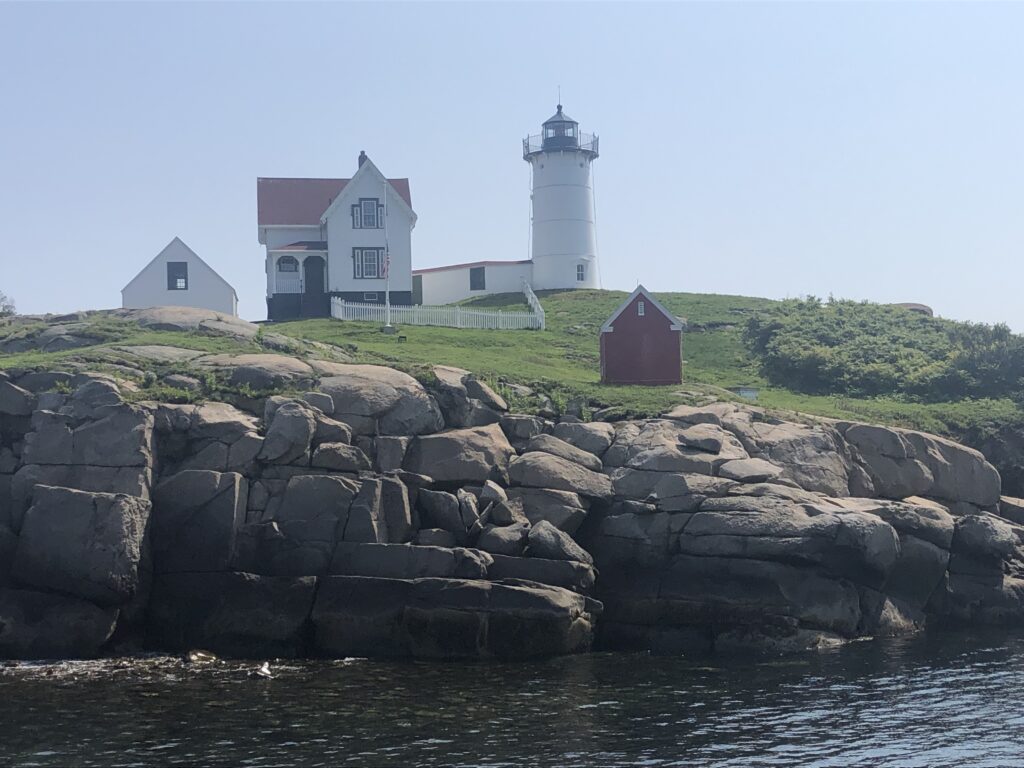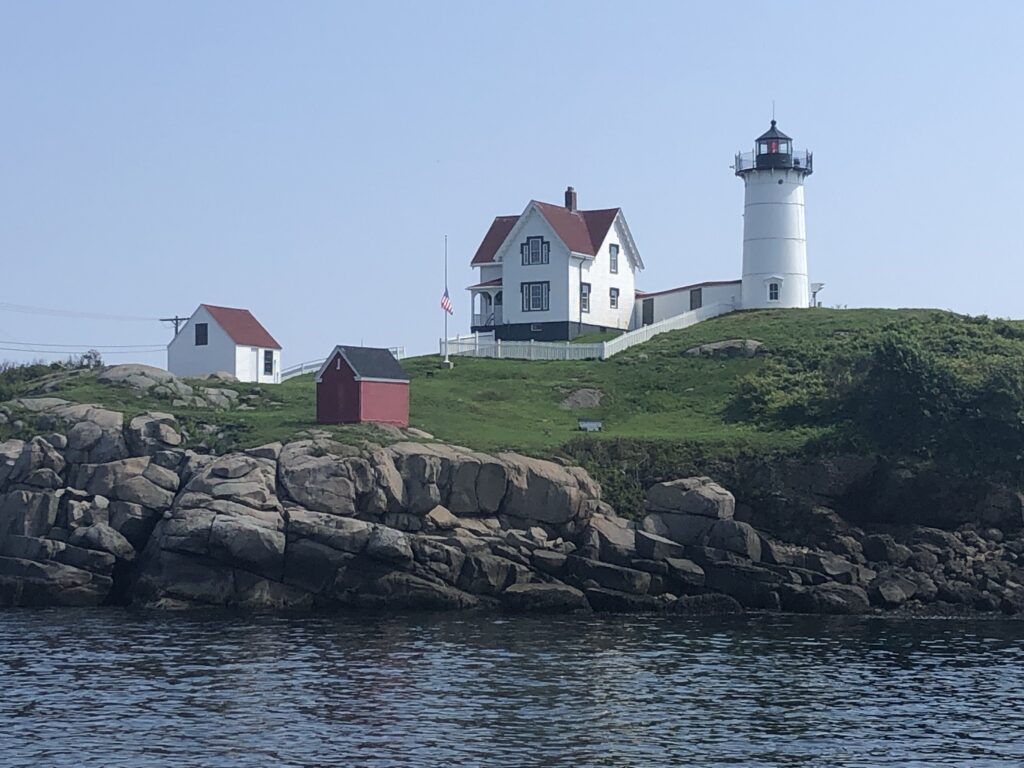 Through New Hampshire on onto Massachusetts. Salem, where Aly wanted to do a ghost and witch tour in downtown. We parked right down in the park on the downtown square, and roamed around for awhile. Had plenty of time to kill so we drove over to Winter Park to see if we could score a campsite, which we DIDN'T – but we did find another nice beach to swim on. We found a parking lot by the train station where we could overnight, watched the Salem witch trail episode of Scooby Do on the big screen in the Travato, and then went back downtown for the tour.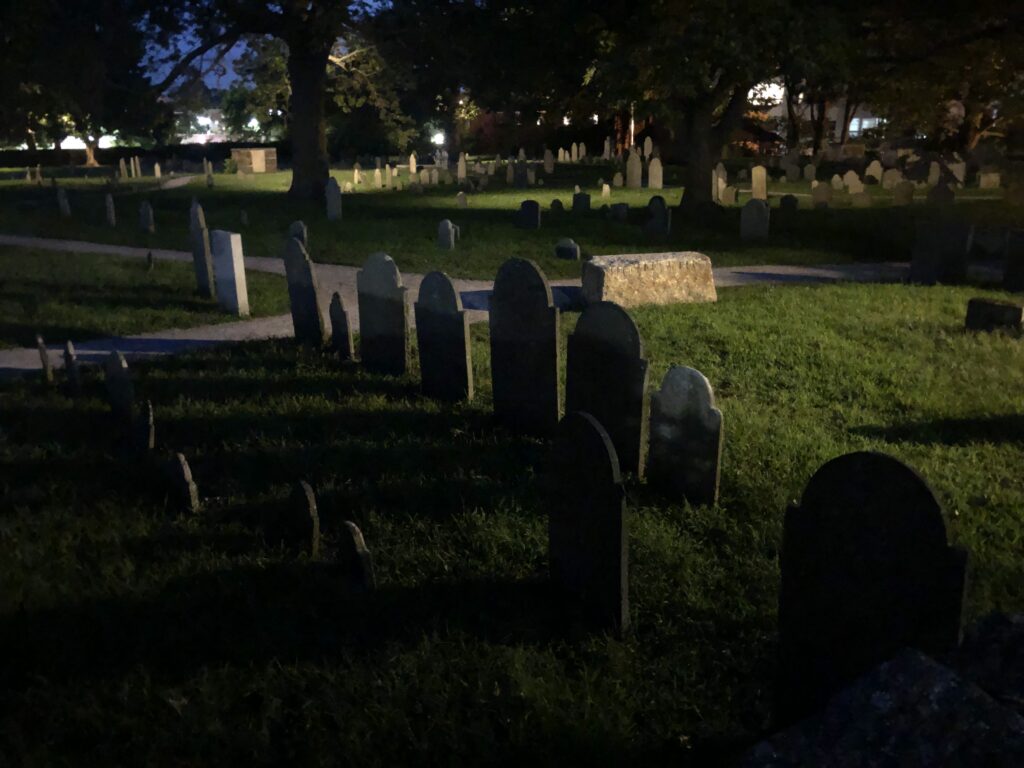 Saturday 8/28
Morning was Connecticut, New Jersey, and back into Pennsylvania. We had to go into Philadelphia for my first ever local philly steak sandwich. We polished them off in the van sitting at the Riverfront.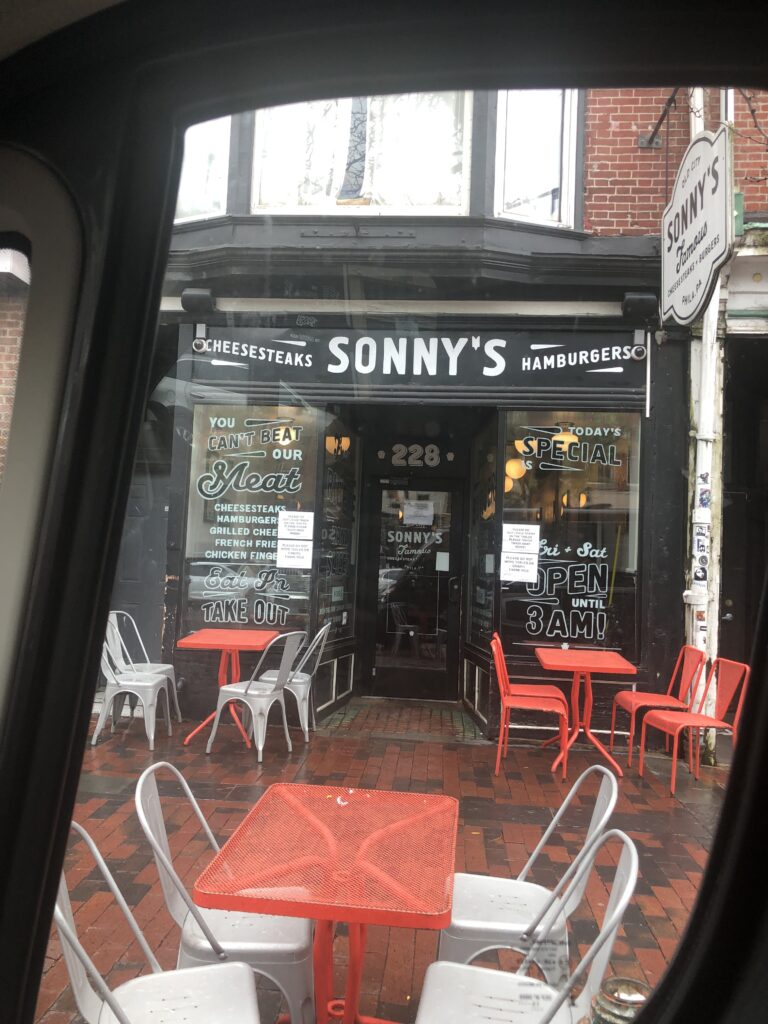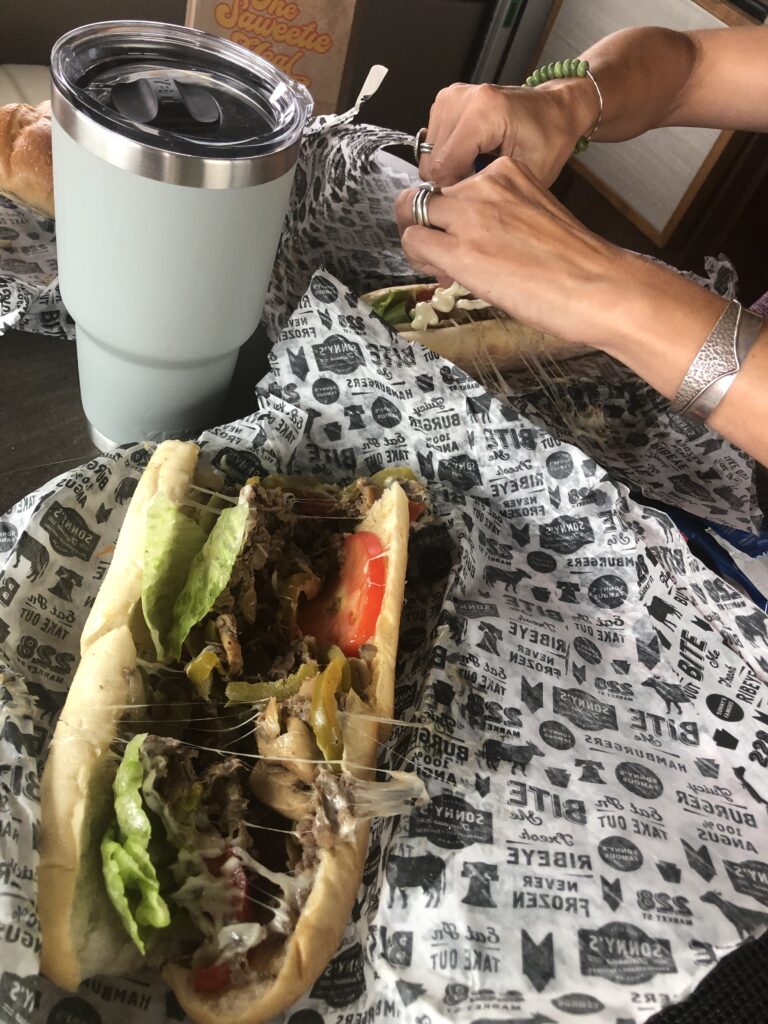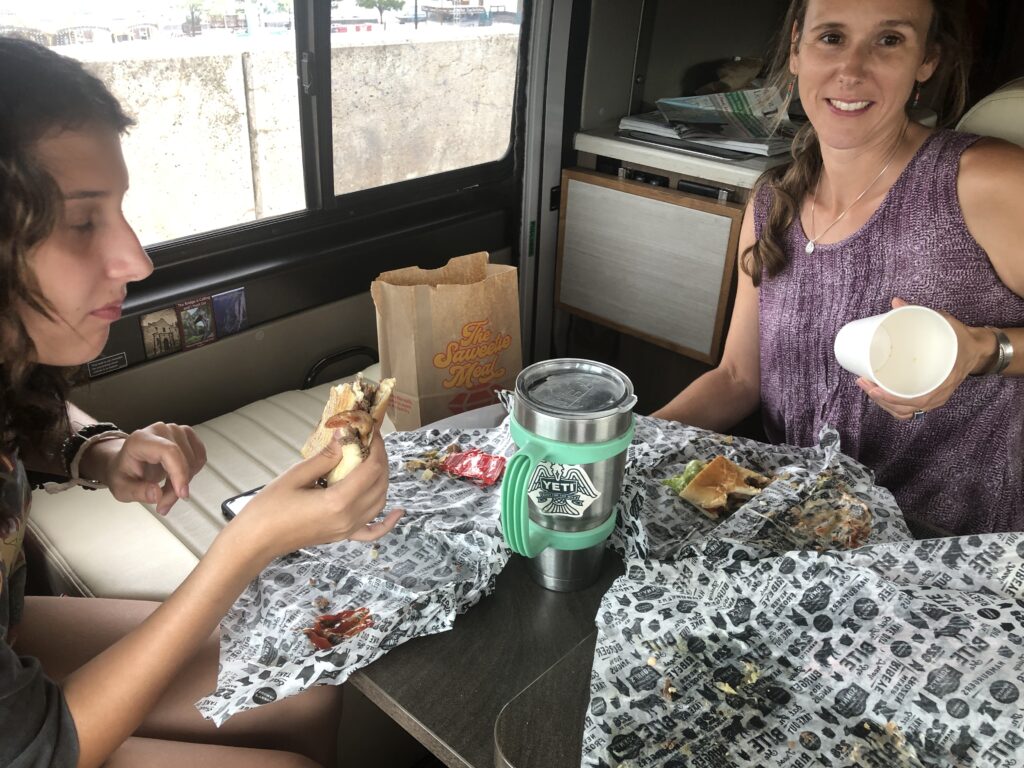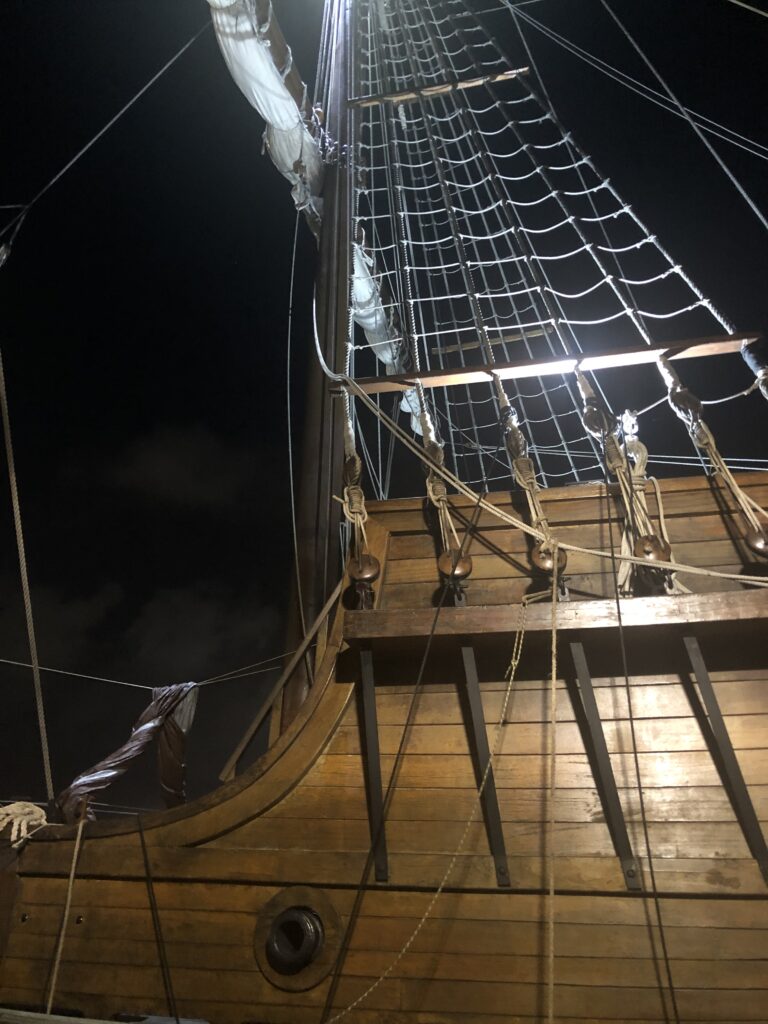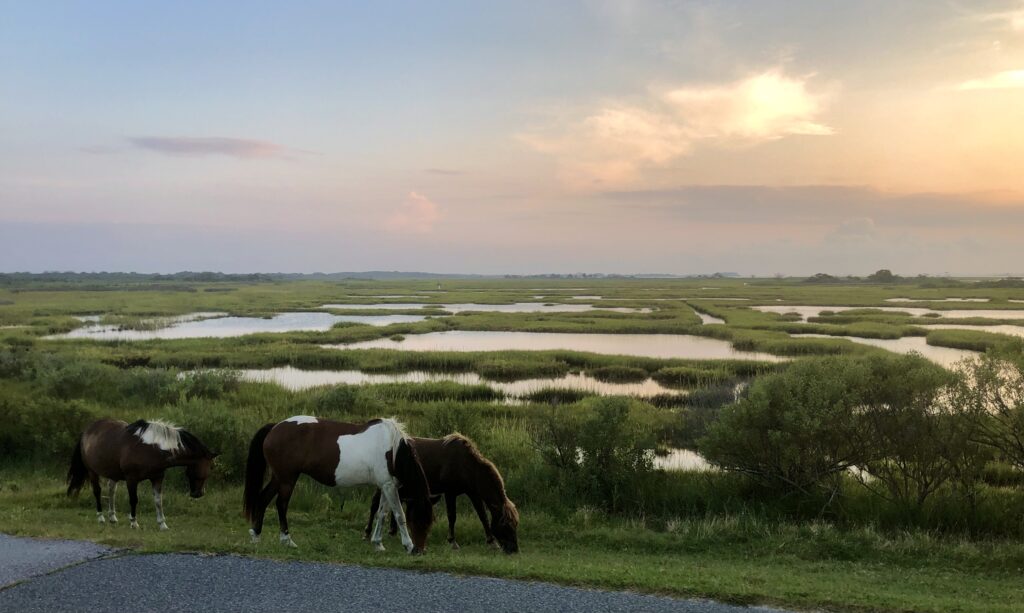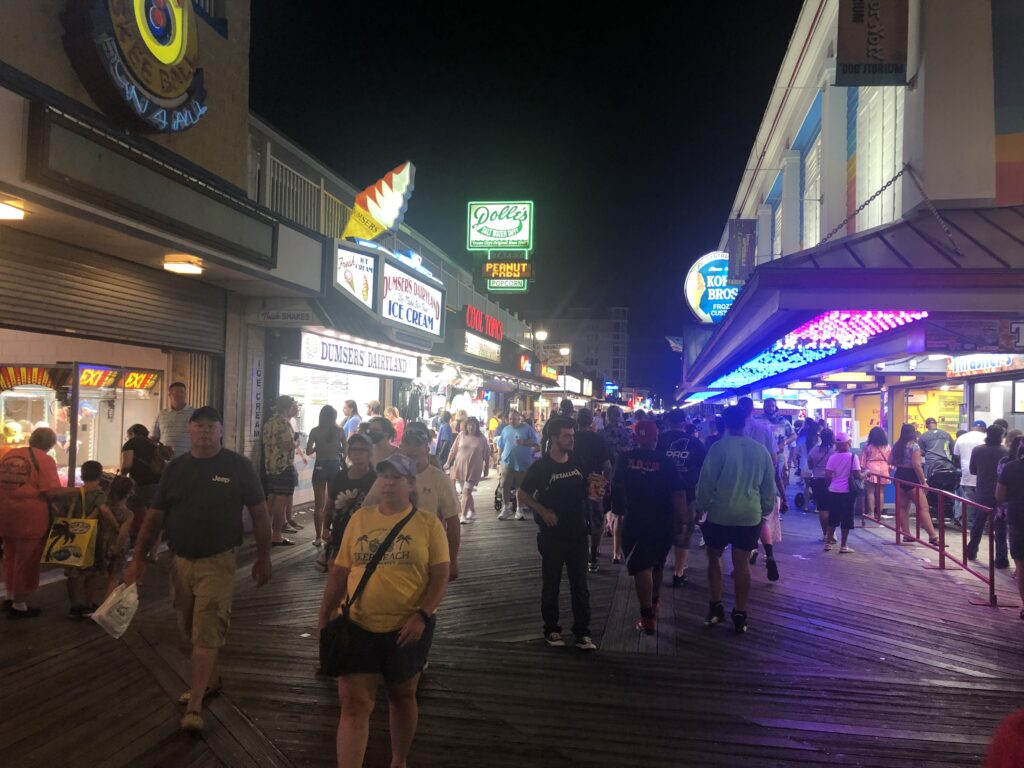 Sunday 8/29
From there we drove out to Assateague Island and caught the wild horses in the sunset. As we figured, there was no available camping, but I found spot recommended on a phone app and we headed over to Ocean City to check it out. The "campsite" was a parking spot next to a tall condominium building on one side, and the ocean on the other. But docked at the Ocean, was a full-size recreation of the Santa Maria! It was hot again, and we had time to kill, so we drove over to the amusement park and boardwalk where Aly had a grand time riding rides, and we wandered around people watching until we were exhausted.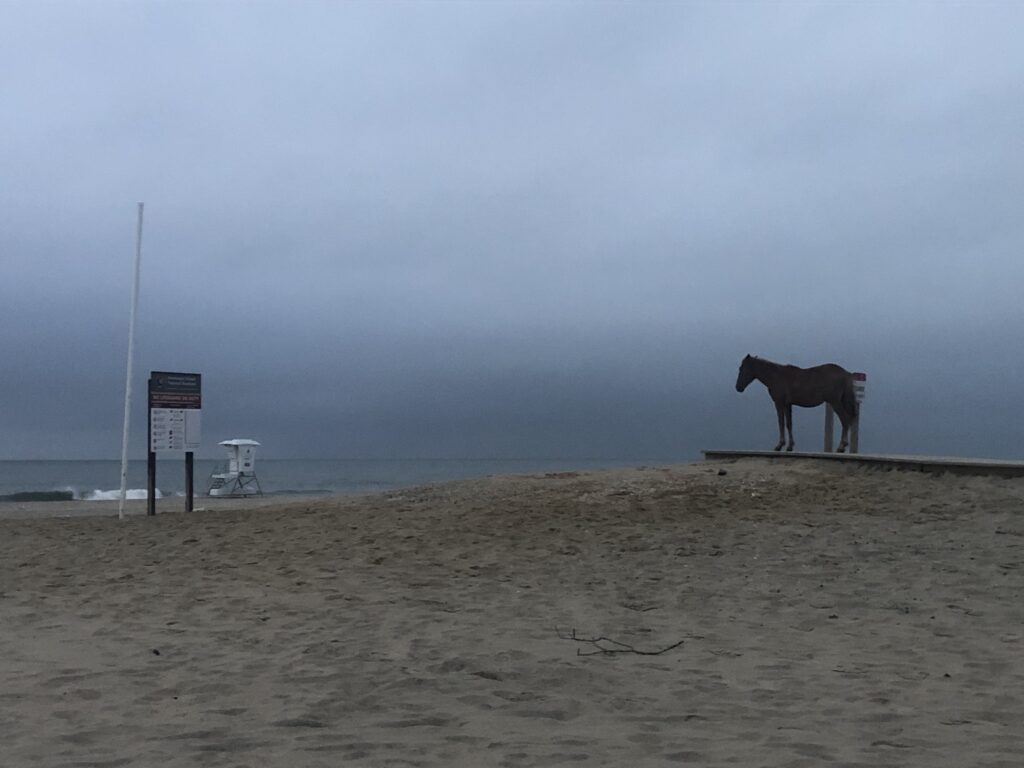 I woke up early in the morning (4:30) on the Isle of Wright bay. Shuffled Aly to the back bed, set up the table, and made coffee. The ship wasn't going to open till 10:00 and we had nothing else left to do in Ocean City. I drove back over to Assateague before the girls woke up, and then out into the parking on the beach so I could check out the sunrise. Nothing spectacular because of the cloudy morning, but I had a good time walking the beach in the dark as the world awoke. A wild horse walked to the end of one of the boardwalks and stood there, for at least an hour, apparently enjoying the sunrise as if he did it every morning. I walked up and kept a reasonable distance from him and had a little conversation with him about the life of a horse. Except for an occasional nod, he had very little to say about it, but seemed tolerant, and maybe even with an aloof interest in the sound of my calm voice.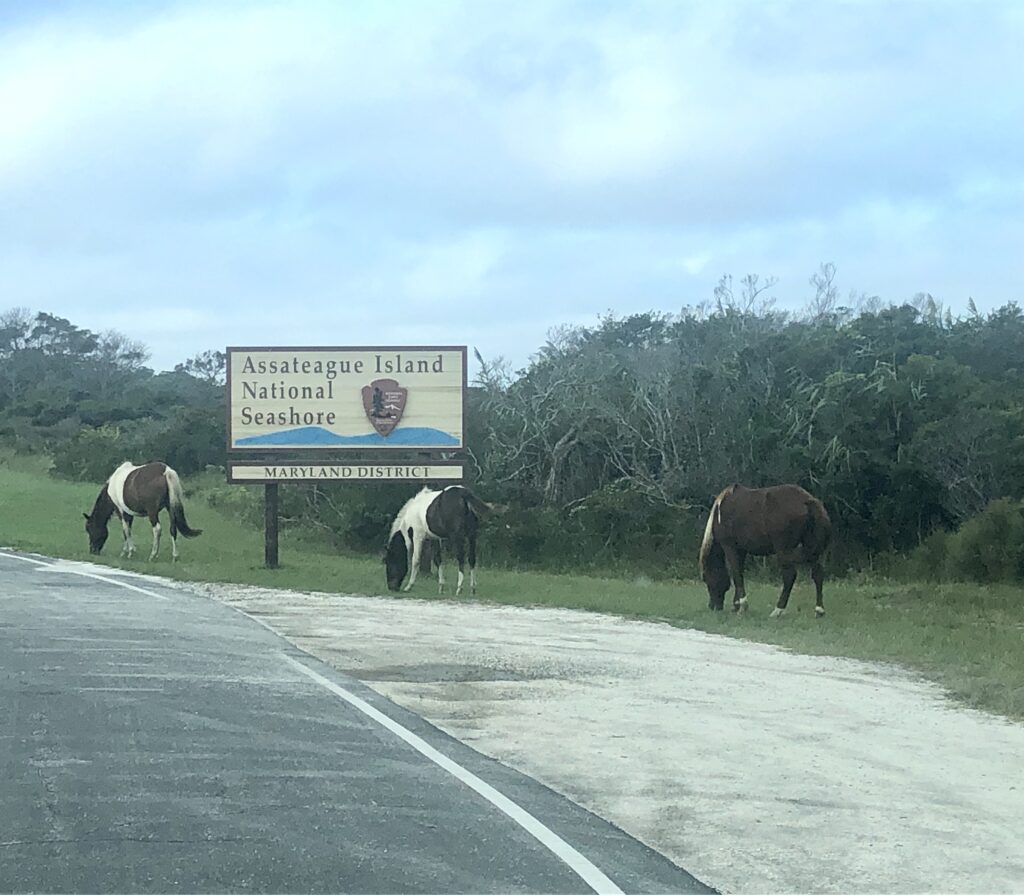 At some point Jennifer woke up and joined me and we walked south on the beach until we found a group of 8 or 10 wild horses, playing, fighting, and walking down the beach. By this time, other park guests were starting to stir on the beach and the illusion of being alone on a secluded beach started to change.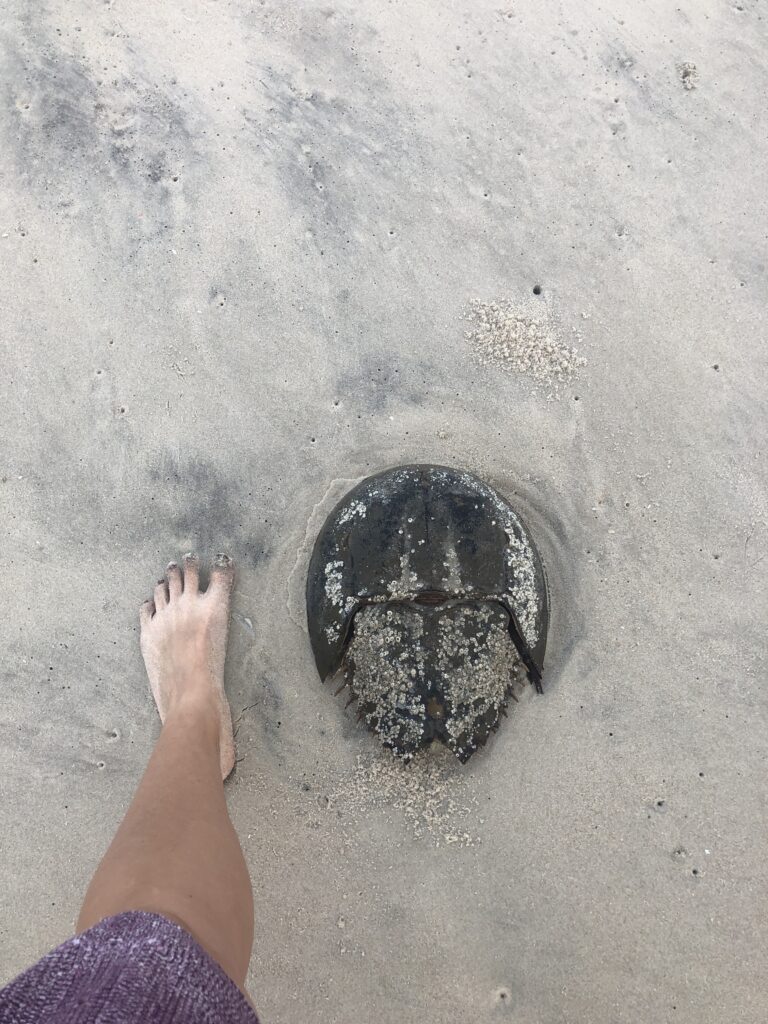 We got back in the van and headed to Ocean City again to see the boat. When we went by the visitor center again I noticed the people in the Sprinter van had indeed spent the night in the parking lot, and with some intention, as they had their windshield covered with an exterior cover, and an additional solar panel set up in the parking lot to help charge their batteries.
Jennifer looked up a breakfast place on Trip advisor and we went to the Sahara cafe on the strip about a mile down the island. It was crowded and the food was fair.
We made our way to the old ship, bought tickets and Jennifer bought Aly a beaded anklet from a local crafter set up there.
The ship was fascinating as we imagined, but also a little smaller and more cramped than I expected. The only place I could stand upright on the whole thing was on the outside decks. There was a good looking charming young man (from Columbia I think) who was part of the crew, he had hooked up with them just several weeks before and joined on a volunteer basis to sail back to Spain with them in the next couple of days. They expected a 30 day journey if all went well back across the Atlantic. There was a look of concern in his young eyes – and I can't say as I blame him. Of course Aly fell for him, and started talking about sailing…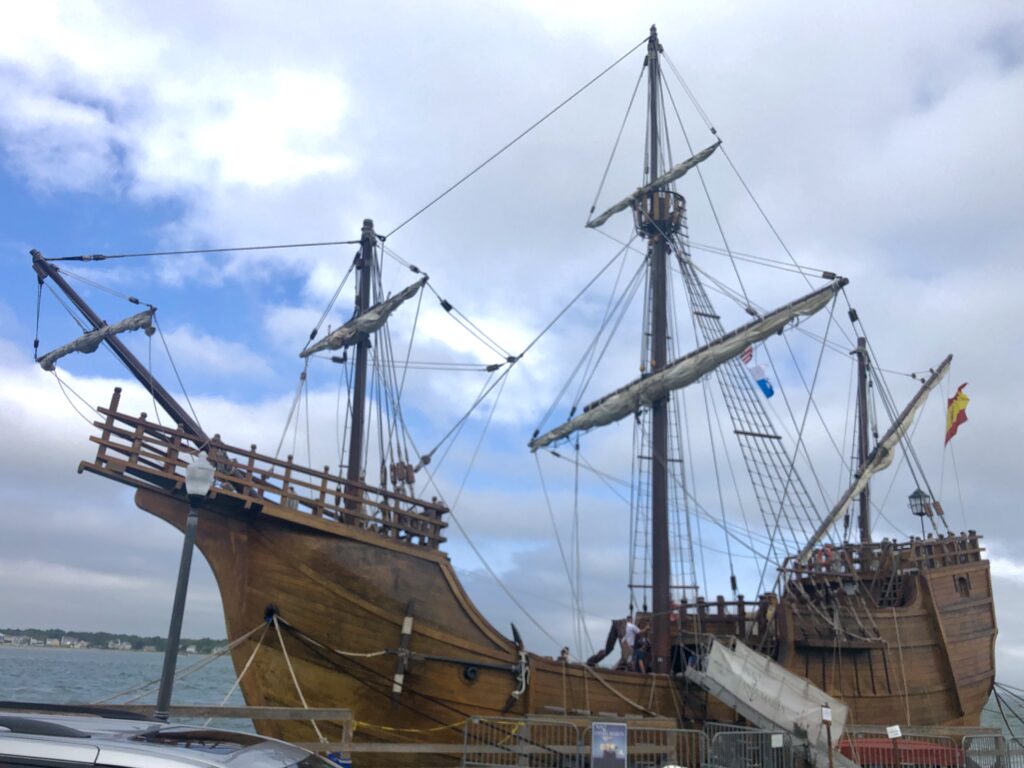 We then headed South down the coast and made a brief stop in Chico Teague island in Virginia to see the lighthouse there. Apparently, that island too has wild horses, but we didn't see any.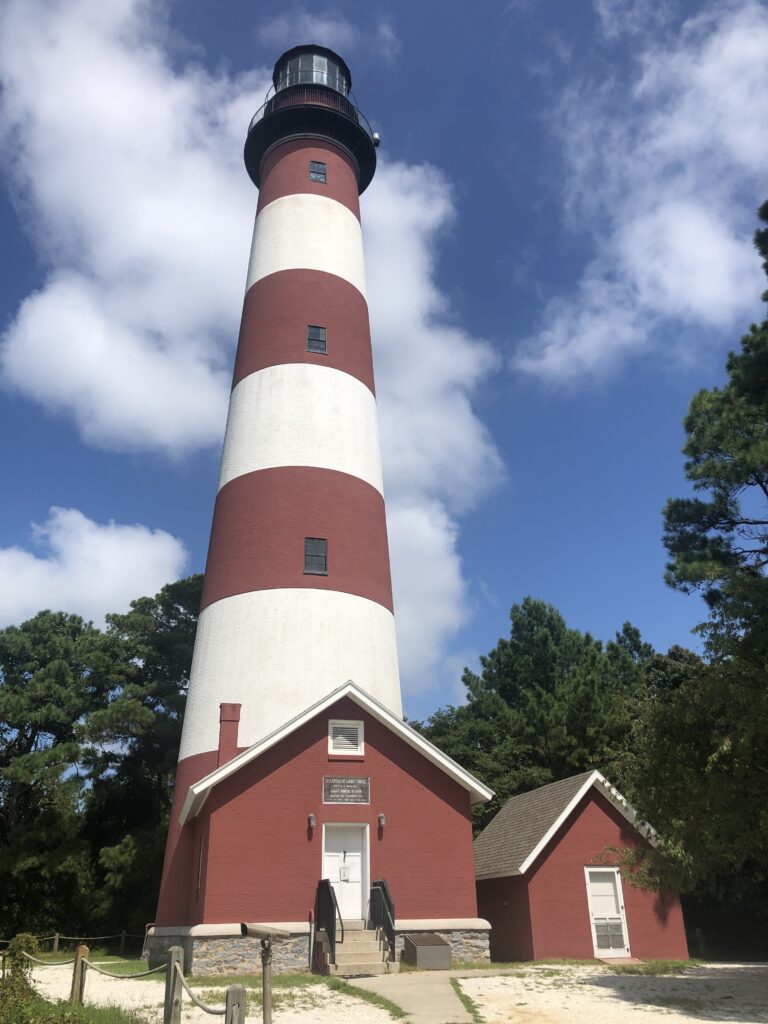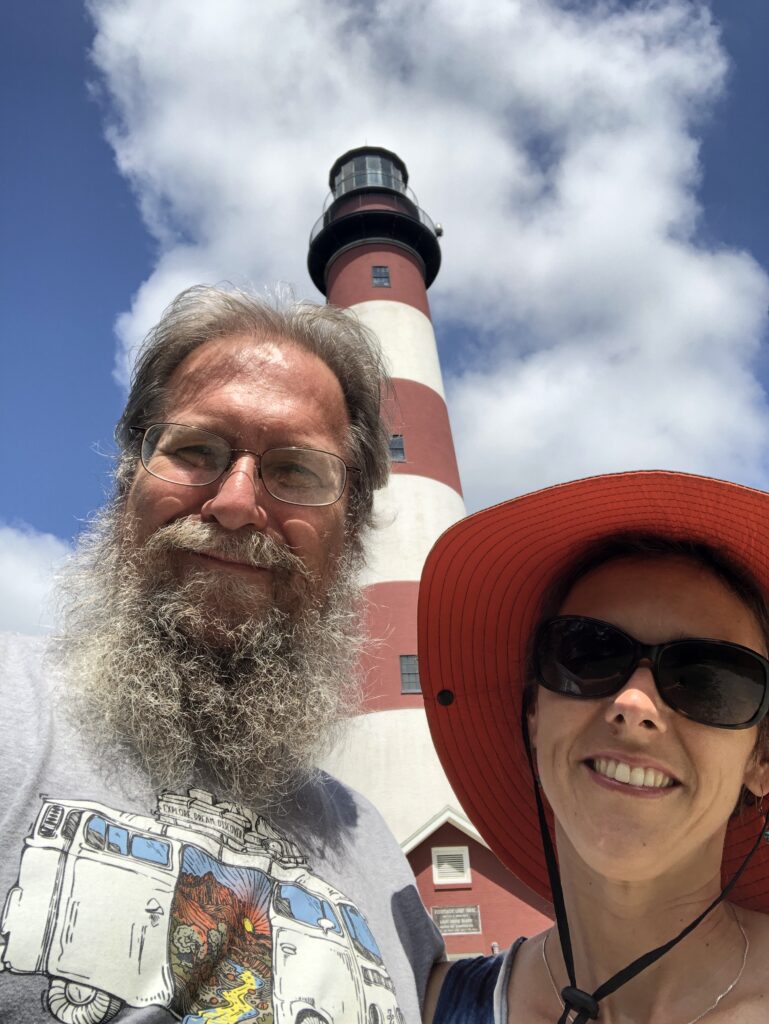 We drove south over and under the 25 miles of bridges and tunnels that cross the Chesapeake bay to Virginia Beach and RT even with Norfolk. Looked up a place to camp near Jamestown, and found an independent 5-star campground with a pool. It was going to be another hot night so we plugged into electricity and let the jet engine air conditioner run all night long. I went for a walk through the campground, which turned into a trailer park, and then a rather rough-looking fish camp as I got deeper into it. The lake was more like a fishing swamp and definitely not looking like swim quality. I found the old ram shackled tacked together bath and laundry house, which was falling apart even WITH it's dozens of coats of thick paint intentioned to hold it together. The door frame was falling out of the building, the cobwebs hadn't been removed for years (decades maybe).
Went for a refreshing swim in the large pool we had to ourselves.
Monday 8/30
Dumped and flushed the tanks and filled the fresh water at the campsite. Went and took a shower in the shower house by the pool which was MUCH better, and newer than the one on the old section.
Drove back East just a bit to check out the the Original Jamestown on Chesapeake Bay. Awesome history here as it is often considered the first "successful " American settlement.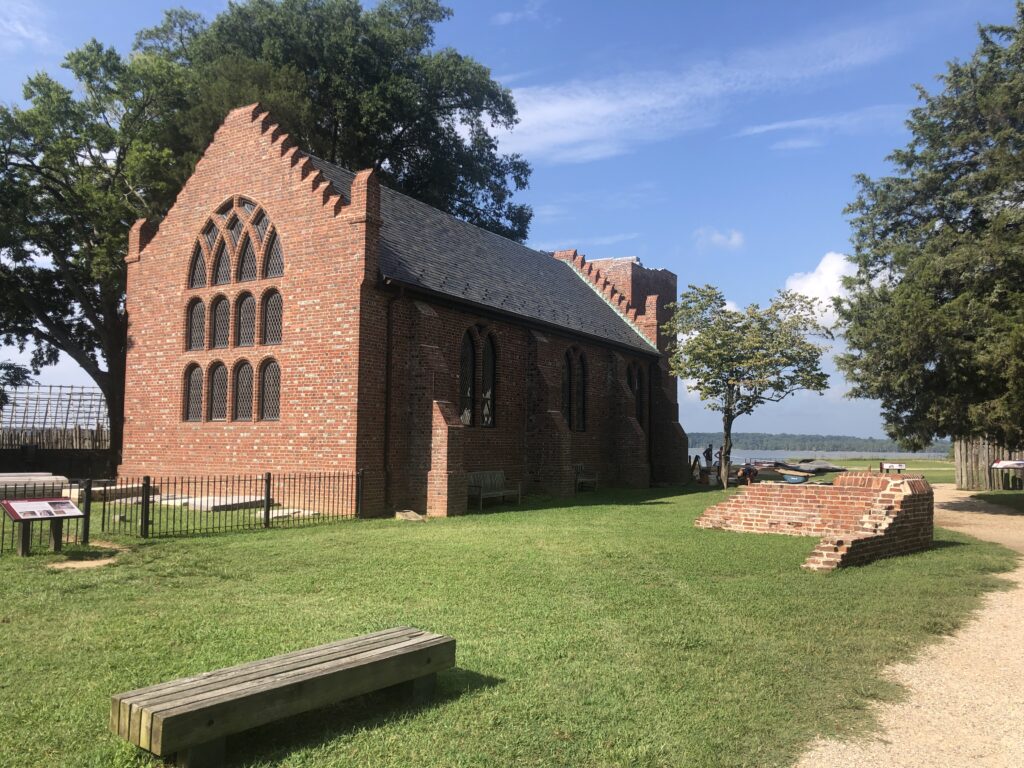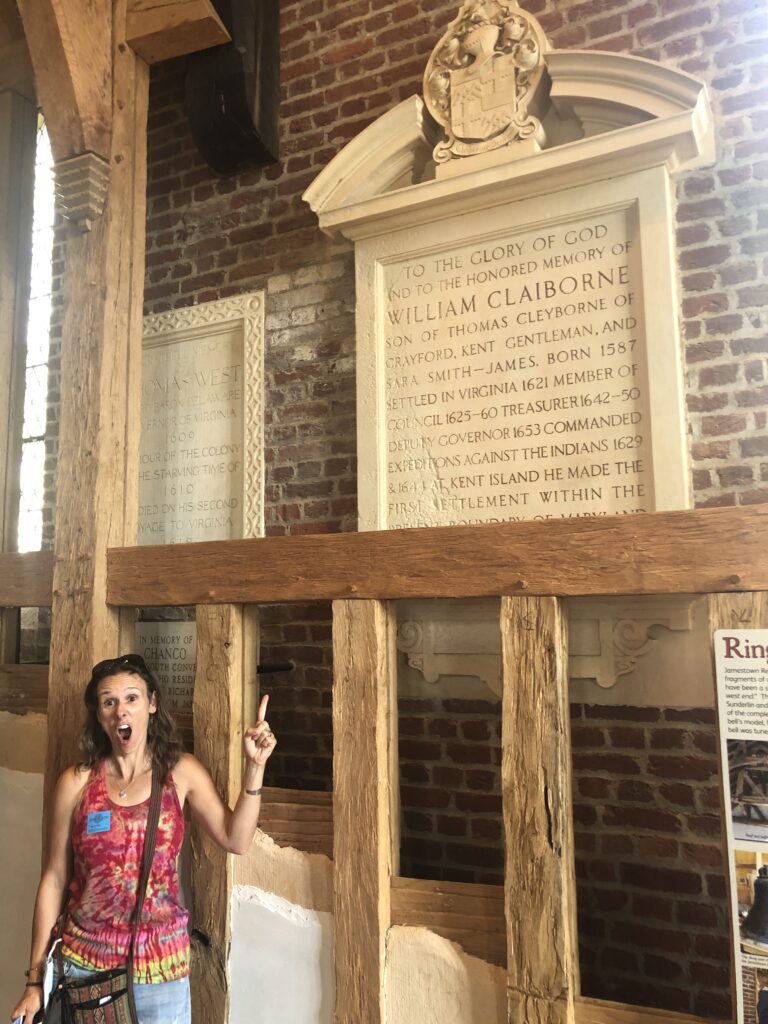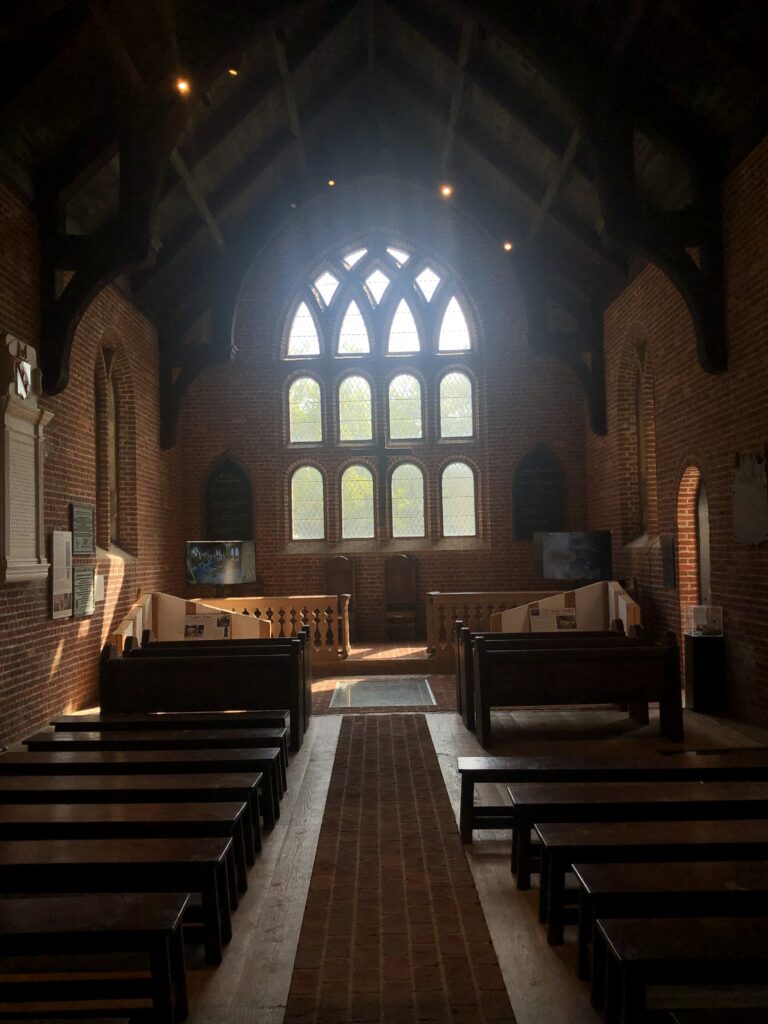 Chick Fil A for lunch
Camped at a free national park campground in the George Washington and Jefferson National park in West Virginia. Beautiful area, but the River was running chocolate brown due to recent rains somewhere. I woke in the morning to the loud rumbling of a long freight train. We saw the tracks on our walk last night, but hadn't heard one till 5 in the morning.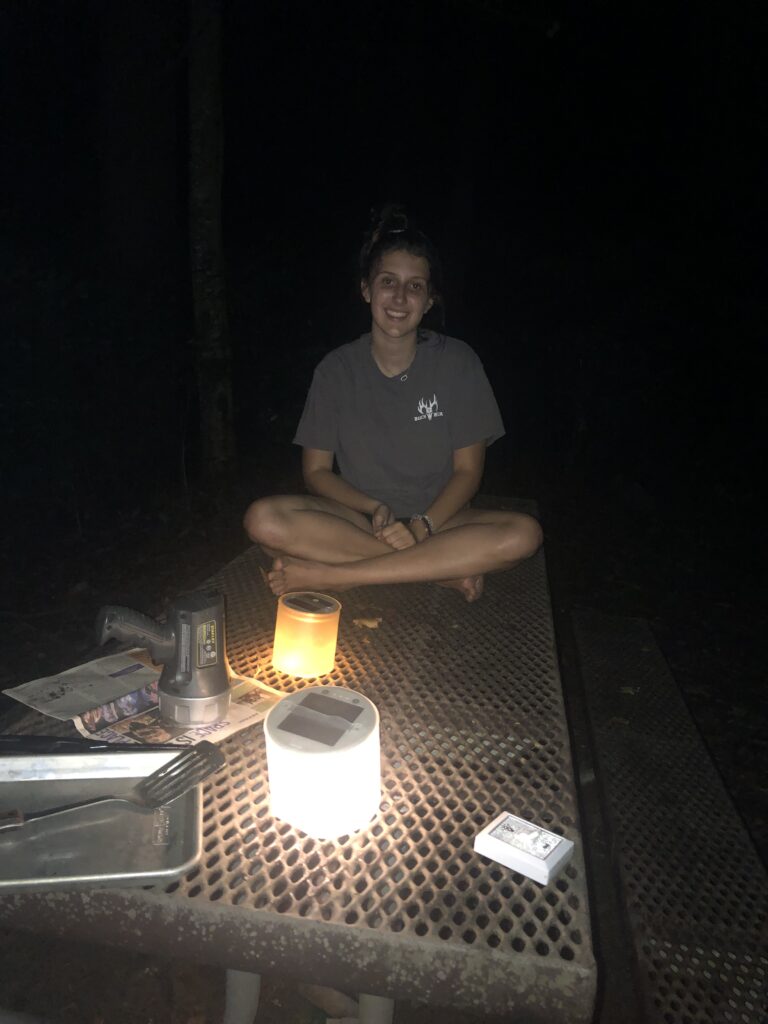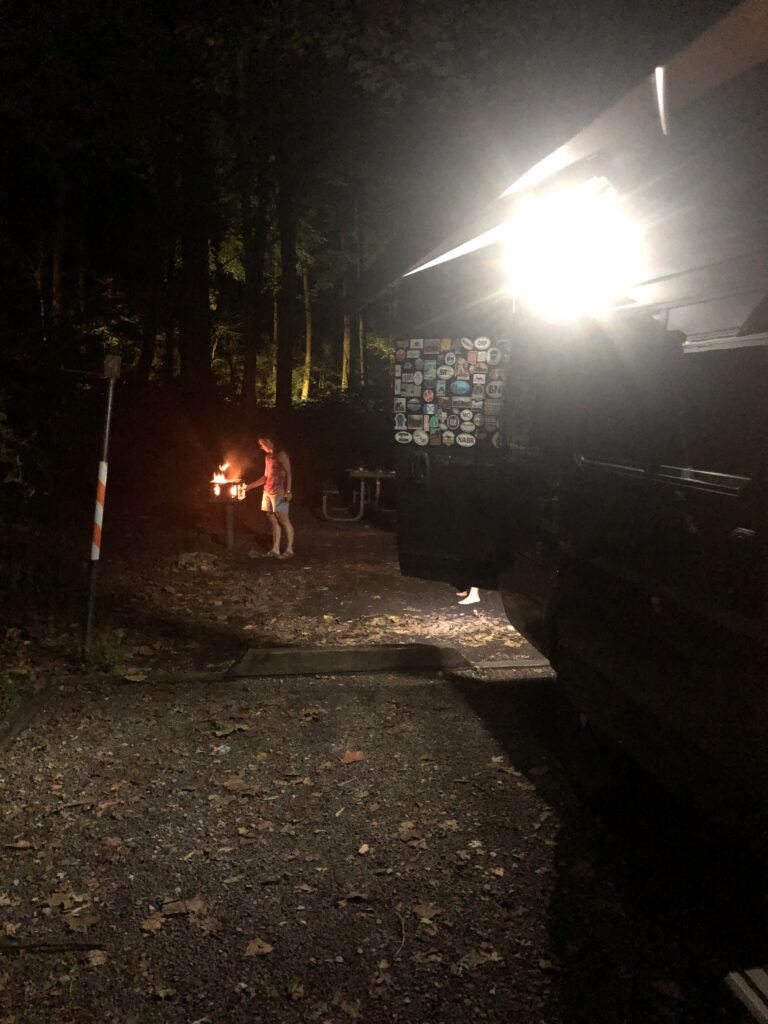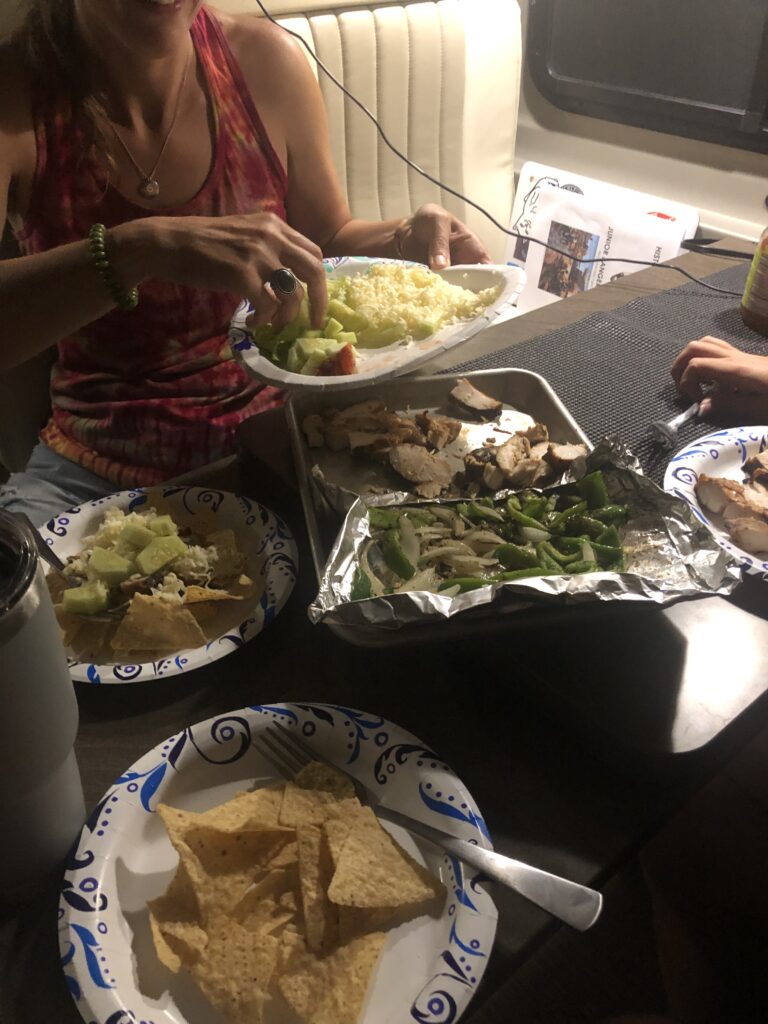 Tuesday 8/31
I got us rolling early again while the girls were sleeping. We were planning on making Giant city state park in Illinois tonight for our last camp before heading home, but we changed plans and went to Land Between the Lakes instead.
Tudor's biscuit world IS GOOD!
Stayed at land between the Lakes in Redd hollow campground. Very nice! We were the only ones there until someone car camping showed up in the middle of the night and slept ins hammock. The weather was perfect.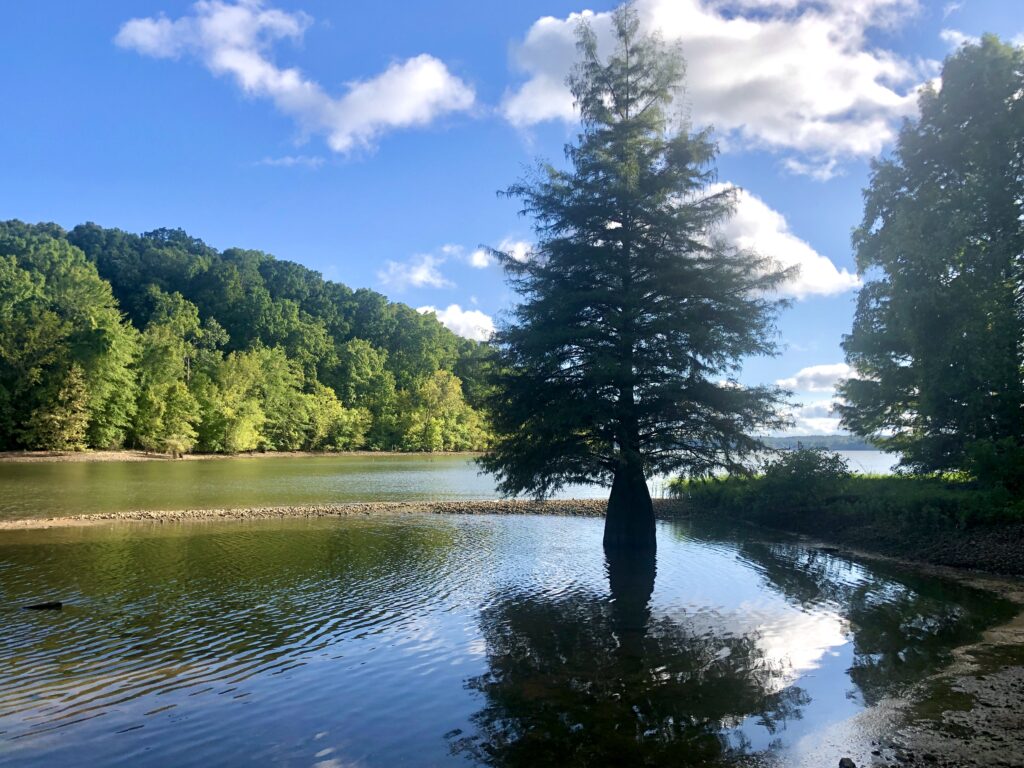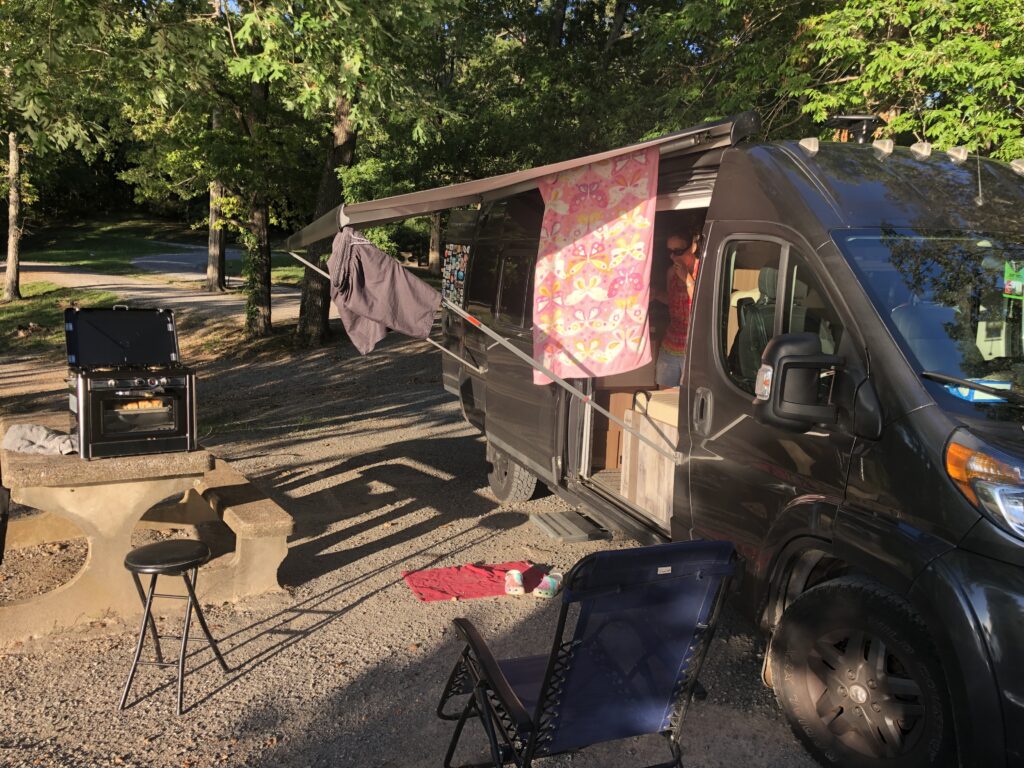 We should return here someday and explore the working 1880's "living village". There is also a couple Bison and Elk ranges, miles of trails, and countless opportunities for camping and boating – there is even a ohv section.