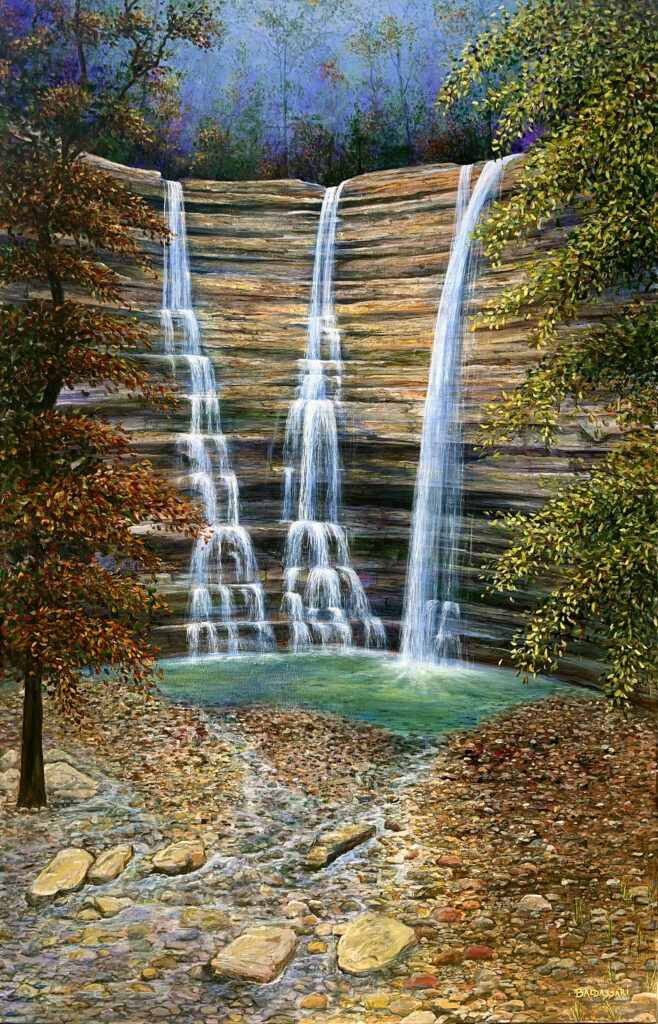 This is a huge painting. It measures 7′ tall and 5-1/2 feet across. It is the largest I have done to date, and was a commission for a couple nearby that has collected a couple of my works, and wanted a statement piece for the foyer in their new Cabin they are building in Newton County.
I submitted some sketches to the owner, one of them including a pasted in image of a painting I had previously done of twin falls.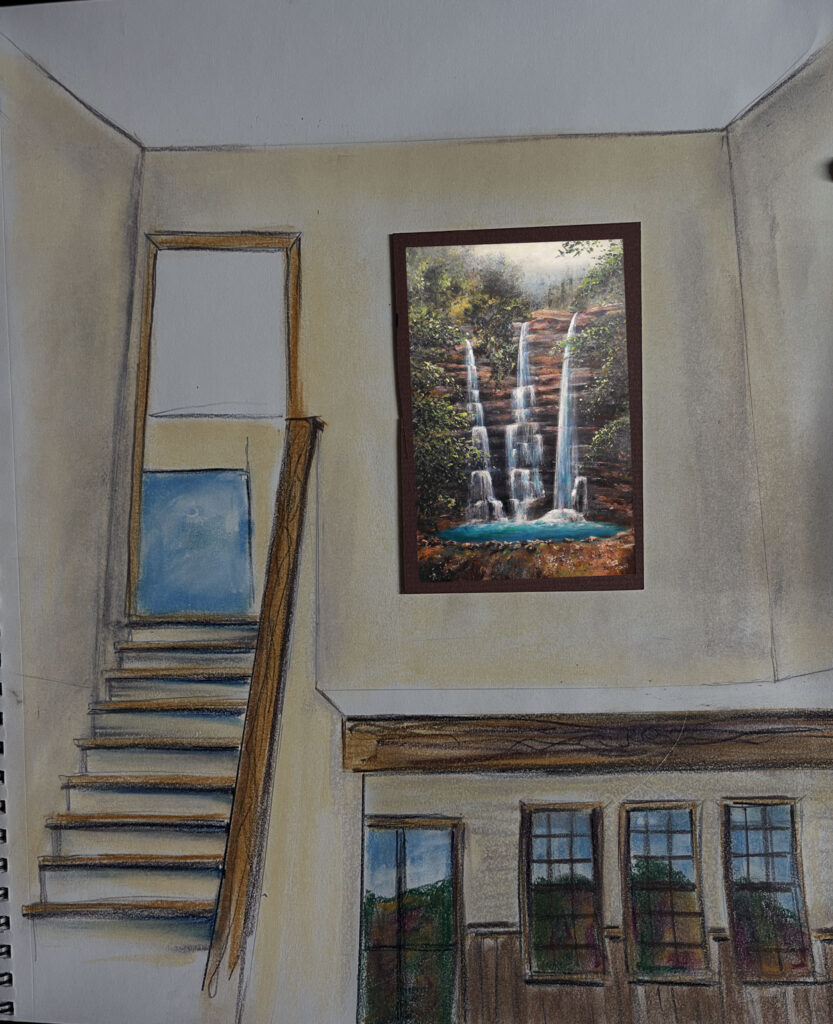 We discussed and decided on size, and the patron wanted Fall colors incorporated into the piece – in addition, We agreed I would try to incorporate some of the house interior colors into the painting.

I collected photos and took a ride out to the location to make some scetches, take more photos, and try to find a good vantage point. I went as far as stripping off and wading through the water under the falls to try and get that perfect shot. (None of them were very good). Because the painting was going to be hung high above the viewers head, I was hoping to show some perspective of it's size and give the viewer the illusion of looking at up at the waterfall as you do when viewing in real life.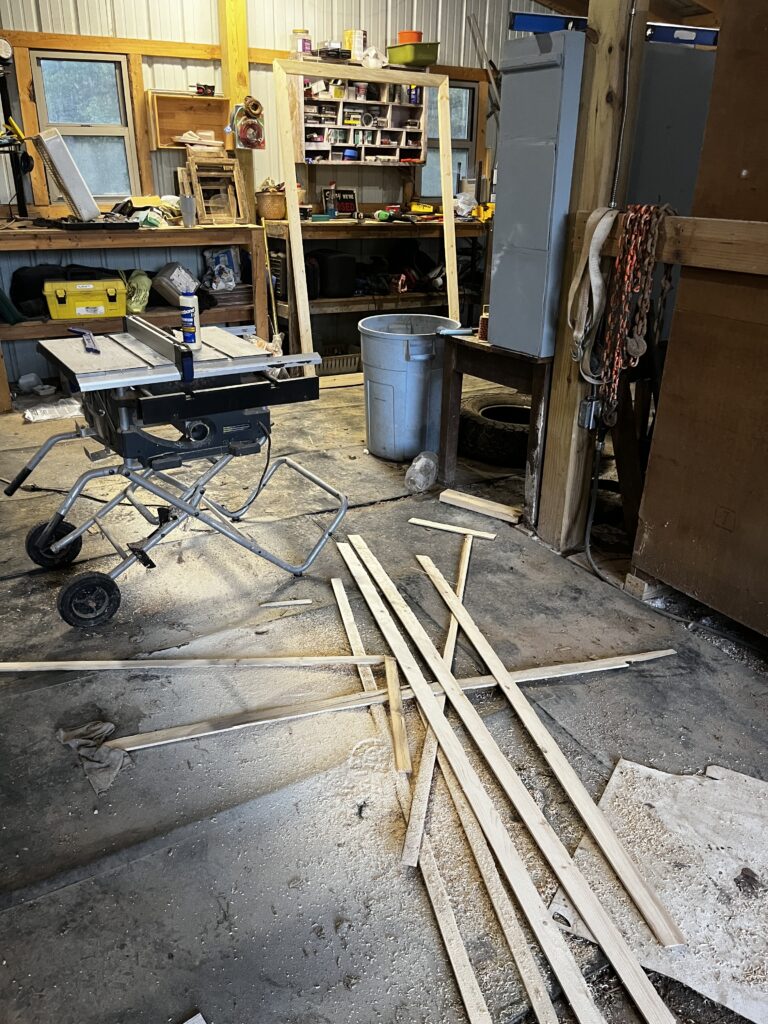 Because of the large size of this painting, I built the stretched canvas myself. I began by ripping down 2X4's and making a custom beveled edge to build a frame –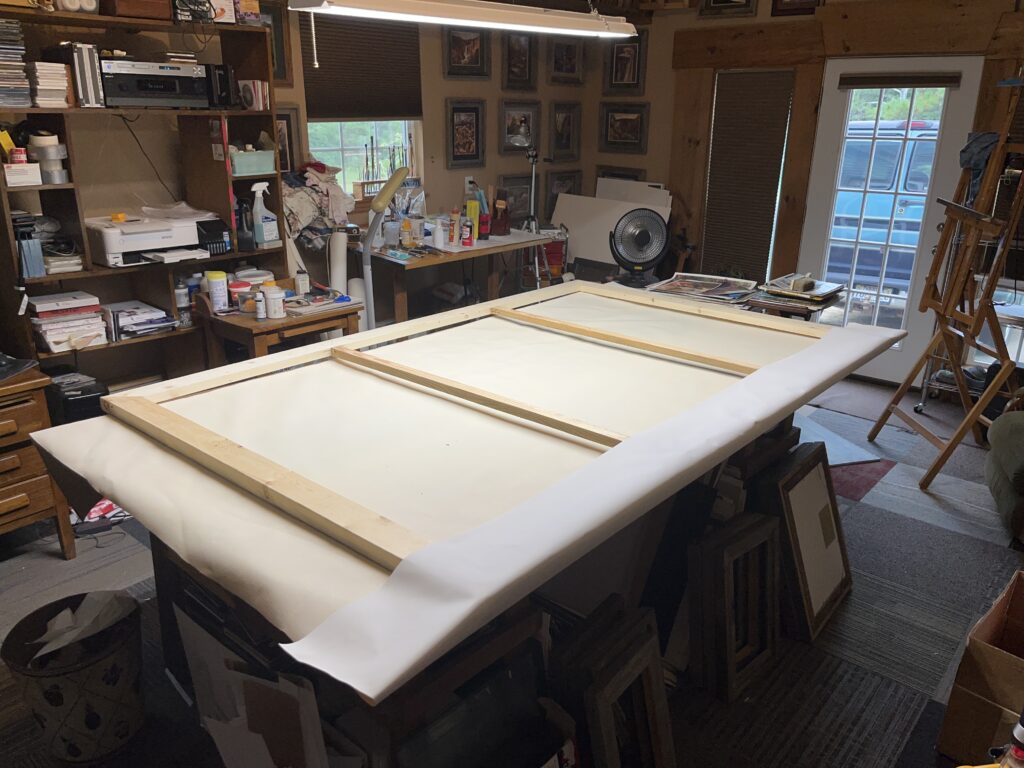 An oversize roll of Fredrix Canvas was purchased and I stretched it over the large frame.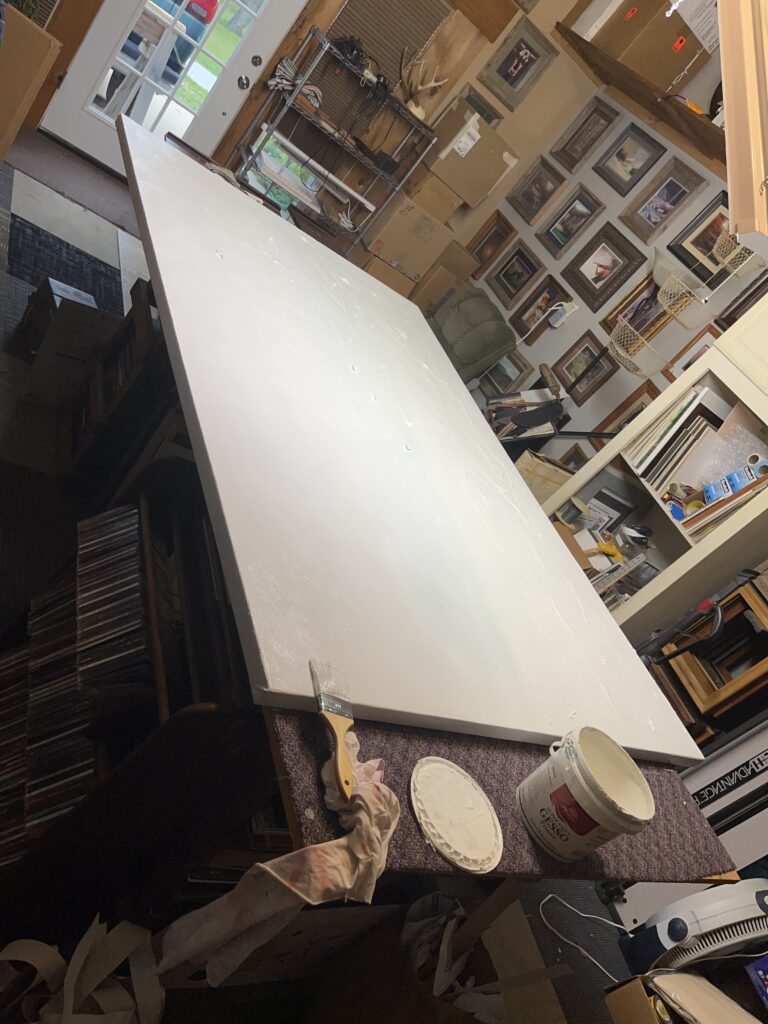 Once that process was complete,
several alternating coats of Gesso (a fine art primer) were applied.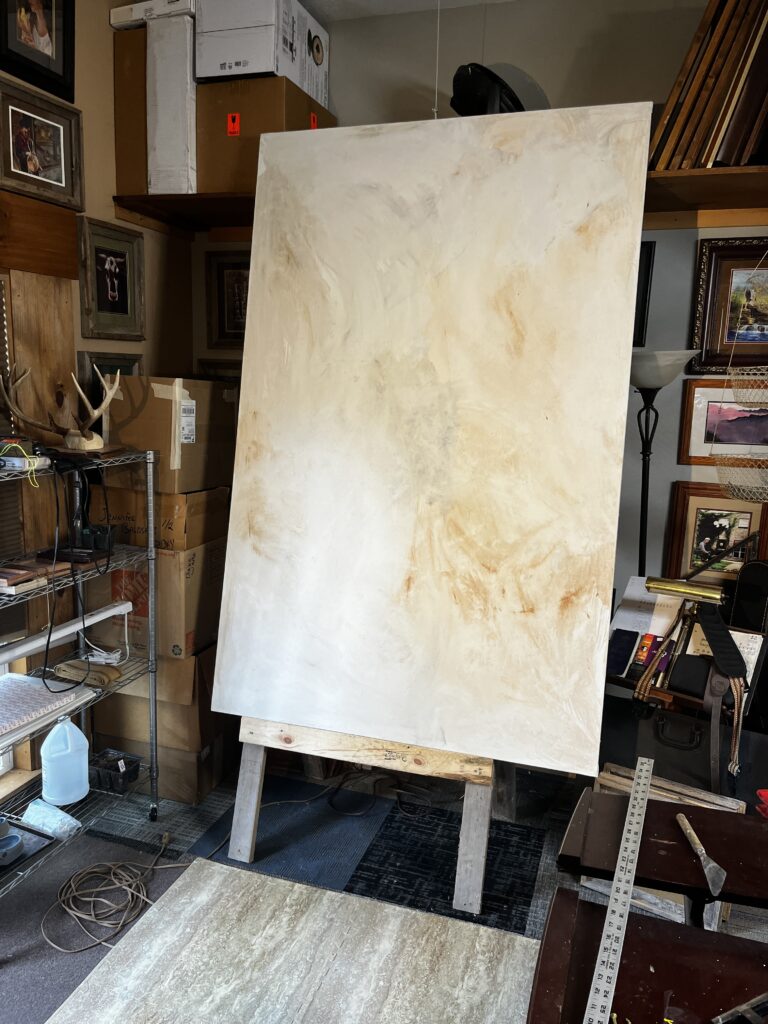 None of my easels were large and sturdy enough to support the canvas, so after several attempts, I just modified an old saw horse and leaned the painting up against a wall. Because starting on a white canvas is intimidating (especially at this size), I stained it up a bit with some earthtone colors.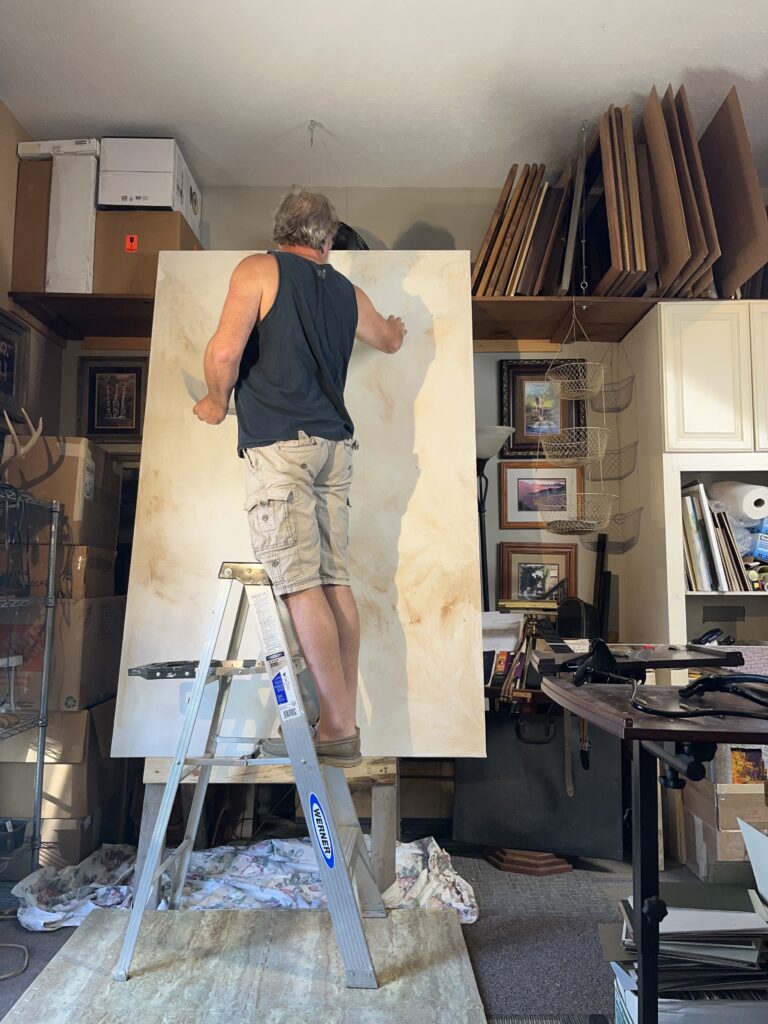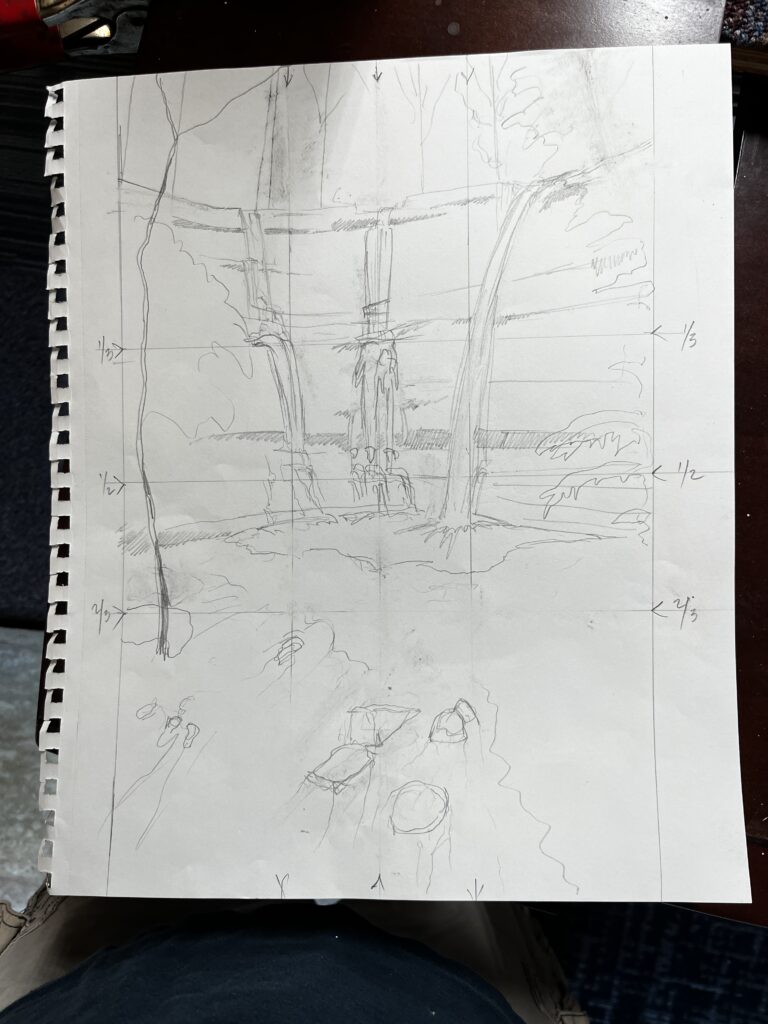 I used a sketch to get some reference points on the canvas…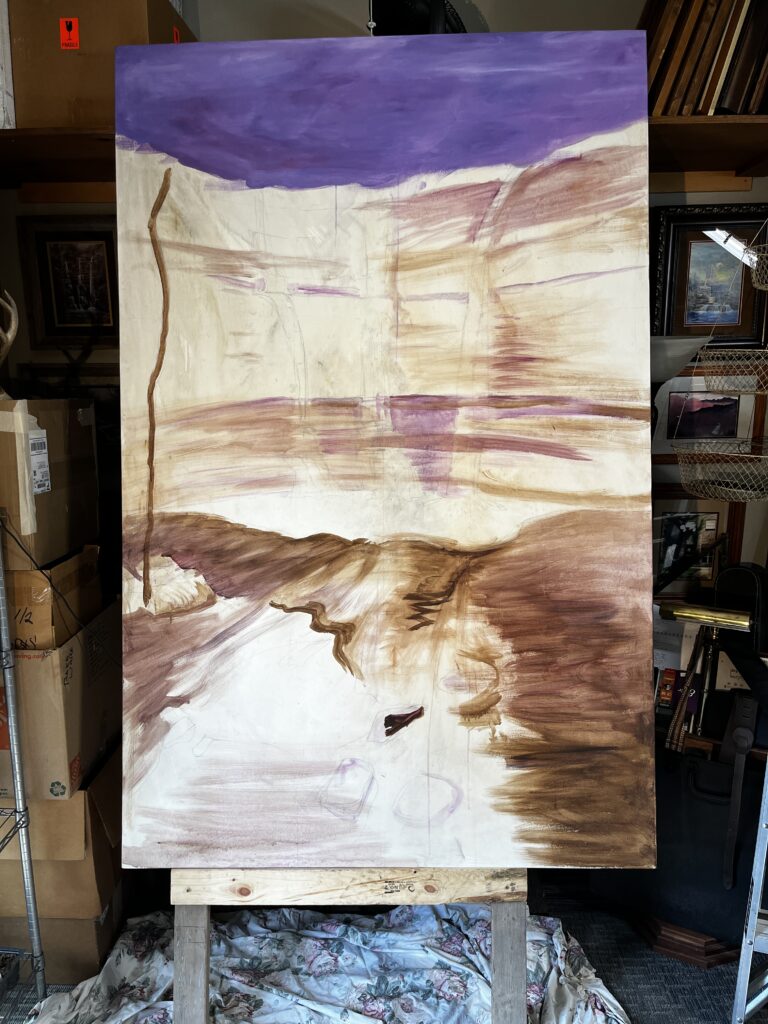 …and started blocking in the composition.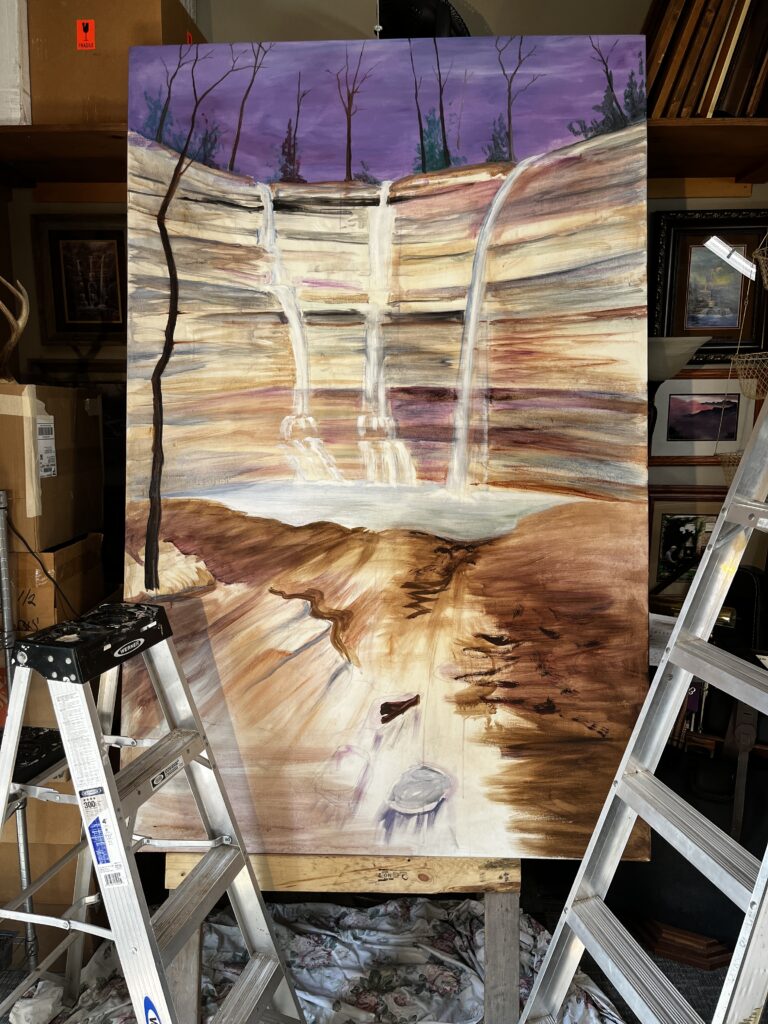 Then started blocking in colors.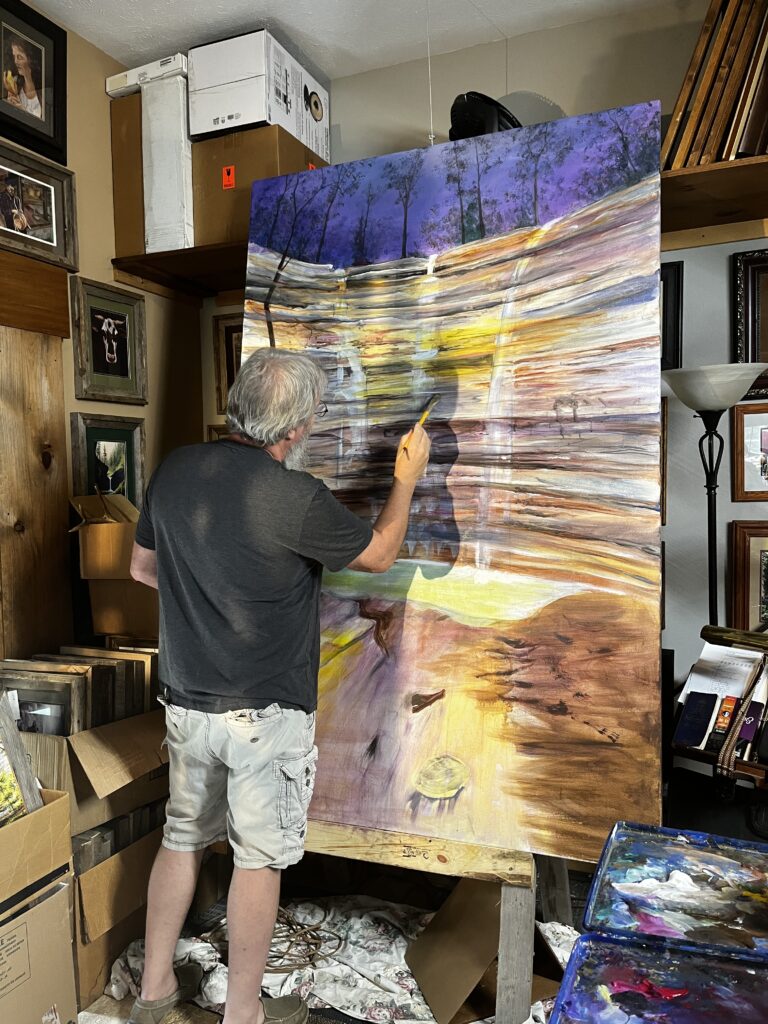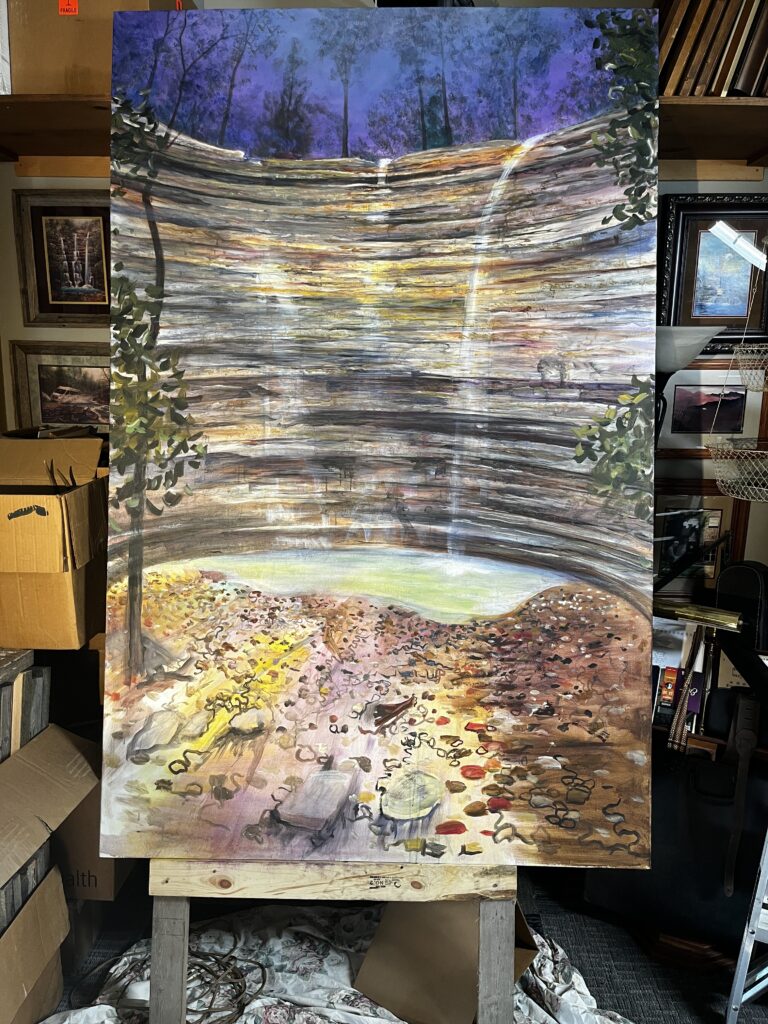 It was a new experience for me painting from a ladder, and then alternatively sitting on the floor.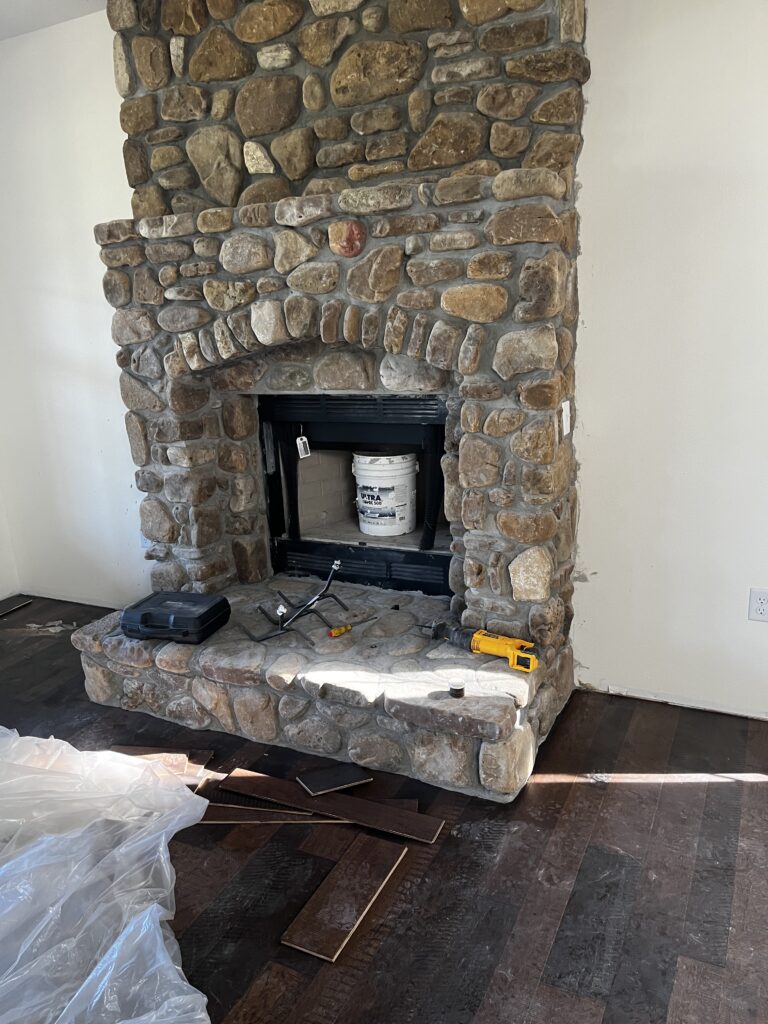 When I saw the color of the rock going up on the fireplace, I took a liitle more of the gray out of the bluff, and added more tans to match it.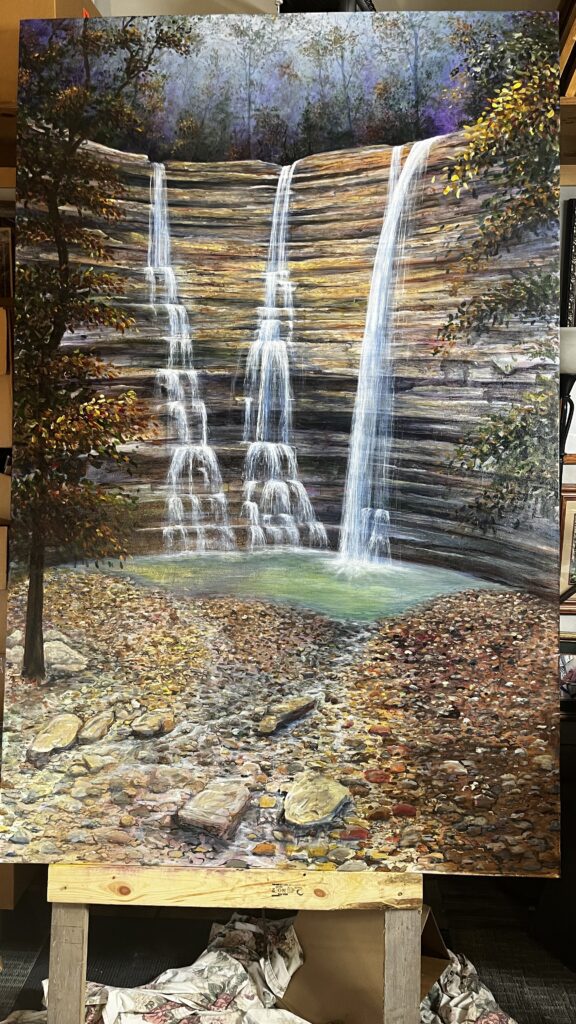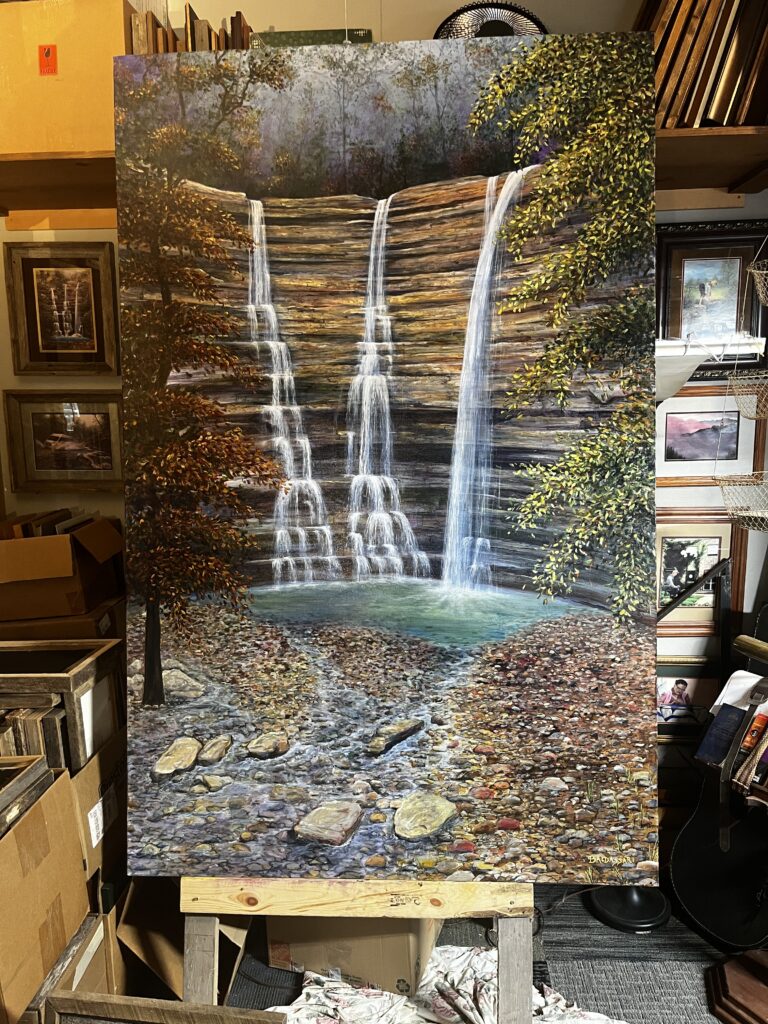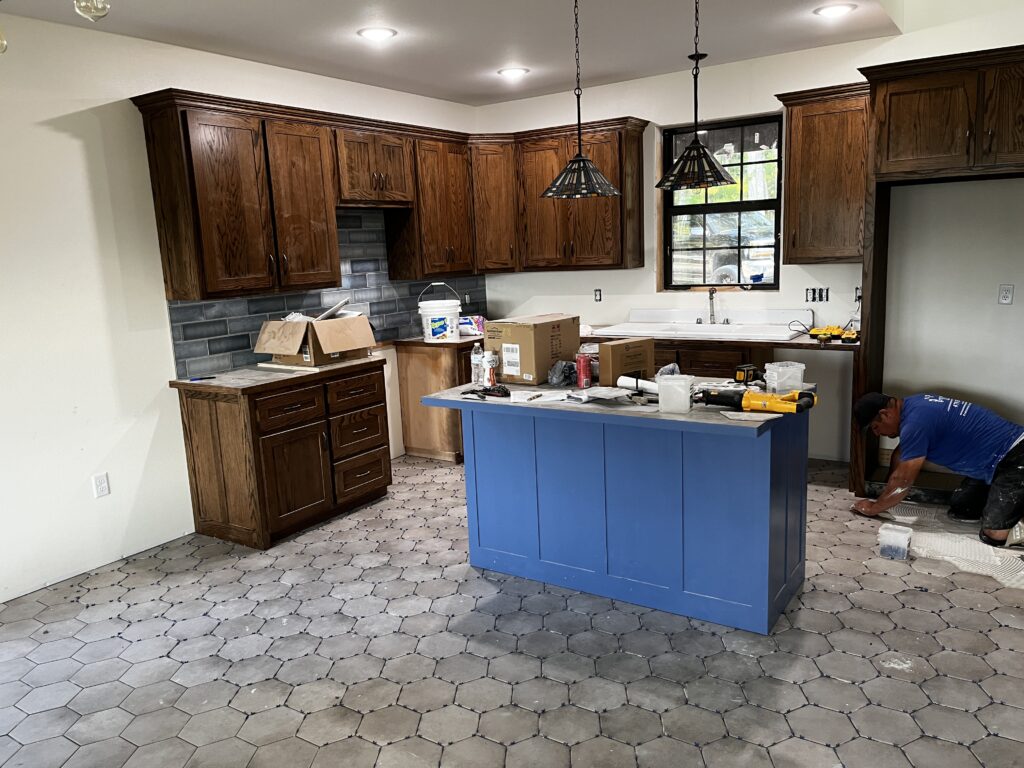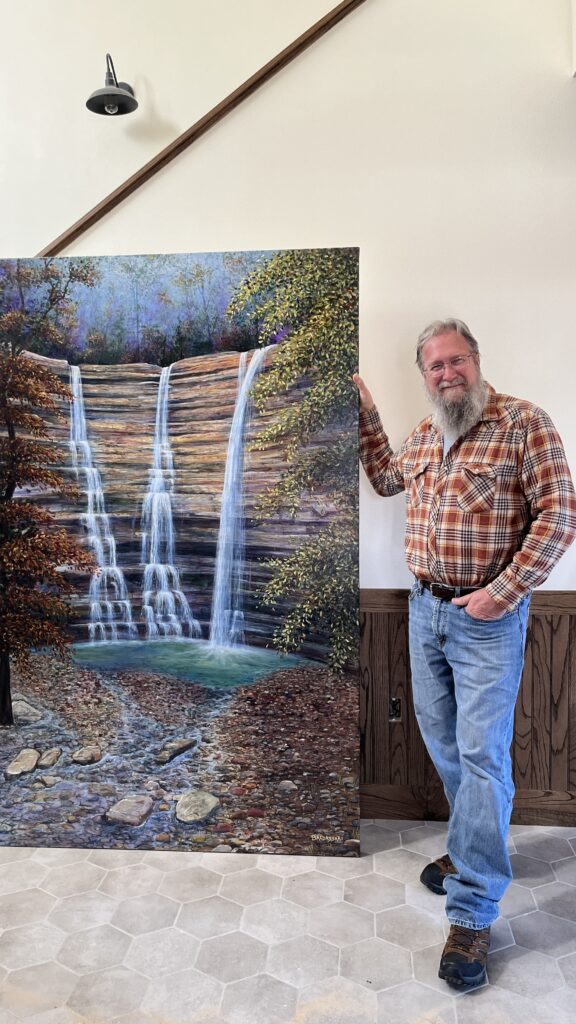 I did what I could to pick up the browns of the stain, the different blues in the Kitchen tile and paint, and even a little of the foyer tile colors.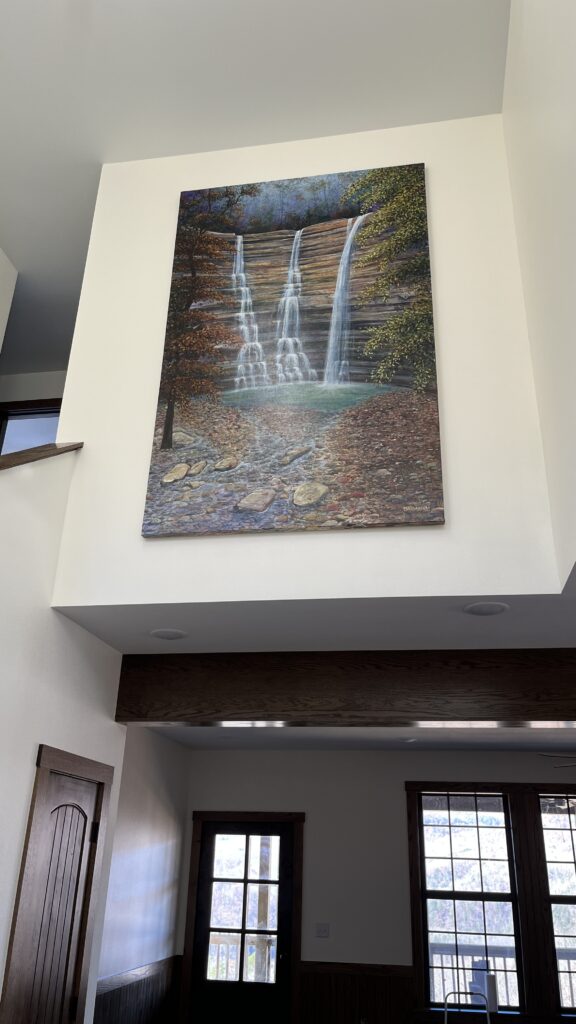 Both the new owners and I, ended up very pleased with the piece, and I look forward to more projects with this much customization and interaction. (That is an invitation for YOU to call me to discuss a commission!) ;-D

I hope to get back to see it once the house is furnished and complete.