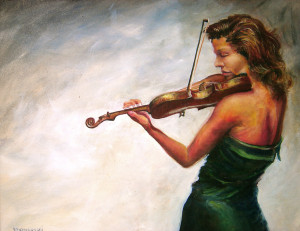 "That Ain't No Fiddle"
I painted this study in oil on paper.  The buttery smoothness of oil paint is unrivaled for skin tones and smooth color transitions.  As much as I love working with oils, the odor of the mediums I like best don't agree with me.
I've always wondered what the difference between a Fiddle and a Violin was. I've never gotten a good explanation, so I just figure a violin is for fancy pants city folk, and a fiddle is fer fiddlin' around.
This Framed 14×18 Original Oil painting on paper is available in my Studio. A limited number of 8×10 prints are available matted to 11×14, with or without a frame, upon request.