Christmas Trip 2016
We had wrapped up all of our family Christmas festivities on Christmas Eve, so after de-winterizing and loading up Tony, we were off on 40 Across Arkansas and Oklahoma,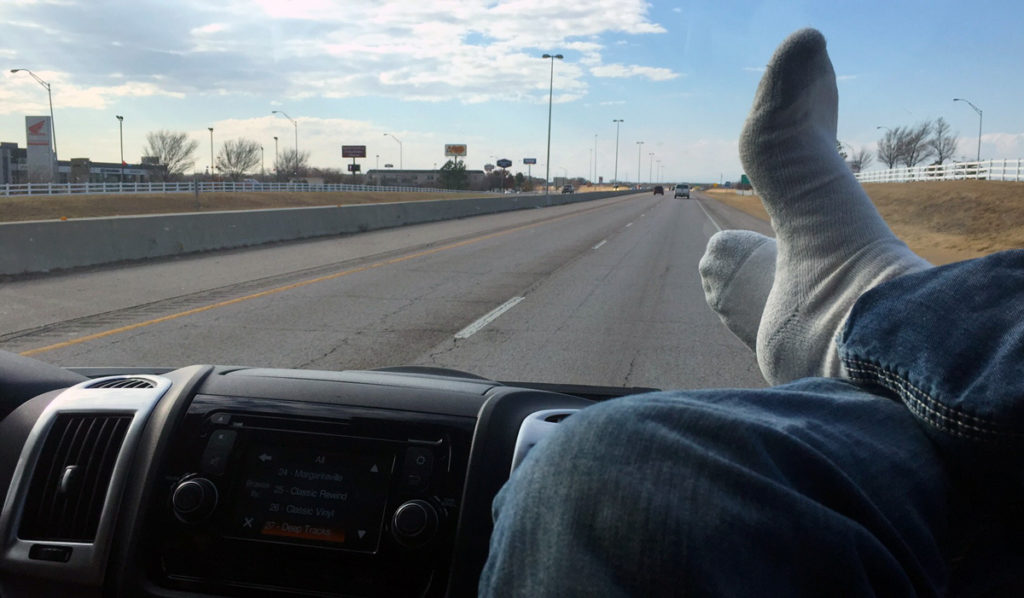 Through Oklahoma City and down the 44 Turnpike to Wichita Falls in Texas. The road got smaller (but less windy) traveling from Wichita Falls to Abilene, which, according to Waylon Jennings is "the Prettiest town I've ever seen. Women there don't treat you mean, In Abilene."… hmmm, I guess Waylon didn't get around much. :-)
Jennifer googled a restaurant open on Christmas day and we ended up at Sunrise Chinese restaurant (which sounded an awful lot like "sofa" according to the Asian Man on the other end of the phone).  It was mayhem when we walked in the door, with seemingly all Chinese speaking employees, and 8 or 10 customers standing round the front door waiting for their to go orders. We went in and sat down in one of their torn up, 1980s vintage bright orange vinyl dinettes… I went to use the restroom and in the minute or two it took me to get back, Jennifer had already made friends with table across from us, and found out the food was no good. We decided we'd leave while the gettin was good, and we jumped in the Van and drove back a couple blocks to a Szechuan place we had seen on the way there. As we got out of the car a look of fear came across her face as she realized she had left her wallet in the Chinese restaurant we had just left. We hurried back to find it laying on the bench seat right where she had left it.  Emergency averted!
Ended up at Szechuan….  and it was exceptional. Just split an order of veggie fried rice and some appetizers, but it was all very tasty. The bartender told us it was their busiest day of the year, but we were still seated in minutes, and the service was good. Great atmosphere, but still felt casual. beautiful fountains and landscaping in the parking lot.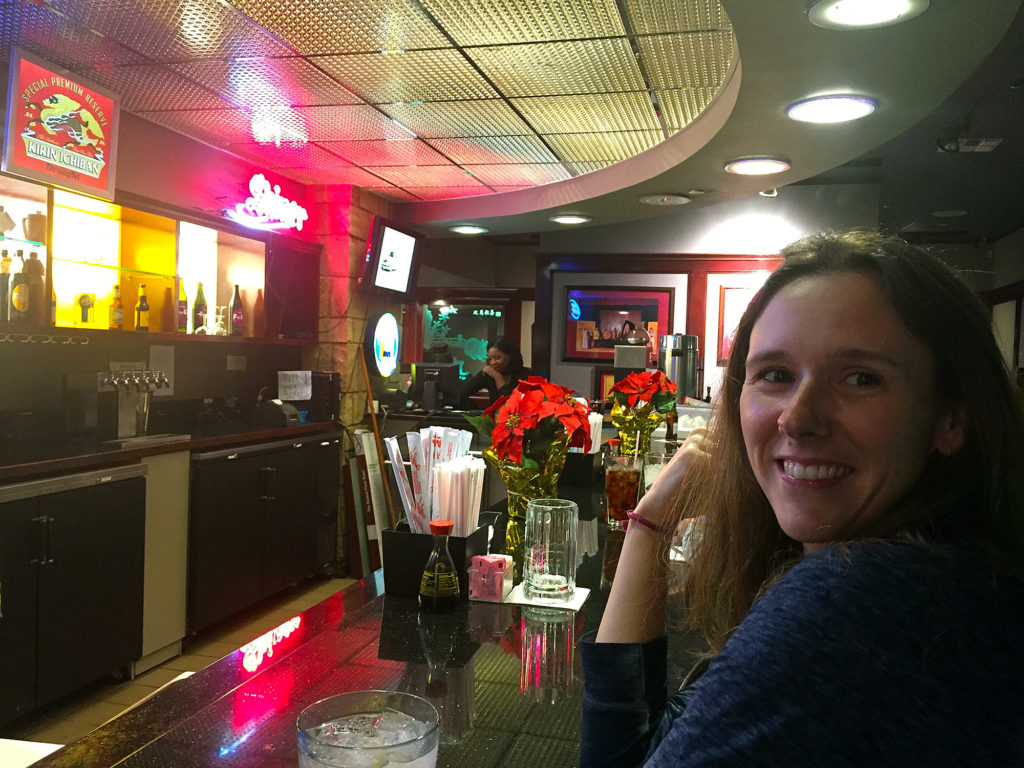 Pulled in to Abilene State Park (which only had maybe a dozen campers in 100 spaces) around 9:00. The Wagon Circle camping area, was just that… A big circle (around the Bathroom building ) where apparently campers and RV'ers all park side by side in rather tight quarters looking at the bathroom.. Very strange indeed, and in my opinion, NOT the best way to set up a campground… We found a nice cozy spot in the "tent area", which is quickly becoming our preferred section to "camp" in. With Tony, we rarely need "hook ups" and he is small enough to fit in any camping spot. Tent areas are almost always more spacious, further apart from each other, AND usually about 1/2 the price of the more crowded "RV" spots.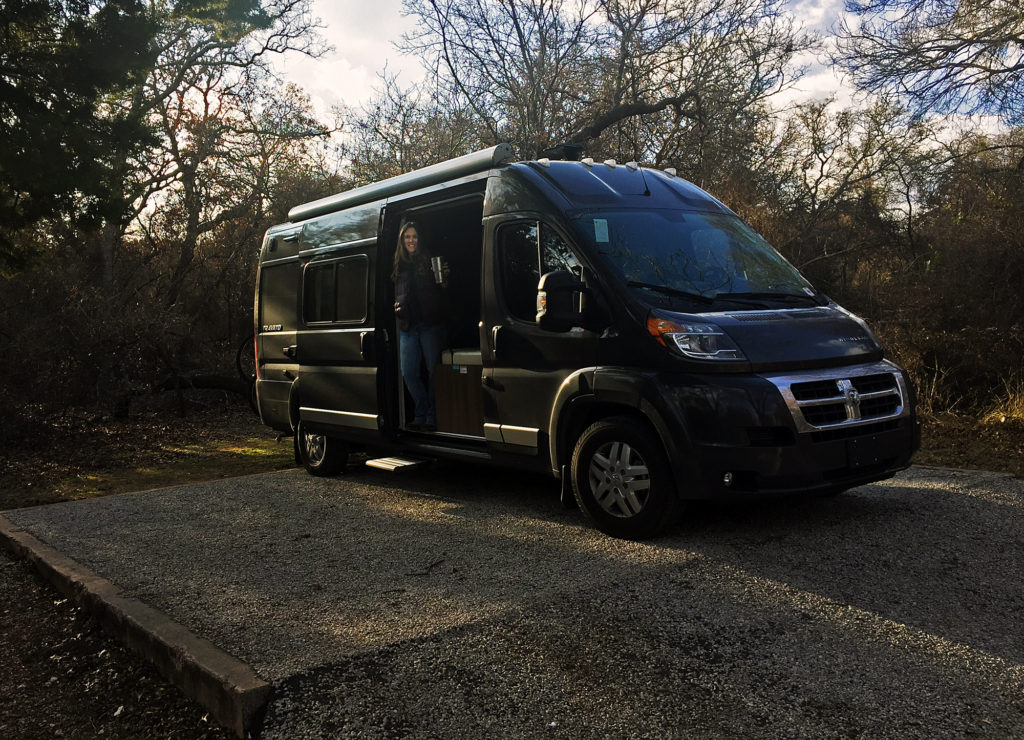 12/26/2016
Woke up about 6:00 after another great sleep in the T. Got up and made some coffee in my new Deluxe Oversize Insulated French Press (Xmas gift from Jennifer). Messed around on the computer and Facebook, looked at options for Big Bend…
We took a short walk round the nature trail in the park, filled up the water tank and were on our way.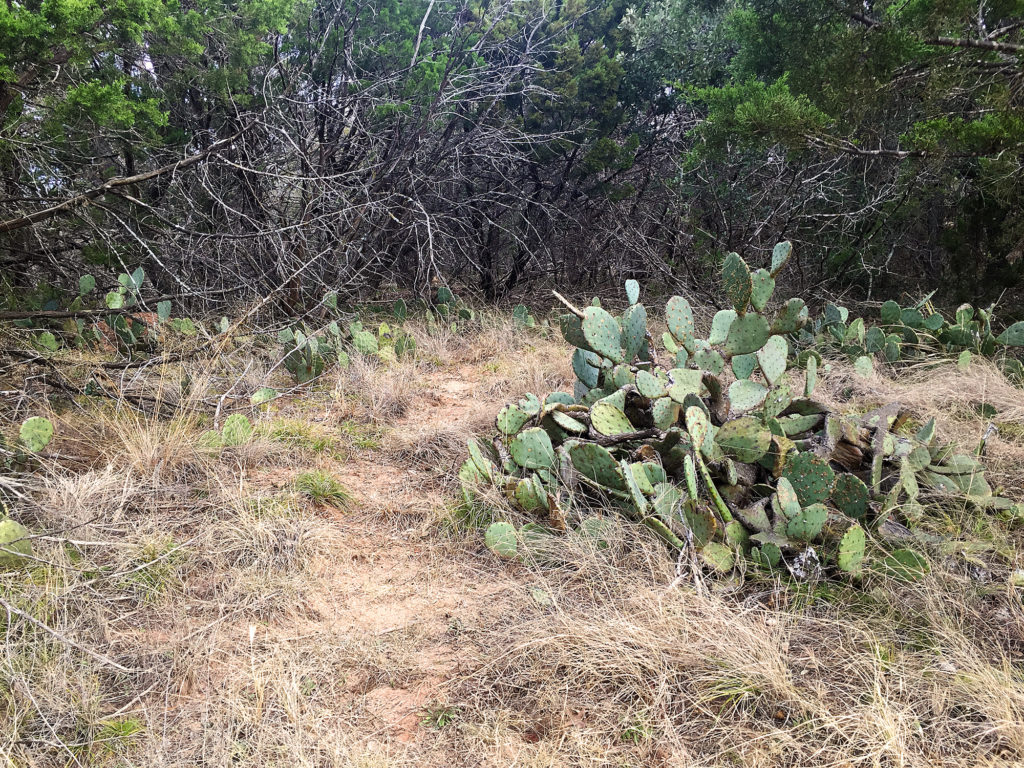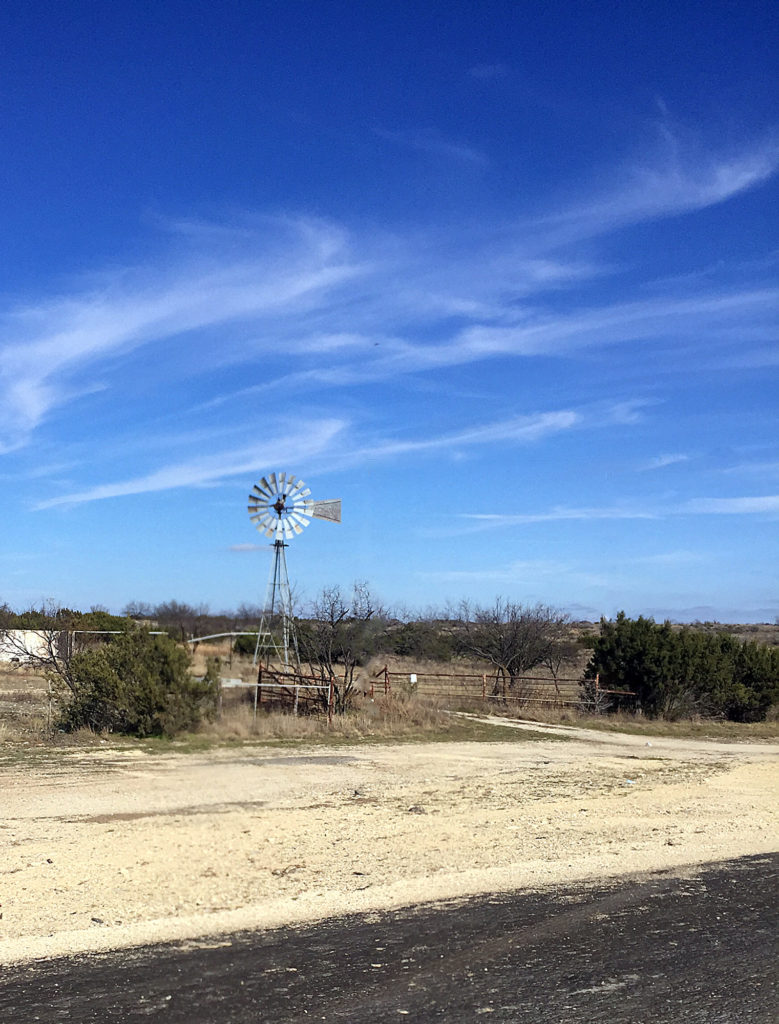 More long, scenery deprived miles through Texas towards Big Ben. There are dead wild hogs laying on the roadside here, as there are deer in the Ozark Mountains. And there are even MORE dead deer along these roads than there is there. We haven't seen vultures, buzzards, or anything else feeding on them as they do in Arkansas though…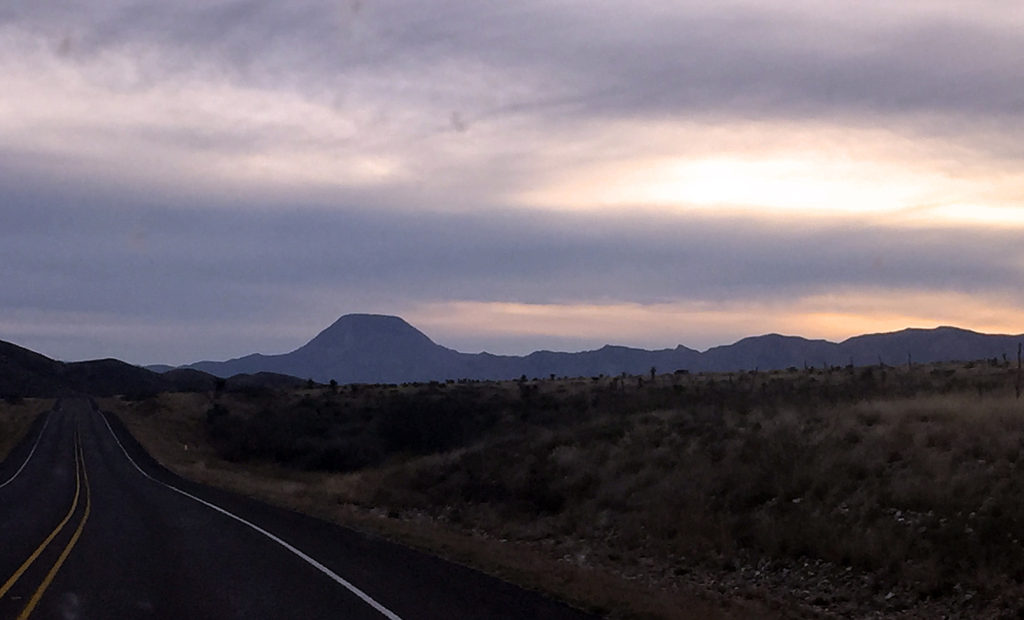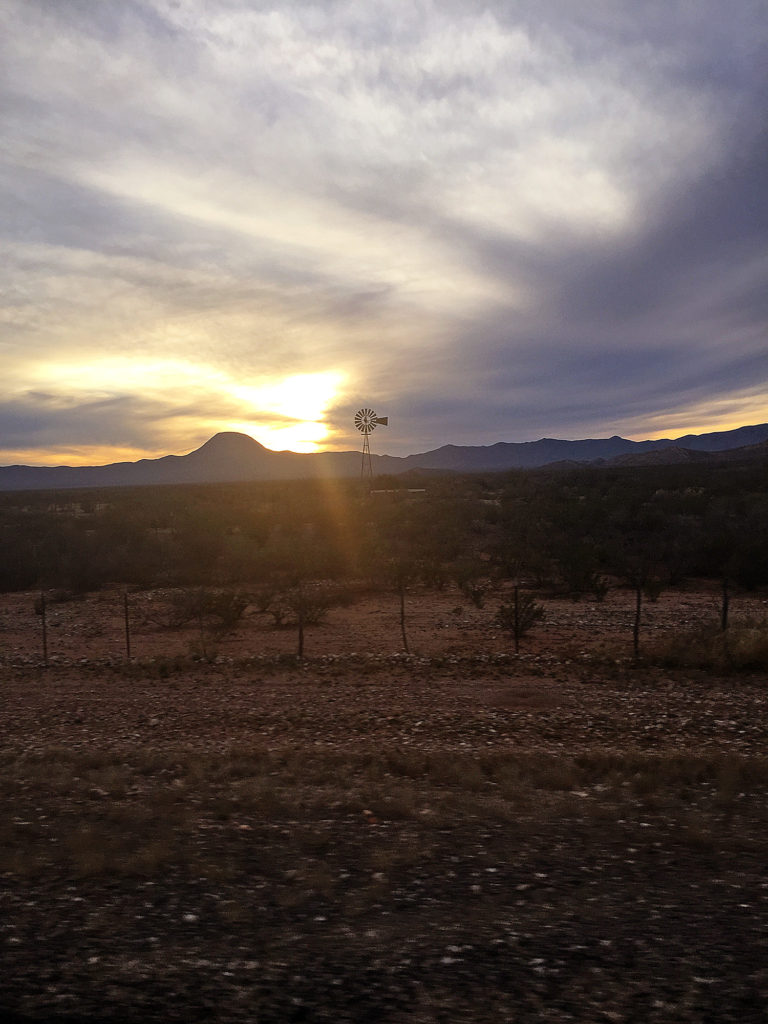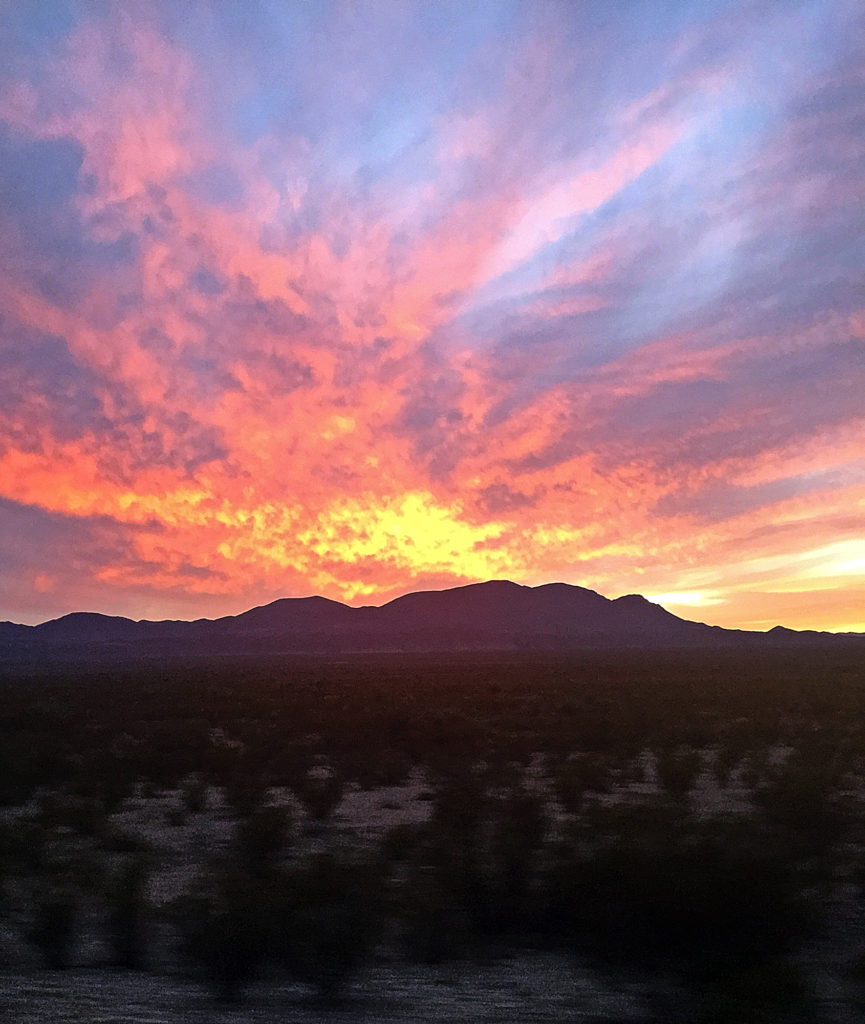 We arrived at Big Bend National Park just as the sun was setting; awesome jagged dry cliffs sticking out of the flat dry gravelly soils…. Found the campground and drove around in the dark looking for an open campsite; the place was packed full, and we took the last empty spot we could find (which actually had a "reserved" tag on it)… Found a better site with no tag, and moved there, but before we got set up, the campers occupying the site showed up, so we switched back…
12/27/16 TUESDAY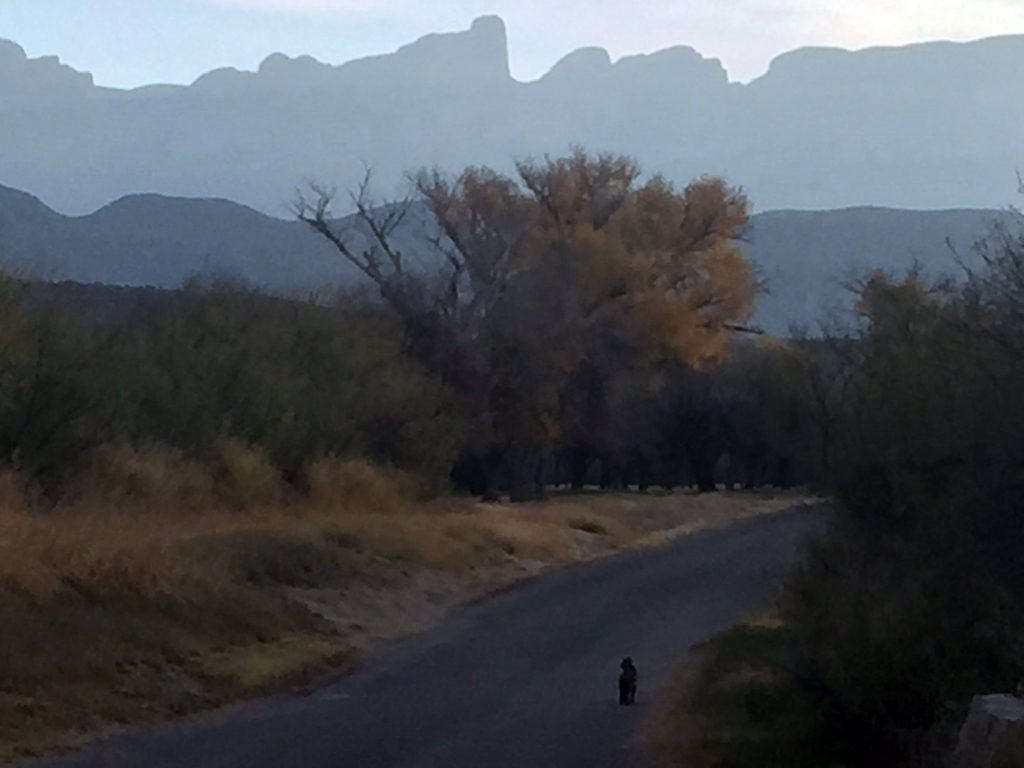 Woke up after another great nights sleep at the Rio Grande Village Campground in Big Bend. Saw a large Bobcat strolling down the road, and a couple hundred feet later, a unaccompanied girl walking down the same lonely road. We were planning on taking a hike to the Hot Springs, but stopped at the visitor center to find out campsites were getting rarer and rarer.
The entire Park was filling up; even the "primitive" sites that were accessible by road were all reserved. We were told the Chisos Basin Campground was full also, which word has, is the most scenic campground in the Park. Wanting to drive the road up the mountains to the campground anyway, we headed that way to hike a trail and check on the off chance that a site might be available.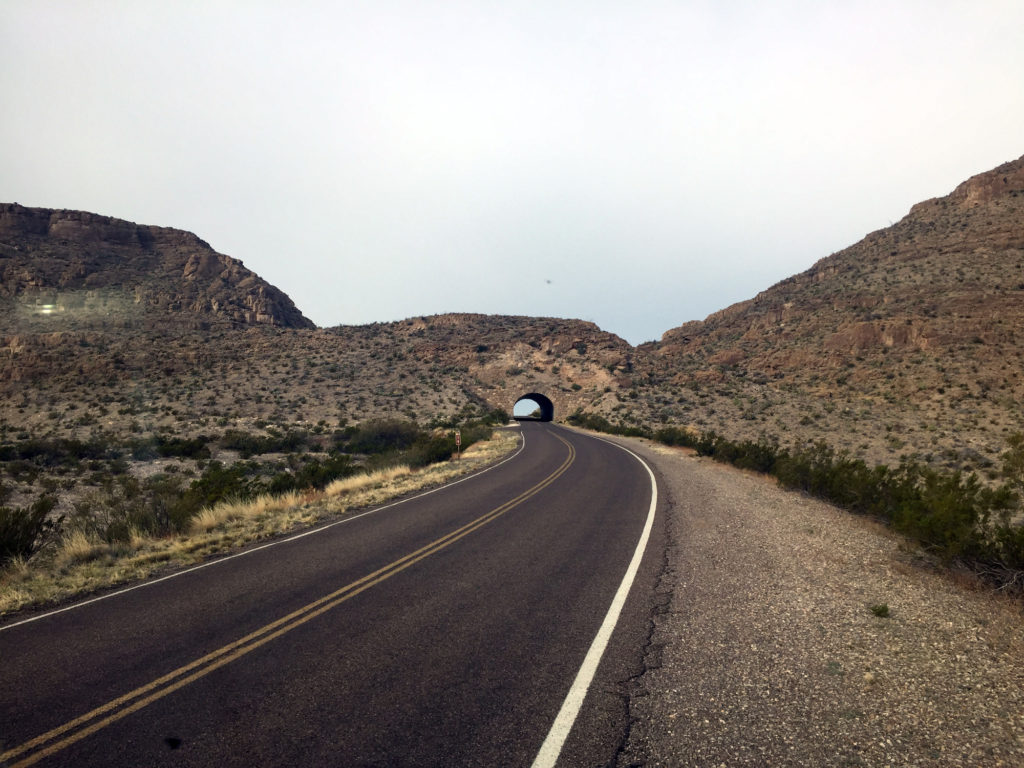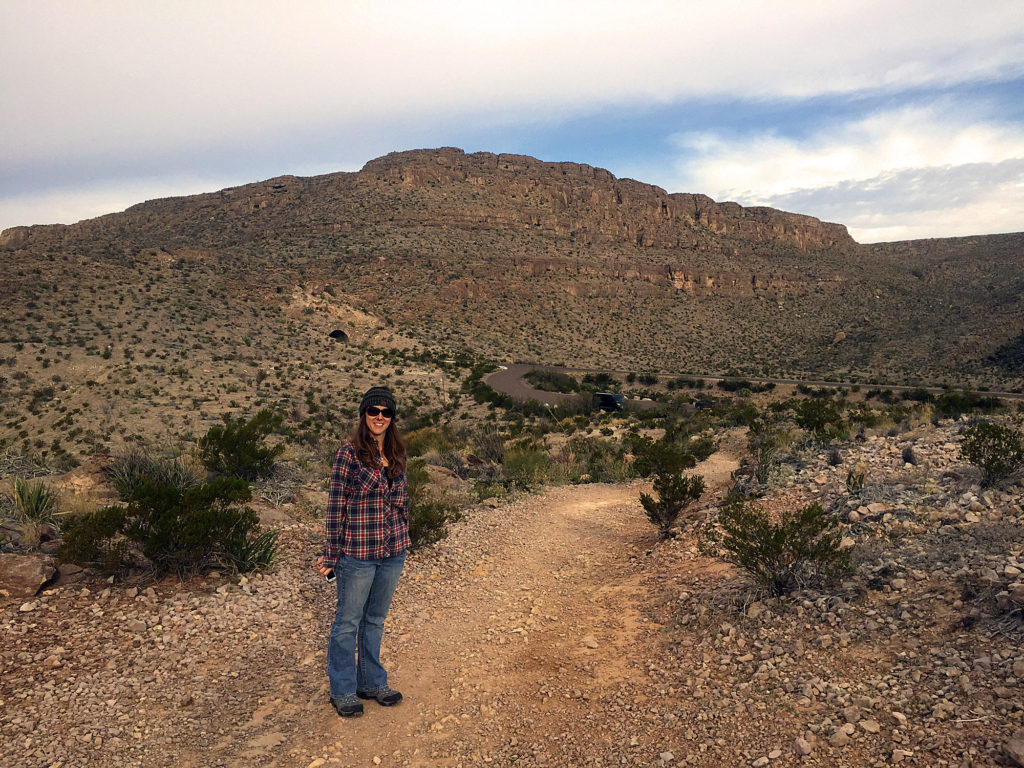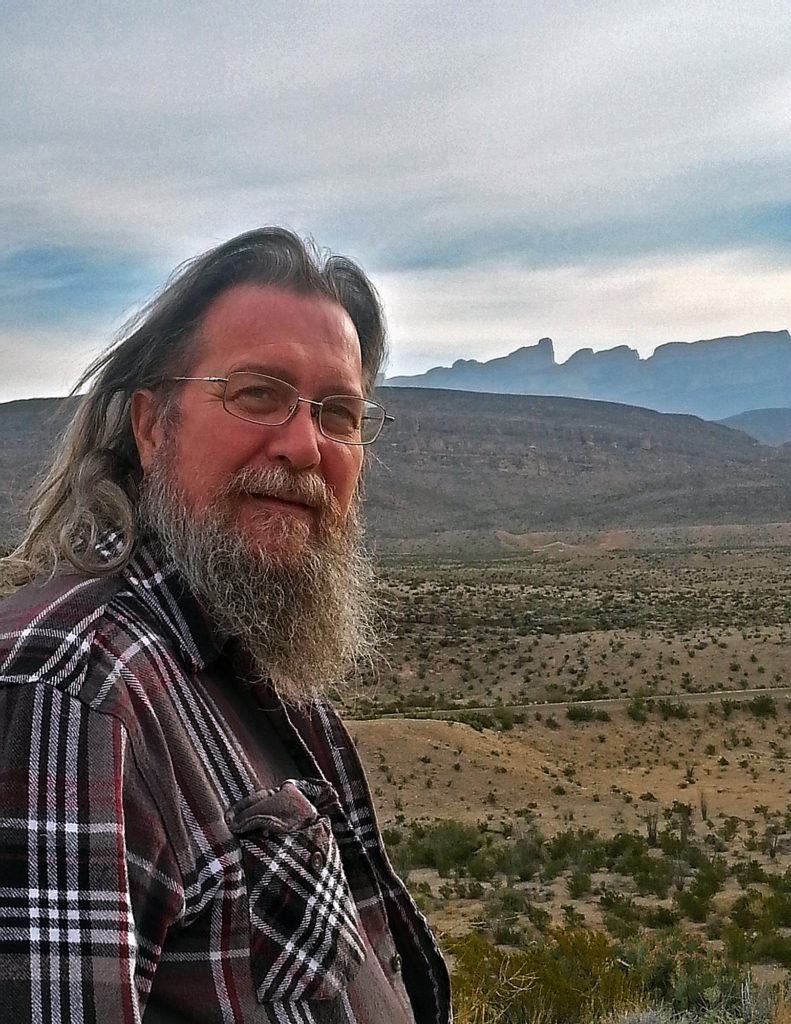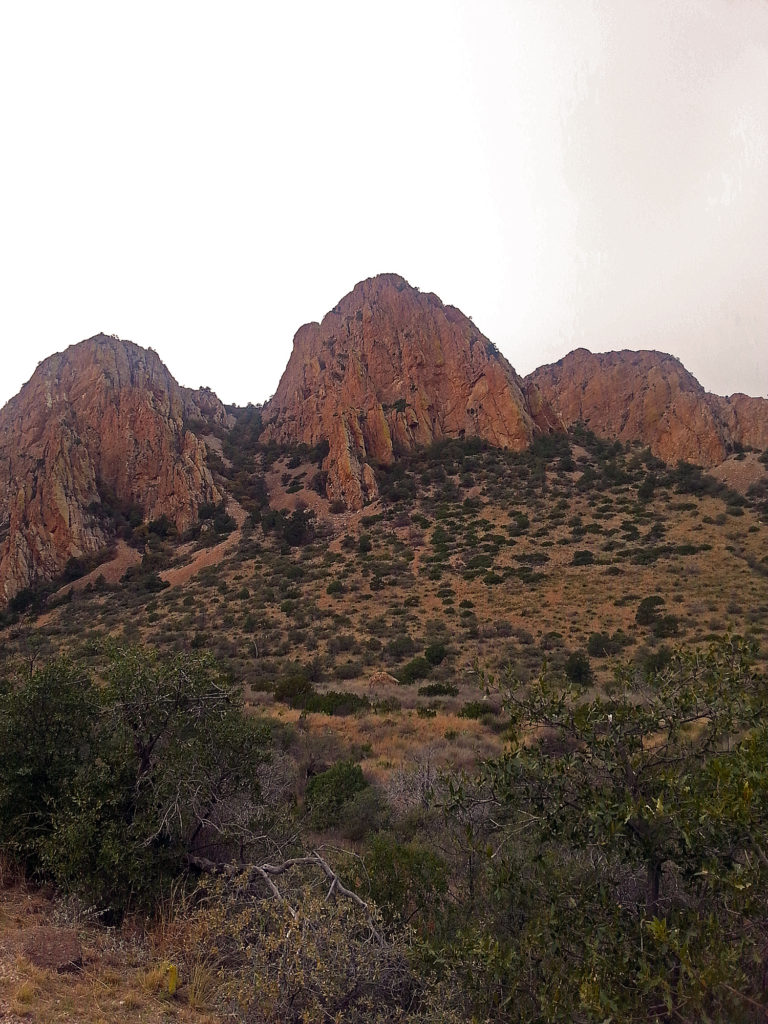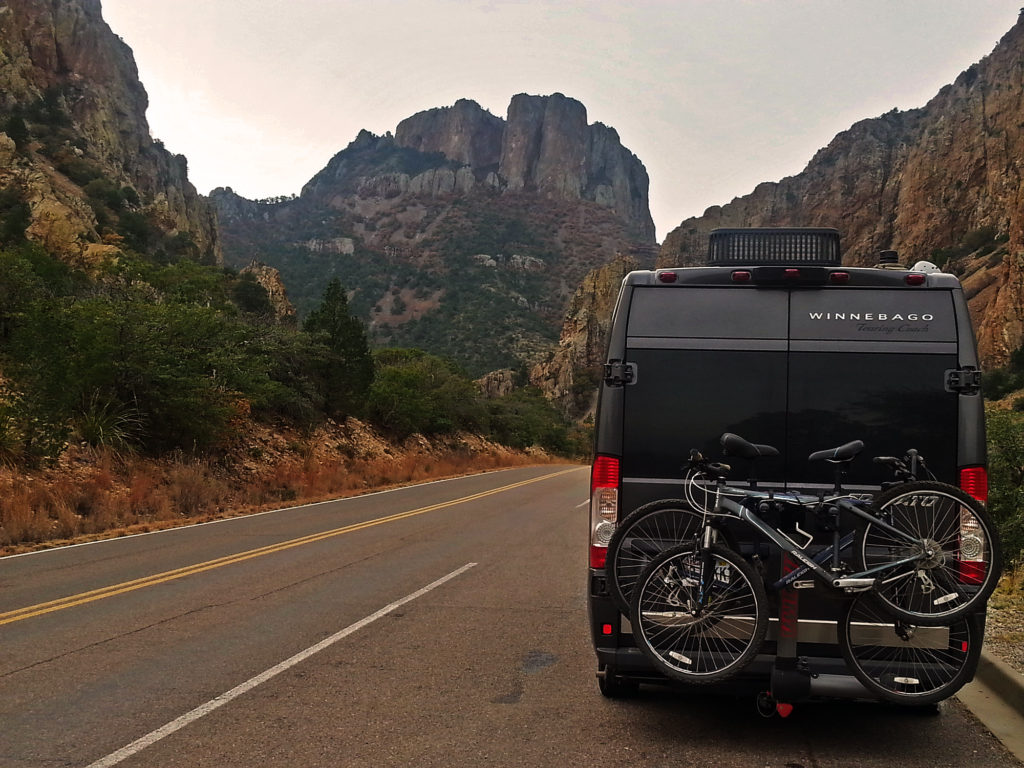 Sure enough, after making the loop a couple times, we made friends with a charming Volunteer camp host name Kay, who finagled us into a site to share at the "group campground". See picture of the awesome view from our windshield at the campsite.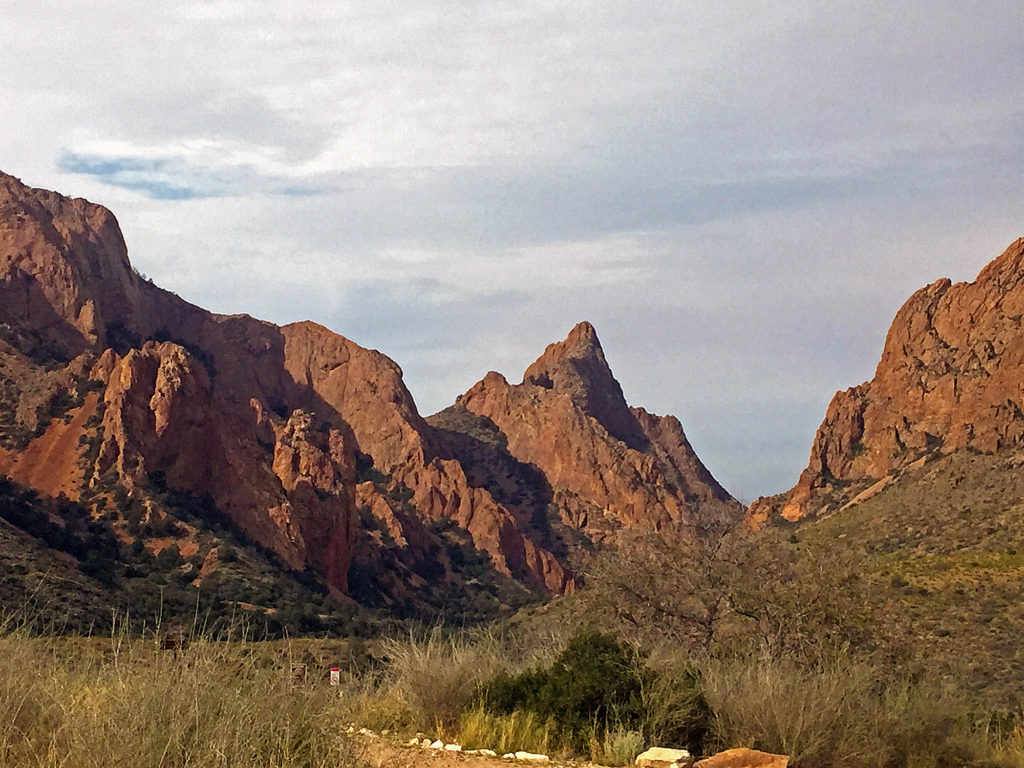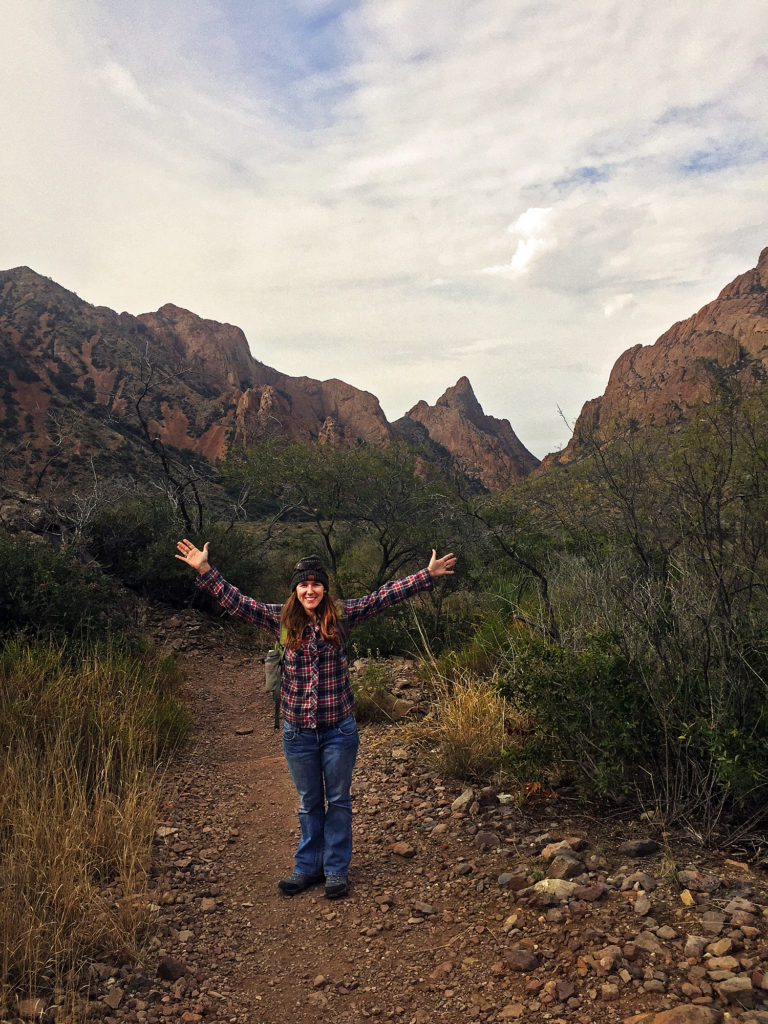 We tried to Level out Tony a bit, and headed down the trail to the "window". The window is a scenic look off where water pours out of a deep canyon, and into the valley of the Rio Grande.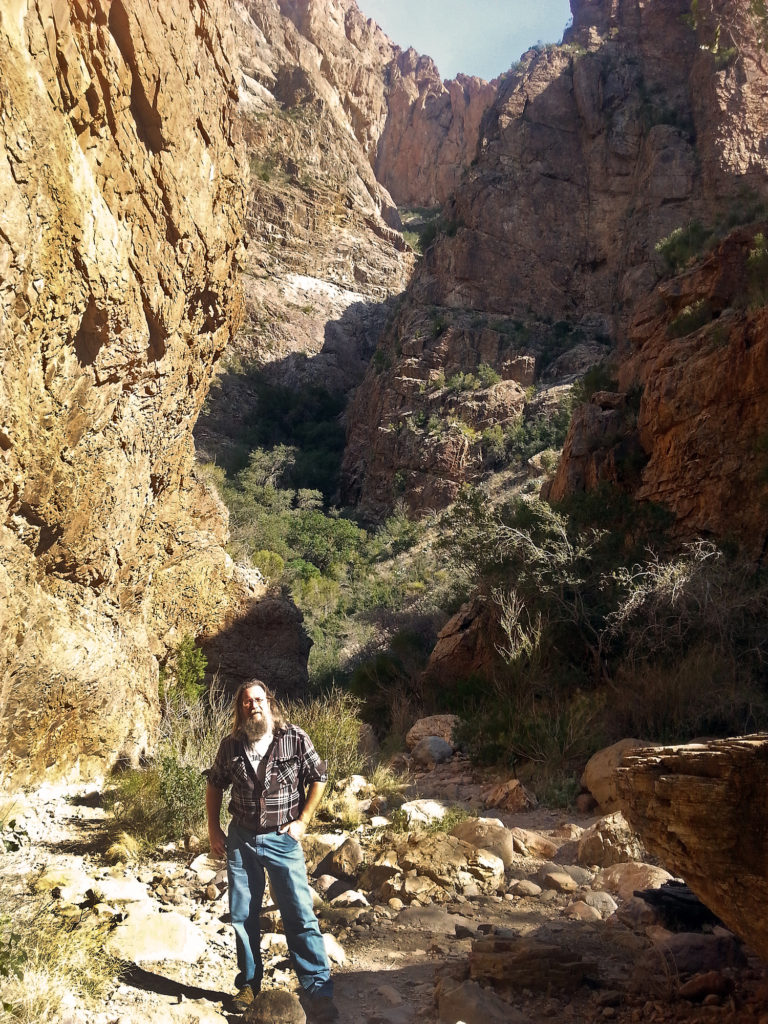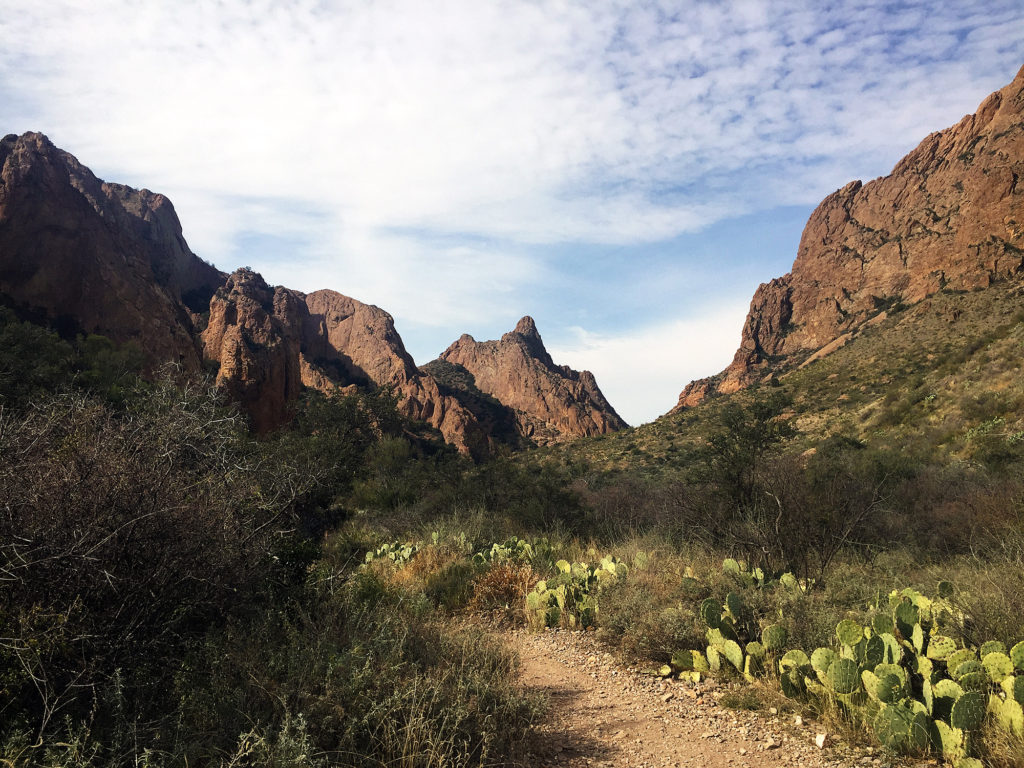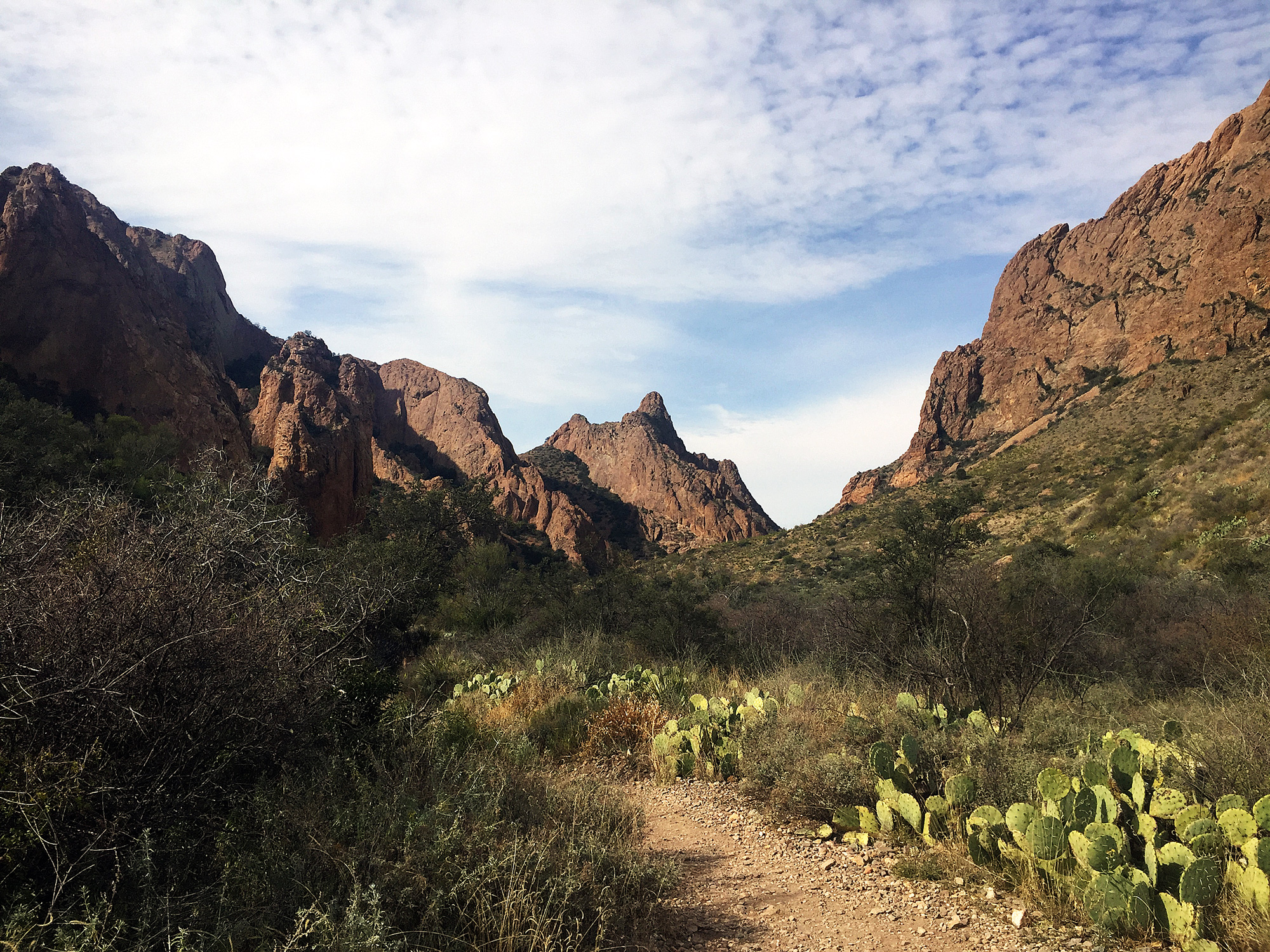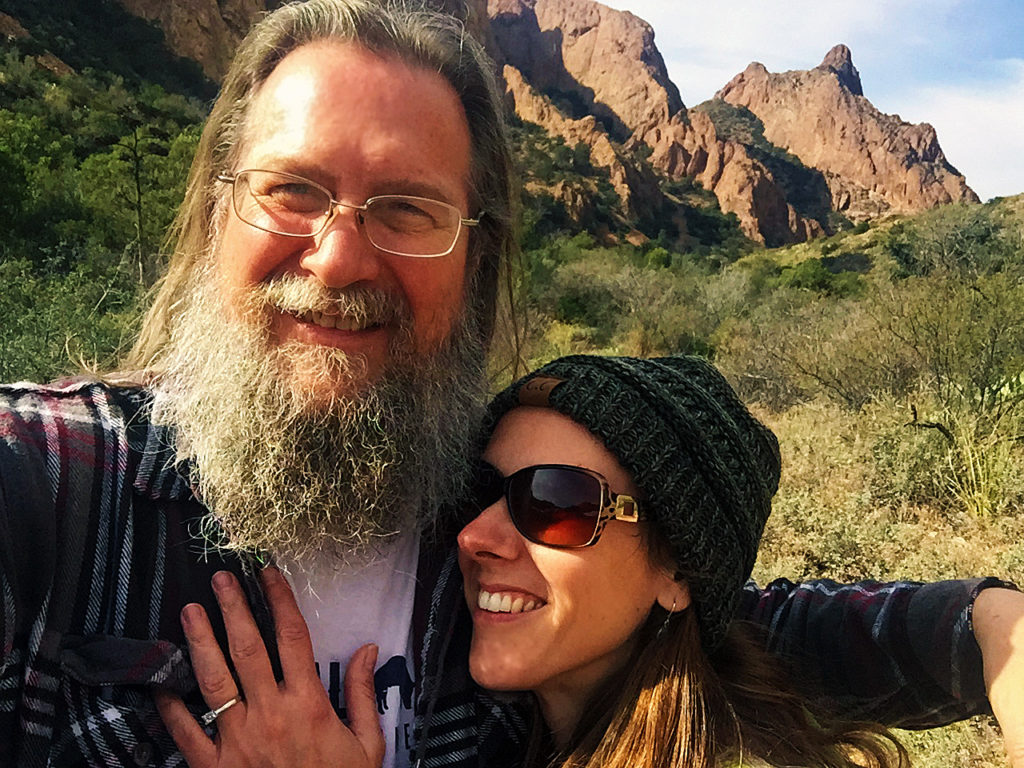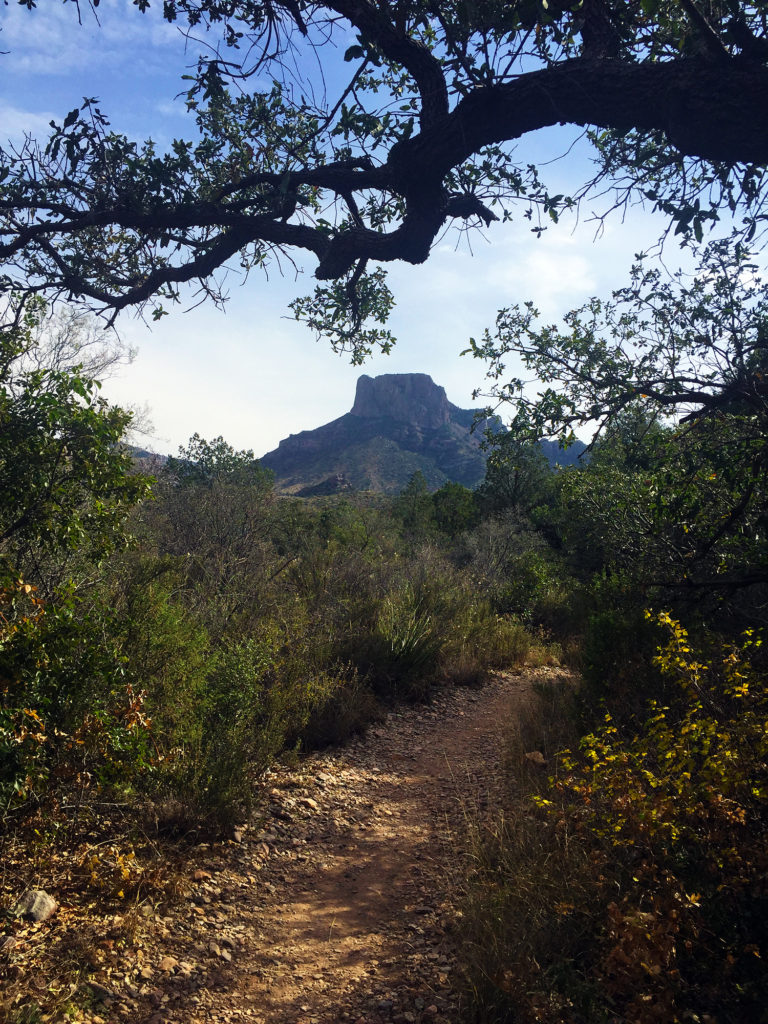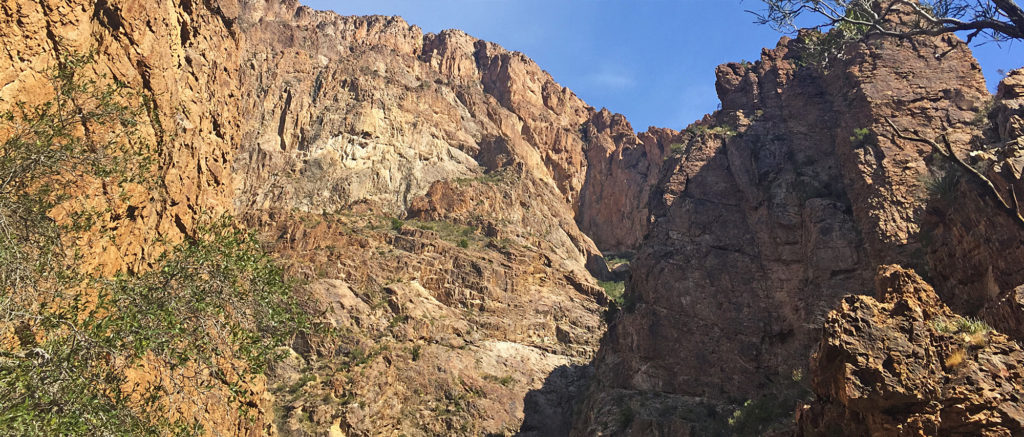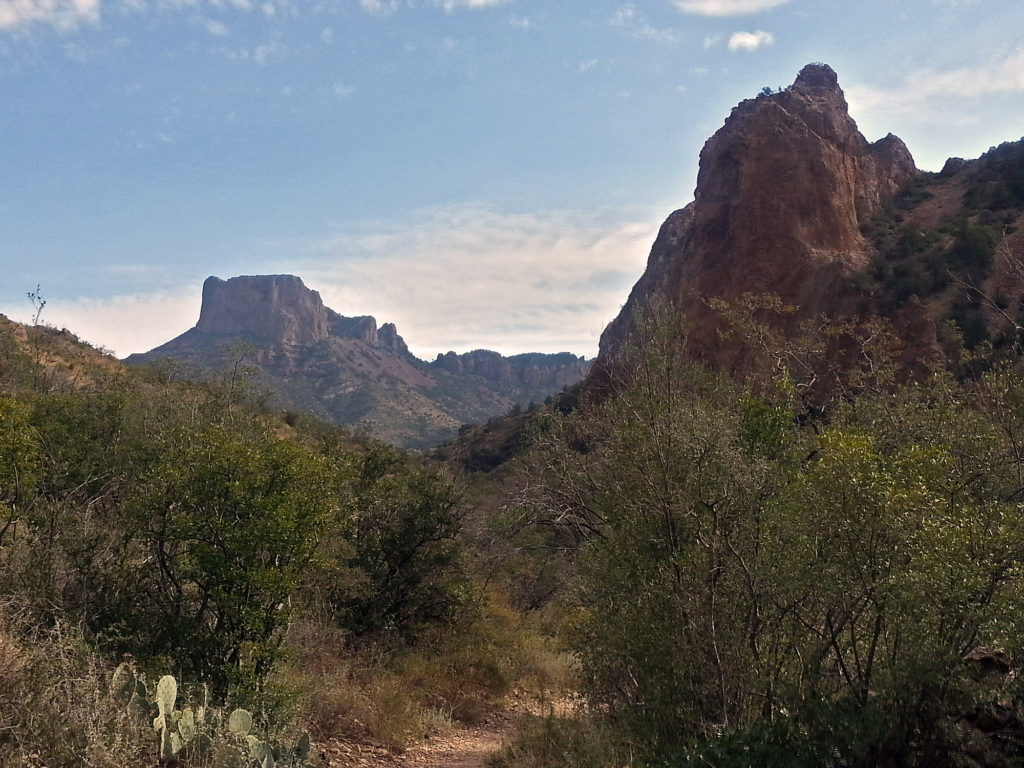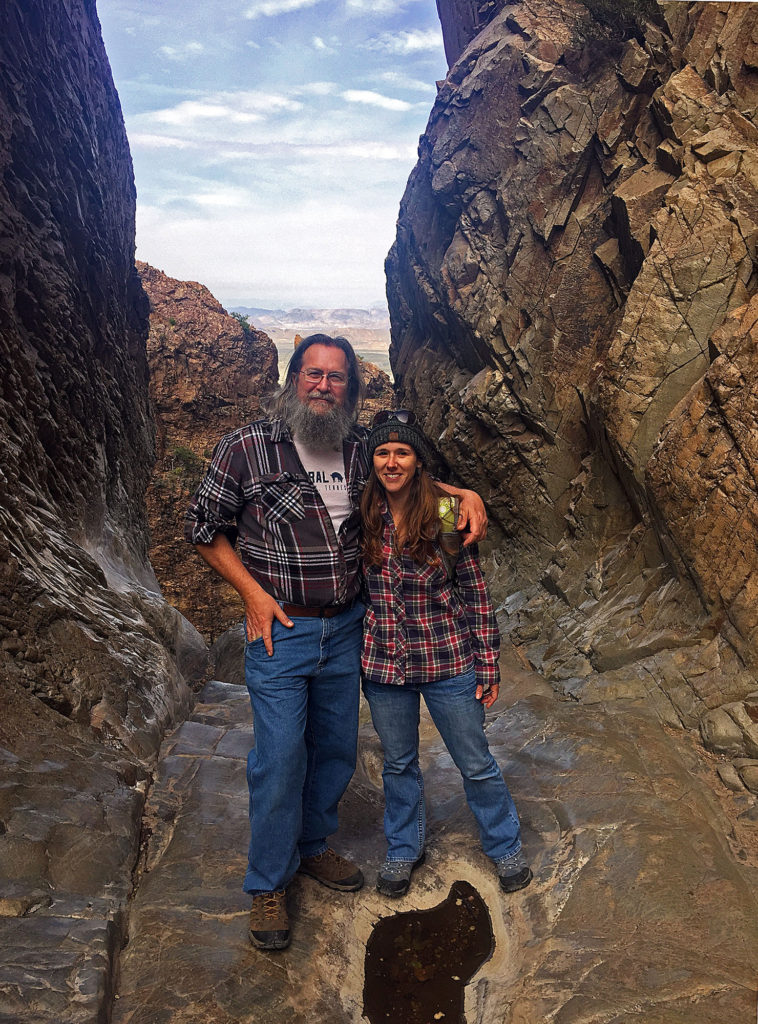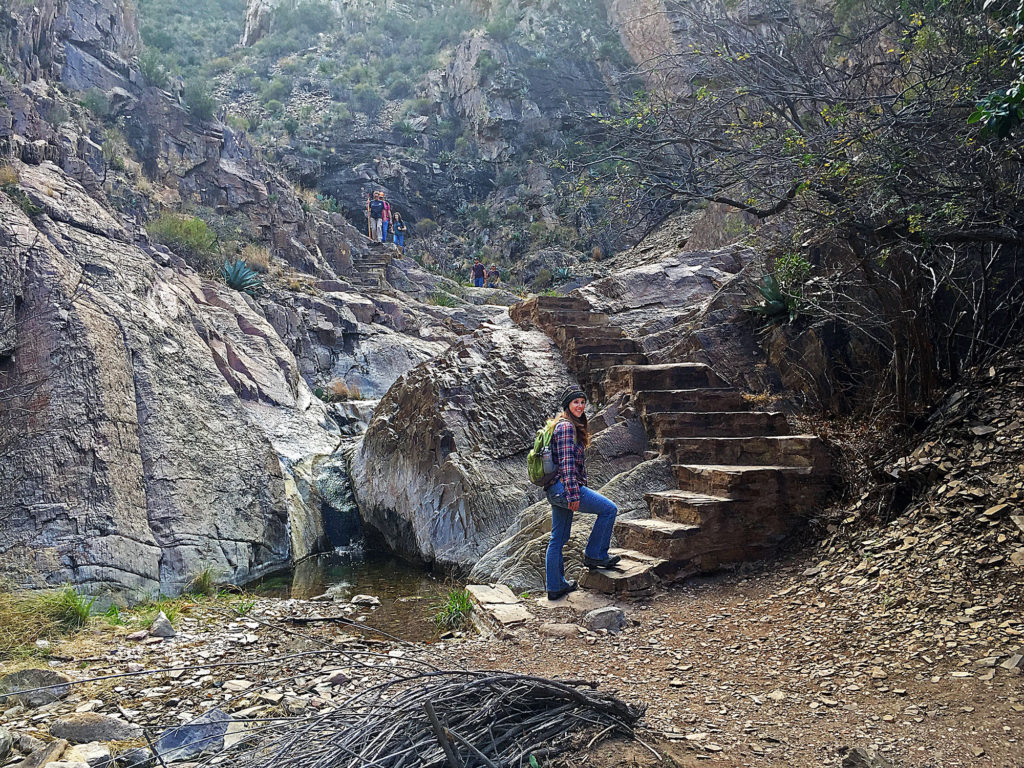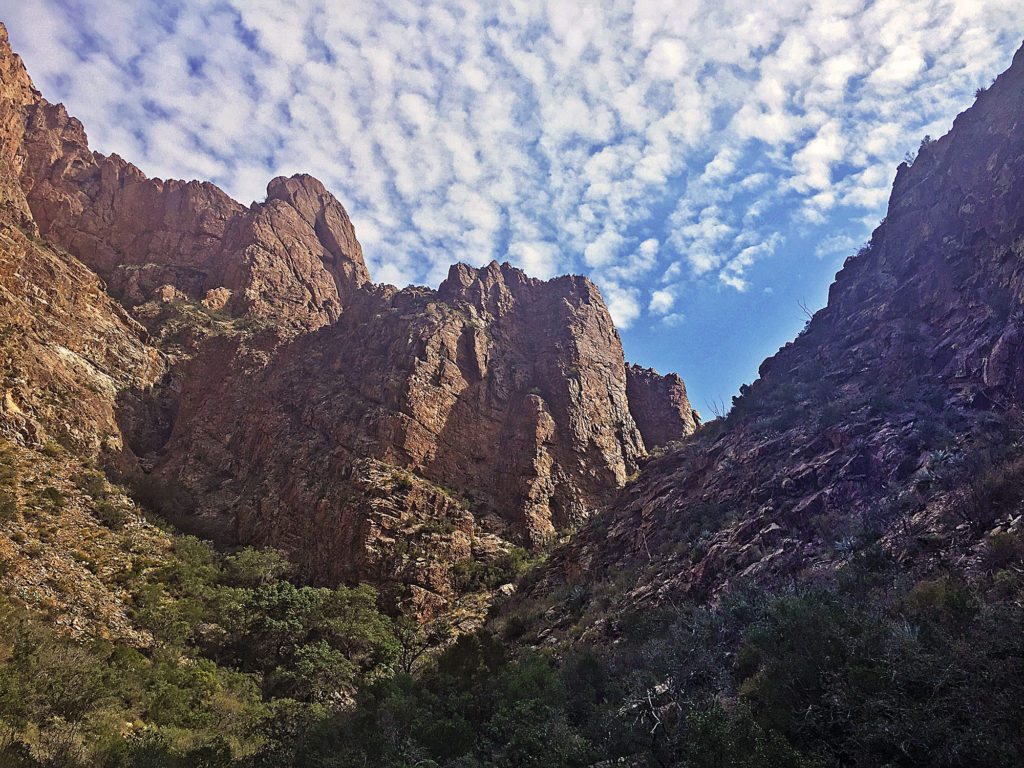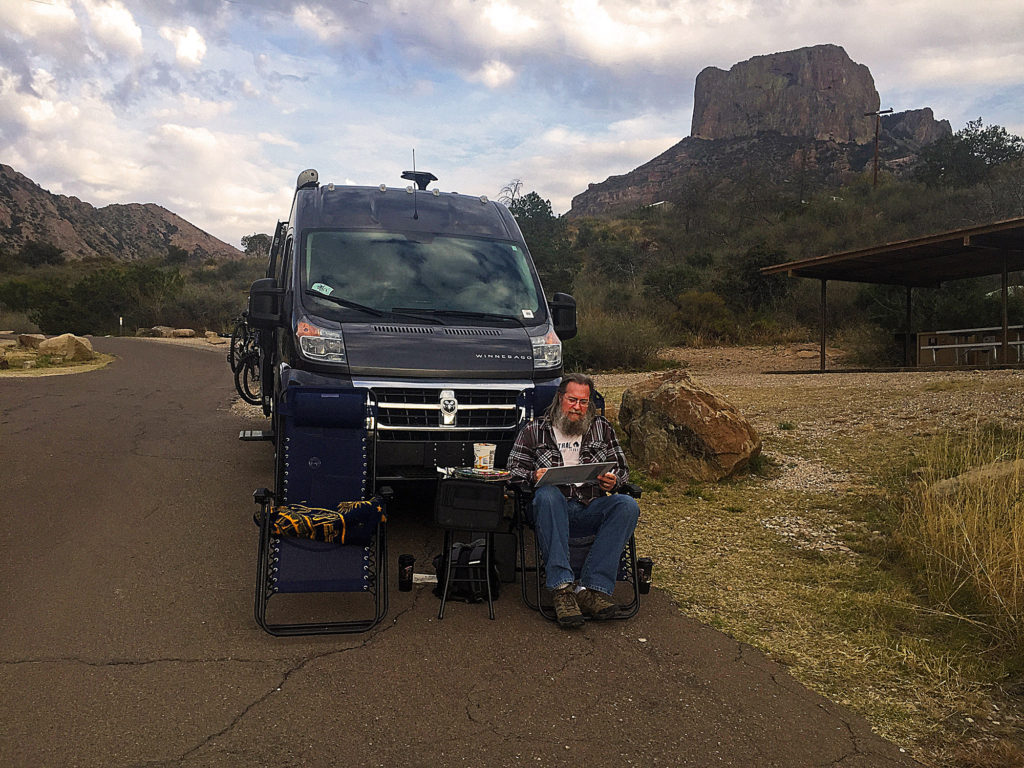 The painting results are on the next post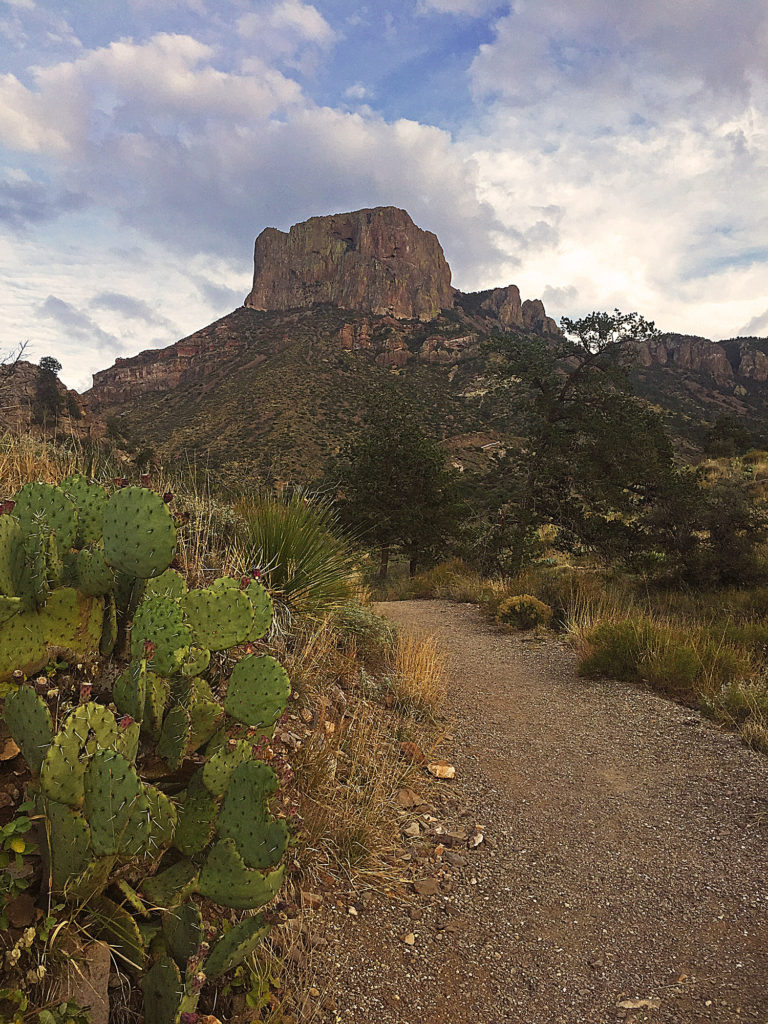 Awesome views and Rock formations! The skies were a bit cloudy on and off, the weather was perfect for the 4 mile hike.  Took off about 11:30, returned at 2:30, made sandwich and relaxed in our new "anti gravity" chairs taking in the view…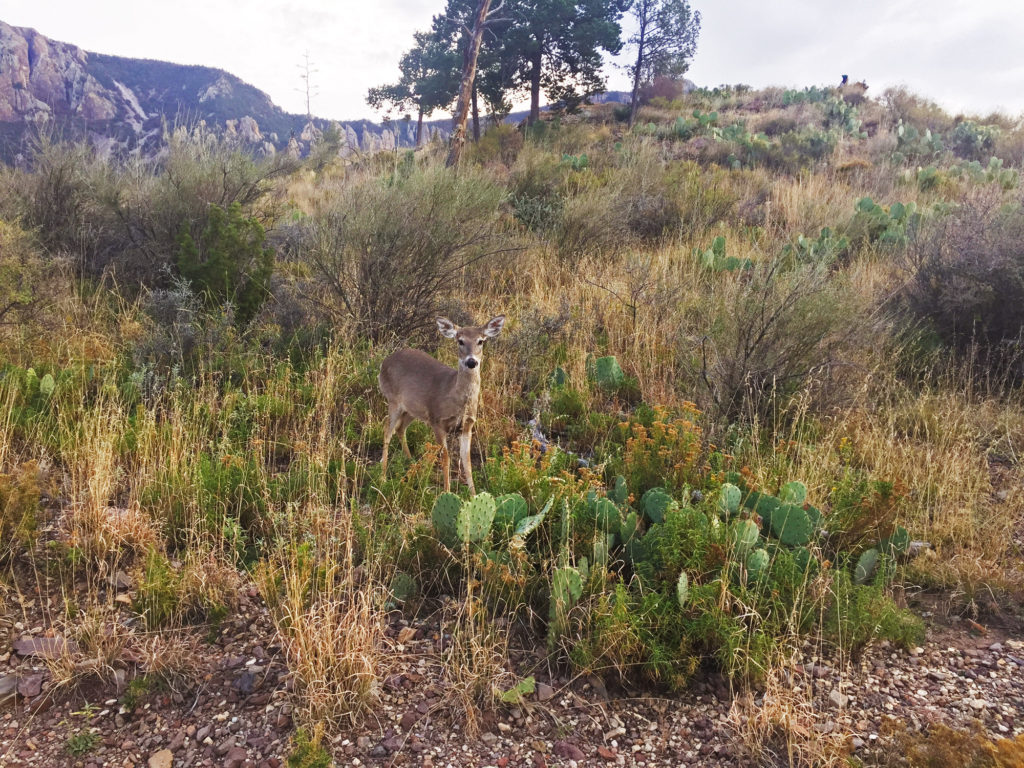 Jennifer played Sudoku and took an additional mile long walk up to the store. I struggled to put this gigantic majestic mountain view onto an 11×14 canvas…
The air cooled quickly as soon as the Sun went down and we both showered in Tony. Jennifer made delicious steak burritos with sauteed peppers and onions.
We always talk about how quickly we could get used to life in Tony for long periods of time. Neither of us are too sure we would have an interest in living Fulltime in an RV without a home base, but extended travels would be a dream come true. It's really been somewhat of a life long dream for me; traveling in a B Van, painting my way from place to place. We both love to hike, experience new places and people, and even to drive. Jennifer appreciates the "downtime" reading, cooking, doing puzzles or just enjoying the scenery while I paint. We cherish our time together. Life is never better than when you are in Love.
WEDNESDAY 12/28/16
After Toast and grapefruit, we drove over to Castelon and by Cottonwood on the Ross Maxwell Scenic Drive. Stopped and a did a quick hike to Burro Mesa pouroff, and then another just down to the Rio Grande.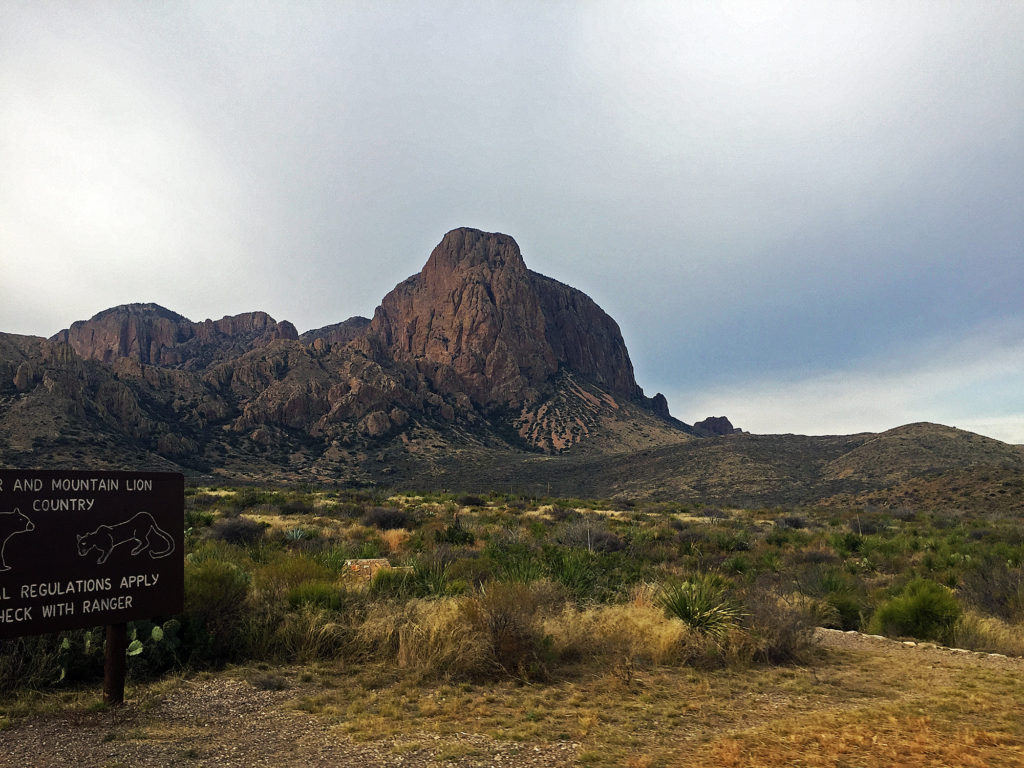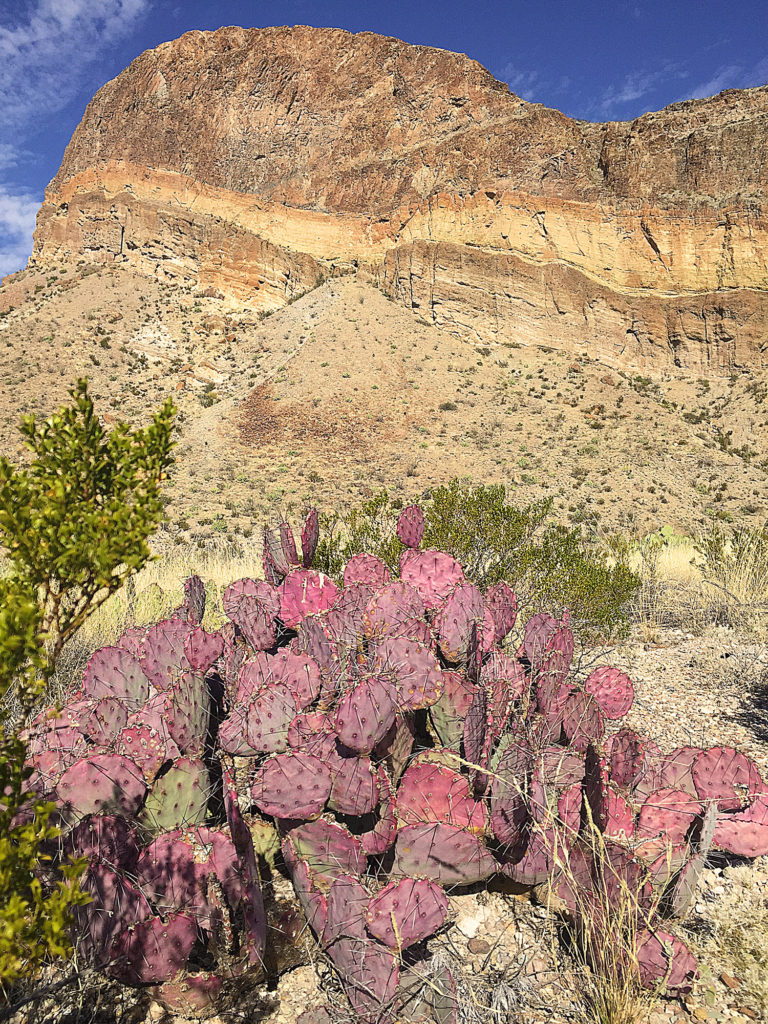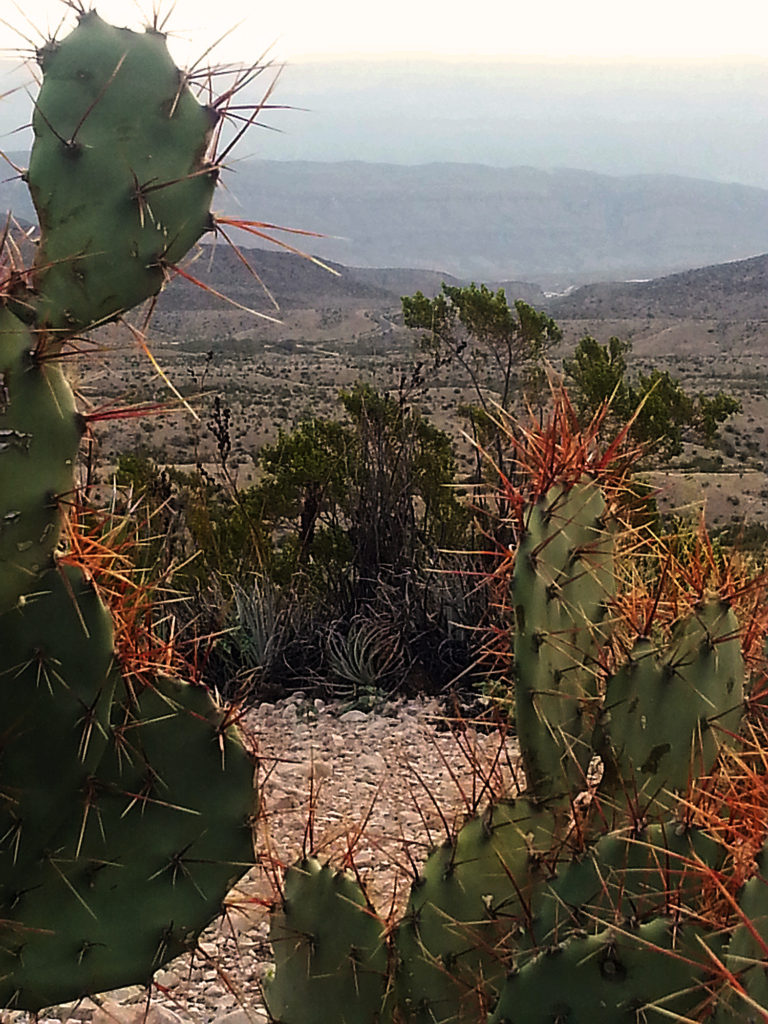 Drove along through the desert looking at this huge rock face cliff that goes on and on for miles in Mexico. At the base of it, is the somewhat unimpressive Rio Grande River. A small, fast moving milky muddy colored river.  Took another hike up over a bunch of rock steps and down to the Rio Grande at the Santa Elena Canyon; lots of people, but the canyon itself is the stuff movies are made of (and I'm sure they have been). As Jennifer said, "This place would be really peaceful if there weren't so many people".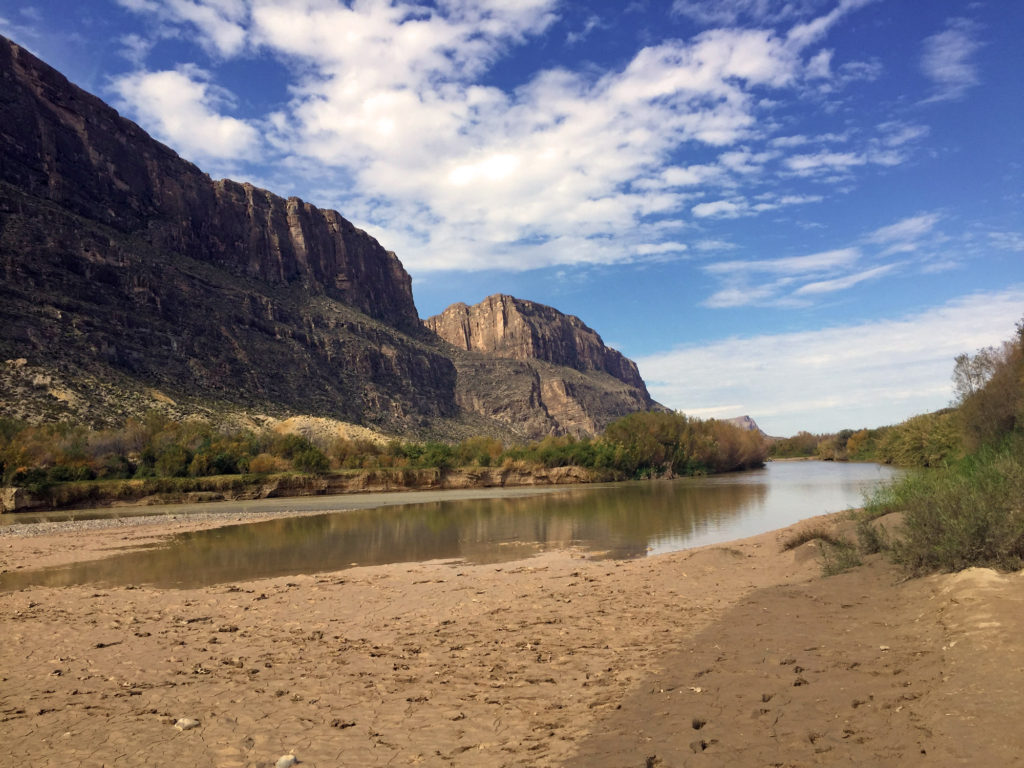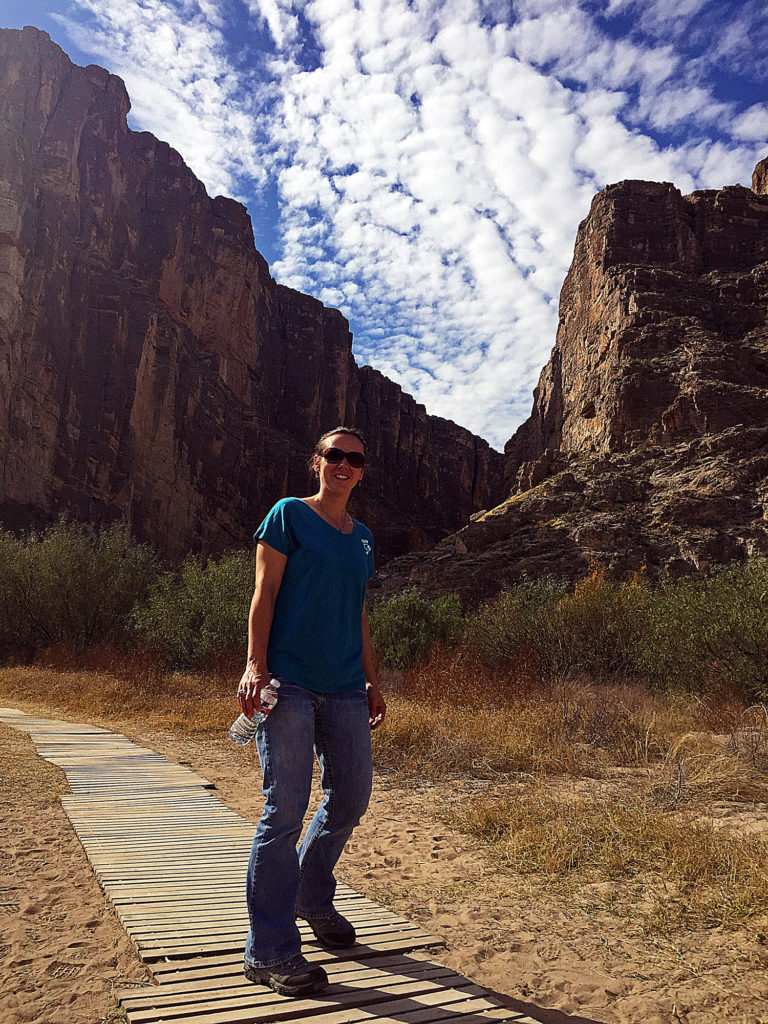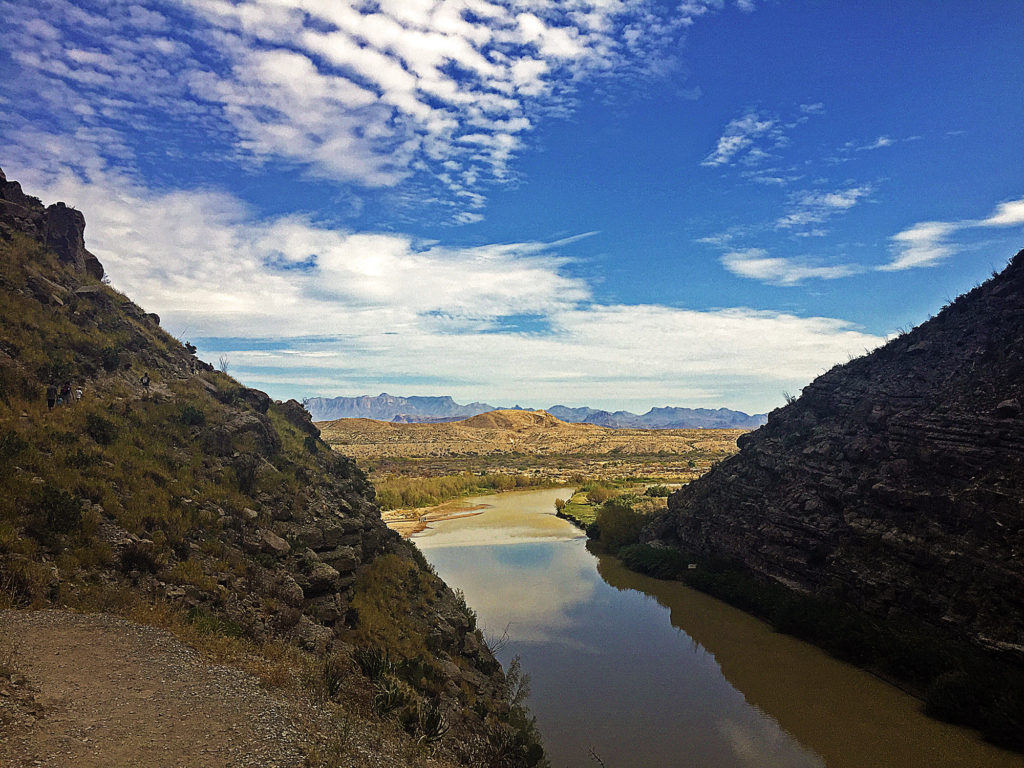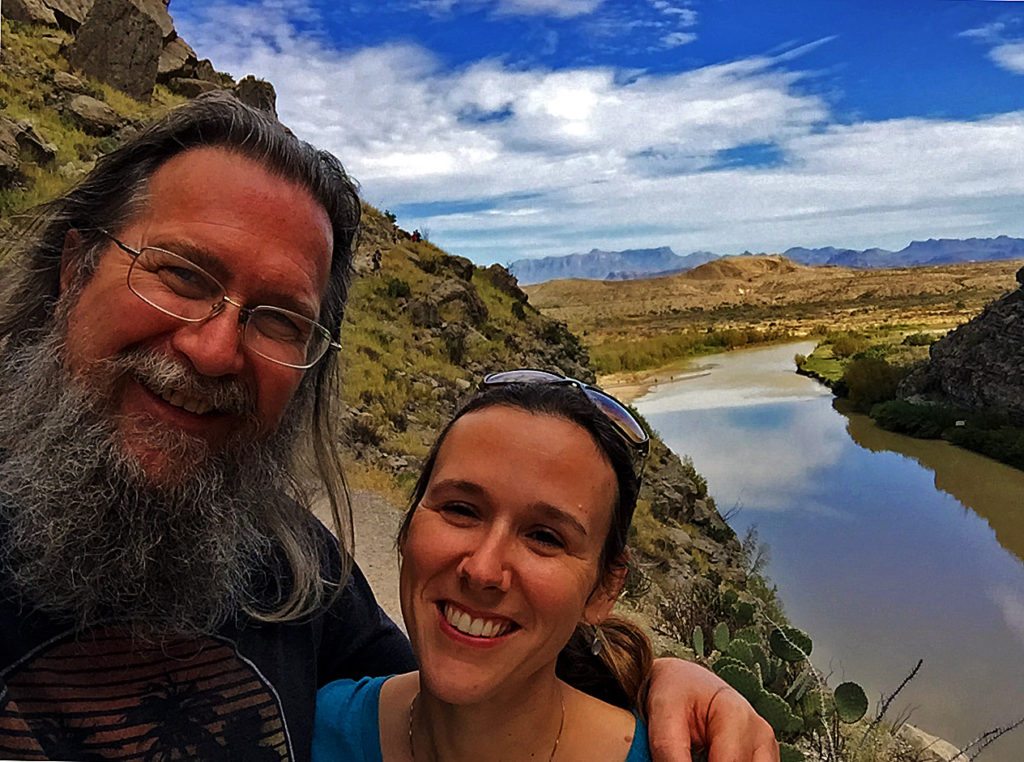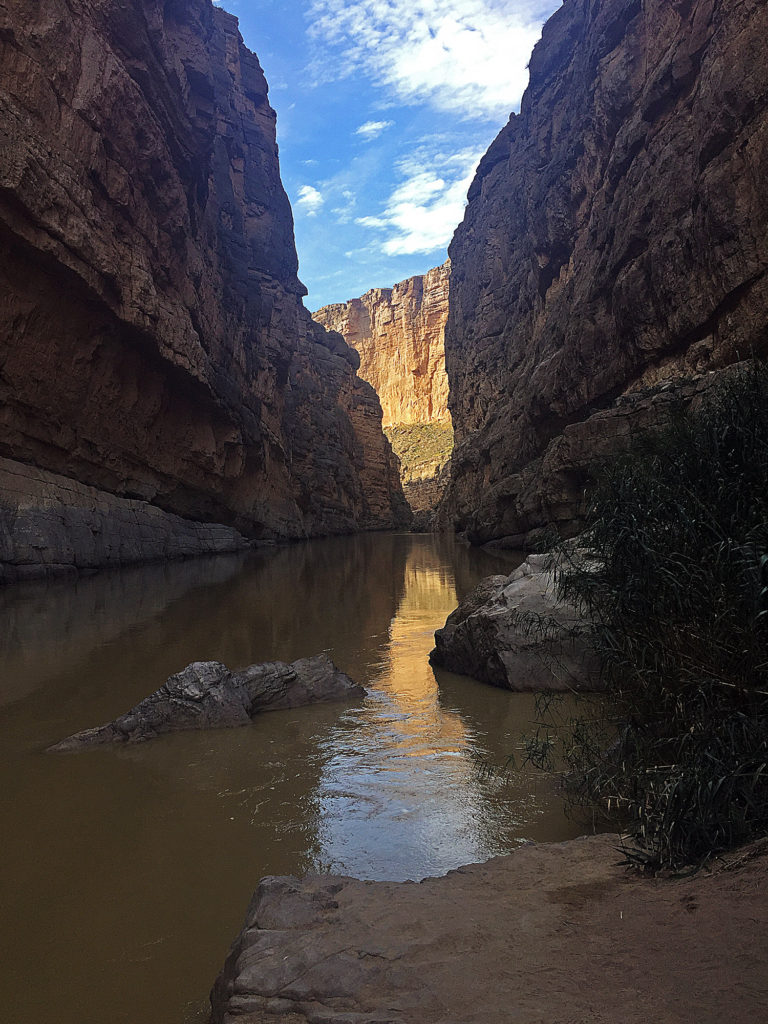 Since the park campgounds were reportedly full, we decided we'd head north and out of the park. To mix things up, we took Tony through the desert on his first posted "4 Wheel Drive Only" Road.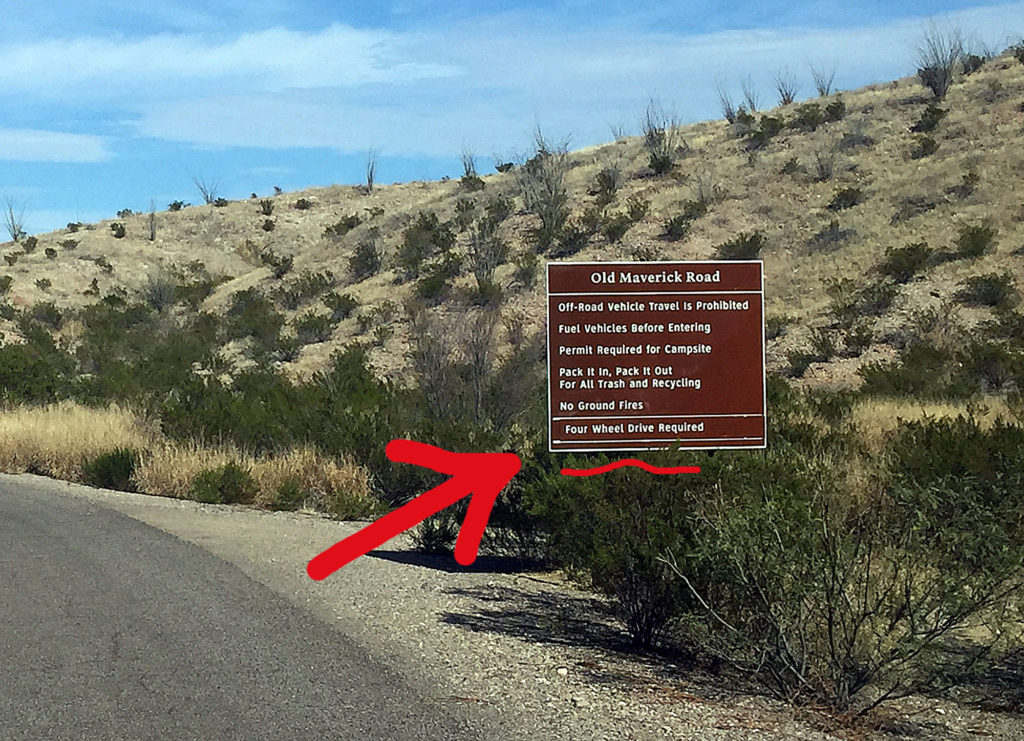 It was nearly 2 hours of packed gravel, loose gravel, lots of washboard and a couple little dry stream bed crossings. The van handled it easily as we plodded along at 5 or 10 miles an hour. Somewhere in the middle of nowhere, we stopped to view an old mexican "farmers" homestead called Lunas Jacal. They say he raised goats, but how he could have farmed ANYTHING here is beyond me. What possesses a person to live in a place like this I'll never know. This man lived here (at one time with 6 children), till he died at 108 years old…  108 YEARS old… Water nowhere to be seen, very little vegetation, no visible wildlife spare a few birds, and barely a tree to speak of. The temps reached above 80 degrees, and in the full sun it was beginning to feel hot on the 28th of December. I can't imagine being here in the summer when they say temps hover around 110 degrees, much less LIVING here, for a hundred and eight years, early in the 19th century, in a 4' tall mud house, with six kids, and no water!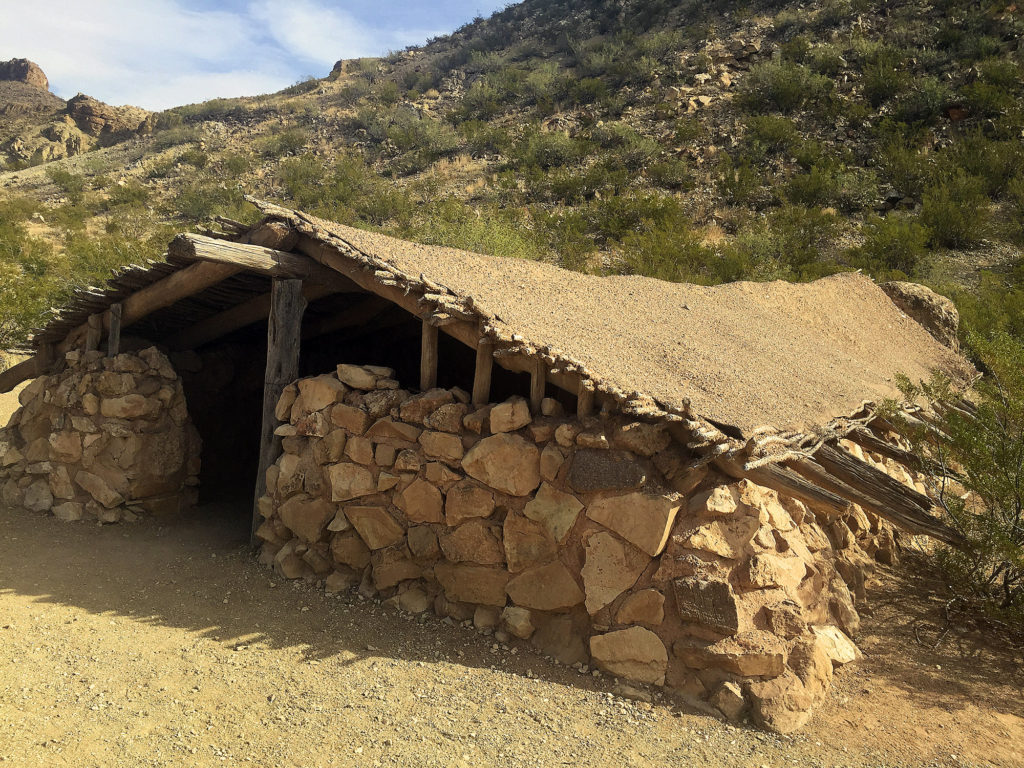 We continued on to Study Butte and the Terlingua Mining Ghost town, which was something worth missing. Though we didn't give it much of a chance; it looked to me to be a bunch of old collapsed stone walls, the ruins of a early 19th century village. The disappointing part is there was no easily visible accounting's of the history or what was going on. It was a bunch a scattered rocks.. We did visit a little Artist's Co-op that was interesting. So we carried on another 100 miles or so north, and ended up in Alpine Texas. We asked some local guys at a True Value Hardware store for the best Mexican food in town, and they sent us to a jam packed, understaffed, place called El Patio that served "too hot to eat" Salsa and stale chips.. The actual meal was OK.
Note to self: Dont ask the helpful hardware man for gourmet food recommendations…
We stopped at Davis Mountains State Park in Fort Davies for an overnight, shower in the morning (Thursday the 29th) and took off through the Barilla Mountains, for a long and desolate 3 or 400 mile drive through the "hill country" to Fredericksburg.
Fredericksburg was all decked out for Christmas..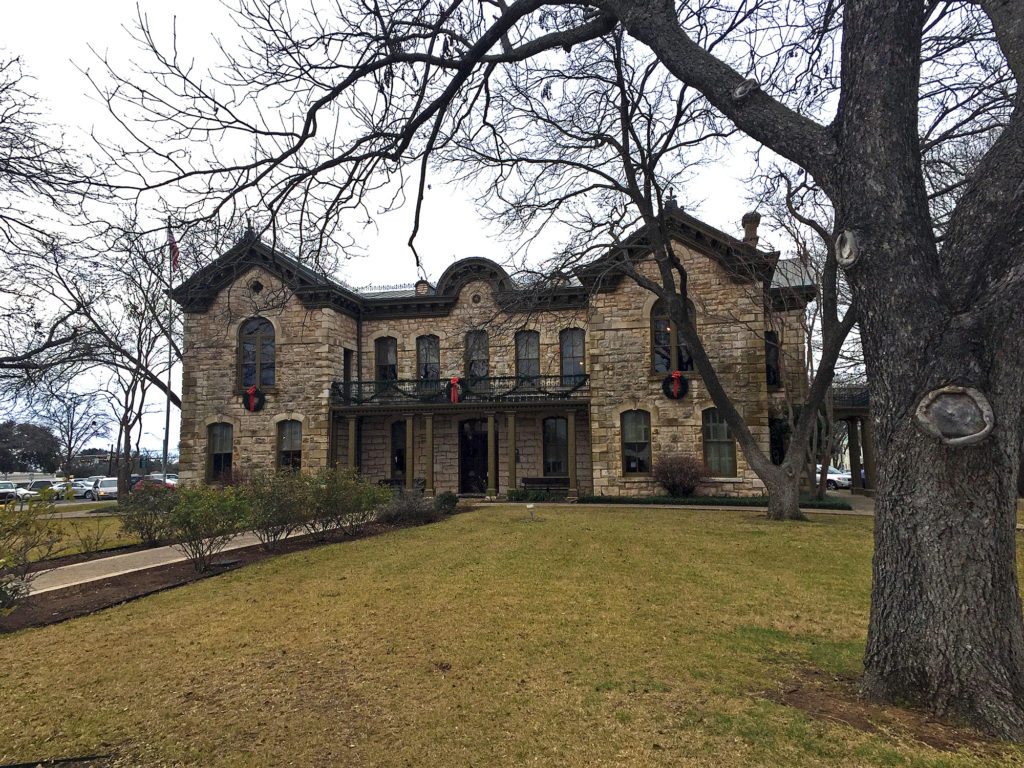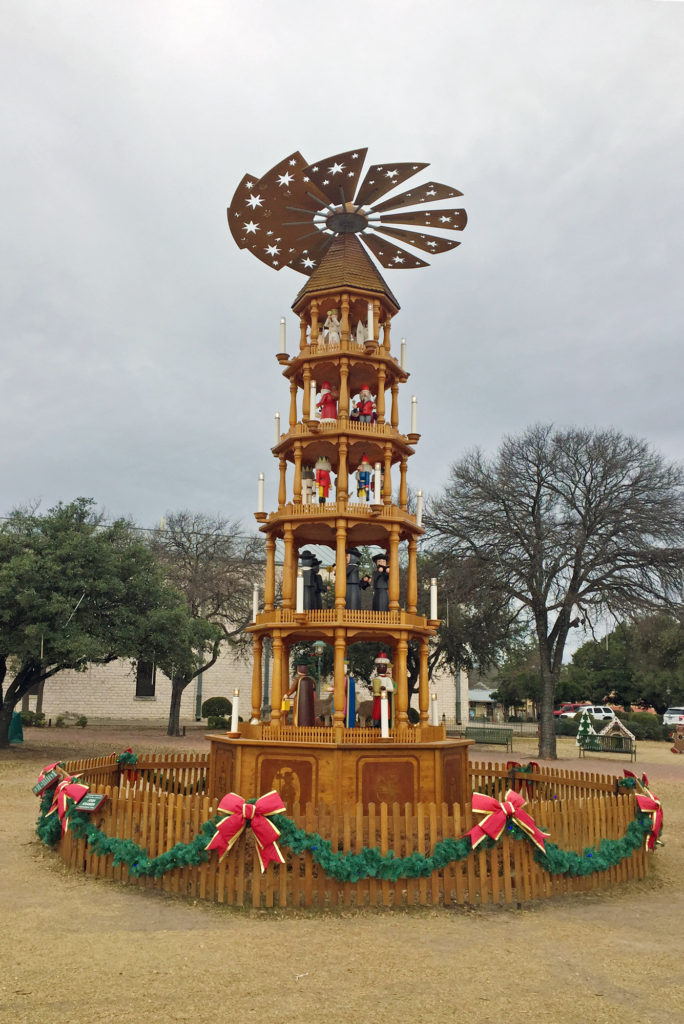 Fredericksburg seemed 3 or 4 times bigger than it was the last time I visited.
We met up Cathie and Kevin who are fellow Travato Owners and had some great german food and a couple drinks at the Bavarian Inn.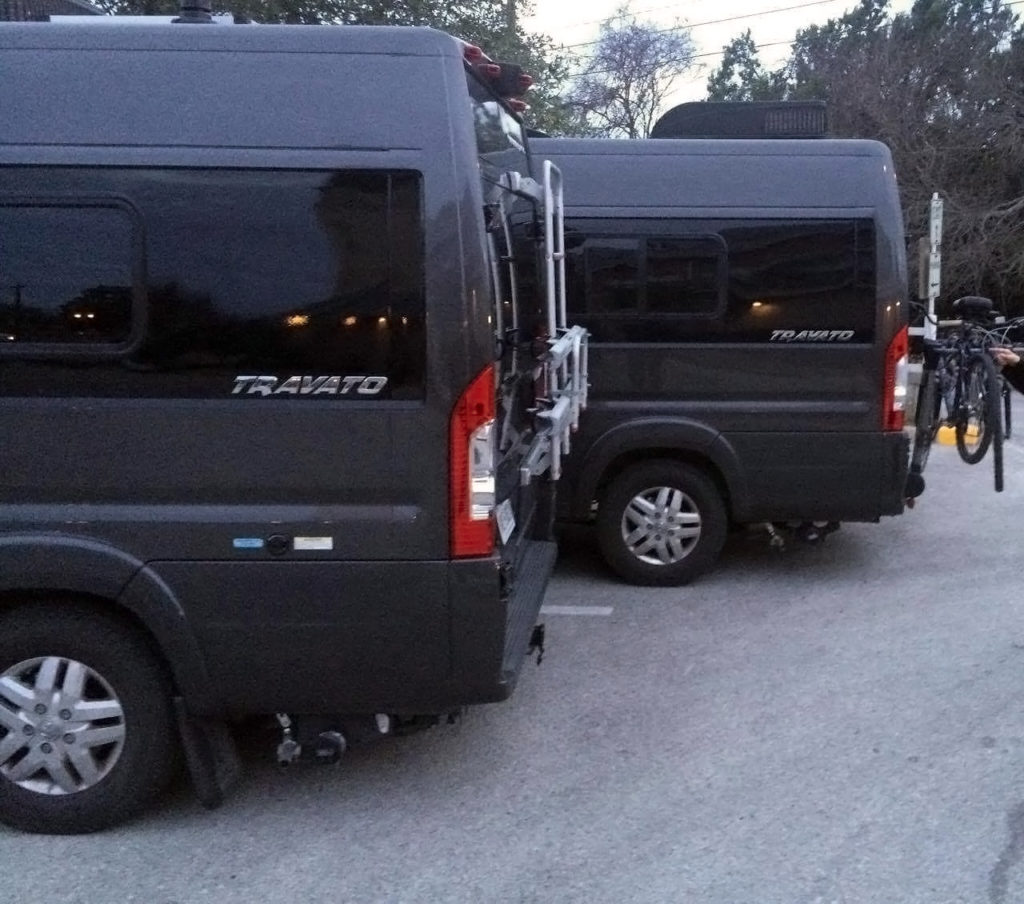 We were told to stay at enchanted rock state park and had hoped to do some bike riding there, but the park was full. One of my handy phone apps said there was a Lady Bird City Park/Golf Course/Airport just a couple miles out of town. Once again, the RV park was pretty much full (and cramped and ugly), and Jennifer got the Hostess to give us a "tent spot", which was an huge open grassy field (looking down on the crowded RV park).

FRIDAY, December 30th
We were on to Austin where we rode bikes around Lady Bird Lake in Downtown.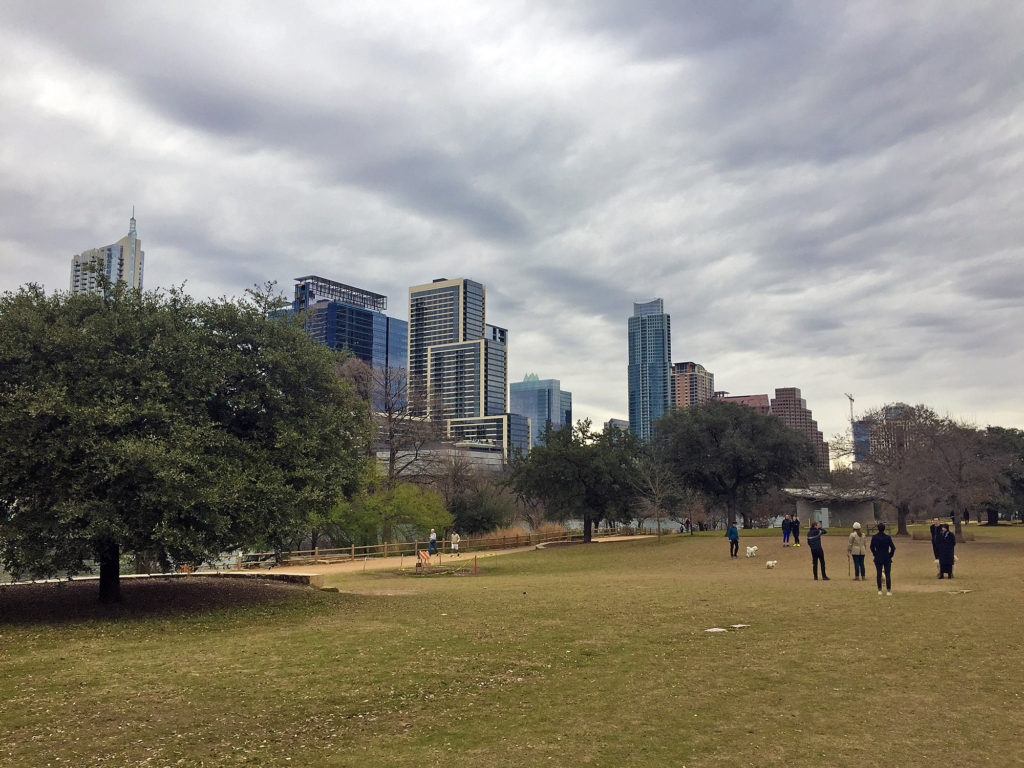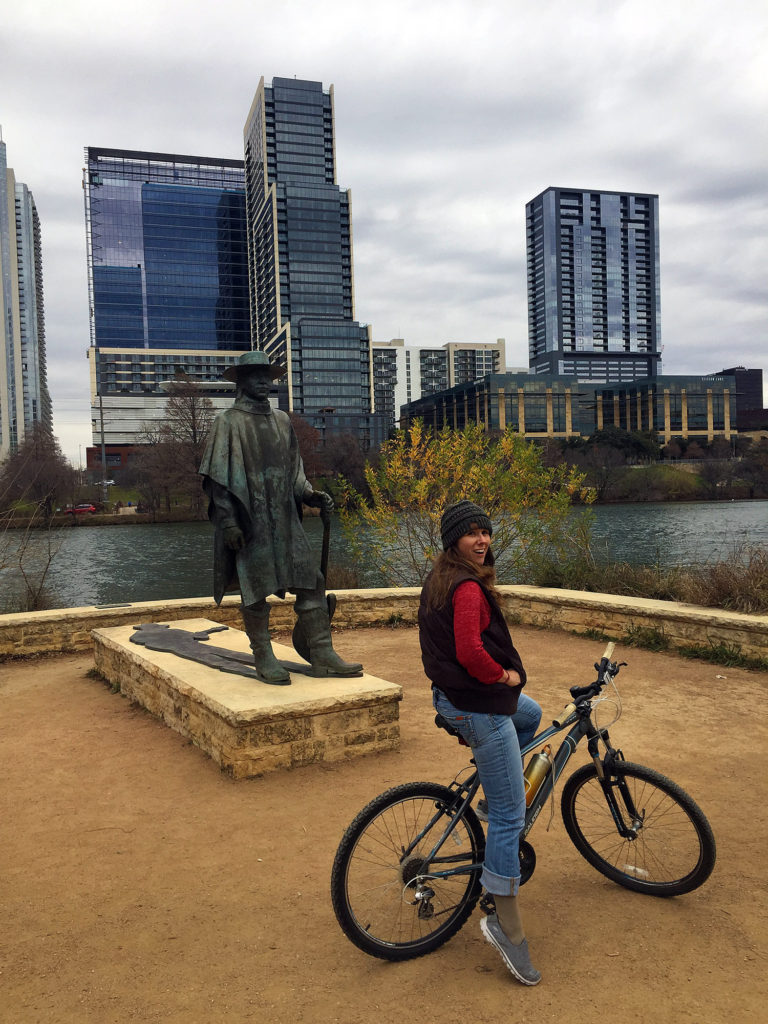 We have come to discover a certain odd charm to Urban Bike riding. We are both people watchers, and there is no better place to do it than in City Parks and along bike trails.
After our ride, we stopped by for a short visit with Robert and Chaka at their recently remodeled home in Austin. Beautiful place with great energy and a nicely landscaped city garden in the back yard.
For a change of scenery (and culture) we visited Austins 6th Street Music and Party District: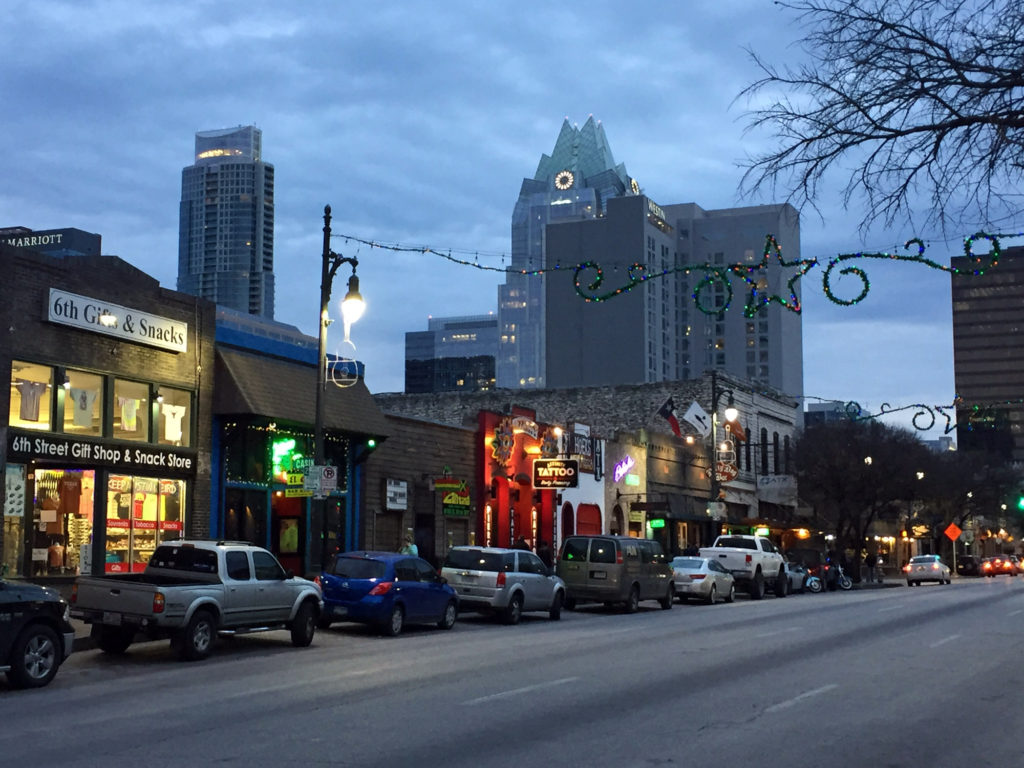 Tony fit right in… 🙂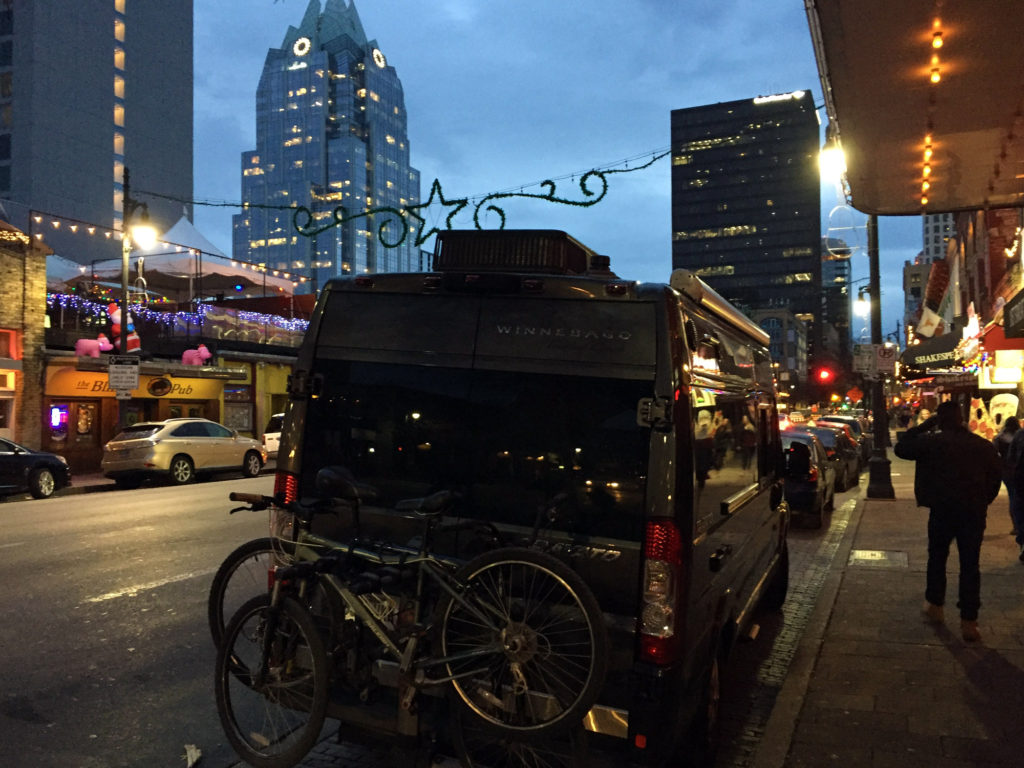 Several locals recommended Esthers Follies, and it is a NOT TO MISS attraction if visiting Austin! It's a Vaudeville styled, homegrown, non stop, singing, dancing, acting, comedy, music and magic show that kept us laughing for an hour and a half straight.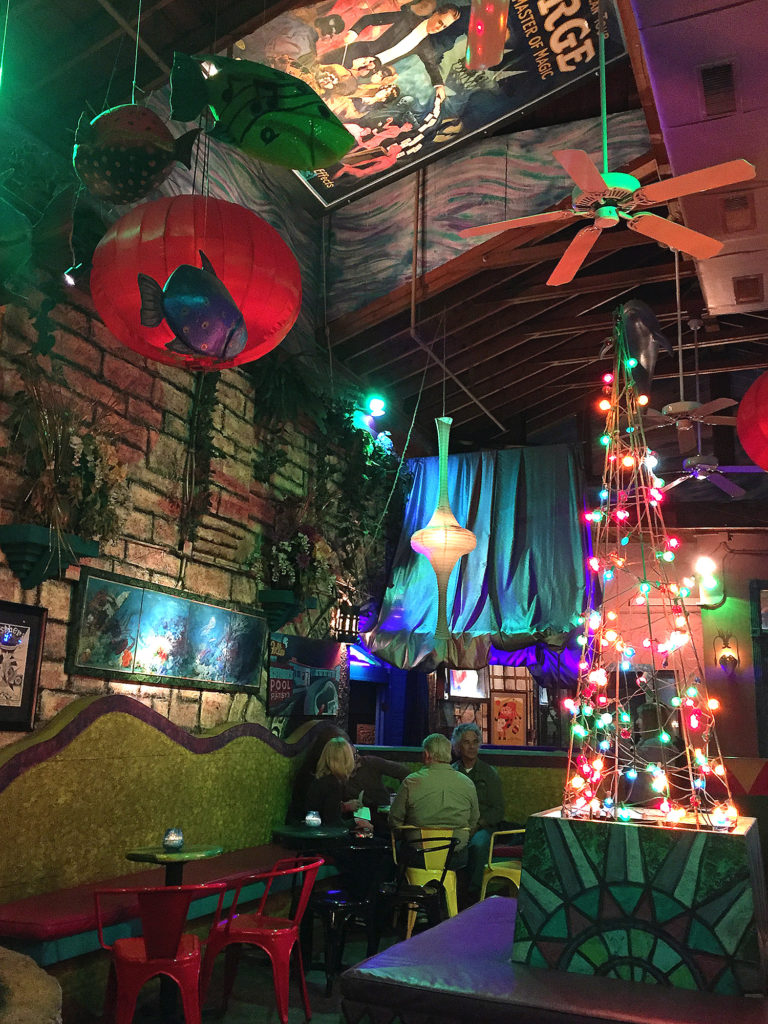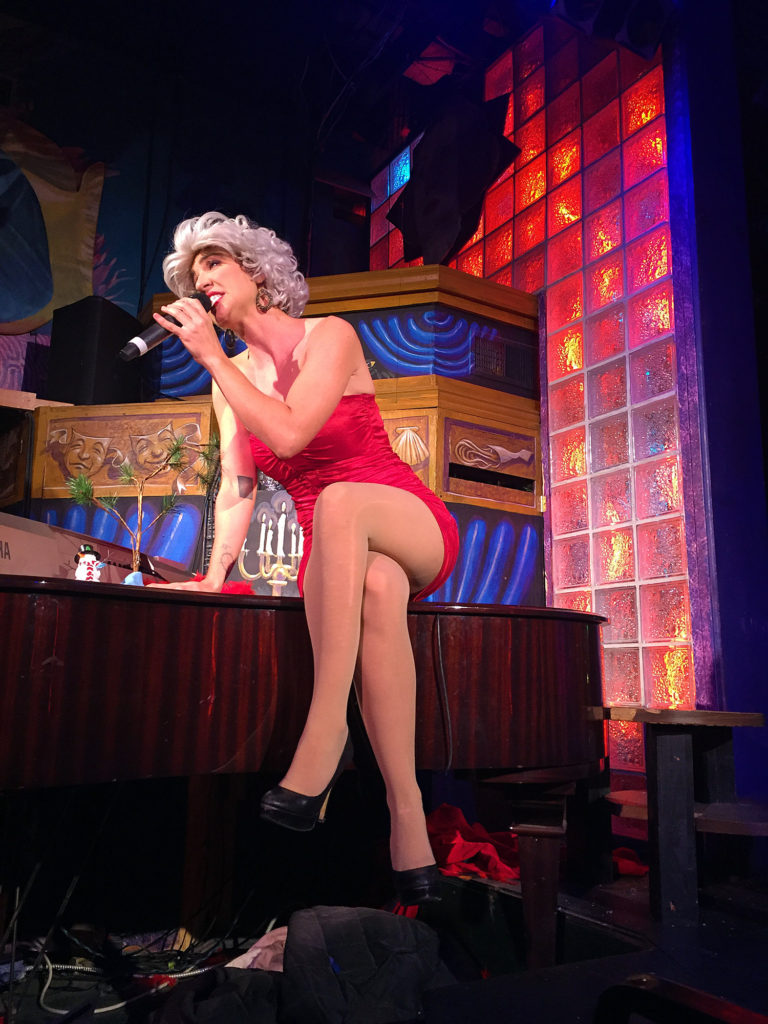 After the first song of the show, we never stopped laughing long enough to take a picture. I honestly could not hold the camera steady enough between belly laughs with the several attempts I made to take snapshots!
After the show we visited a couple too crowded bars, listened to some live music too loud, and had a couple overpriced drinks, fun stuff. People watching the folks all gussied up and out to have a good time, mixed in with the many homeless people roaming 6th street, is interesting to say the least.
Jennifers long time friend, Natalie, was on her way back home to Austin from Arkansas, but invited us to "driveway surf" at her house just a short distance from 6th street. In the morning we got up, had breakfast, and made a stop at a City Park and Barton Springs with Natalie and Kiko to walk the dogs. I'm not really cut out to be a City guy, but our quick visit makes Austin seem pretty cool, as far as cities go.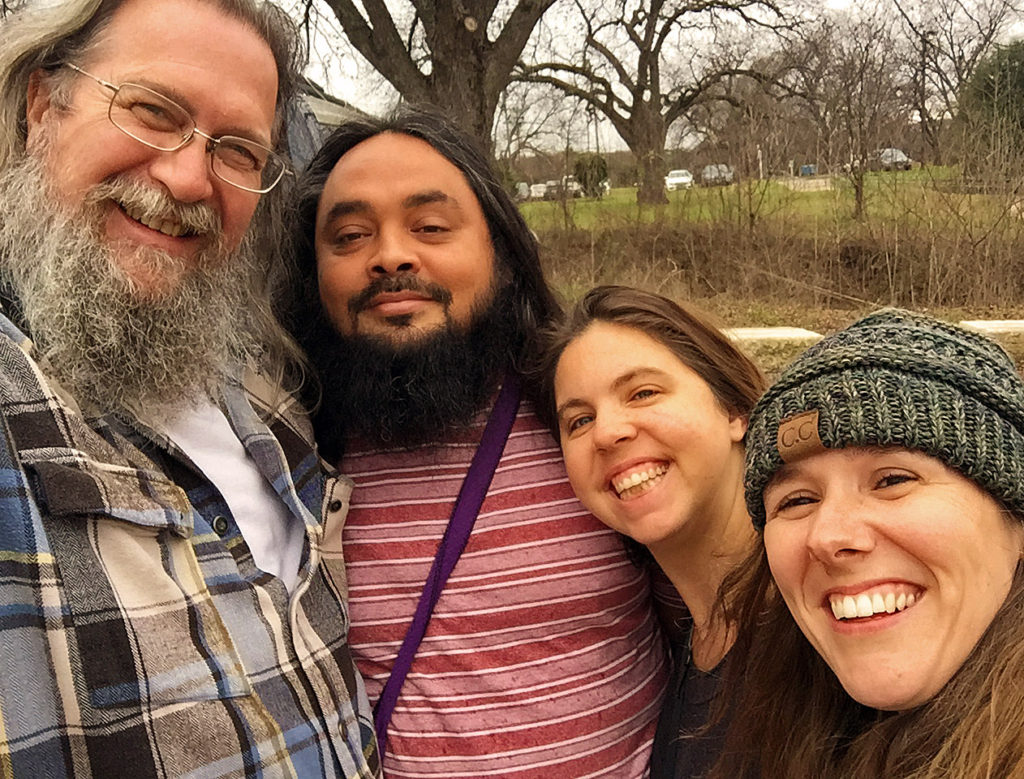 Dallas skyline on the way home…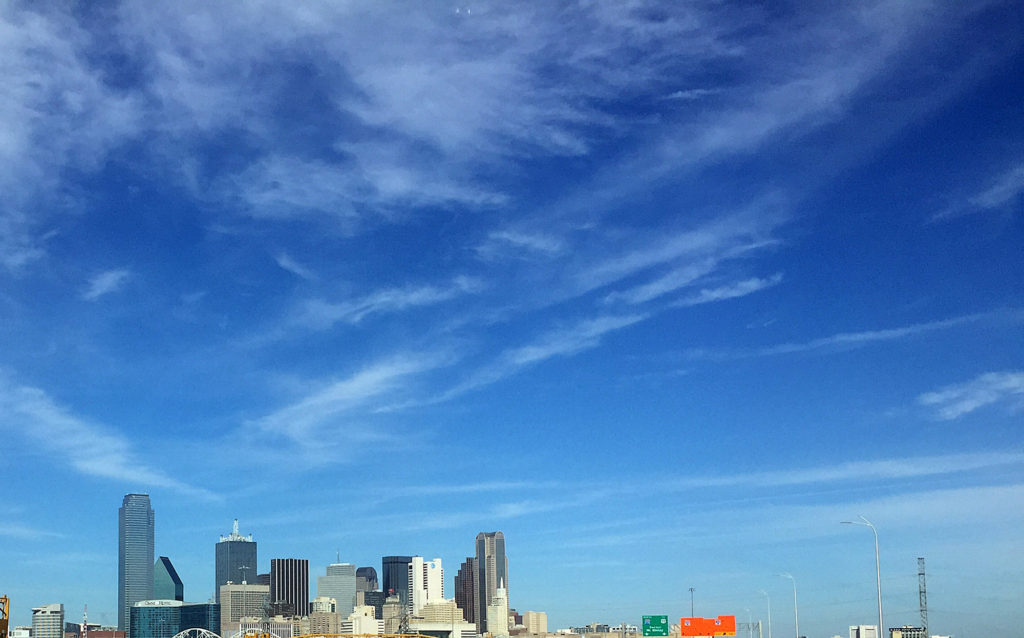 Another great trip with perfect company and a flawless performance from our Trusty traveling Travato!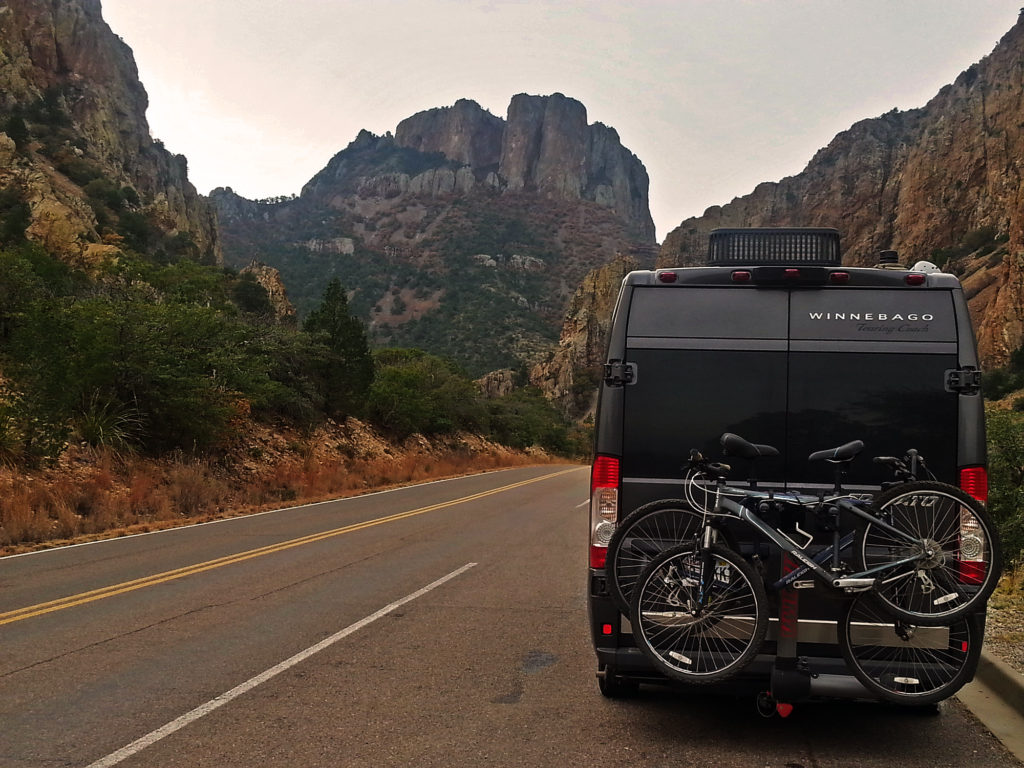 Life is Good!